Discussion Starter
•
#1
•
I saw this and I HAD to post it. I know, it's old news, perhaps too old for this site even - but I thought it was interesting and I know at least a couple guys here will get a kick out of it. I present to you, the
1988 honda Civic DX
: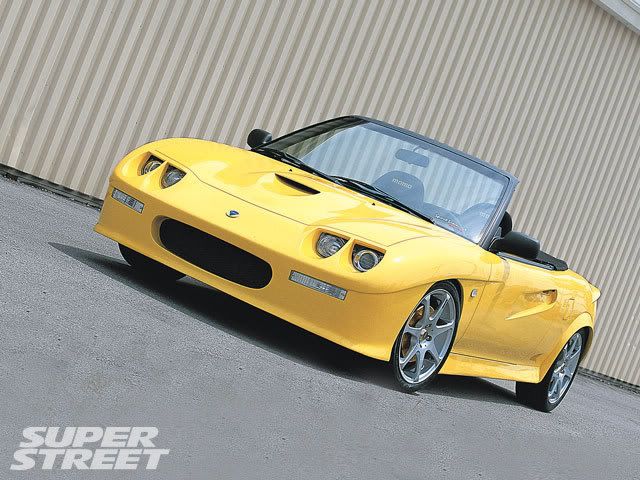 Super Street Magazine said:

Fast Facts
Owner Tibor Lovasz (not really a doctor)
Location Toronto, Ontario, Canada Car '88 Honda Civic DX conversion

Under the Hood Ractive Superflow intake, stainless dual exhaust

Stiff Stuff H&R springs and Koni adjustable shocks (dropped front one inch, rear one inch)

Rollers 17x7.5 Konig Tantrum wheels, Yokohama Avid H4 205/40-17 (front), Nitto NT501 225/40-17 (rear) Stoppers stock

Outside Gulf Coast Motors Vitesse body kit. (Tibor owns Gulf Coast Motors.) That's right, this isn't just a one-off, it's a kit now available through Gulf Coast (416/918-4555). Integra headlights, universal taillights, PPG Dodge Viper yellow paint.

Inside MOMO Rookie seats, Top Power steering wheel, Super Anatomico shifter and pedals

ICE Not shown but coming soon: Alpine CDM7861 head unit, Orion HCCA250 amps, Infinity speakers (2x12", 2x5", two tweeters for dash), Lightning Bolt wiring

Props My wife for all her patience, Joe at G&T Auto Body, Bond, Kenny and Glen from Rote Technology Bodyworks, Andrew at Wheel and Tire Zone, Blair at Sport Line Racing, Ultra Auto Sound, Rizza and Moe.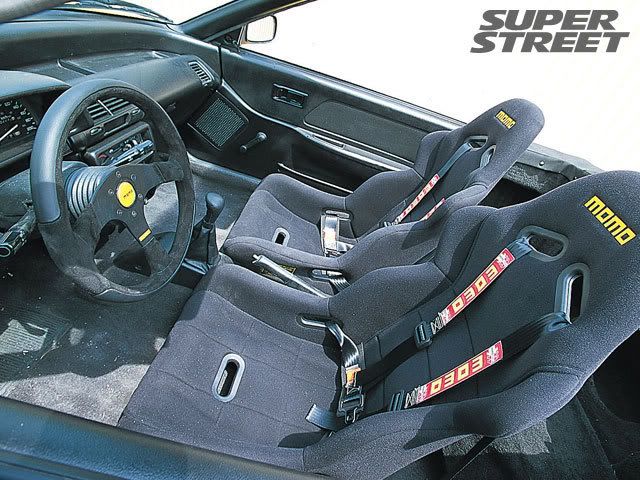 Super Street Magazine said:

You've got your mother's eyes. You sound just like your dad. Your mom had that same facial expression when she was young. Hope you don't lose your hair as early as your dad did. She's got her old man's cleft chin. Yes, most of the world has ended up looking like their parents. Yes, genetics dictate a great deal of who we are, inside and out. It's all a question of how deep in denial we are about it all.

Which brings us to Los Angeles, home of Super Street and haven for the walking wounded. I hope you get that nose fixed. Laser surgery will help get rid of those scars. See, it feels just like real hair. They won't airbrush that out-I'll have to get it removed. Here, where beauty is a bigger commodity than anything else, nature is never enough. Not only would the decision-makers in this town not know what real is, they wouldn't want it if they found it. Here in L.A. artifice and superficiality reign supreme: scrape away the tinsel and you find...more tinsel. It's all about the look, the show, the air kiss. It's about being on, even when no one is looking (even when you're alone in your own apartment), who you know, and where you're sitting at the restaurant. (Only D.C. has more big boobs-and they're all busy running the country.) Hair coloring and extensions, collagen lips, tummy tucks, face lifts so tight their lips meet their earlobes, tanning parlors, fake smiles glued to made-up faces...all are part of the L.A. experience. Everything down to the trees are unnatural here. L.A. is a desert, after all.

The Civic you see here isn't from L.A. or from the United States for that matter. Toronto, Canada is her home, though her heart would feel ever comfortable in the streets of La-La Land. You say she is not a Civic? This will please her-she certainly does not look the part, but in her heart, in her bones, she is, and always will be. But she wanted to look like Elise, her hero. Who is Elise, you ask?

Perhaps you do not know Elise. Elise is a sensation in Europe, though she never really hit it big over here (Kind of like Rik Mayall). Elise was a party girl, a serious lampshade-on-her-head type, always willing to play and get a little tipsy and flirt and purr and get busy and ask for more when you're through. Exactly the kind of floozie that boys like. (That's it, I'm moving to Europe-JK) Exactly the kind of chirpy bird that DX Civic believed she wasn't. Alas, Elise was elusive-she would not abandon her European roots and come across the Atlantic. Civic knew of Elise and knew she would never come. She wanted Elise's qualities within herself, so she's working from the outside in to acquire them.

So she went to Dr. Tibor Lovasz to get her new look tended to. Tibor lives in Toronto, that most cosmopolitan of Canadian cities. Exquisite beauty can be seen all around you. From the lazily-altered French and Italian tongues that roll freely in the streets, to the delicate 18th century architecture of massive churches and official buildings to the statuesque women who have a decidedly Canadian sense of morality, it's all there to behold.

She wanted a change, our Civic. She wanted to be Elise. And so Tibor created a new Elise out of Civic, down to the sculpted pouty mouth, tucked-and-scooped sides, and squeezable, rounded arse. (And hey, honey...nice headlights.) Bang for your Buck, indeed. The result, while clearly not natural, is not ungainly either; still, she is obviously not Elise. Although her mouth, sides and bobbed hinder emulate her heroine, no single dimension duplicates her exactly. And inside, of course, under all the nip and tuck, she is still Civic. This has not changed. Looking the part is one thing, but actually being something you are not is harder, and here Civic does not pull it off. Her manners, her soul, the things that make a Civic a Civic have not changed. Civic is cute. But Civic is not Elise. Civic remains meek, like Elise on Lithium. This may change; Tibor says that he is not finished and that Civic is doing some soul-searching even now and aspiring to make her actions more Elise-like in the months and years to come.

The nature vs. nurture debate will never be won, at least not on these pages (Right now, I have no idea what's going on on these pages.-RC; Stick around once in a while and you might!-JDK), but at least we can all agree that nature comes first. If you're ever to be taken seriously, you must be beautiful inside. And no one has ever, ever had a problem with Civic's inherent inner beauty.