So ive seen ALOT of threads lately about aftermarket seats. so i figured id lay down some facts for the people that are new to this so we can have a big hefty chunk of information in one monster thread.
feel free to contribute missing information and it will be added to the main posts.
note i am not responsible for any misinformation contained in this or the following posts. i am not responsible for any illegal activity as response to this thread. i am not liable or responsible for any injury to you or anyone else for any reason. i am not liable or responsible for any damage to your seats, airbag system, or car in general. you use this information and install aftermarket seats and other mods at your own discretion and risk.
First, lets discuss safety. Your stock front seats in your 8th gen civic contain airbags in the side of each seat closest to the door. the airbag will deploy from the crack portion of the seat where the srs stamp is on the plastic and the fabric in the event of a side impact collision to prevent metal from the door getting pushed into you and to prevent you from getting thrown into the door.
what does this mean and how does it effect me?
well for starters, removing your seat will cause an airbag light to show up on the dash. if you remove the passenger seat as well, you will have a second light by your radio indicating the passenger airbag is off.
Some will argue that if you remove the seats and have an airbag light on, all of your airbags are disabled, others say you only lose the airbags you have removed. while im pretty sure the later is true, still preform modification at your own risk, and always disconnect the battery before removing or reinstalling anything with an airbag to prevent accidental deployment
its dangerous to an extent.
honda has its crash ratings for a reason, an old car that did not have seat airbags is a different story. thats why many older tuner cars have aftermarket seats, im some cases, the new aftermarket seats are more durable than the rusted old seats/ rails/ mechanisms. plus older cars didnt have airbag seats, so no issue with losing airbags.
Technically speaking, disabling a safety feature is against federal law to some extent. however if you OWN the vehicle, then it is allright. however, there may be the technicality of bank ownership vs fully paid off status. also, your state law may be different. if im not mistaken north carolina has laws against this and california may as well. canada appears to be ok with it if your disabled as mentioned here,
Air Bag Deactivation: Introduction - Transport Canada
and you can fill out a form to do it here
Air Bag Deactivation: How to obtain a "Declaration of Requirement for Air Bag Deactivation" Form - Transport Canada
allthough i dont think wanting to be jdm tite is a acceptable disability
here is some literature about the airbag laws
49 CFR Part 595, [Docket No. 74-14; Notice 107], RIN 2127 - AG61: Air Bag Deactivation
more so there are other issues that may arise from having taken out any airbags in your car.
-insurance- if insurance finds out that you removed a safety feature, they can drop you from your policy or refuse to cover you in the event of an accident or injury.
-warranty- the warranty act generally covers for mechanical problems as long as they were not caused by the aftermarket part, however i am not sure how honda would respond if they see that your car has safety features disabled. this is do at your own risk.
and of course, FIA approval.
what is the FIA?
it stands for
federation internationale de l'automobile
and can be read about here
The FIA and FOTA
generally the safest seats for track use, and therefore usually general use and stability are seats that have undergone FIA testing for safety. this also applies to aftermarket seat belts and harnesses. Honestly if your going to be smart about it and build a legitimate track car, the saying you need to remember is
if its not approved by the F.I.A. just say no way.
however nobody is stopping you from putting whatever seats you want in your car as it is YOUR CAR. the thing is approved seats are generally safer than non approved seats. of course, if you improperly install, mount, or use improper hardware, the seat will not be safe regardless of what approval it has.
here is an overview of FIA seat testing guidelines
http://argent.fia.com/web/fia-public.nsf/6CC535B9F4ADFF76C12574430035205F/$FILE/Competition_seat.pdf
and the rest of the FIA regulations
FIA Standards Regulations
sparco has alot of FIA approved seats.
some are
EVO
EVO II
Sprint 5
Pro 2000
Corsa
So lets discuss seats.
first off, when wanting to change the style of your seat, there are several options one can take.
Aftermarket
- there are many different seat options available from 3rd party manufacturers. they vary in size, style, color, and price, and have many differentiating factors to them. Not all aftermarket seats are created equal.
-
fixed bucket seats
- these are seats like the ones pictured below. they do not recline, and are generally intended for track use. many have holes to run a 4 or 5 point harness. (note harnesses need to be installed a specific way or they are incredibly dangerous)
-
reclining bucket seats
- these are similar to the normal buckets in that they are designed to hold you in place, however these give the option for the driver to recline the seat back and forth, great for cars looking to update their dated old seats, or for track cars that wish to run harnesses and extra support for a passenger while still retaining passenger comfort.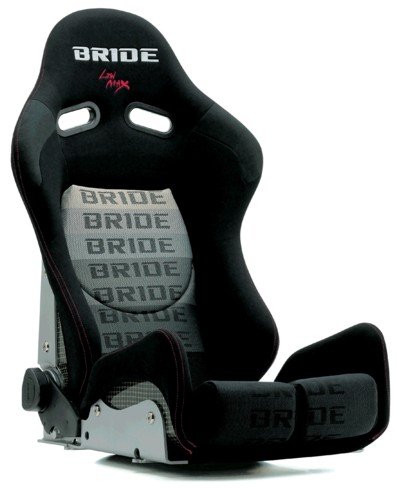 the issue with reclining seats though, is they are skechy in the event of a rear end collision ESPECIALLY if they are not REPUTABLE EXPENSIVE QUALITY SEATS. even name brand real brides have issues in rear end collisions. general rule of thumb is with reclining aftermarket seats, a cage or harness bar is recommended to catch the seat in the event of a rear collision and of course because it is required for proper harness instillation. (although stock seat belts can be used with many seats and are usually safer for street use than 4-5 point harnesses)
Evidence
also watch for fake seats. bride canada, and bride taiwan, are not the well known legitimate bride japan who makes the quality product. replica seats bearing a logo of a name brand seat are fake.
ALSO NOTE
like many other things with cars, you get what you pay for
so if your willing to run the aftermarket seats and dont want to die in a collision, you better buy some legit quality seats. cheap seats are not generally good quality and can snap, warp, and bend in the event of an accident.
also also note, different aftermarket seats will require different rails.
the rails are what contain the sliding mechanism.
there are fixed rails, that dont slide, and sliders, that do.
also different types of seats have different mounting methods.
many fixed position buckets are
side mount
, and have brackets that mount to the sides of the seat and then to the rails or sliders.
there are also
bottom mount
like the reclining brides and many other reclining seats.
sometimes bottom mount seats mount directly to rails, or require a bottom mount bracket. it varies from seat to seat and rail to rail.
you can also occasionally bolt universal sliders to the seat itself, and then bolt those to vehicle specific brackets to hold the seat in place.
generally i prefer to buy vehicle specific rails that the seat bolts directly to, less grief trying to get universial rails to work with a specific product. those things are rarely ever an easy direct bolt in affair.
most of the time, racing seats are not for street cars, and are not for daily drivers. thats why your honda didnt come with them. however there are some seats that are OEM and fancier that you can swap into your civic with the right rails.
two examples are
DC2 (integra type r) Recaros
or
DC5 (rsx or integra type r) Recaros
but you still lose the airbags, and have that light.
(the airbag light can be removed by installing a resistor, not sure what kind though)
if you REALLY hate the way your seats look
you can always reupholster them.
generally to do the front and back seats will run anywhere from 900$+ for good work.
shop around first.
a good shop should be able to knock out a seat in a day or two.
always remember to disconnect the battery before you unbolt and unplug the seats or rebolt and replug them back in.
also note
1. any us spec civic driver seat will work in any us spec civic.
ex. a sedan si driver seat will work in a lx coupe and vice versa
2. sedan seats are slightly bigger than coupe seats.
3.passenger seats, will only work in the car they came out of
ex. a passenger seat from a si coupe, will only plug in fully to a si coupe
a 2008 si passenger coupe seat would not fully plug into my 09 lx coupe.
4.any 8th gen front seat will BOLT into any 8th gen civic.
5.fd type r seats have no airbags and if you put them on the sides theyre supposed to go in, the passenger would have the height adjustment lever
6.si seats are stiffer than r18 seats.
i can post some pictures of reupholstered seats if youd like.
hope this helps some