:wavey:
So, I got my car this past April, and I figured, what the heck, I might as well add some more miles to my car! j/k But seriously, I needed a vacation. Luckily my friend from college who lives in Virginia had some vacation time. :dancing: So there started the "East Coast Road Trip 2007". This would be the prequel to the "Coast to Coast Road Trip 2008", or kinda like practice for it.
The trip started off back in Virginia. Some of those who know me know I live in PA, but my mom still lives back in MD, and since she lived so close to my friend, that's were I figured we'd kick the trip off. (P.S.: The trip started off with some lady rear ending me. Luckily it was only at about 2-3mph so there was only slight damage. It was a hit and run, but I got her tags anyway! But that's another story.)
So I met my friend in Springfield, VA. I had read a previous thread about someone taping their car with painters tape, so I decided to give it a try!
Here's the car bare: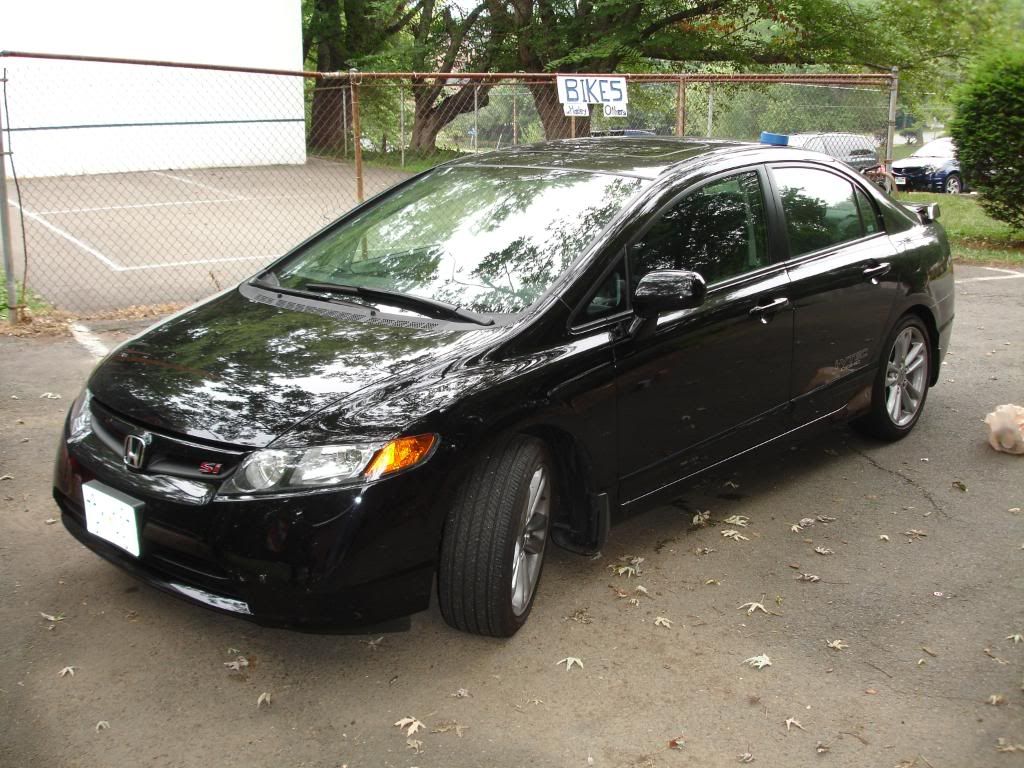 And now introducing my friend and road trip buddy, Matt:
I had 3 rolls of tape, but I was only able to accomplish the front doors, trunk and roof. So it looked kinda like this: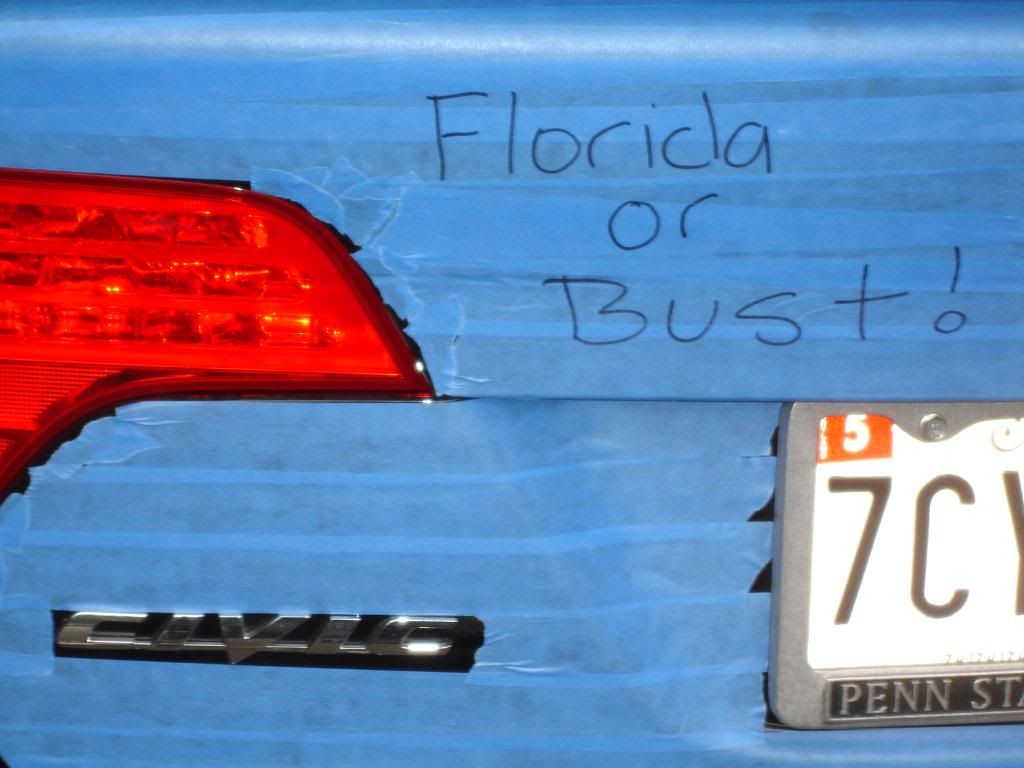 BTW, it rained on our way to our first stop, Atlantic City, NJ, that very same day so it ended up coming off. :chill:
Anyways, we were on our way! It was a short 180+ miles to Atlantic City, NJ, but a dreadful one because of the rain. So we ended up looking like this: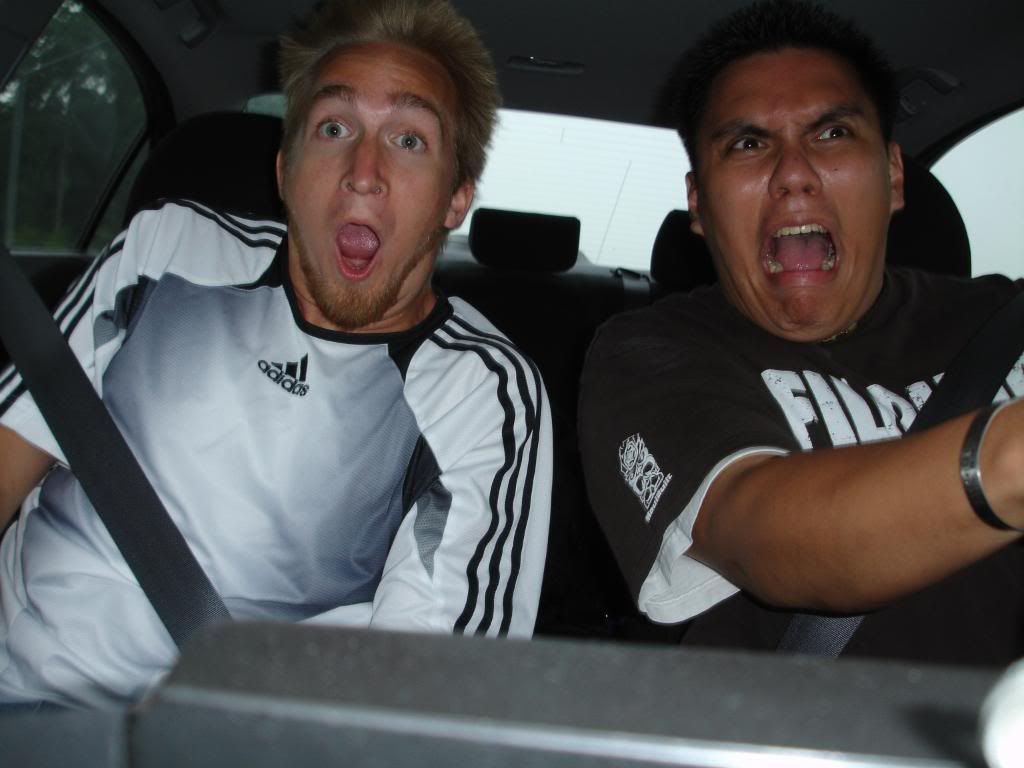 On the way there we decided to see if we could get girls to bare their...well, this is self explanatory: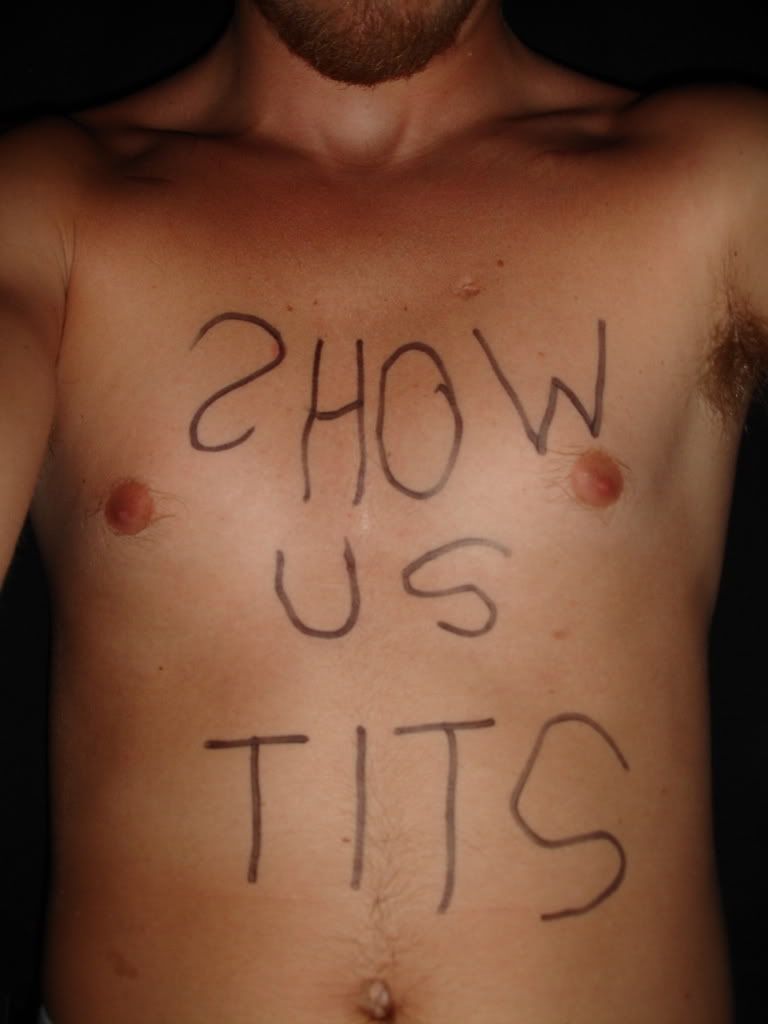 Needless to say, we saw none on the way to AC. But we did get there safely!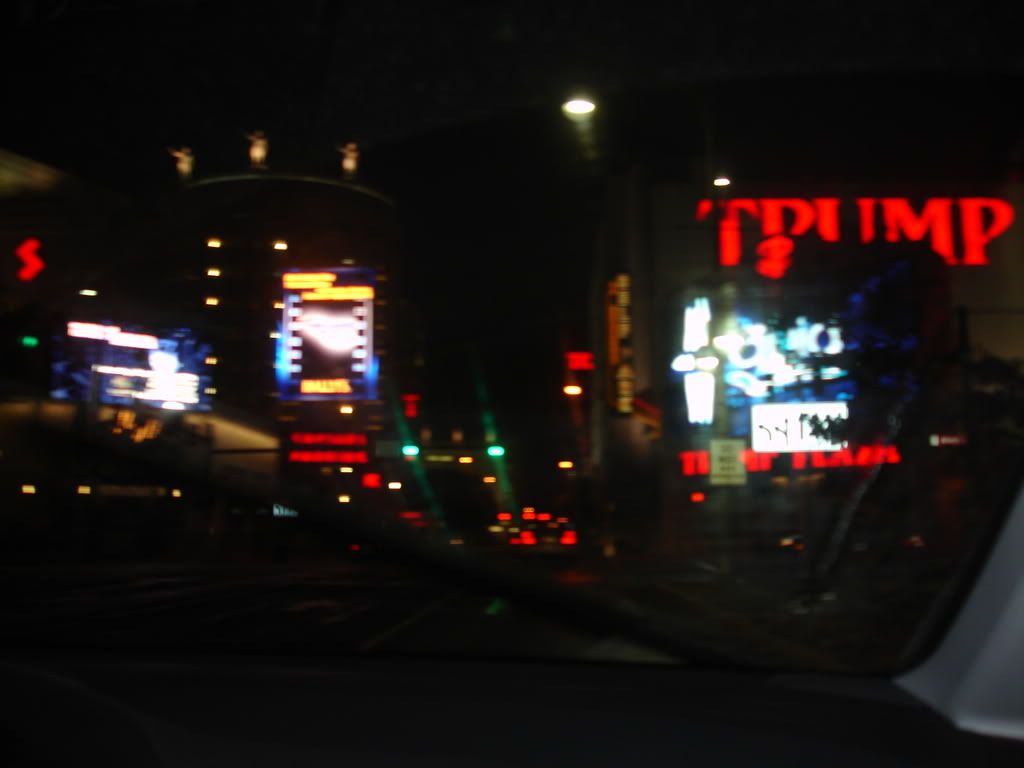 We got there around 10pm and decided to kick it off immediately and start gambling! We were both down by about $80 when we decided to get some shut eye...in the car. It was about 6am when we found the car (because we couldn't figure out which floor we parked in). So we slept in this spot for only an hour and a half:
Yes, notice the tape is already off. We tore it off when we woke up, and this is how much tape we got: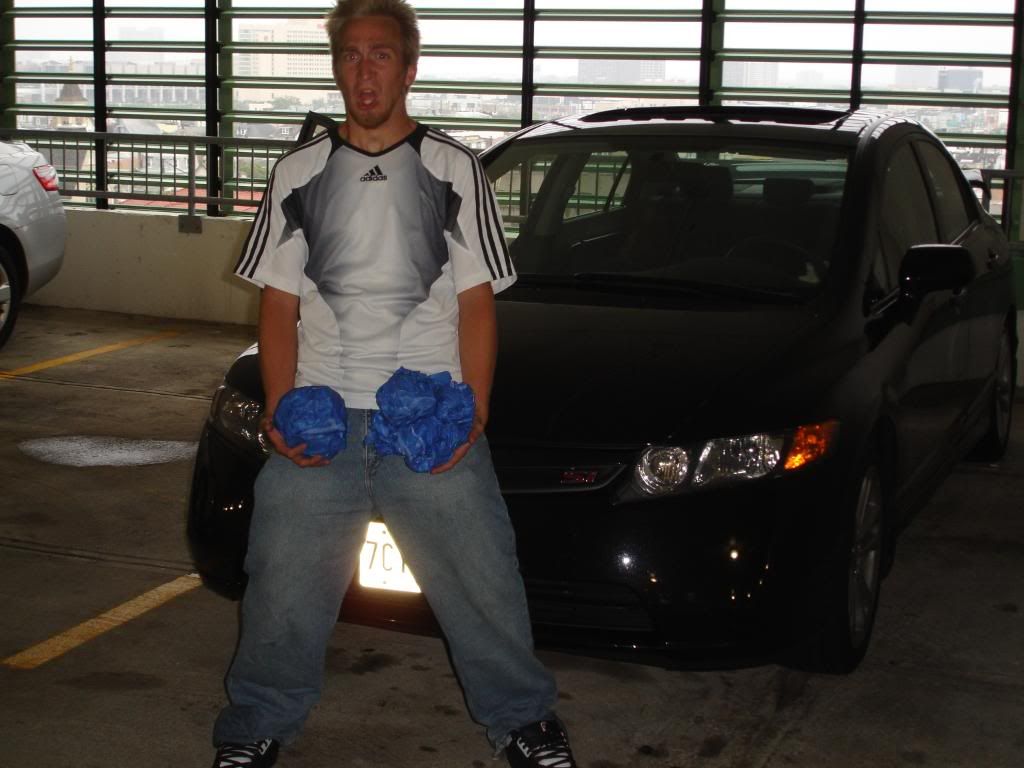 We got enough tape to give you blue balls!
So we head back to the casino's for more gambling, and of course I had to rep the 8th!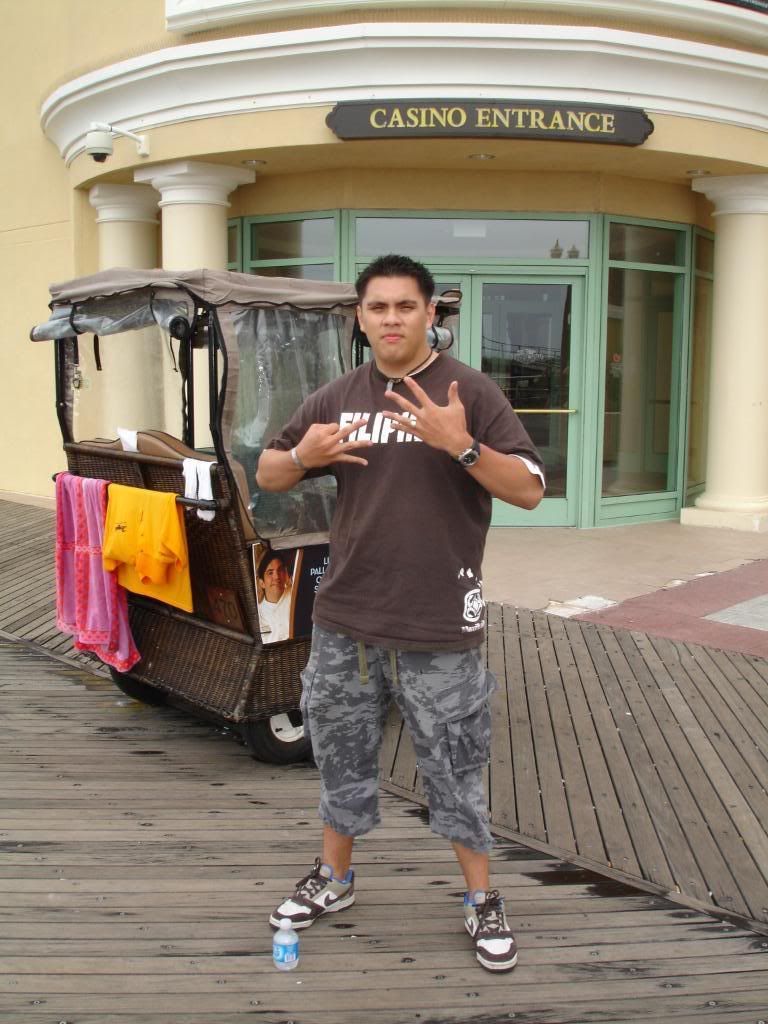 After I got back up in winnings, about $180 to be exact, we went to walk on the boardwalk and caught these: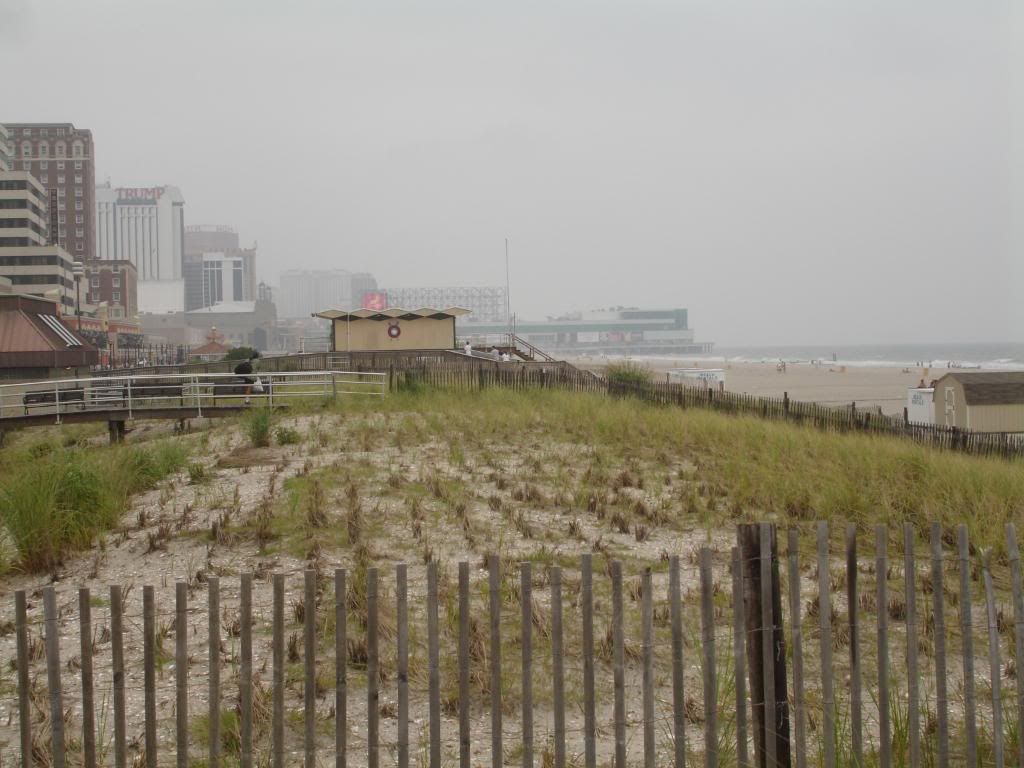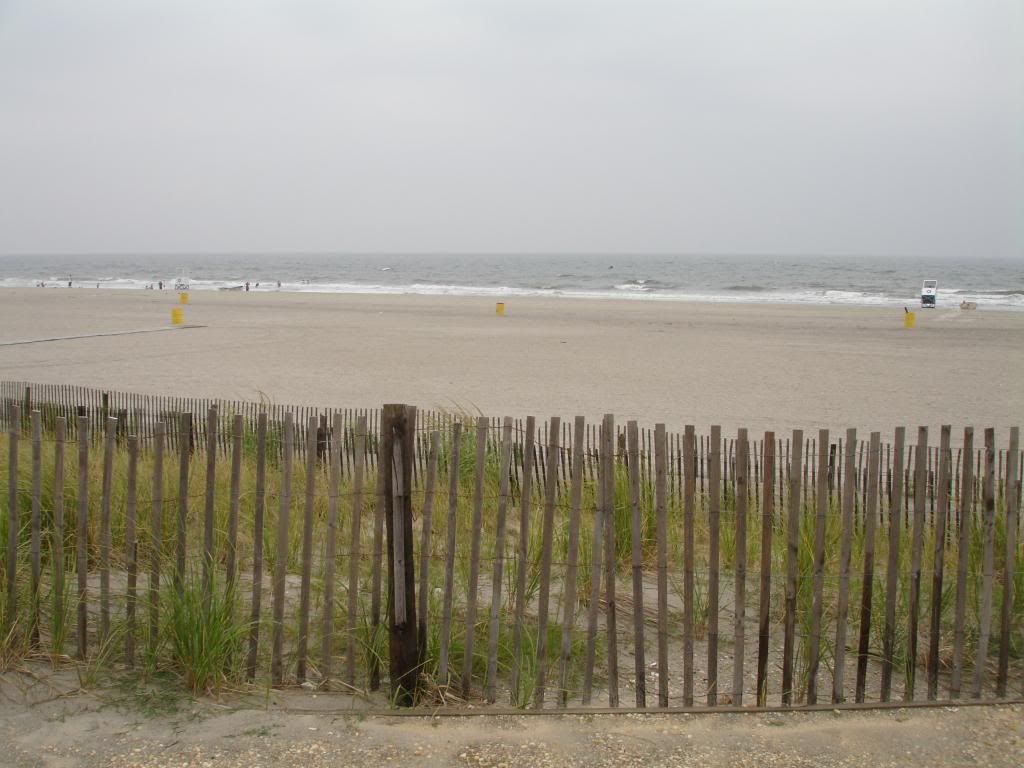 Afterwards, we hit Bally's and snapped a few off: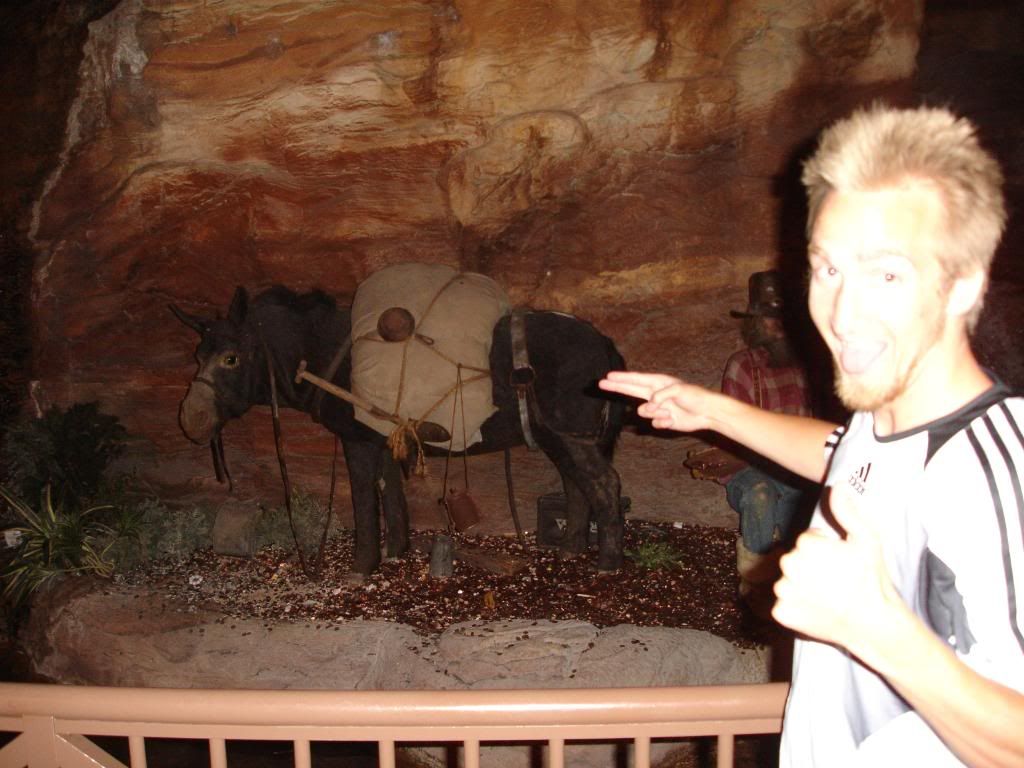 One of your other friends, Paul, who lives close to AC, met us for lunch at Hooters in the Tropicana. Matt was lifting his shirt, jokingly, a couple of times when the waitress noticed what he was doing. So the Hooters girls started to sign his back!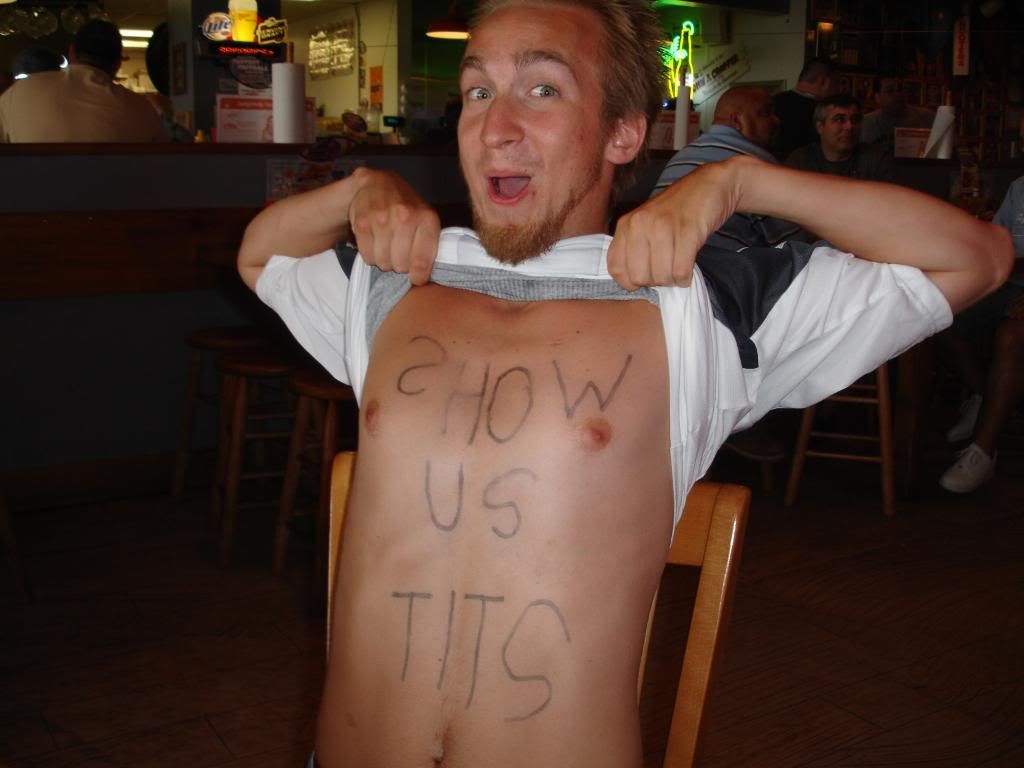 And here we are enjoying our time at Hooters:
Well, shortly afterwards we went back to Trump casino to gamble one last time. On Matt's last $10 he asked Paul what number to bet on in roulette. Paul said Red 21, and that's where Matt put his money on, and it hit! $350 just like that! We decided to celebrate by going to a strip club. It wasn't open until 4pm, and we got there at 3:30, so we decided to wait. While waiting, Matt decides to freshen up his chest writing. While doing it, he unknowingly faces traffic outside the strip club and looks like this: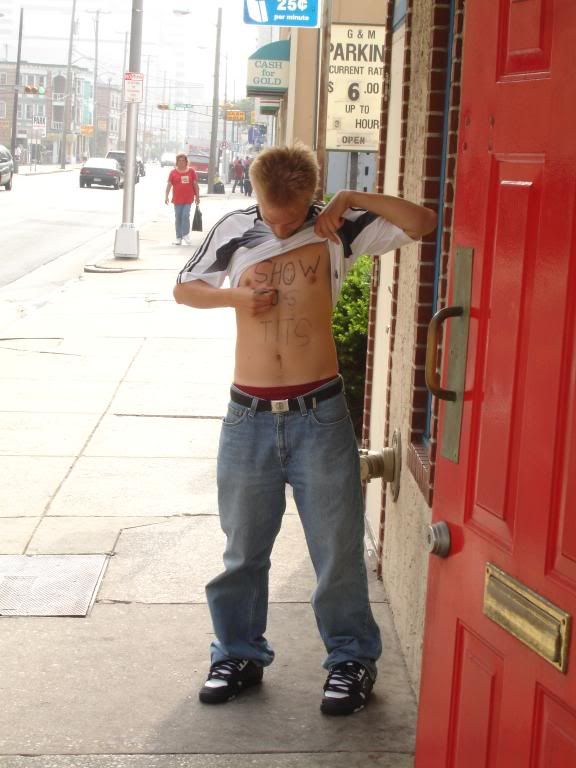 Needless to say we got a laugh. Sorry fellas, no strip club pics! So we finished off the evening by going to my place back in PA to rest up for the drive the next day. Drive from AC to my place, about 120 miles.
So we get started the next day at around 10:30. After I got gas, we noticed a sign at one of the neighborhood stores that read....well, you take a look:
So we start our 890+ mile trek. We stop off for gas again and what do we see:
PULL OUT TO WIN!!!! :dancing:
I got one of the stickers and put it on my car for +10whp
We continue back on the road:
We were about to get in to North Carolina at:
When this happened: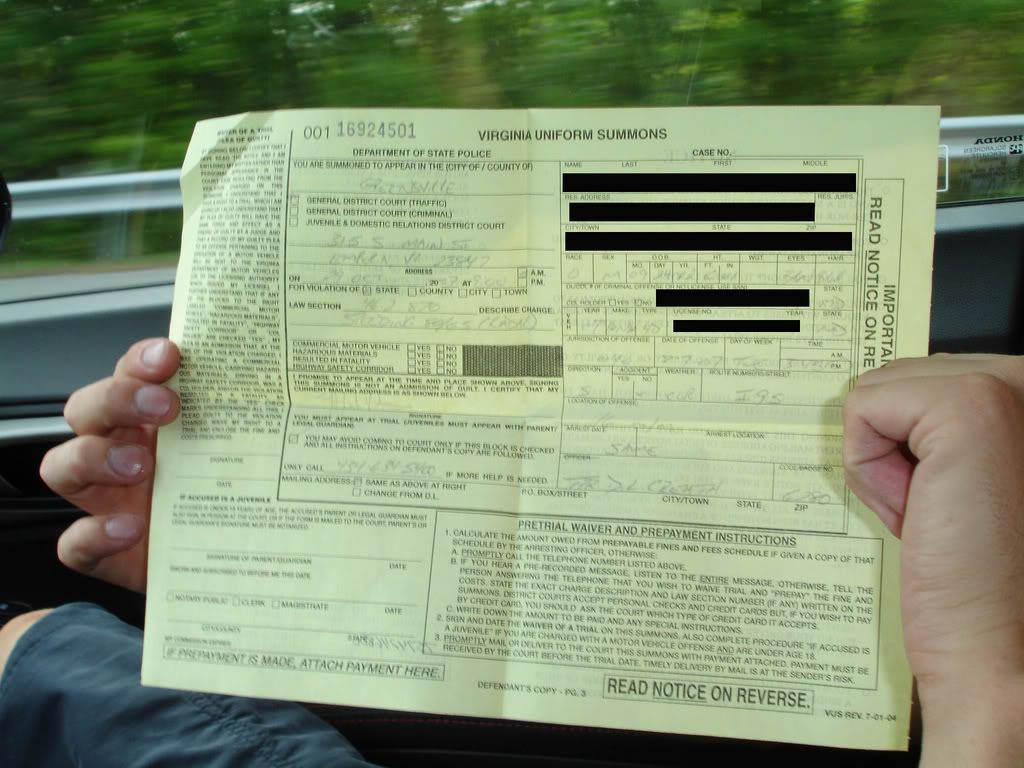 A freakin' ticket in VA. O well, 80 in a 65 isn't too bad, considering only 15 miles down the road it was 70mph speed limit. :sadwavy:
We didn't let that phase us! We wanted to keep our spirits high! To do that, we stopped at an adult store in NC:
The cover was $8 to get in, and we said forget that, and went on our way.
We switch drivers and I snap a few pictures: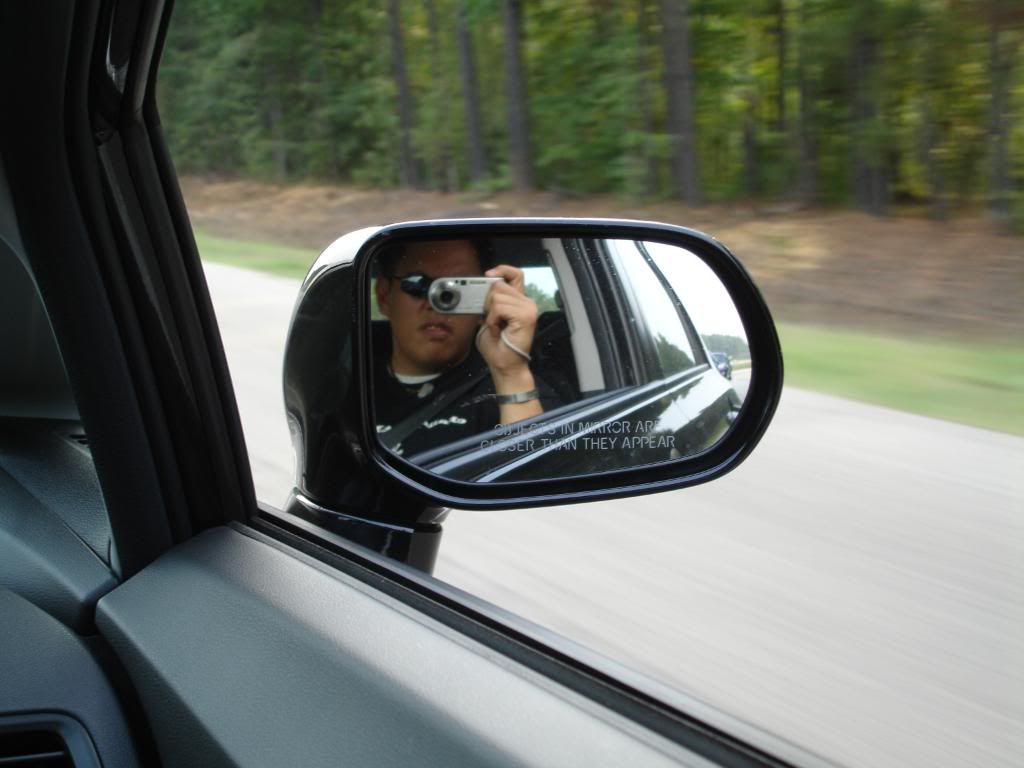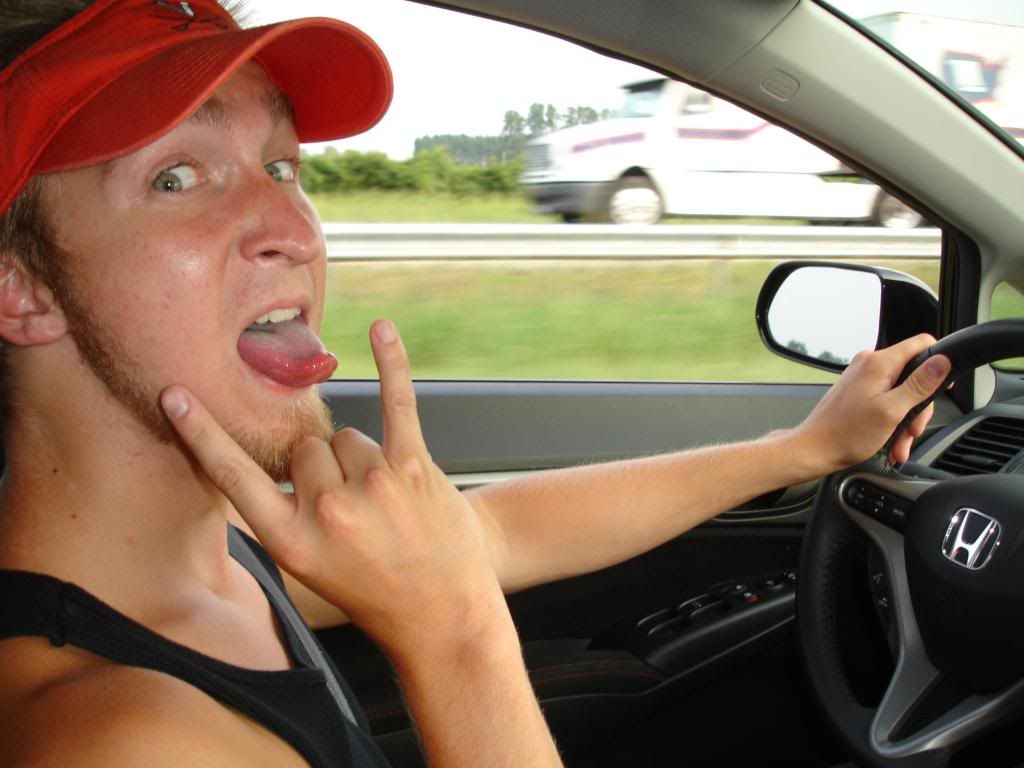 Along the way we pass Fayetteville, NC:
We see signs for Sonic and decided to investigate. See, back up North we get Sonic commercials all the time. All these commercials and yet, no Sonic. We then thought Sonic was a myth. So when finally we see the signs for Sonic, we check it out, and low and behold:
After a quick snack, we hit the road again. Along the way, there are a bunch of South of the Boarder signs, so I snap a few: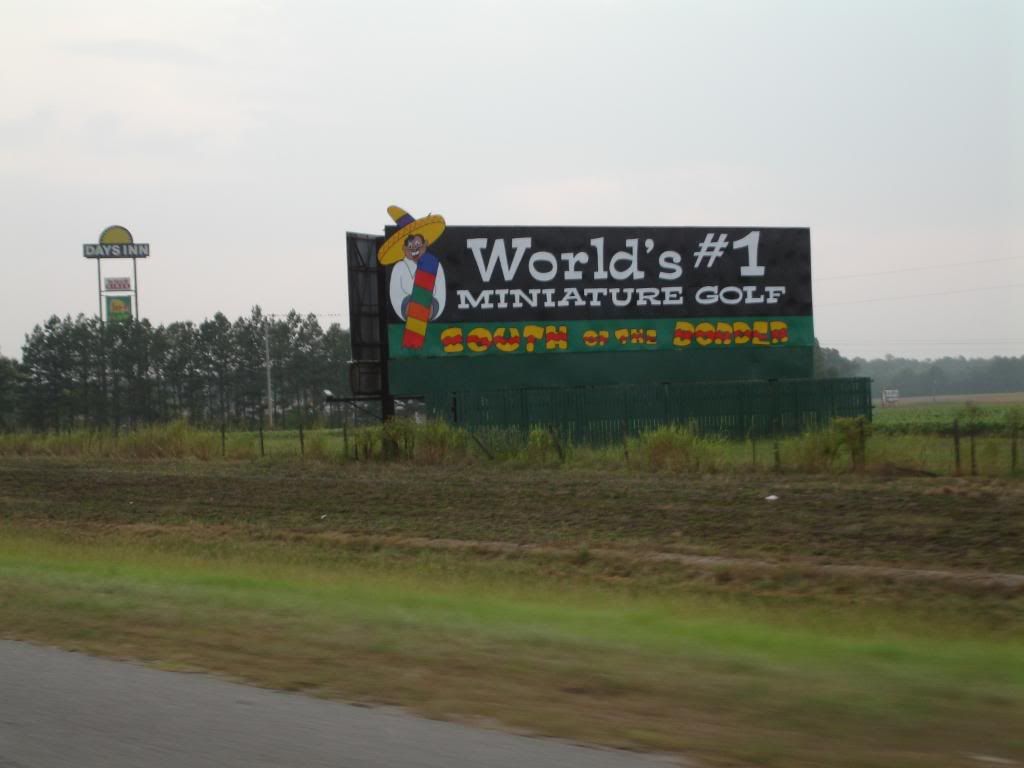 And the store itself: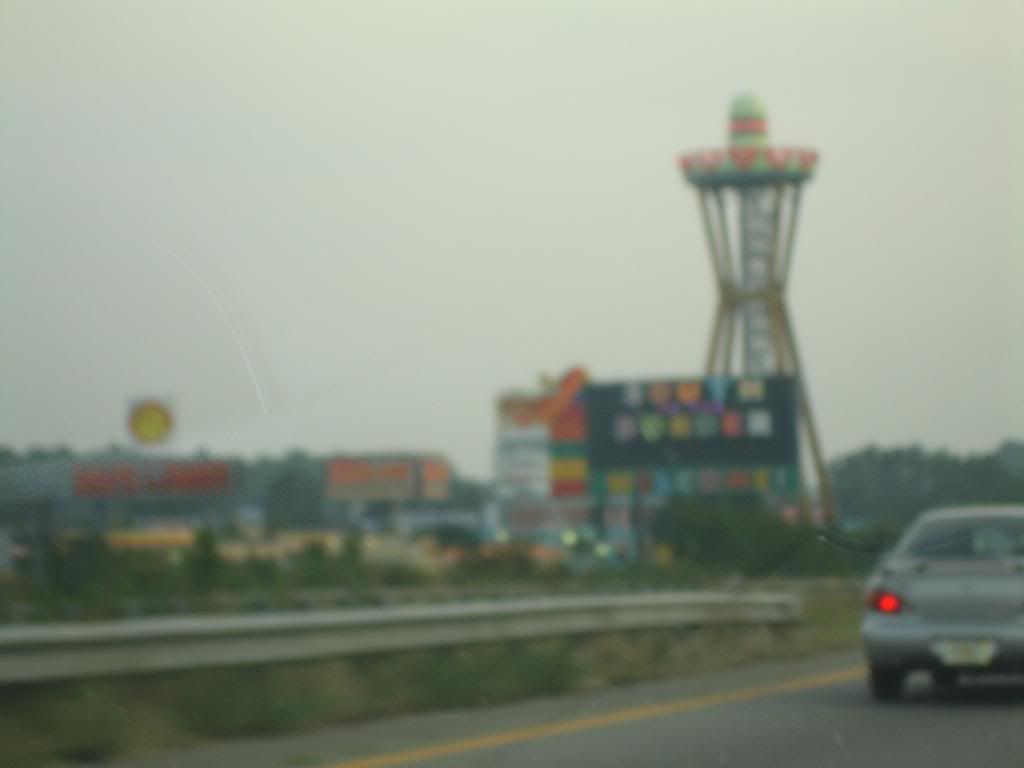 We don't check it out until the way back.
So after that, we hit South Carolina:
And in South Carolina there is: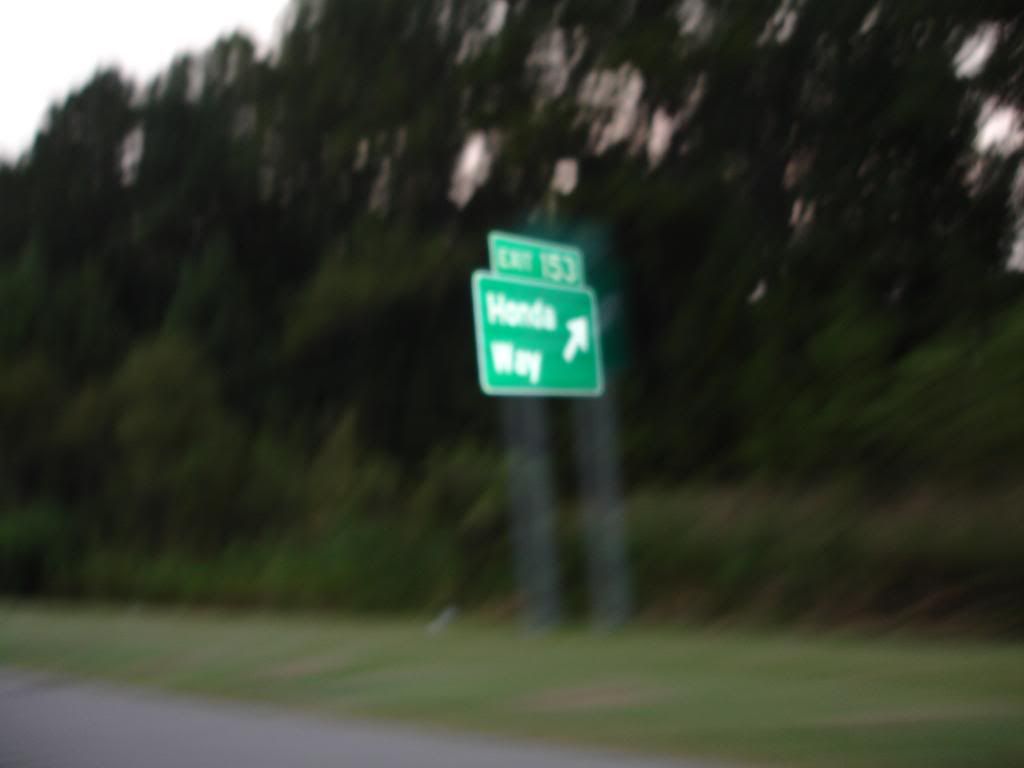 Yes, Honda Way!
And Honda again!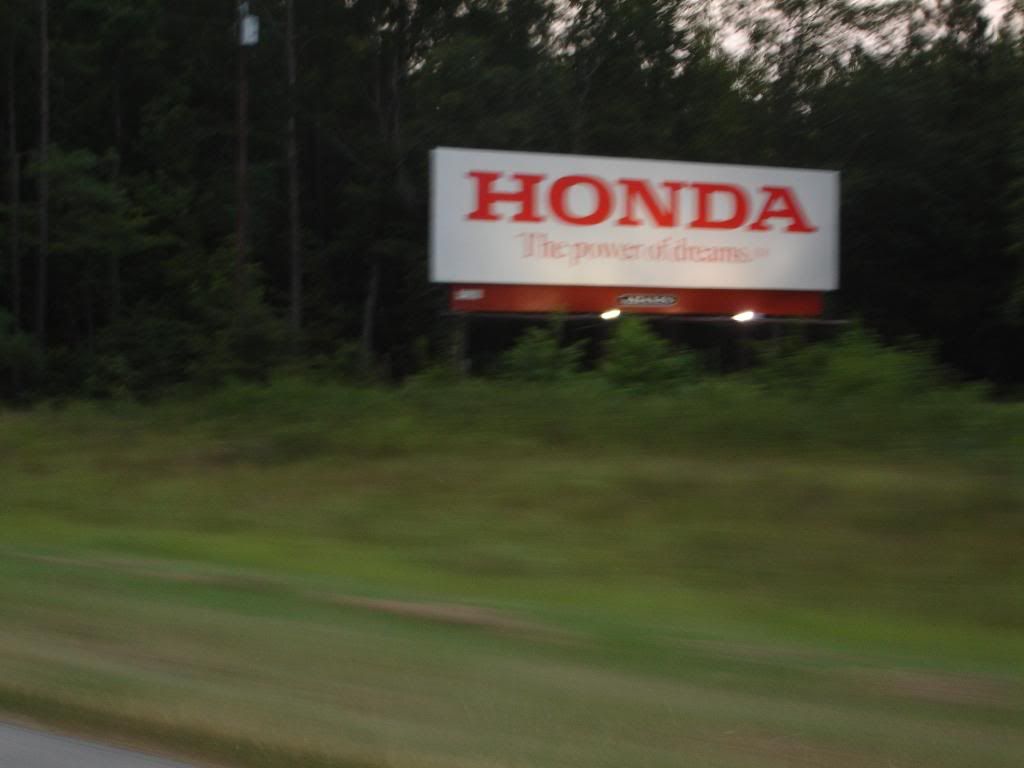 We did everything we could do in South Carolina....Get gas and nothing....: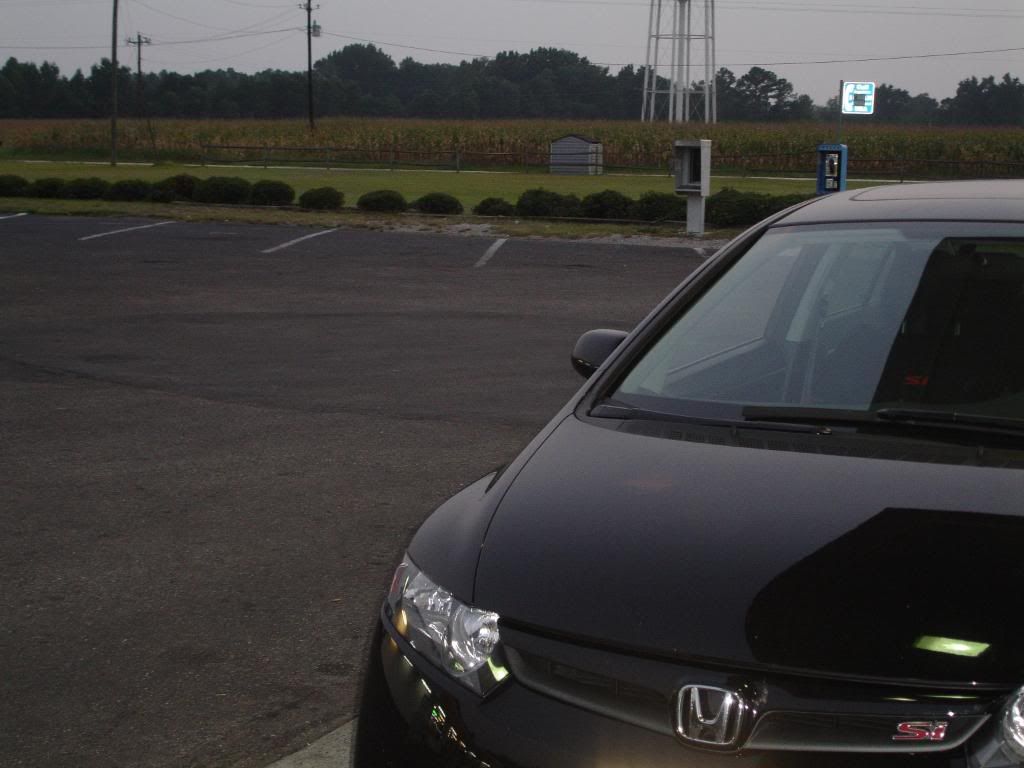 Finally, we get into Georgia for the night!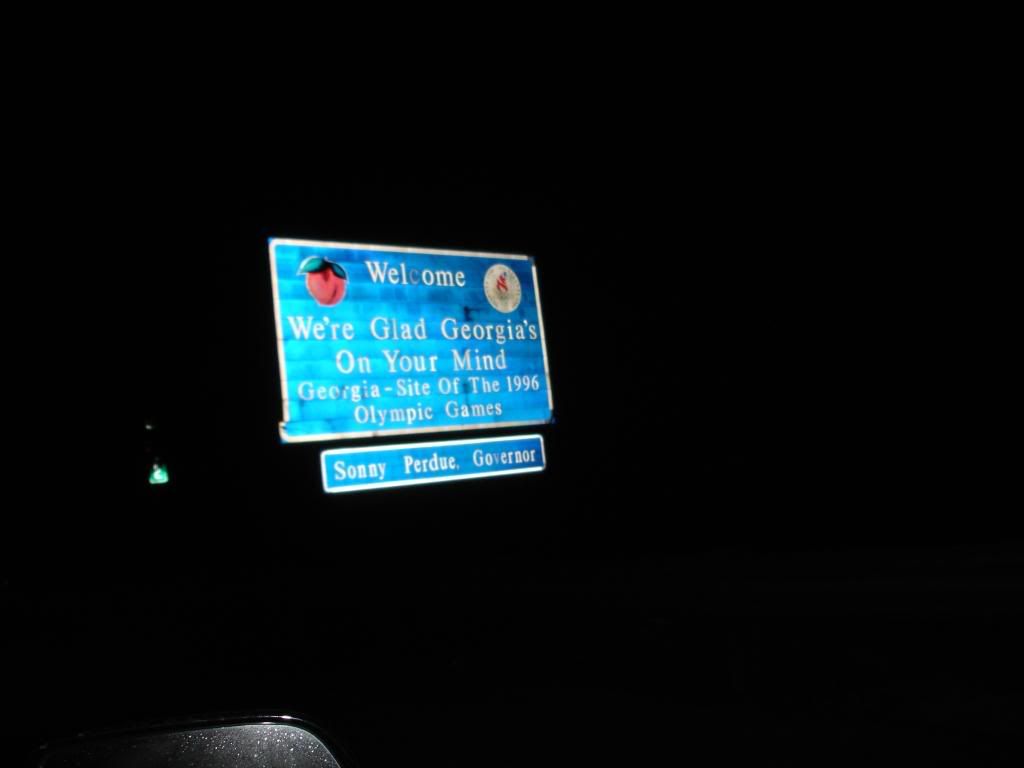 When we get to Matt's sister's house, we saw an Armadillo in someone's yard!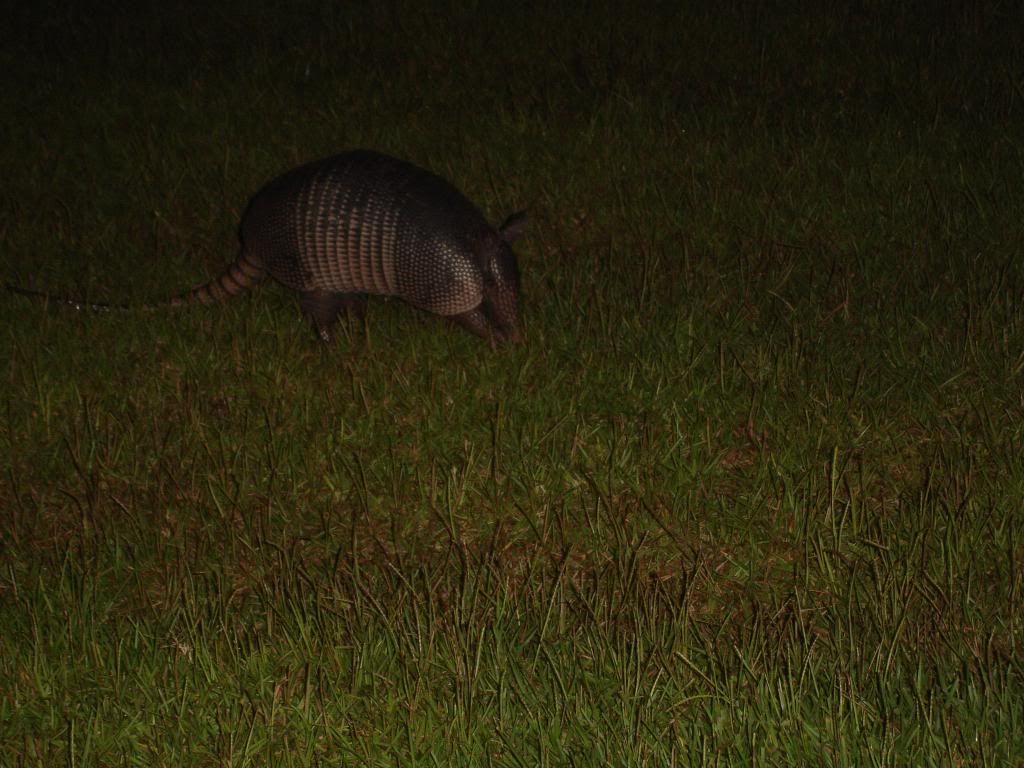 And of course when we get there, we were really tired:
We wake up the next day and take off on the road again. We pass by Georgia swamps like this:
Then, finally....FLORIDA!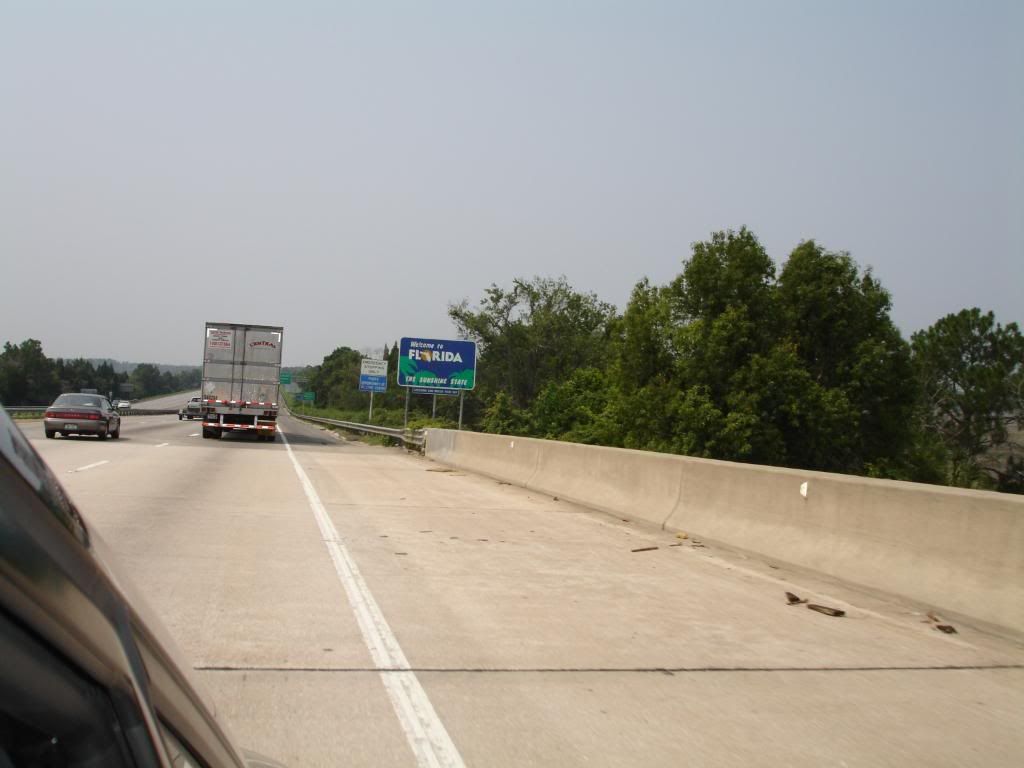 We pass Jacksonville, FL: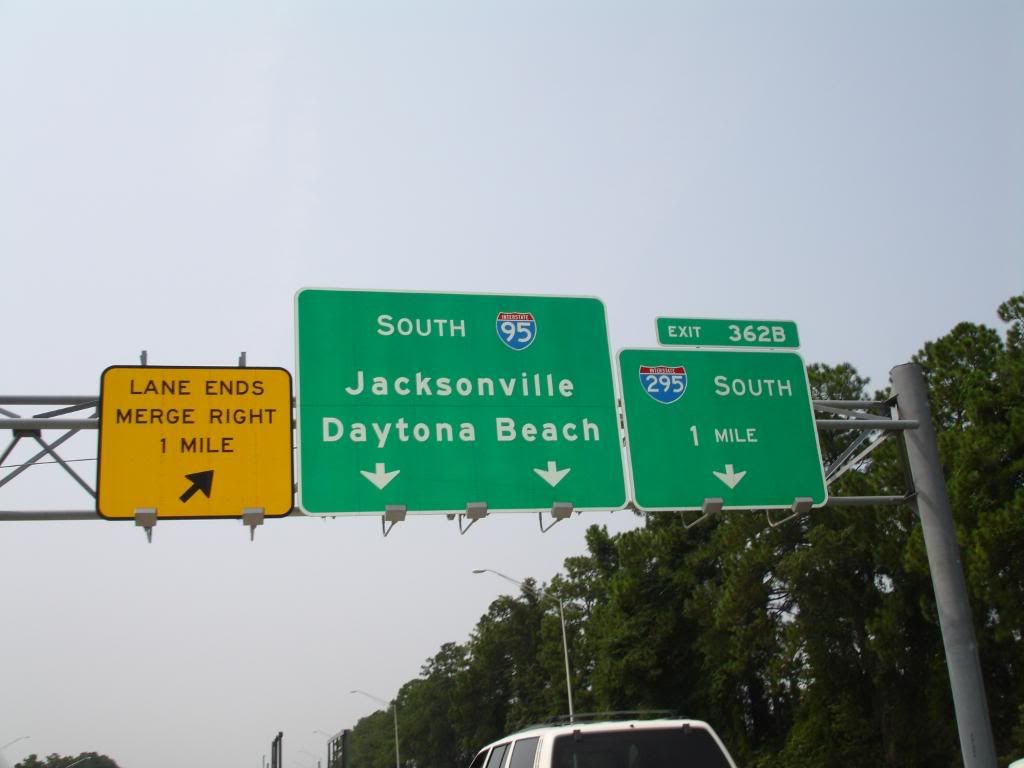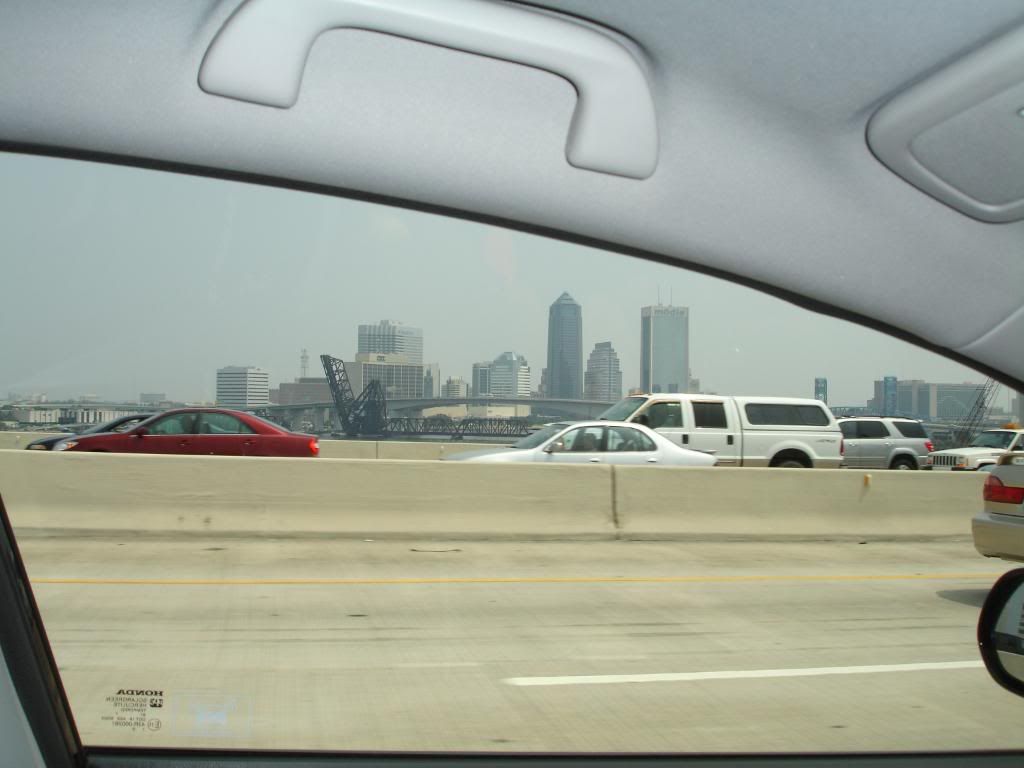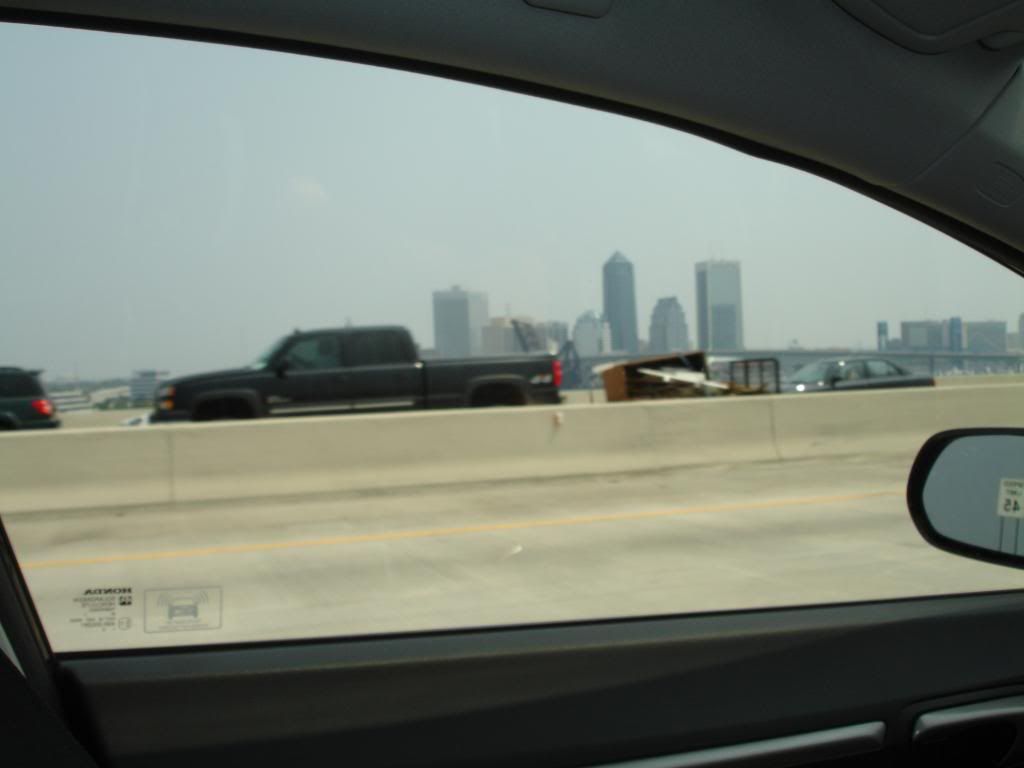 Then, a few more miles down the road we get into Daytona Beach:
When we get there, we thought it would be better to camp out. But the humidity was killing us, so we decided to get a room at the Hilton. The room was originally $145, but after military discount it was $85. The room was amazing as well! This is what our room looked like: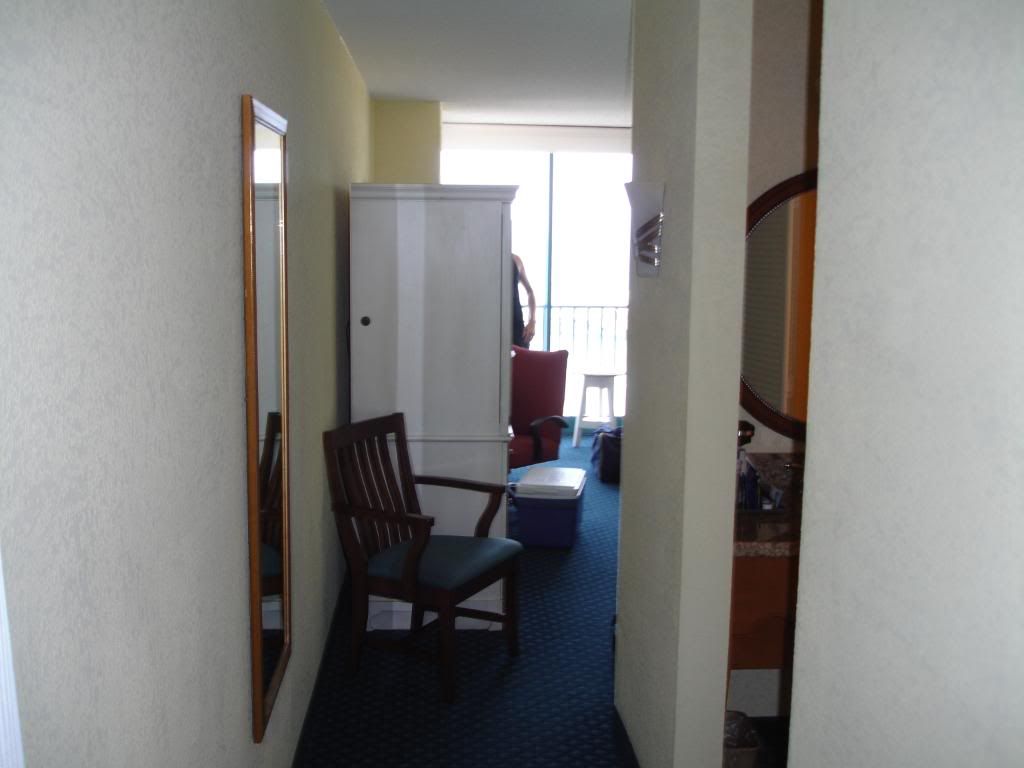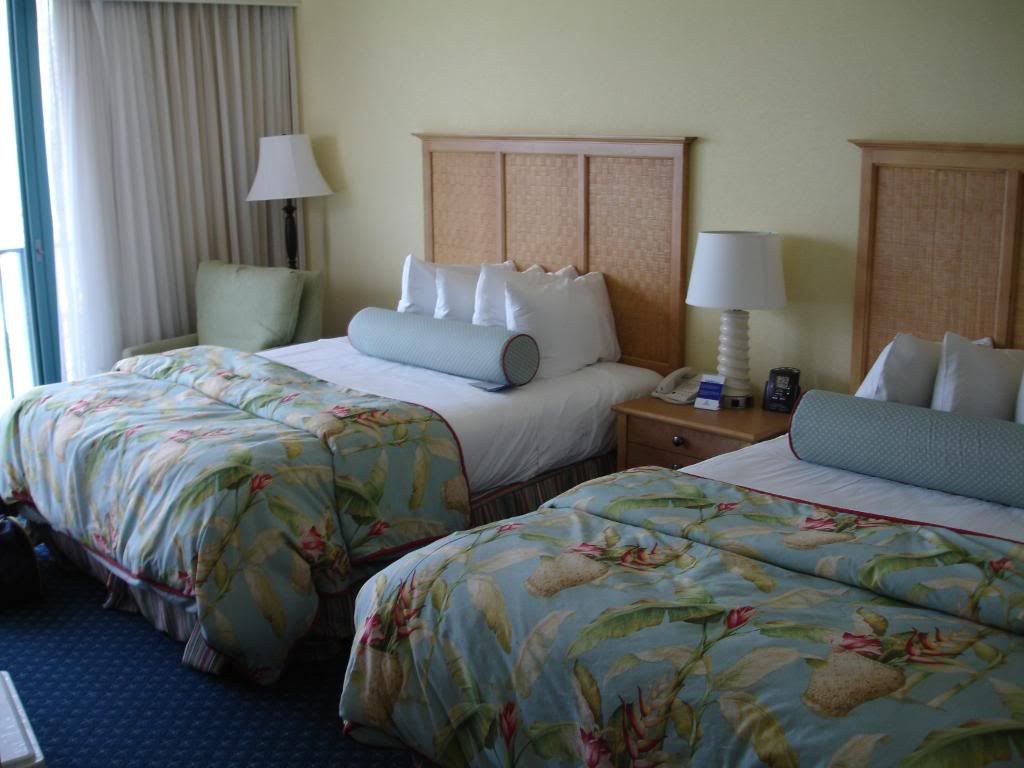 And this was our view: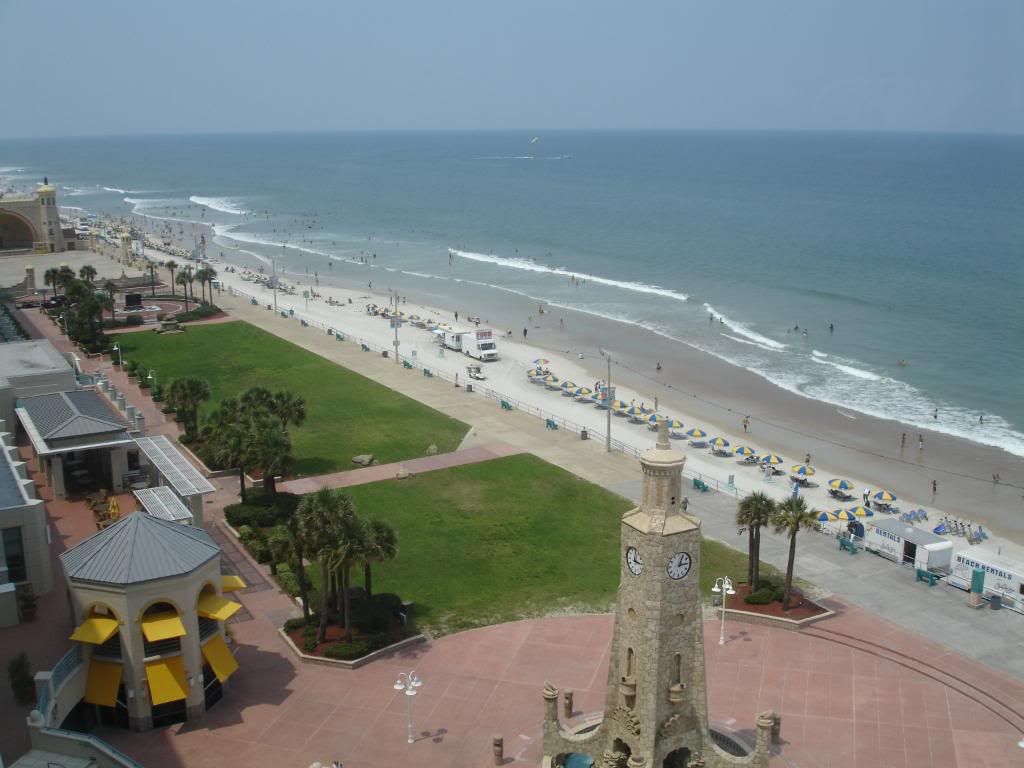 We decided we should enjoy the room a bit by breaking it in: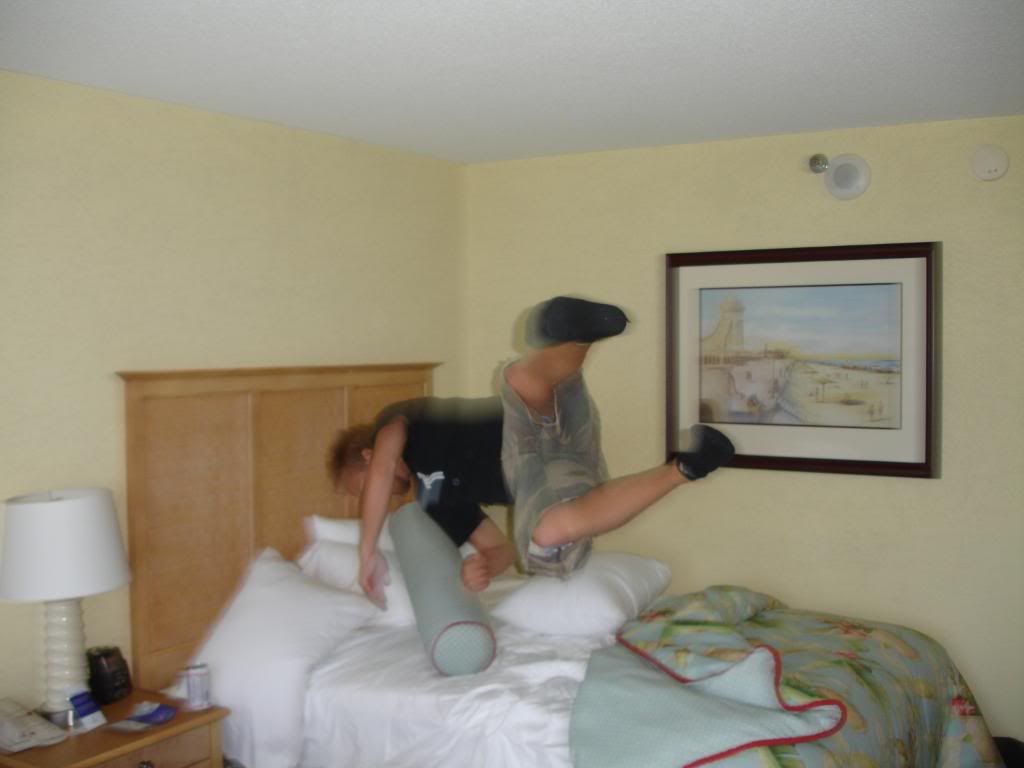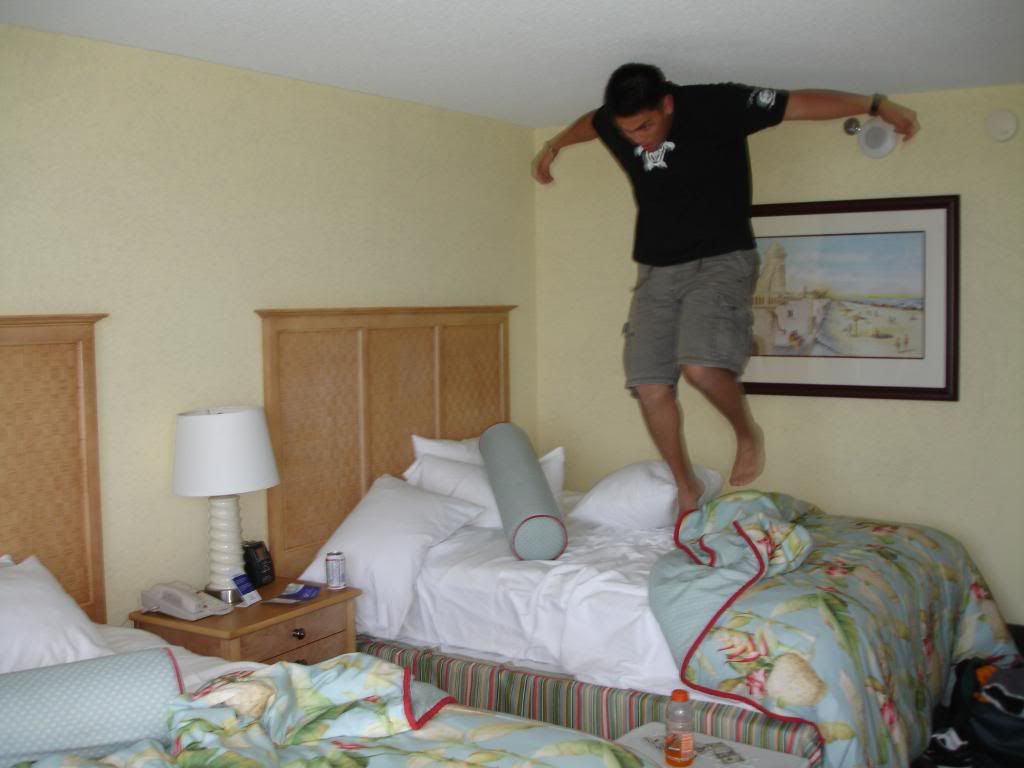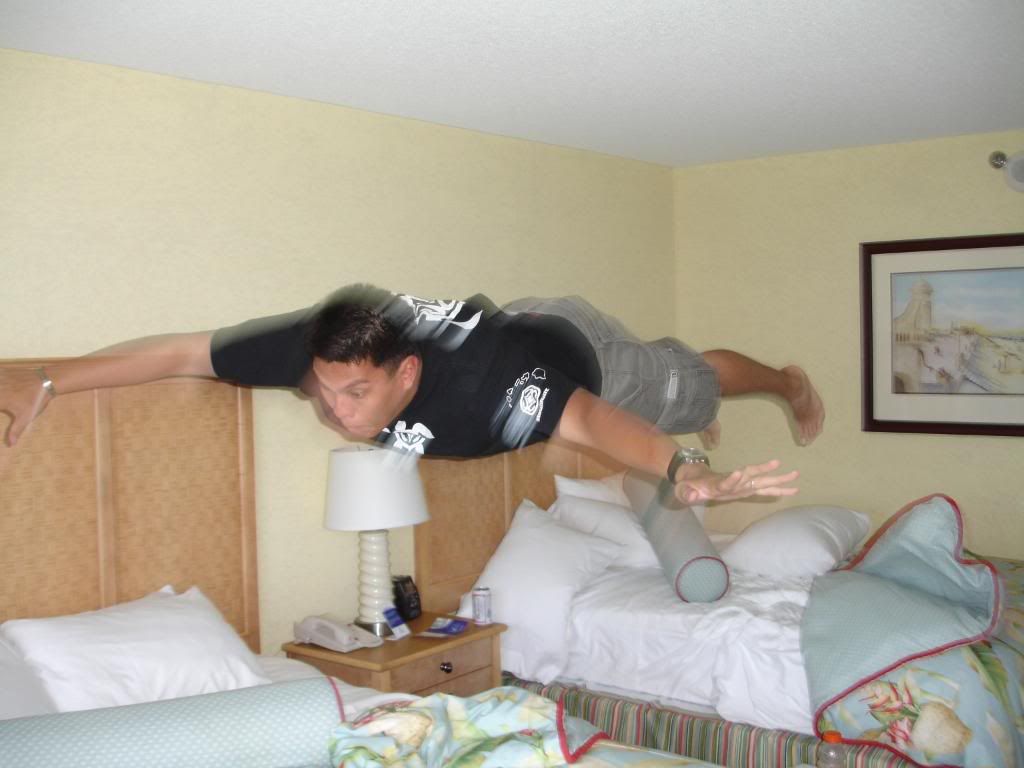 Later, we went to the beach and enjoyed a bunch of rides Daytona had to offer. We also saw the shuttle launch that happened last week in the sky outside the place we were having dinner. After dinner we hit the club and here are some pictures of that: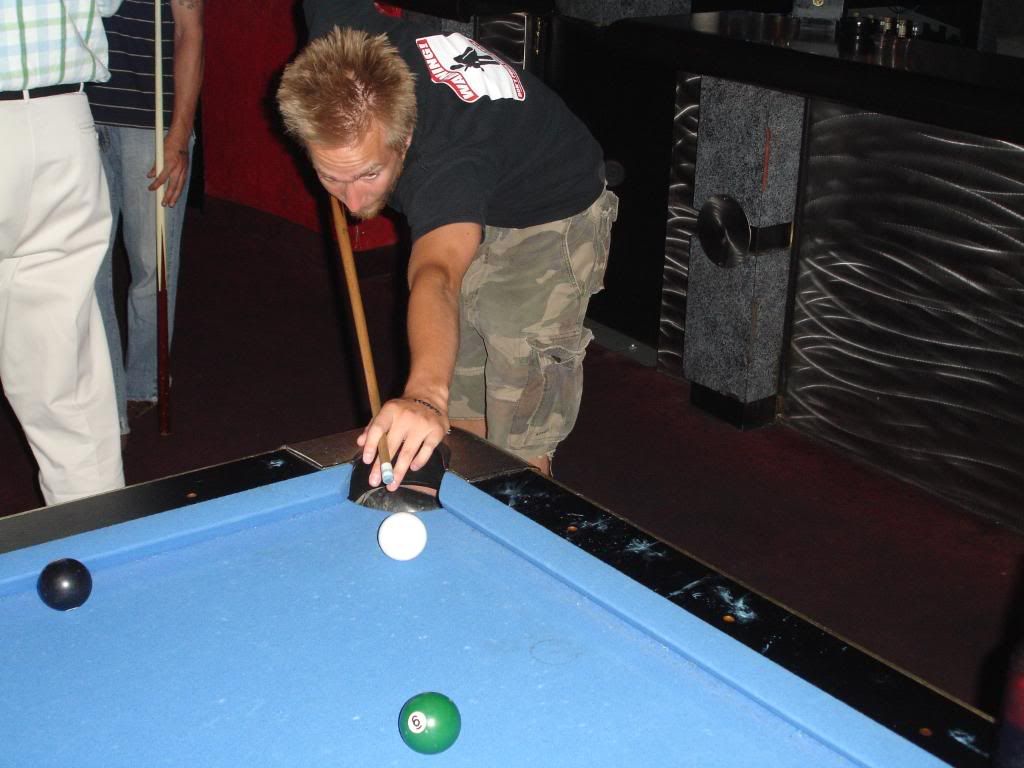 And our smokin' hot bartenders:
The next day we both weren't feeling so well, but I felt the worst: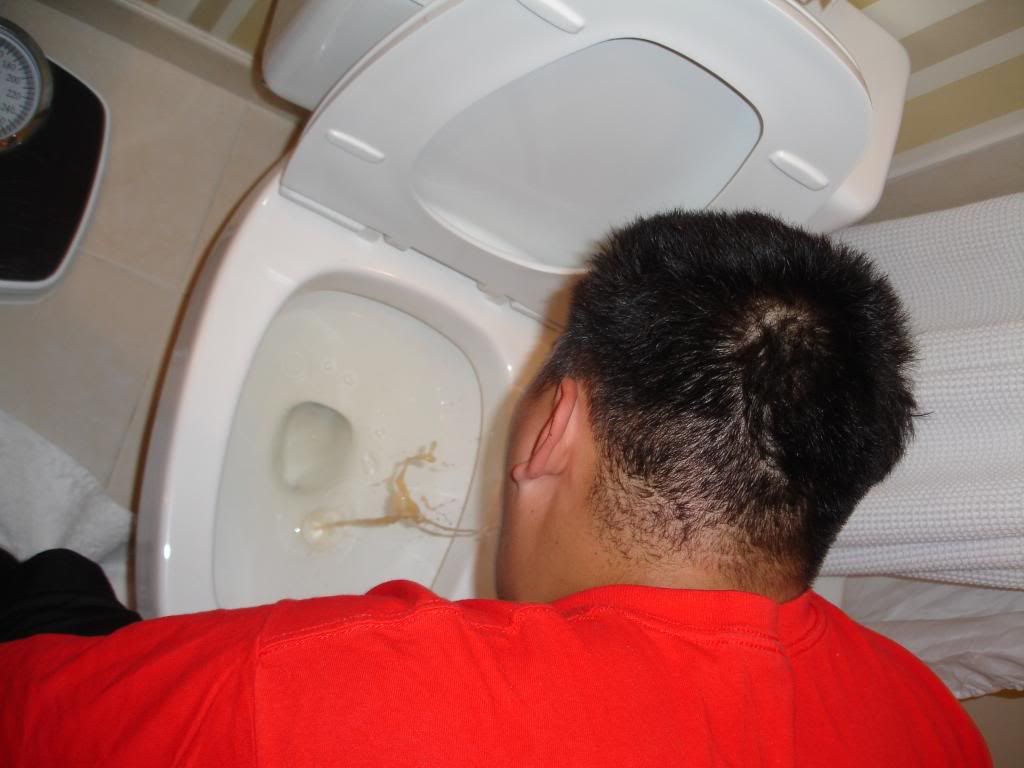 After we felt better, we went jet skiing and headed on our way to Georgia that night to prepare for the trip home. We rested at Matt's sisters house again and watched movies that night.
The next day, we started the trip home at around 8am. We passed Savanna, GA:
And along the way, we passed the 9th Air Force museum: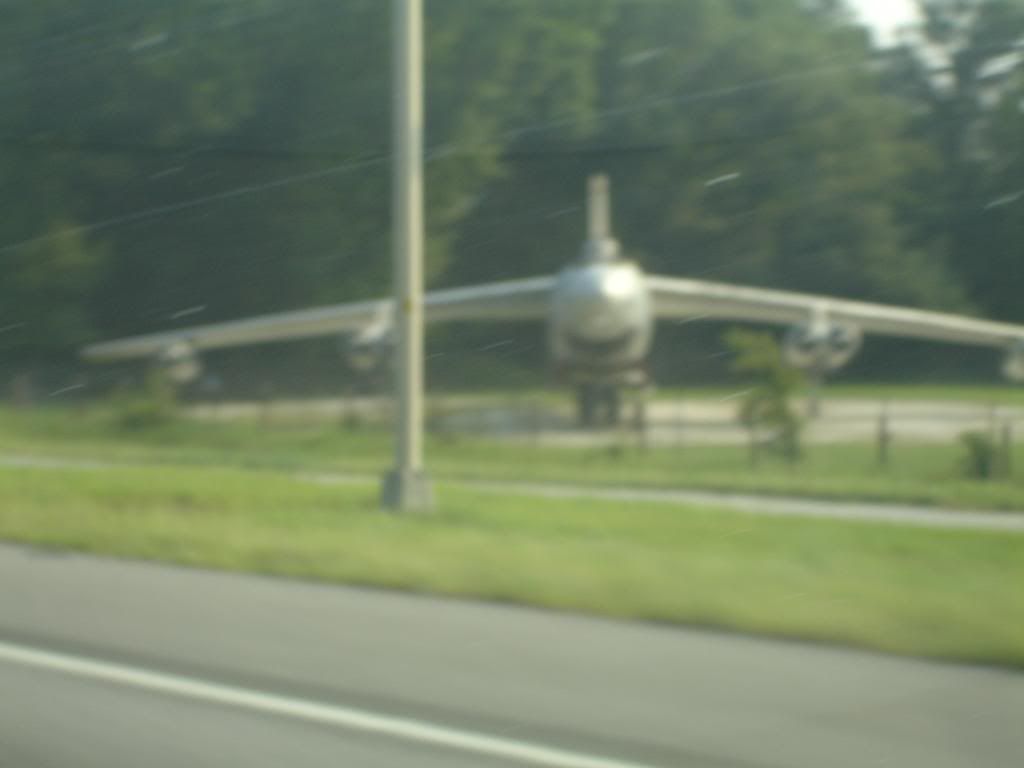 This is how weird Georgia people are: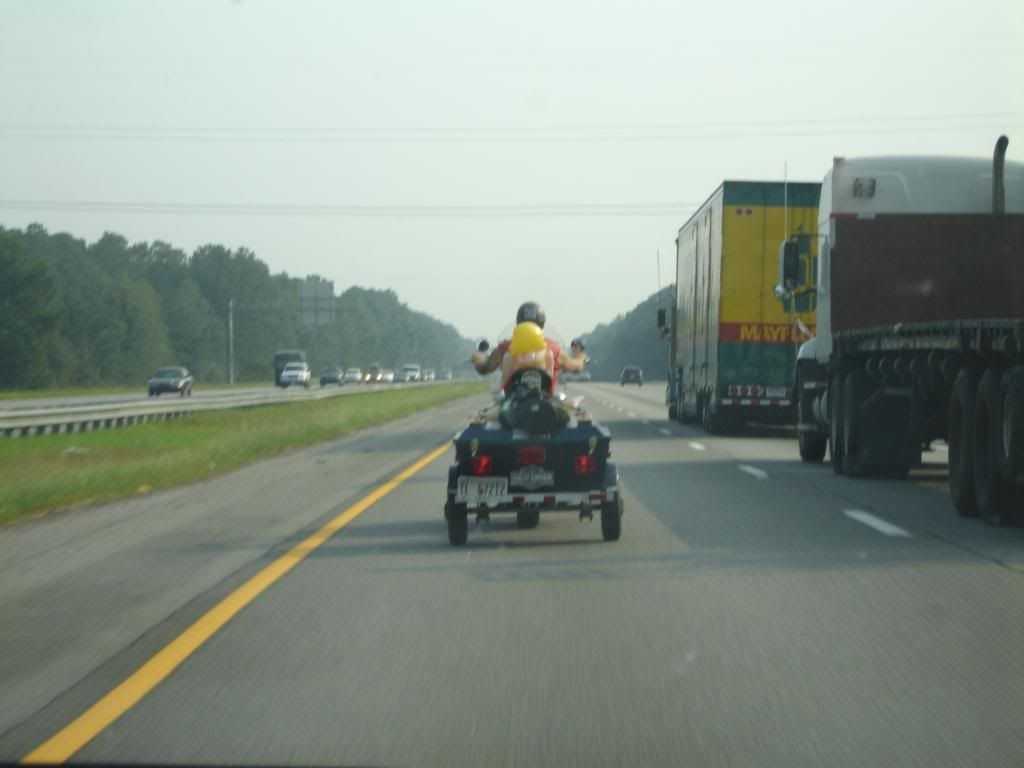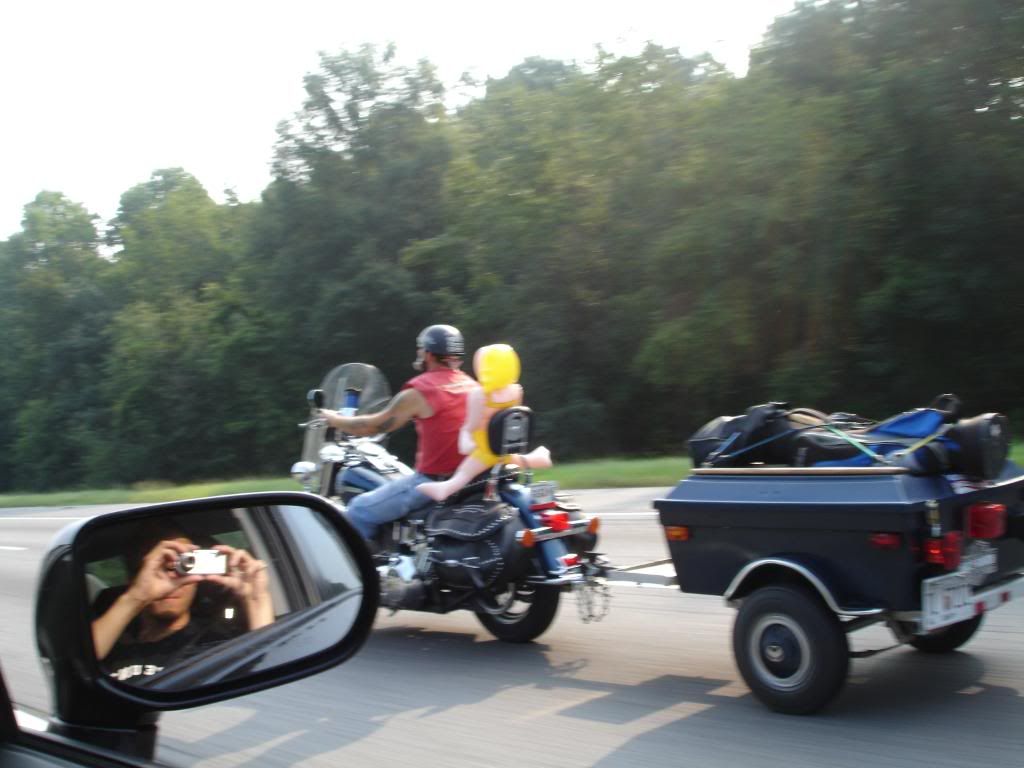 This guy had a blow up doll as a passenger! Awesome!!!
So we get into South Carolina: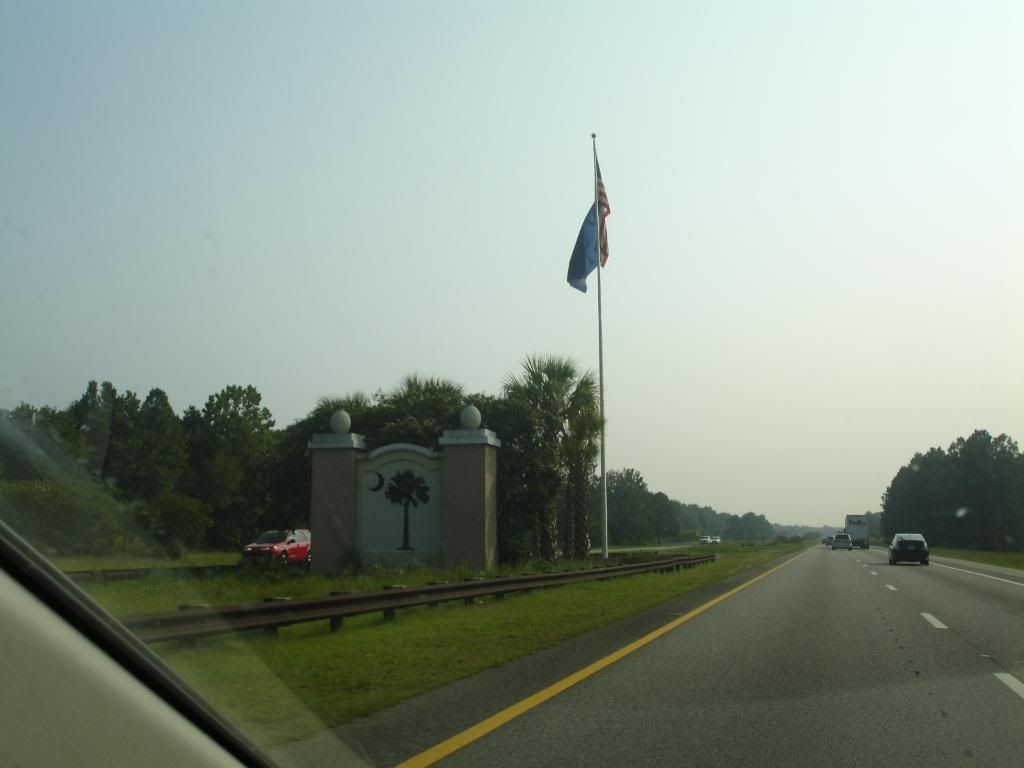 And see the cheapest gas at: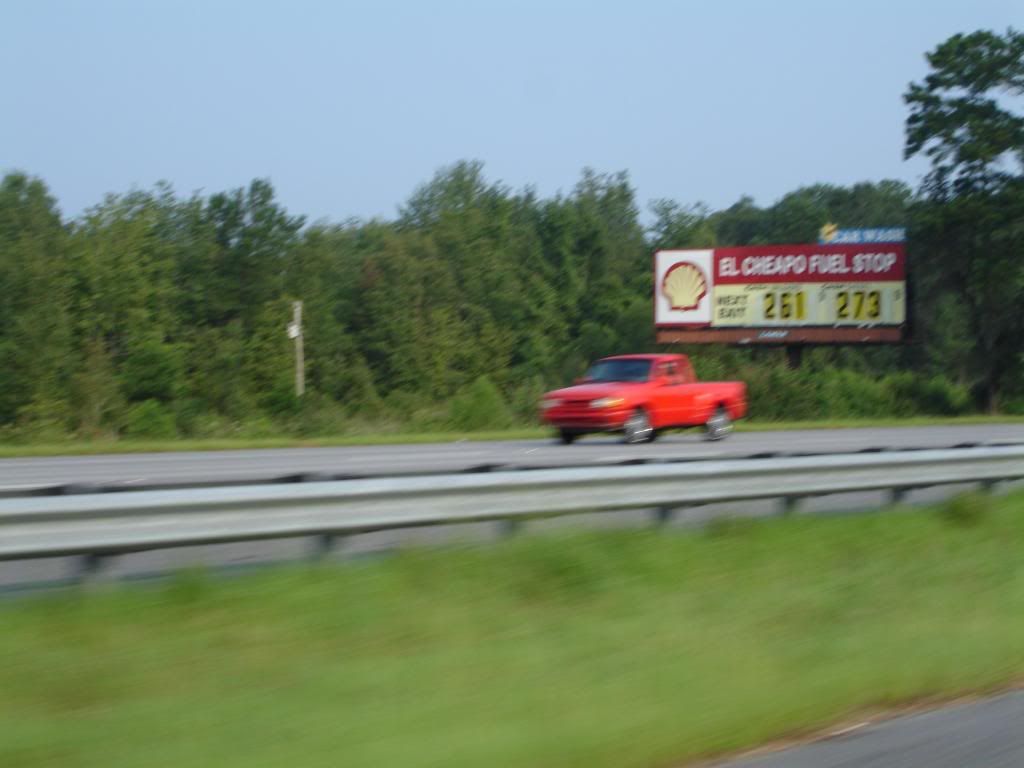 We get back to the Honda Way and snap a few more pics!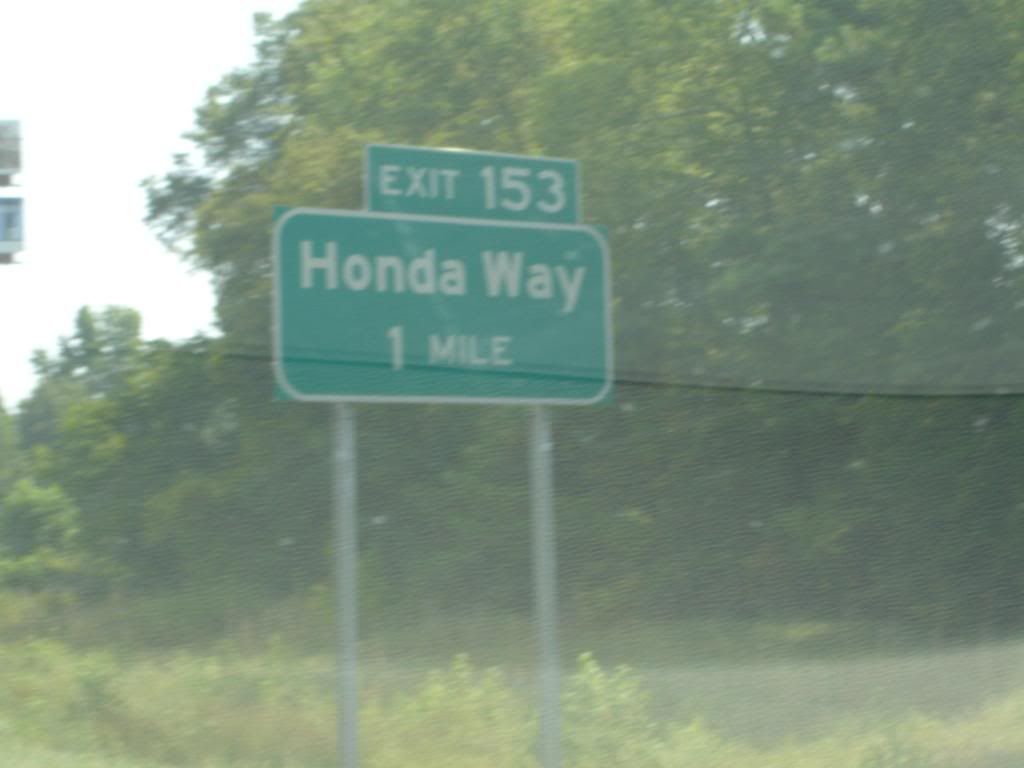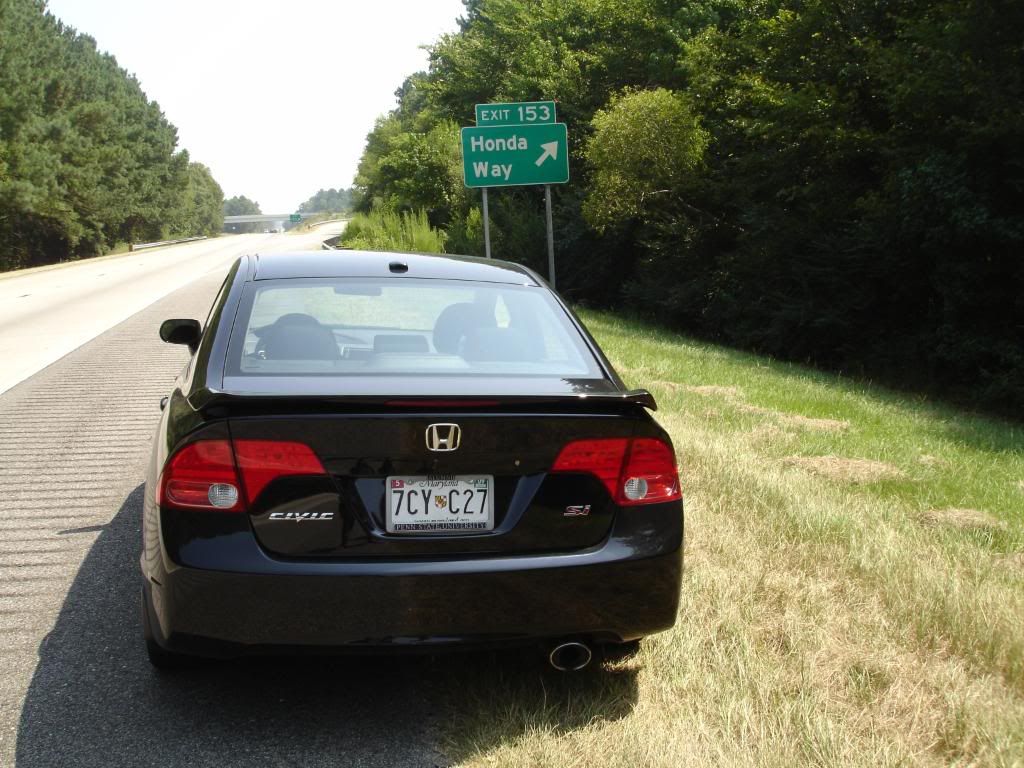 Not too long after Honda Way, we see some RICE!!!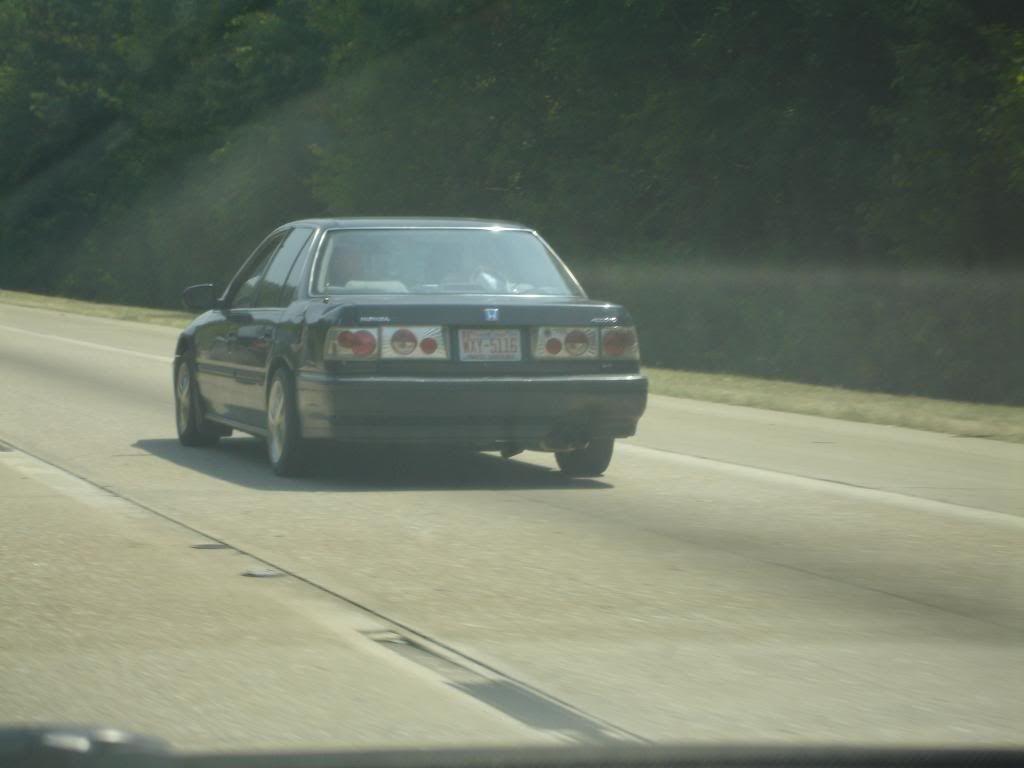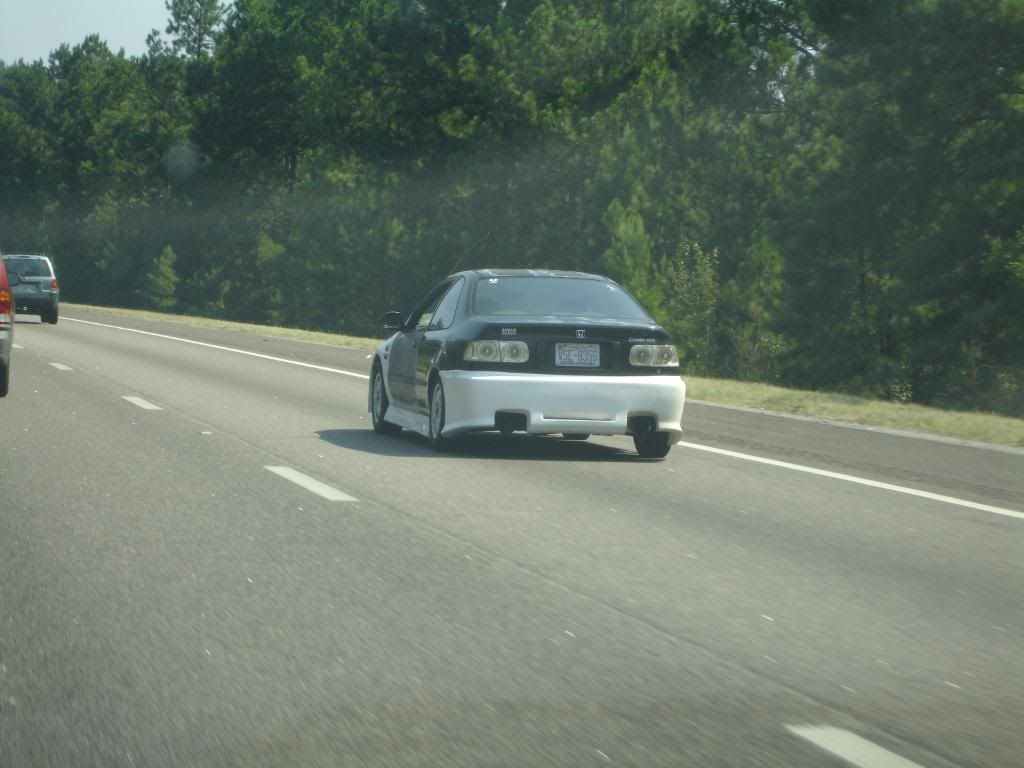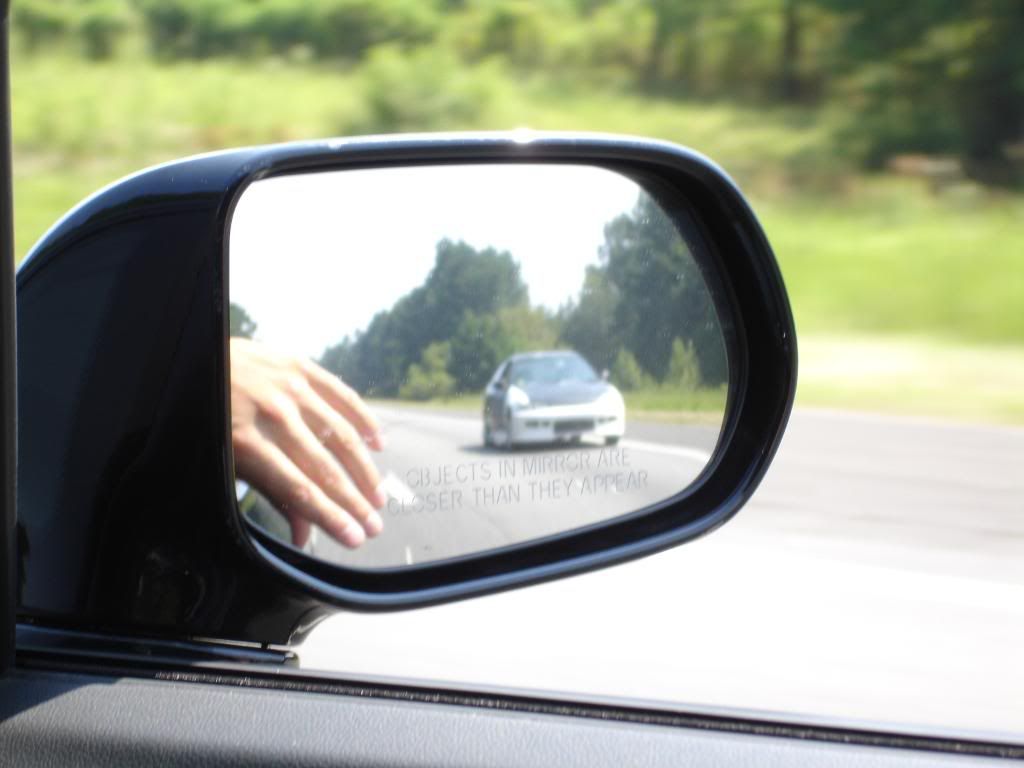 Right before we get to the NC boarder, there are more South of the Boarder signs:
We were chillin':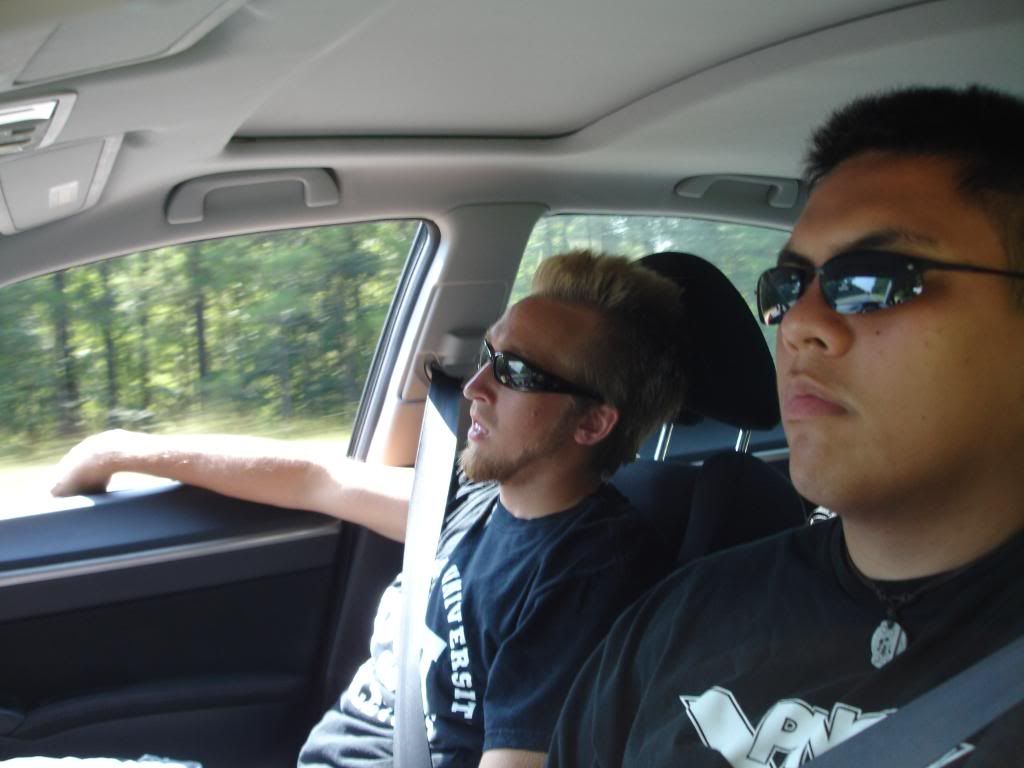 Before we got to South of the Boarder: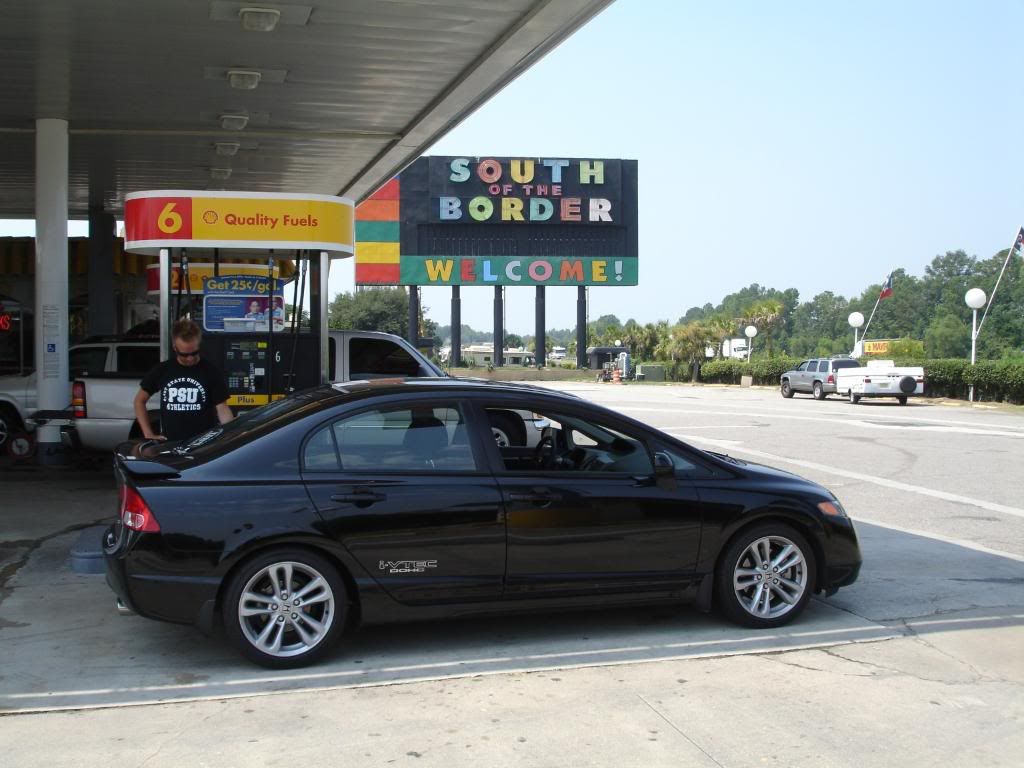 So a few fun shots there: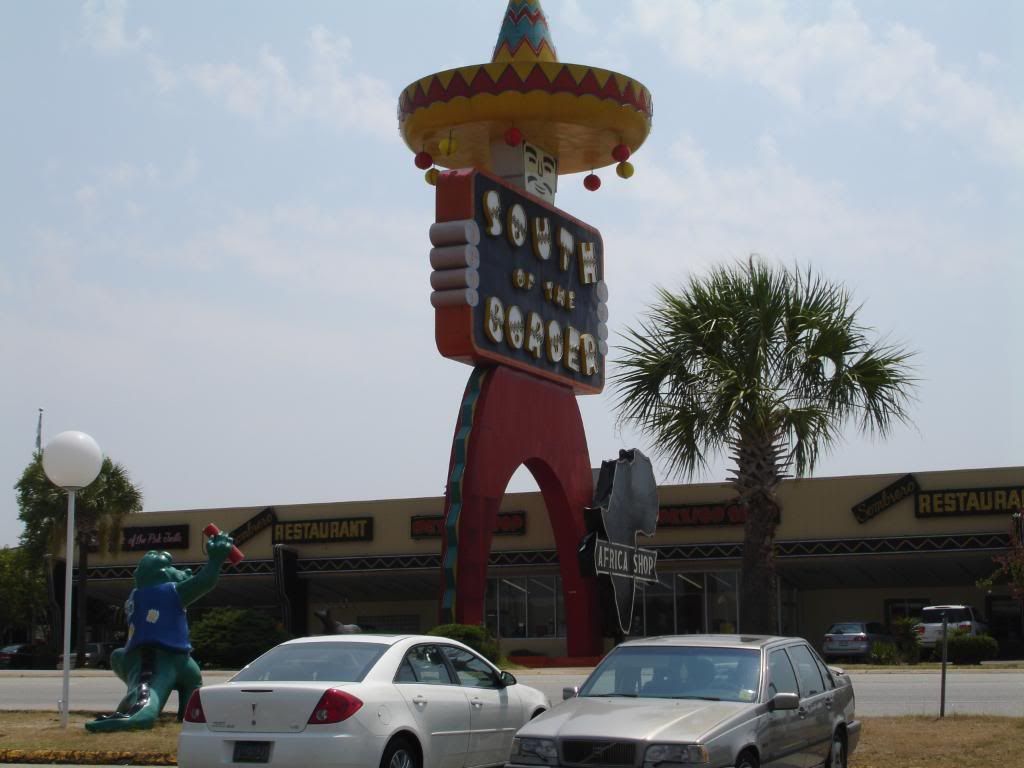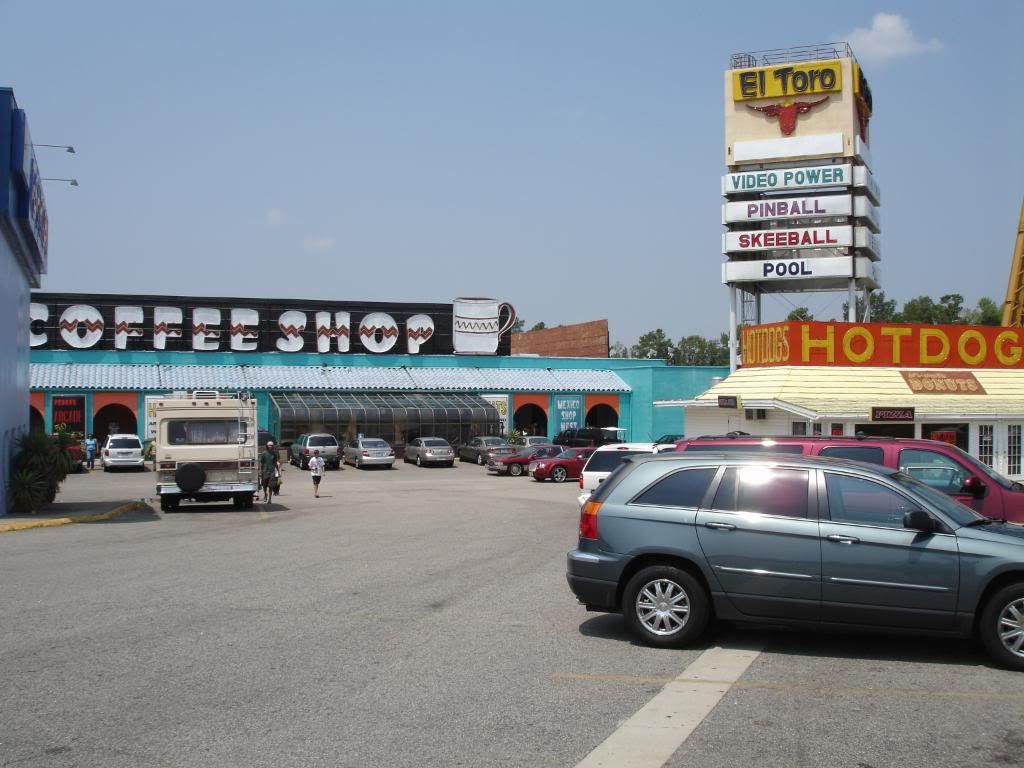 It must be hard havin' this type of security: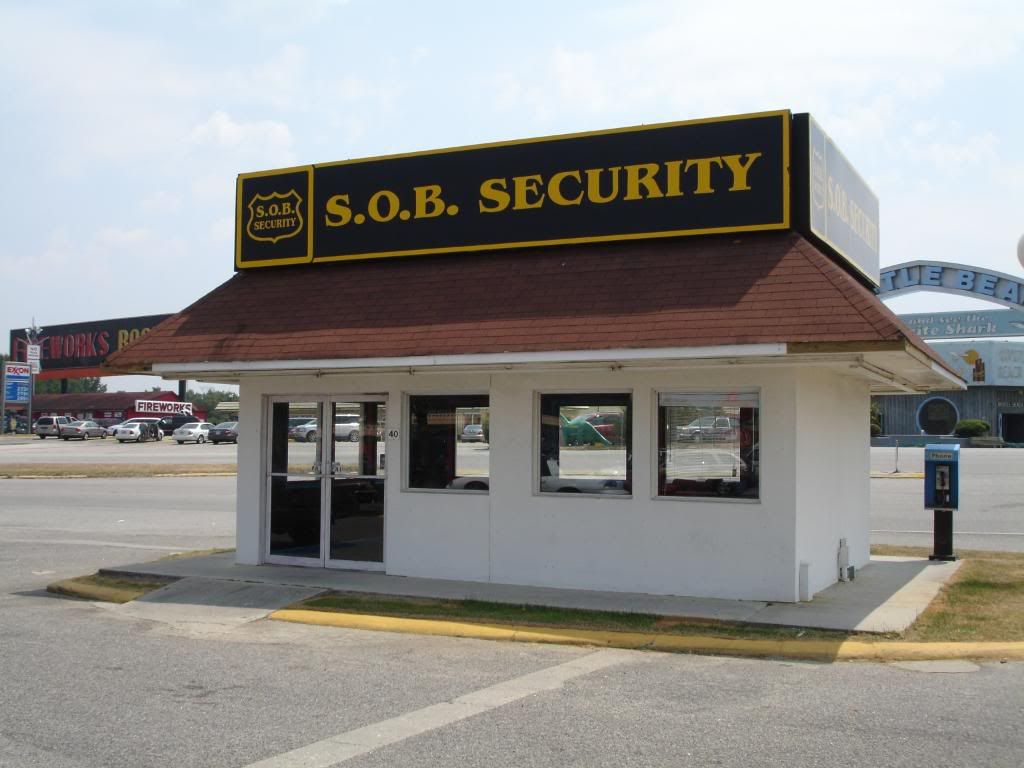 We get into North Carolina and, well...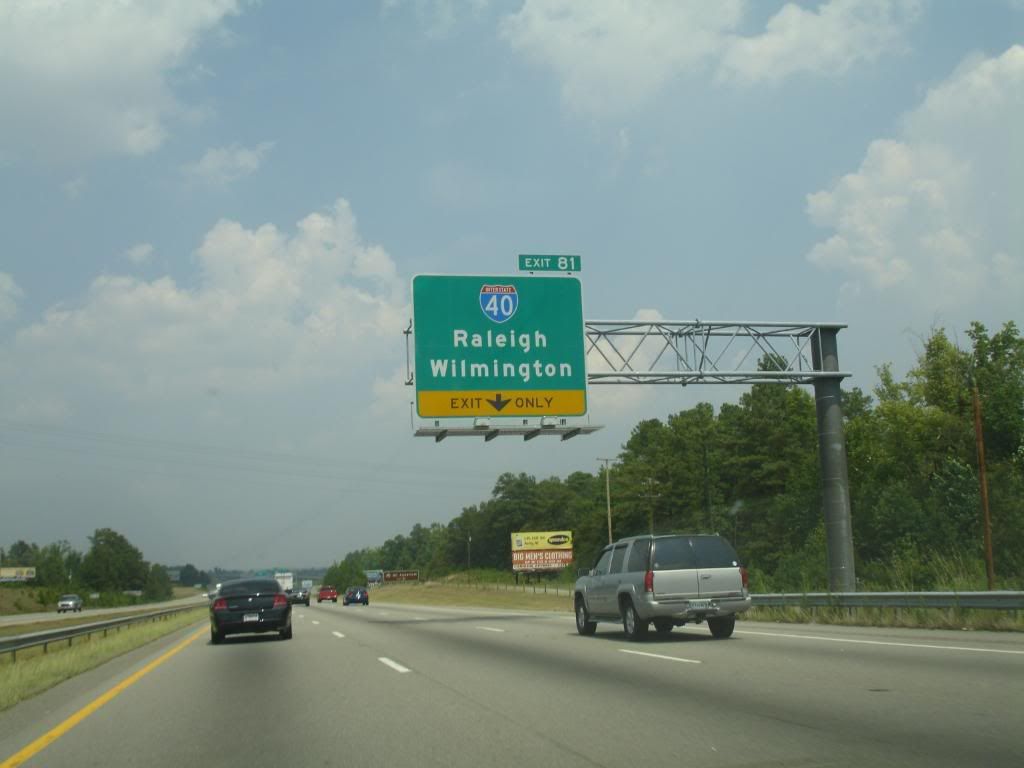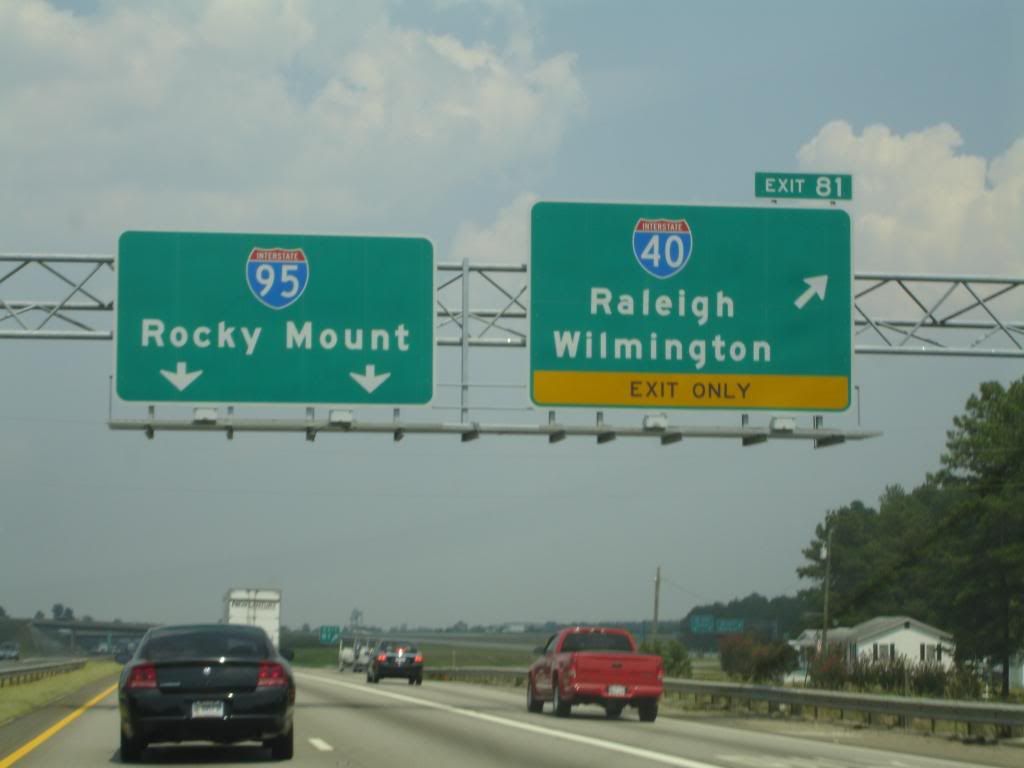 We are pretty far up North and it's this hot there: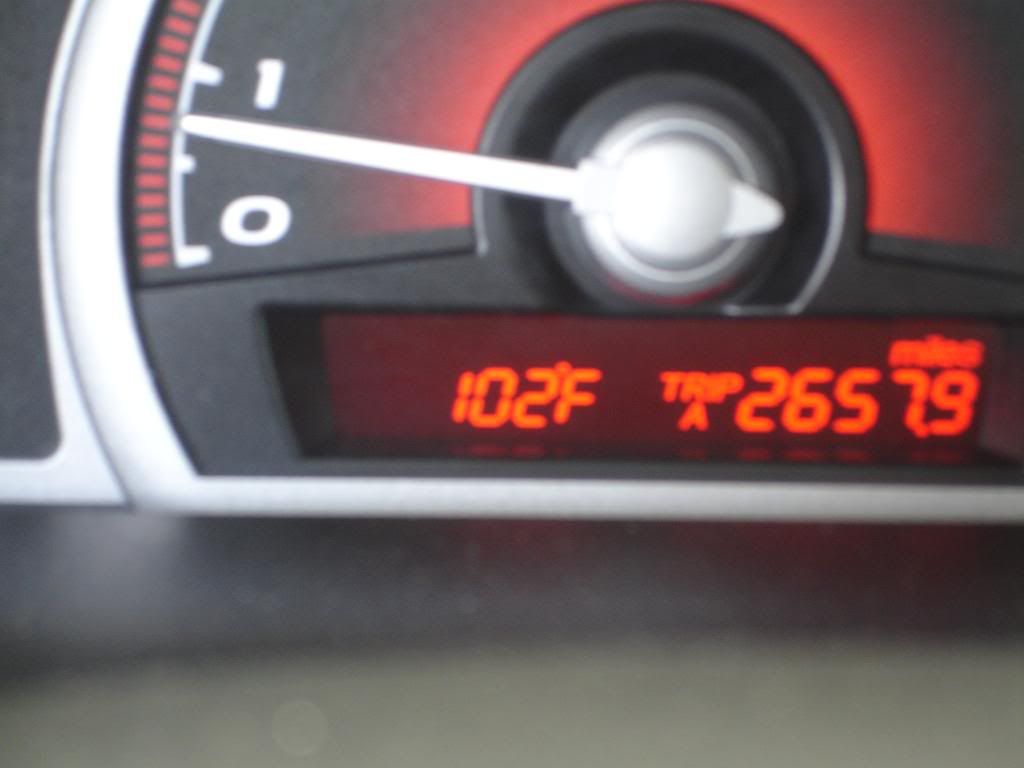 Finally, Matt's "Show Us..." sign pays off with these girls: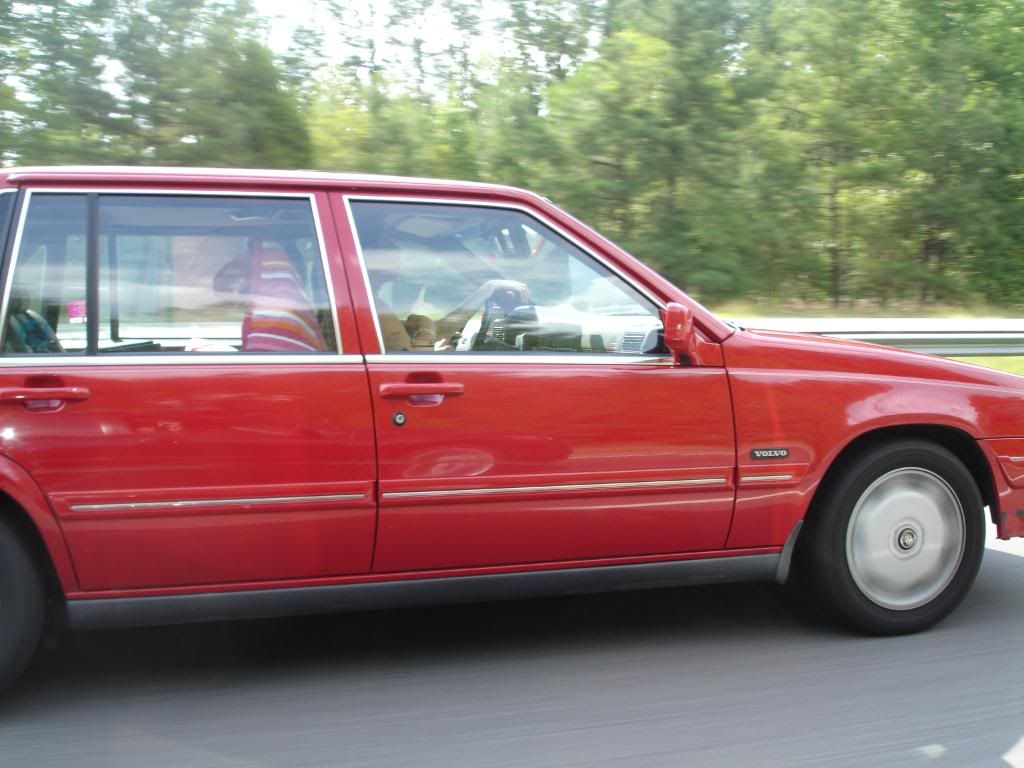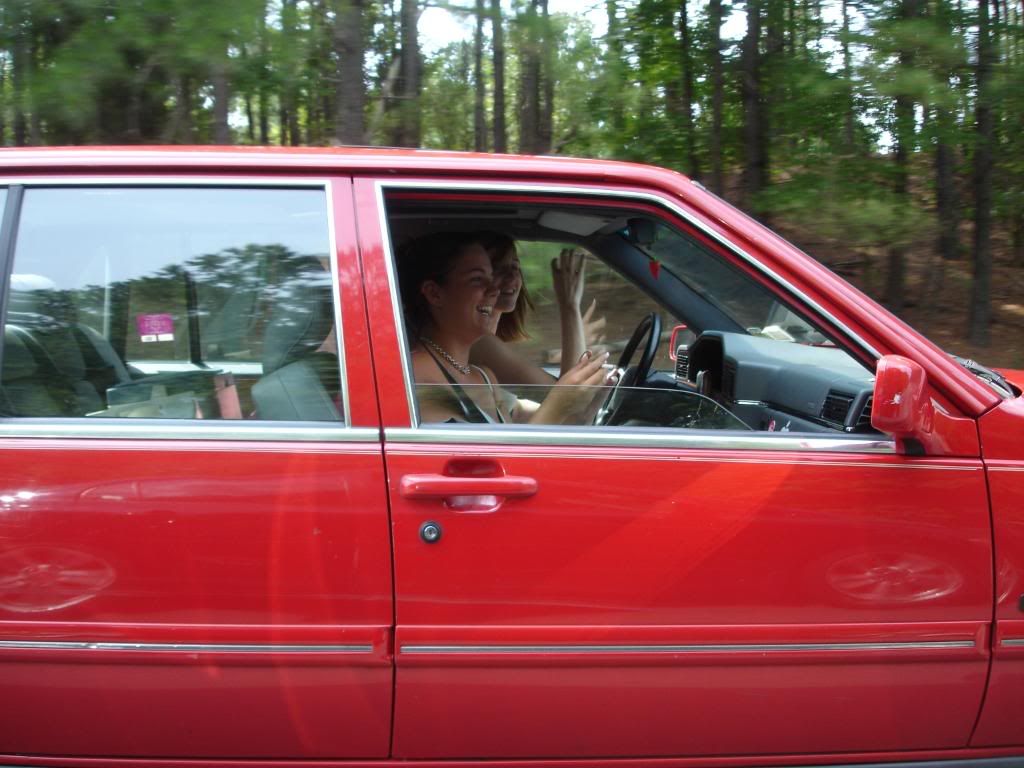 Once again, here's what you do in North Carolina.....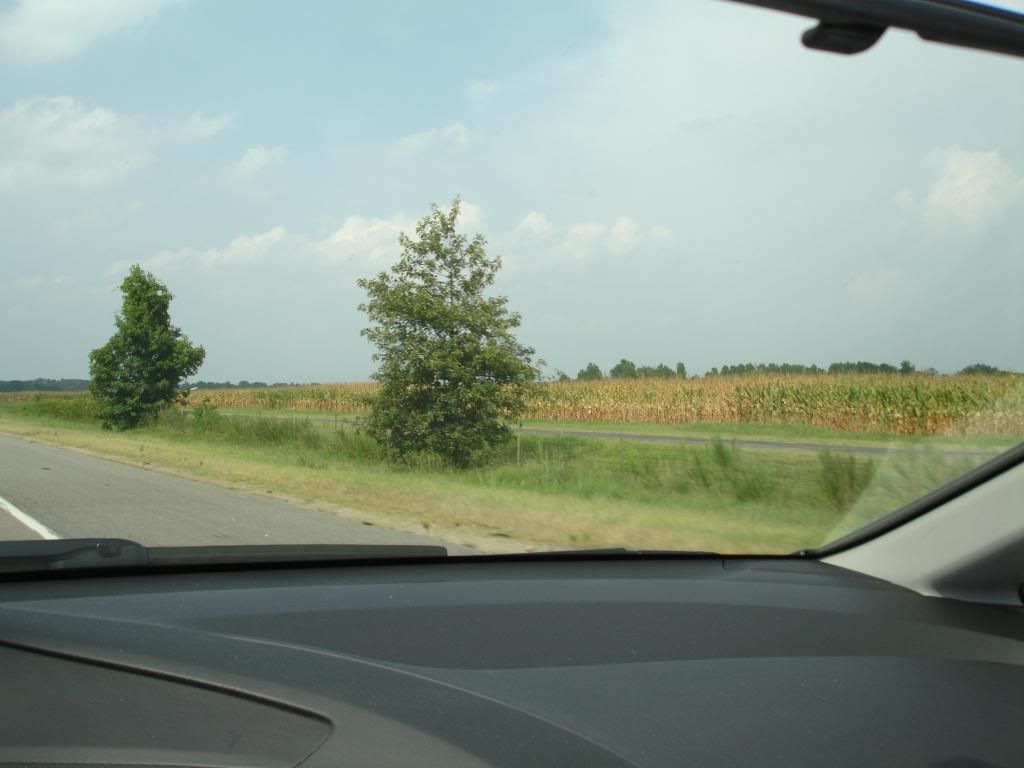 NOTHING!!!! :laughing:
So, we finally get into: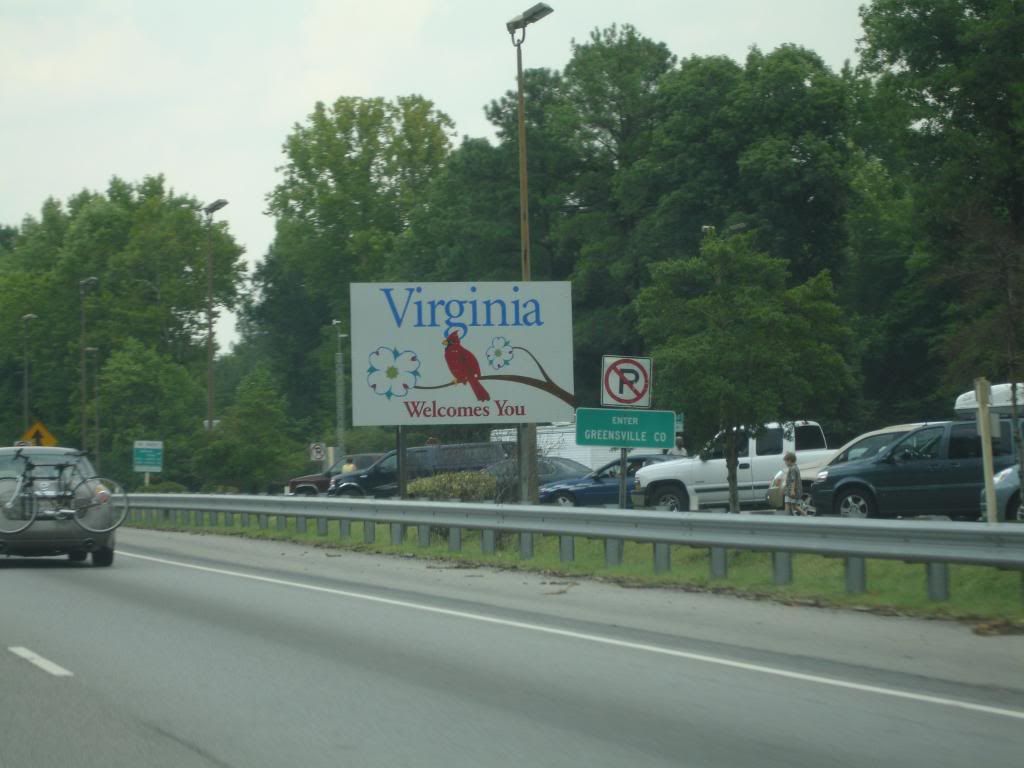 I drop Matt off at home and continue my journey up to PA. On the way I pass DC and decided to get some shots on 395: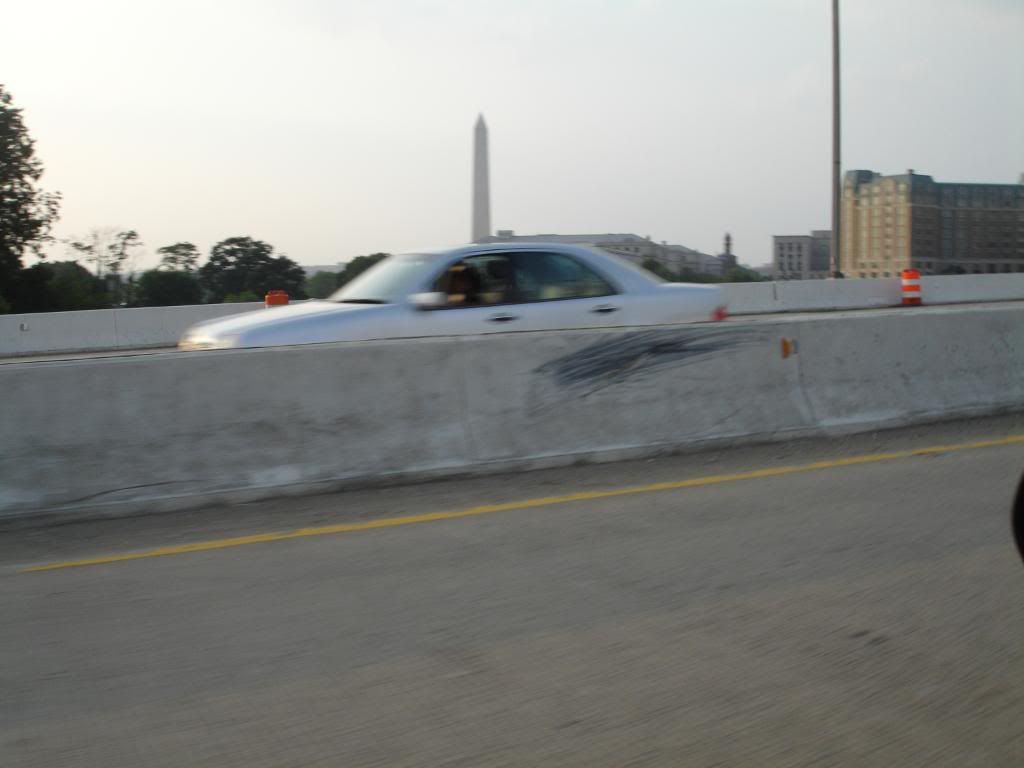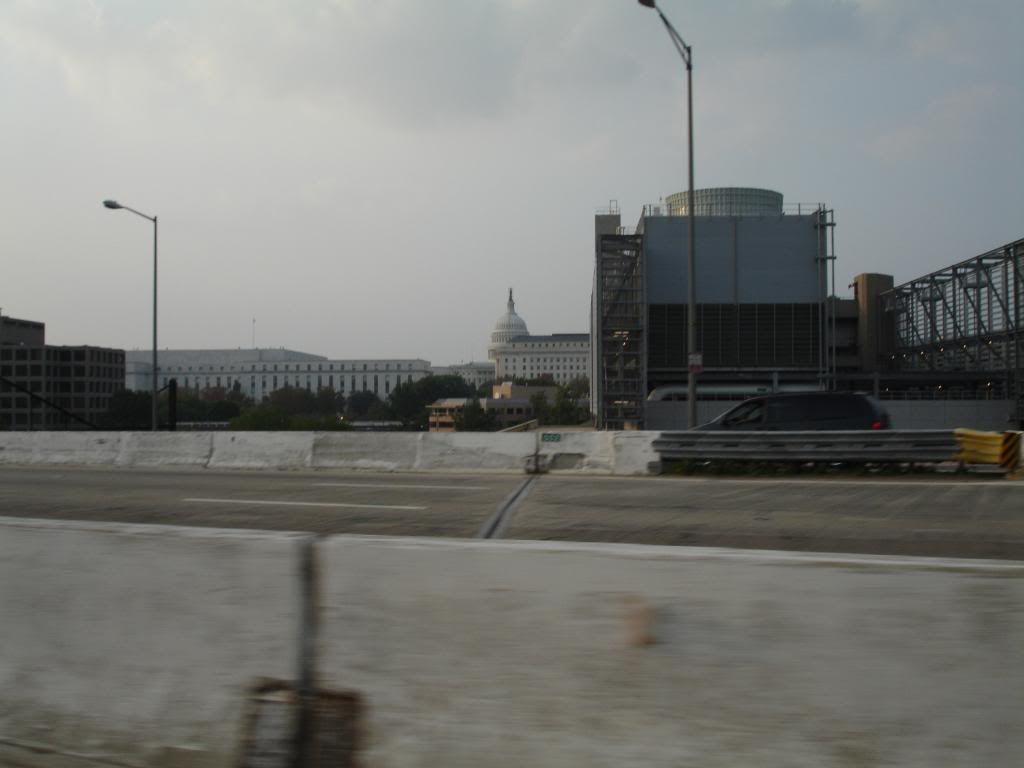 I got home at around 10 that night, and so ended the East Coast road trip in the Si. We traveled about 2,500 miles and covered 9 states (10 if you want to count DC) and had a blast the entire time! If anyone wants to road trip, I highly recommend it! We had an AWESOME time!
So stay tuned next year as the Coast to Coast road trip gets started!
Thanks for bearing with me on this pic heavy thread!
8thCivic.com forever!
PSU Pinoy PSU
a.k.a.
Eric