·
Kansas Chainsaw Massacre
Discussion Starter
·
#1
·
I've been around the site for a very long time, but for whatever reason I never made an
official
introduction/picture/"my car" thread. I decided I'd finally do that.
I picked up my car in July of 2006. at that point there were only 3 or 4 other Si's in Wichita (if that many- the wichita dealership got about 8 Si's for the 2006 model year). I convinced my bank to give me a loan that covered the HFP lip kit and fog lights.
Before the Si, I drove a 1988 S10 Blazer. it was jacked.
jacked.
It had been in my family since about, well, 1988.
It was time for a new car.
mg:
At the time I bought my Si, money was pretty tight. :xyxnervou between apartment life and car payments, I had very little extra money for modifications, so I chose to paint my brake calipers first.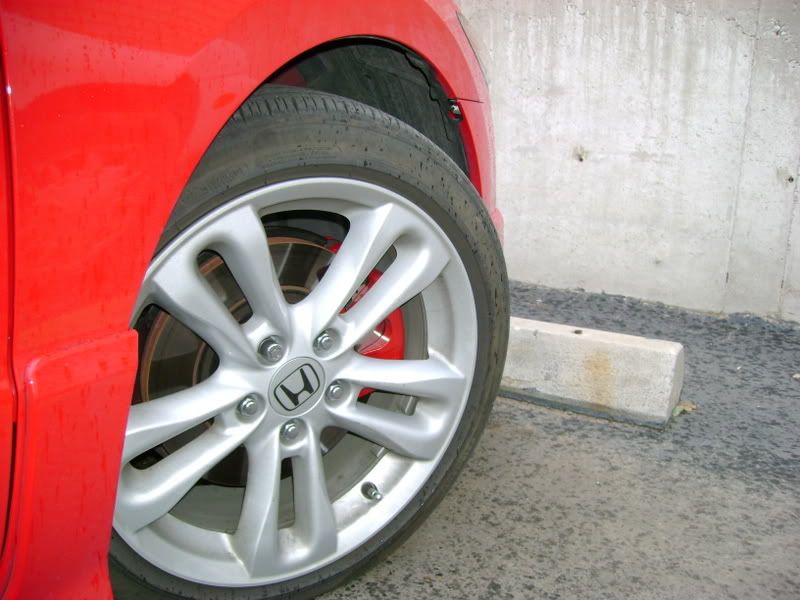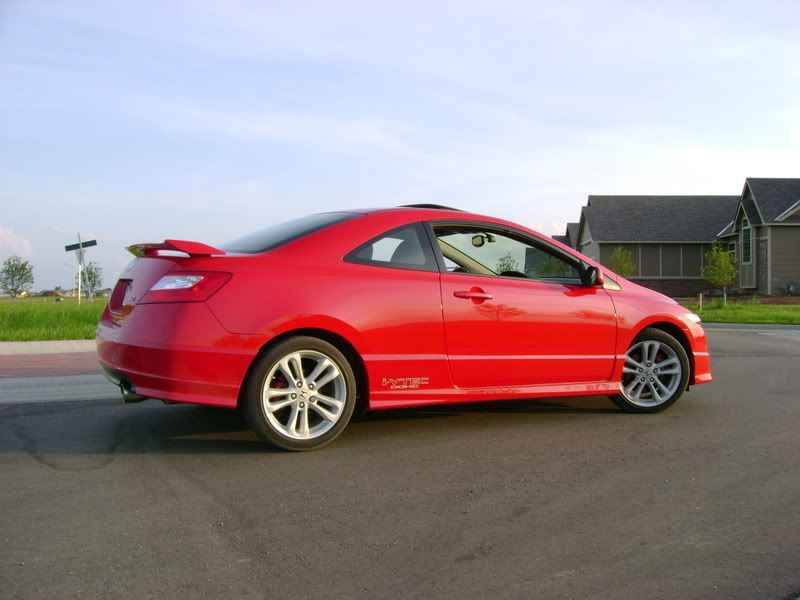 Oh- I forgot, there was another, big, important reason I didn't have money to slap some crazy-wild mods on my car:
I got married. the ring was expensive. :SHOCKED::woowoo::cheerleader: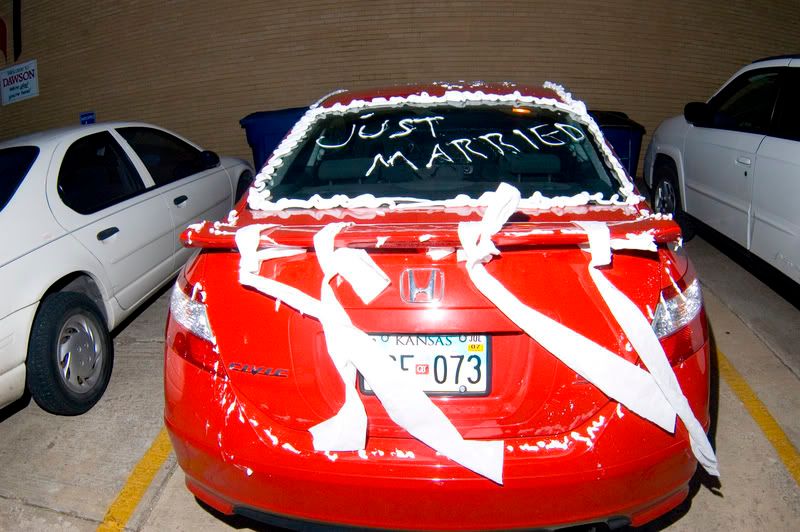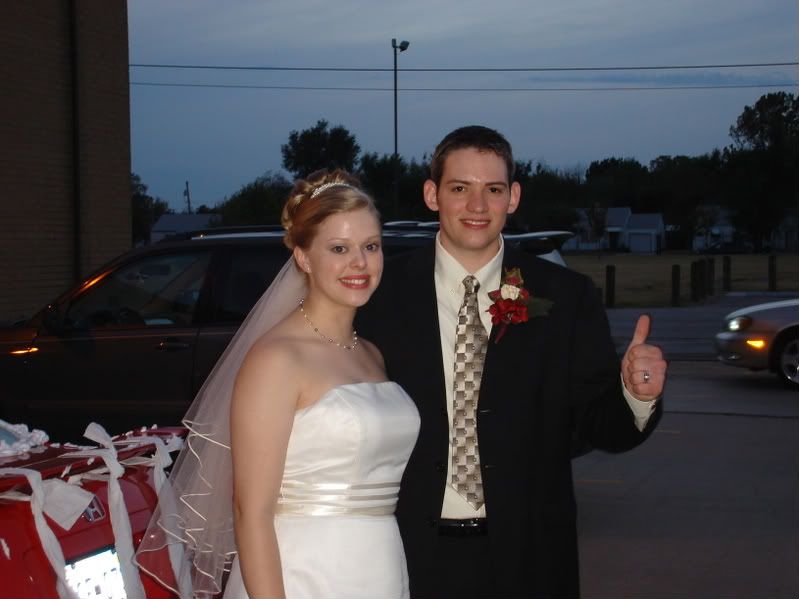 After the calipers (and money stopped being quite as much of an issue), I found a K&N SRI, installed it, and then 6 months later pulled it and sold it. I cleared out the airbox when I put it back in.
Around the same time I sold the K&N I picked up a R/T Hi-flow cat and a tanabe medallion touring exhaust. oh, right- I bought a house somewhere in there, too. :thumb: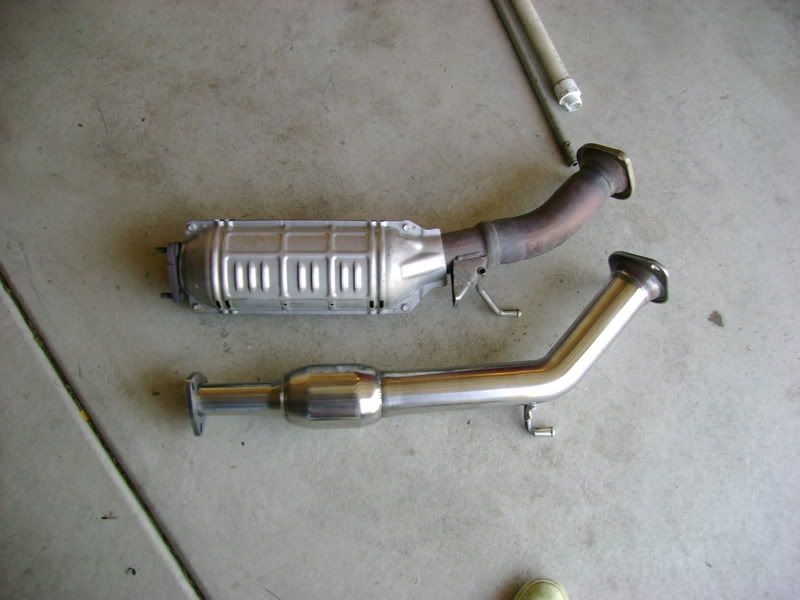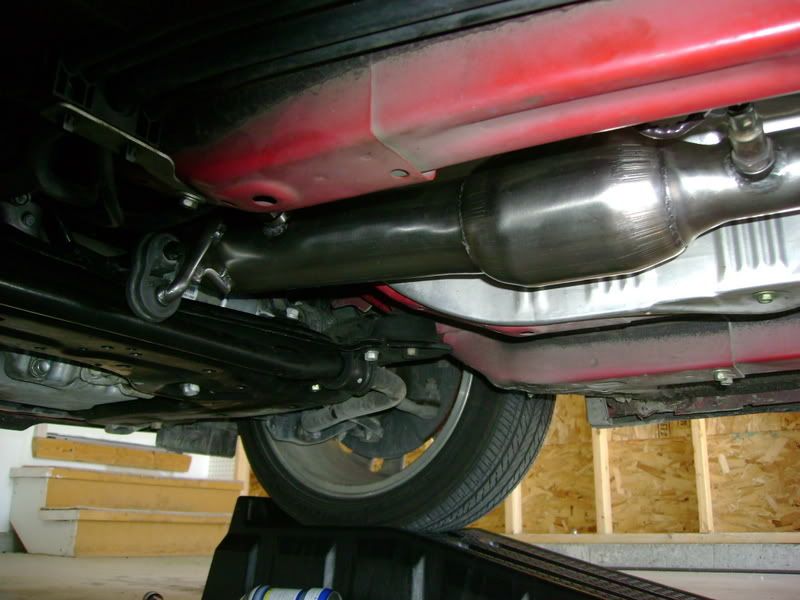 the house: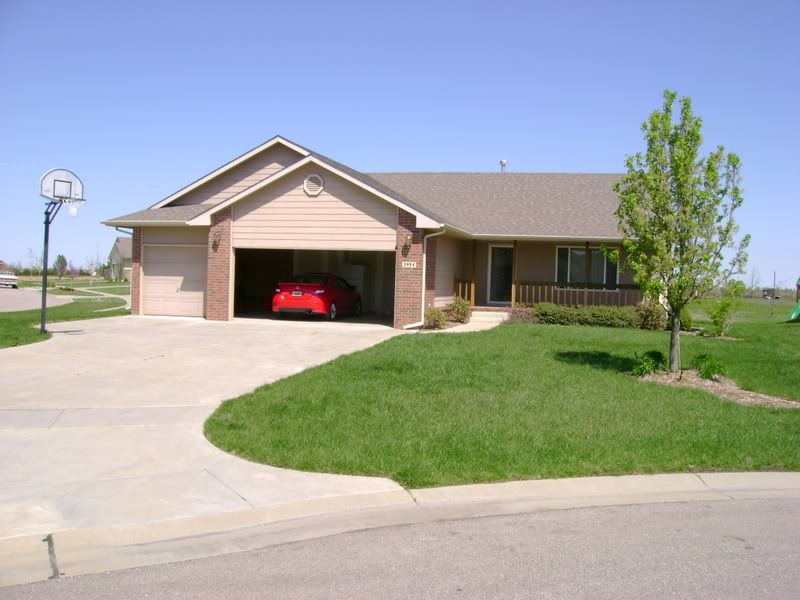 Then, for our first anniversary, My wife and I went to Hawaii. Ever been there? Nice.... and expensive. so much for more mods. (
Although I'm not complaining. not really...
)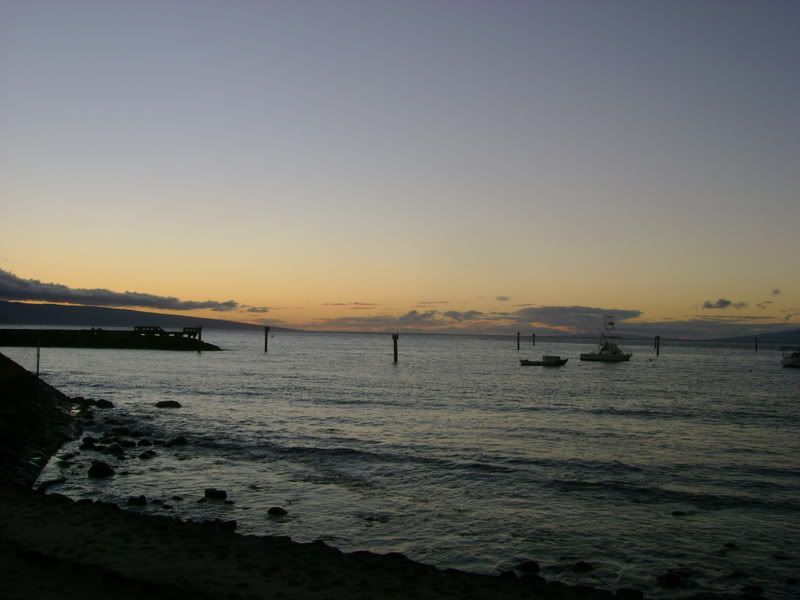 My wife hates this picture: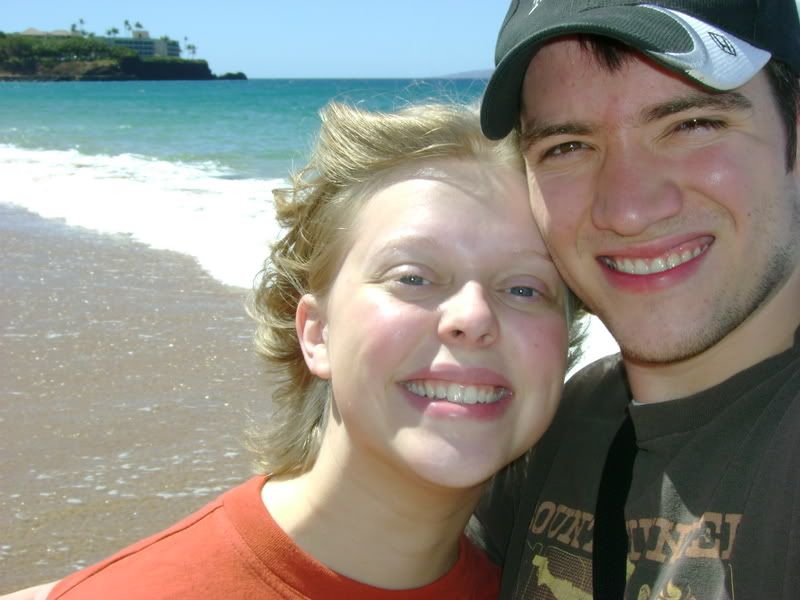 So, to be fair, I'll post this one, which
I
hate...my hair's jacked, I haven't shaved, and I've had just a wee bit too much bourbon....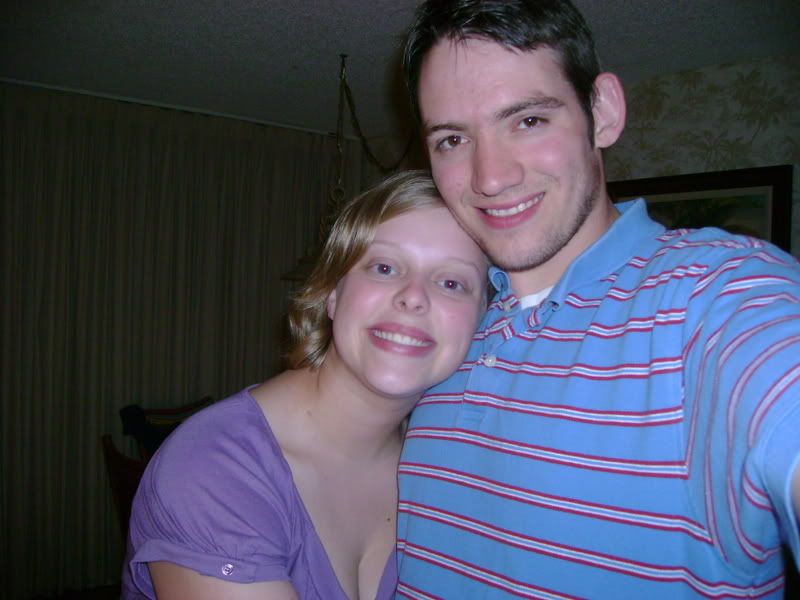 damn, I luvz mah wife.
(
The drive up to Hale'akala National Park is absurd. You see the listed elevation? You go from sea level to that in 38 miles! It's the fastest elevation climb in the world... talk about a twisty road.
Another twisty road- the Road to Hana.
wish I had the Si for these drives... our rental was a low trim cobalt.
:xyxnervou
Right after getting back from Hawaii, I did make some room for a new set of tires. I picked up some Goodyear Eagle F1 Ultra performance All Season tires. They handled amazingly well both wet&dry, but due to the fact that I tore them up in 17,000 miles (and they had a treadwear rating of 400, which means they should last a good 25,000+ miles) I don't think I'd get them again.
At some point or other, more Si's started showing up in Wichita. I didn't have to feel alone anymore.... and now I just feel crowded. the last half of 2007 and most of 08 simply put
too many
of us on the streets.
It's too bad I'm not a better photographer. I know a lot of these suck. :lildevil:
Next up were JDM H's: thanks to password JDM, that took about a month and a half. they went for the win and shipped me two rear badges the first time around. :cheerleader:
after that, sidemarkers.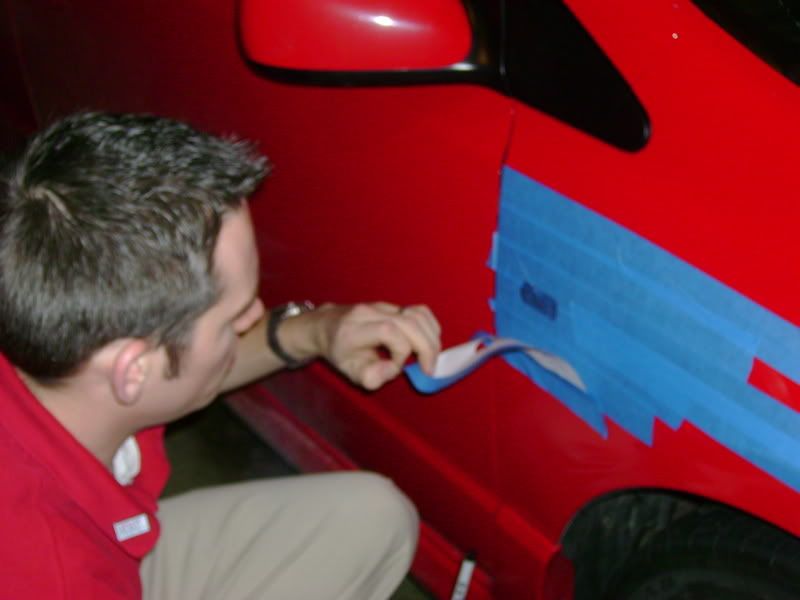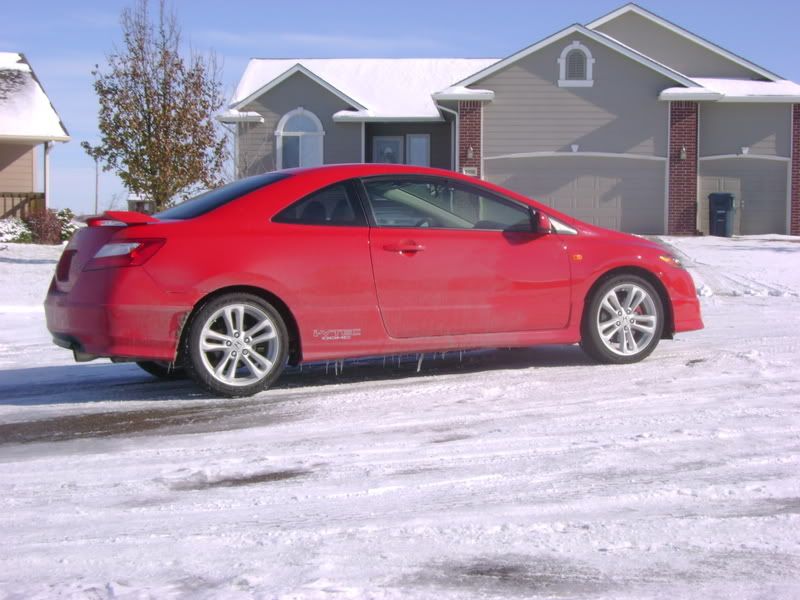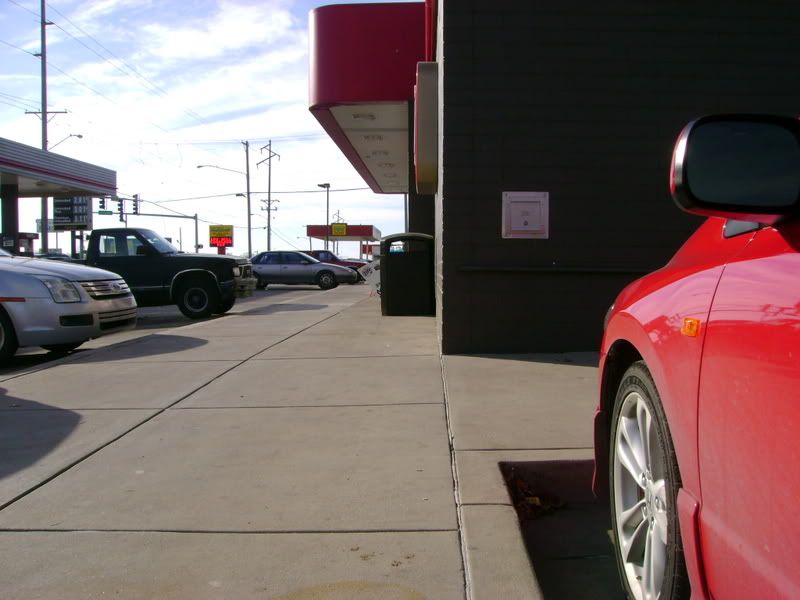 There's a DIY thread on those, so I won't linger.
http://www.8thcivic.com/forums/exterior-style-mods/70037-sidemarker-diy.html
Winter decided to show up at my garage very abruptly.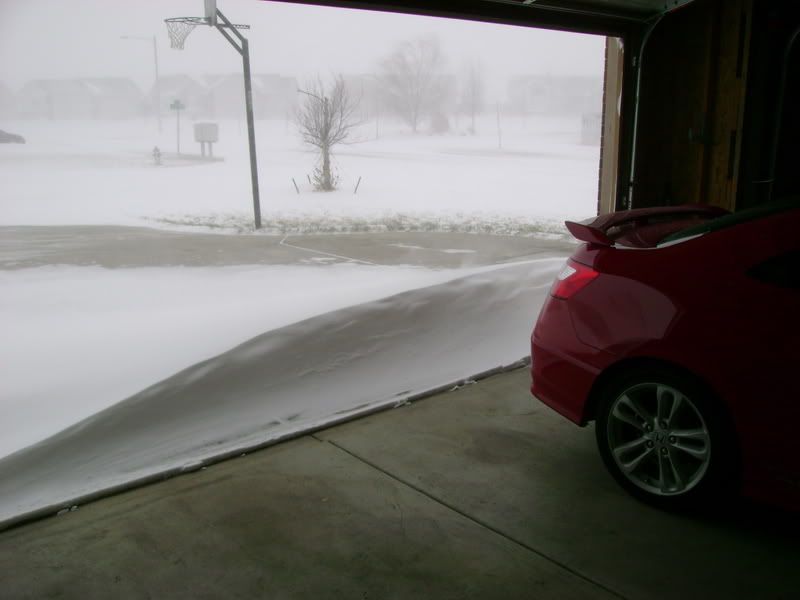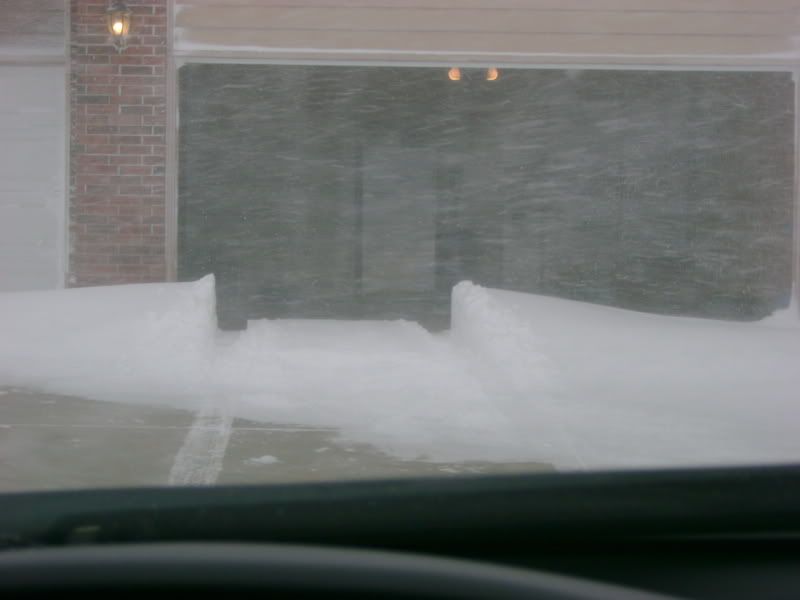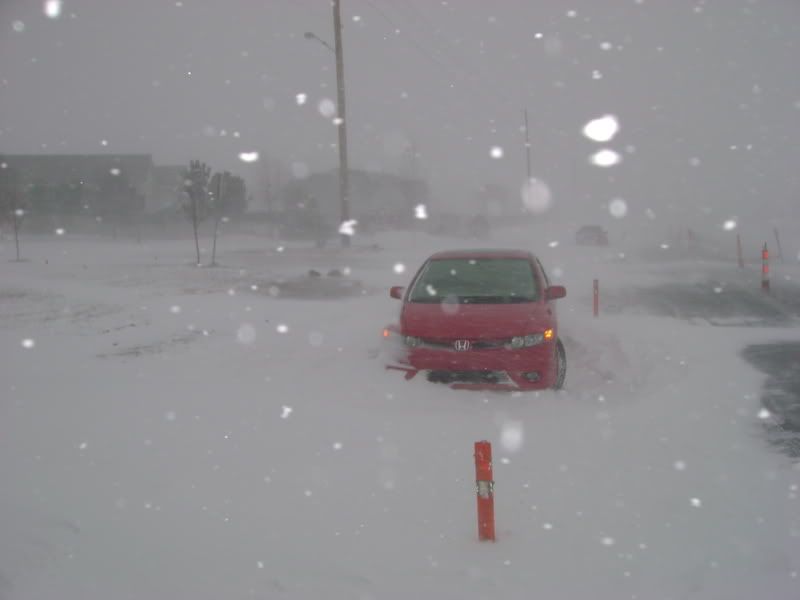 ...and I'm not the only one who got stuck. There's actually a UPS truck 20 feet in front of me, a 4X4 Blazer in a lane over, and some unfortunate kid in a mid-ninties maxima who works for pizza hut somewhere in the background.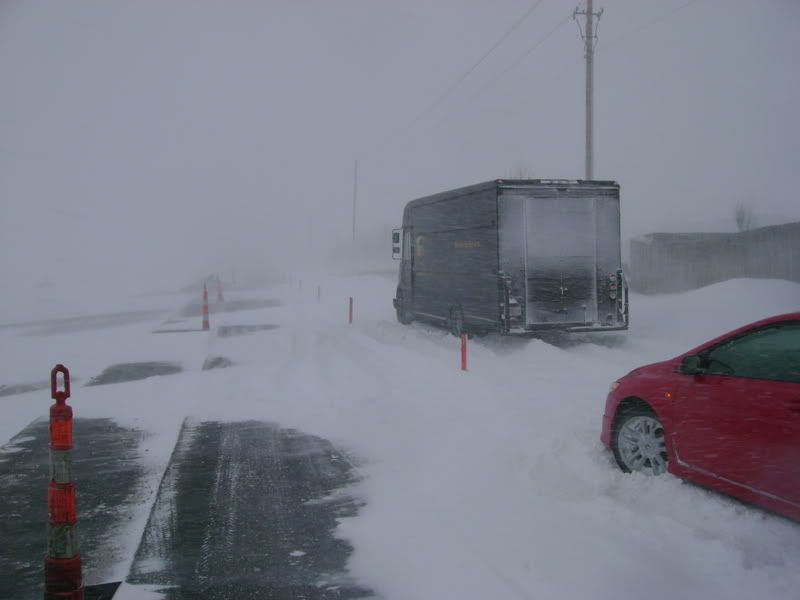 Throttle body spacer went on next.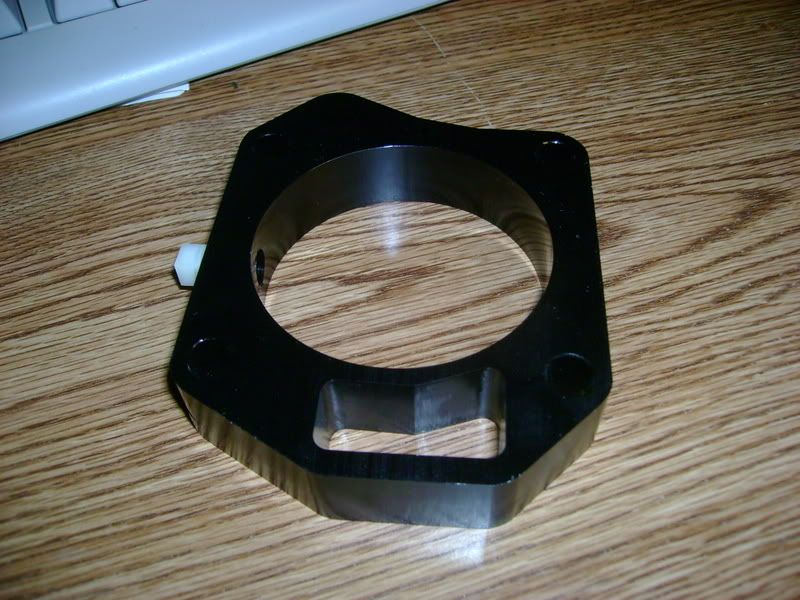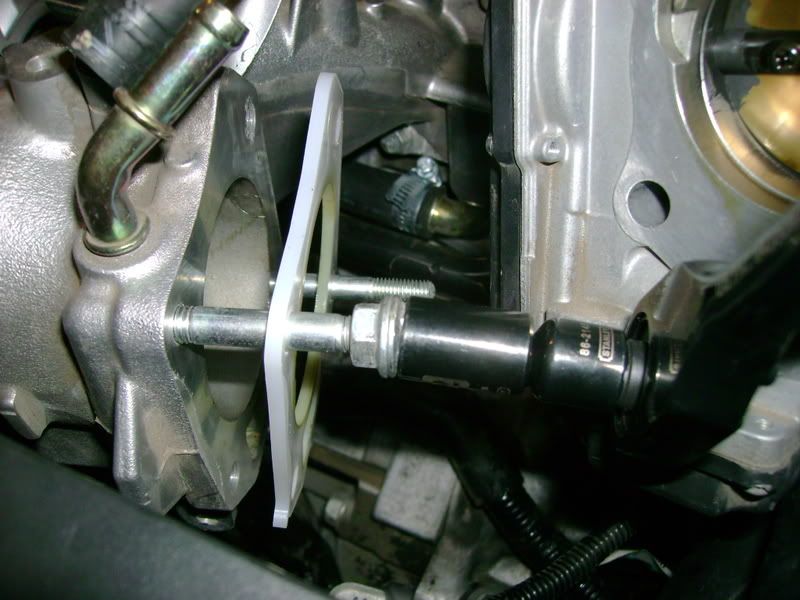 and then, a progress swaybar. easily one of my favorite mods.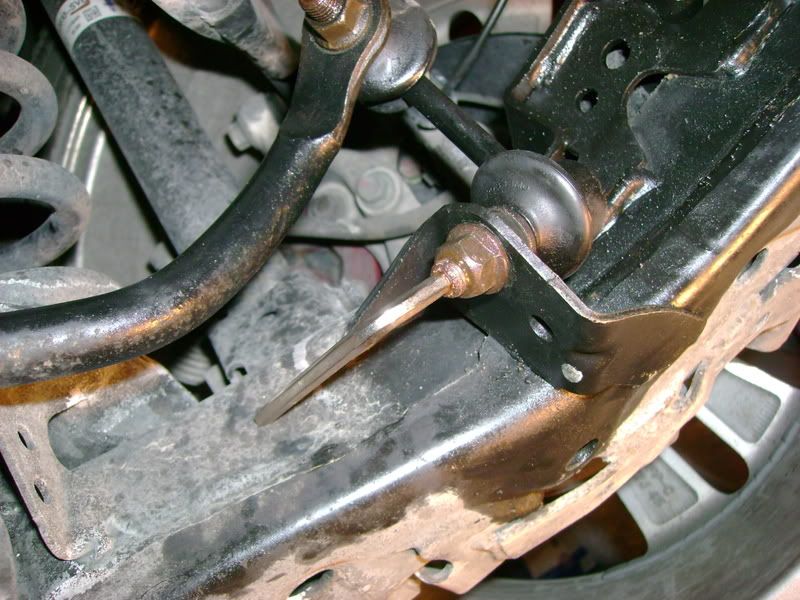 I don't know why, but I really like this next picture. :badger: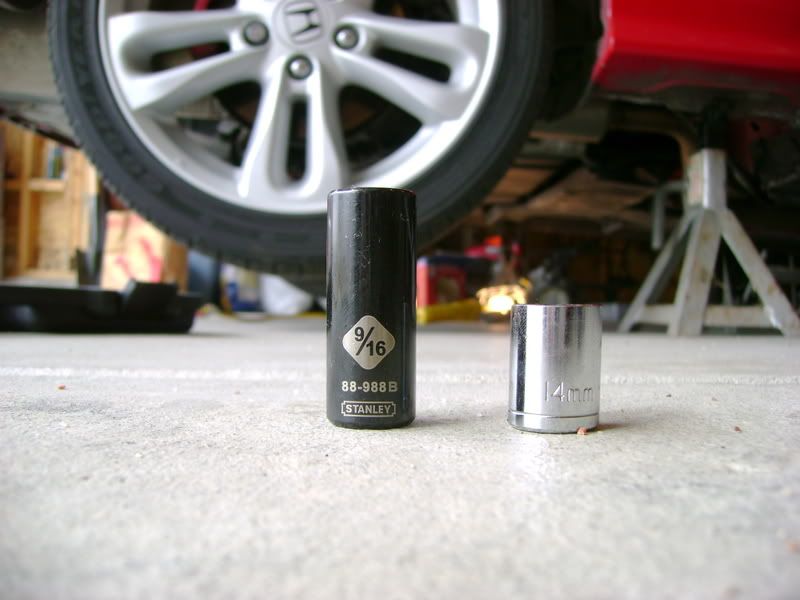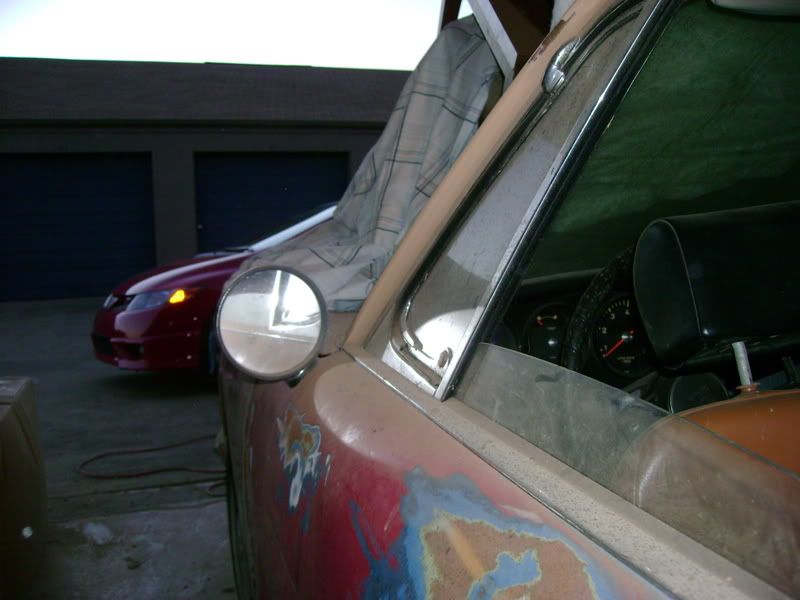 Then, a deal came along for some wheels that I couldn't pass up, and I nabbed these: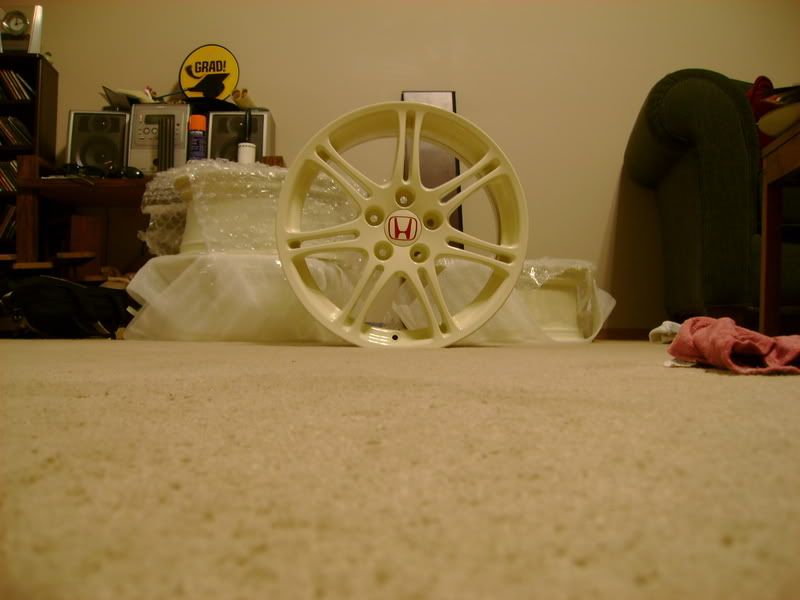 EP3R's! :cheerleader:
yeah.... I know, I picked up some wheels, but my car still isn't slammed.
at: WTF is my problem? I couldn't tell you. I actually HAD some Eibach springs, and then sold them in favor of the swaybar.
At some point in here I picked up some adjustable camber bolts and hacked my resonator apart. No pictures of the camber bolts...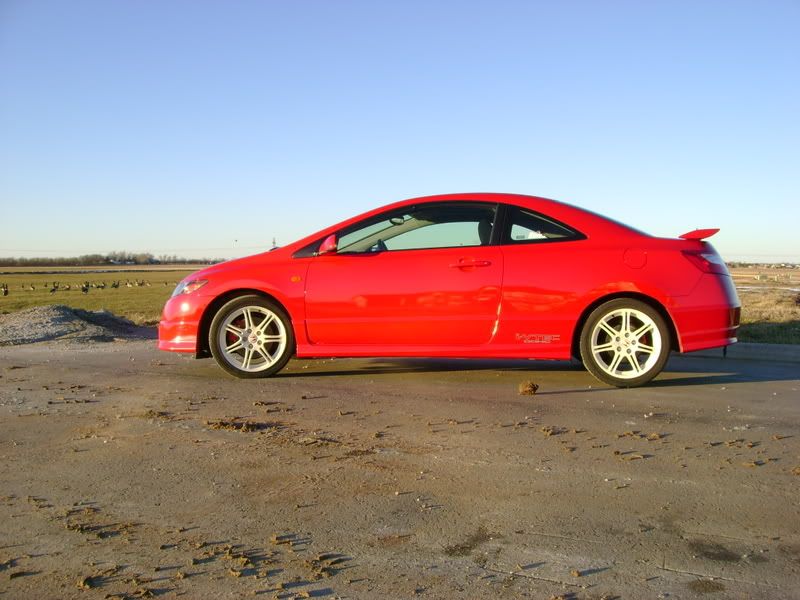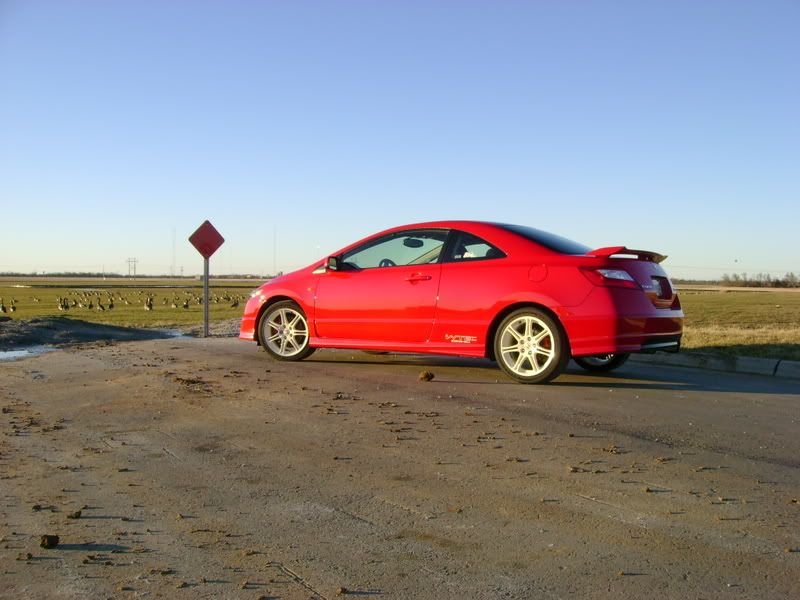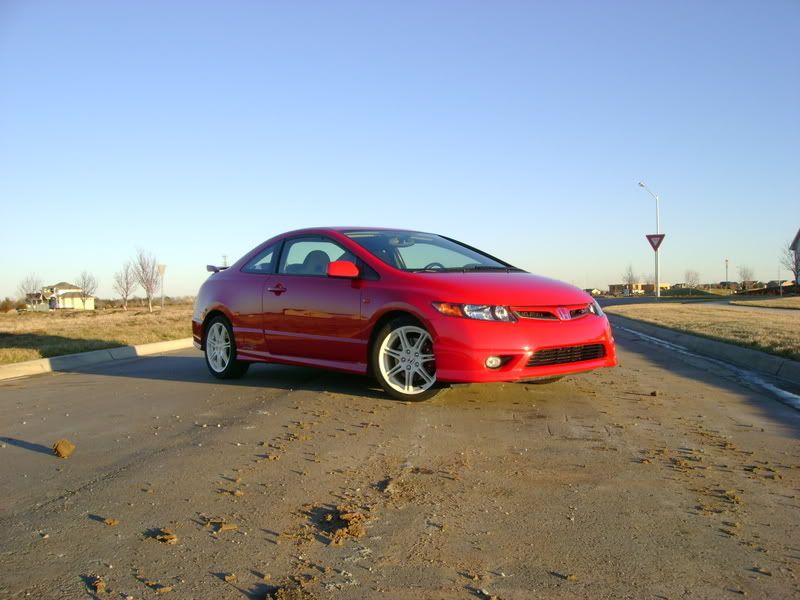 We had a big meet here in wichita. Not big by some of you people's standards, but a good turnout for this town. 7 Si's, a bunch of Scoobs, and some VWs showed. :thumb: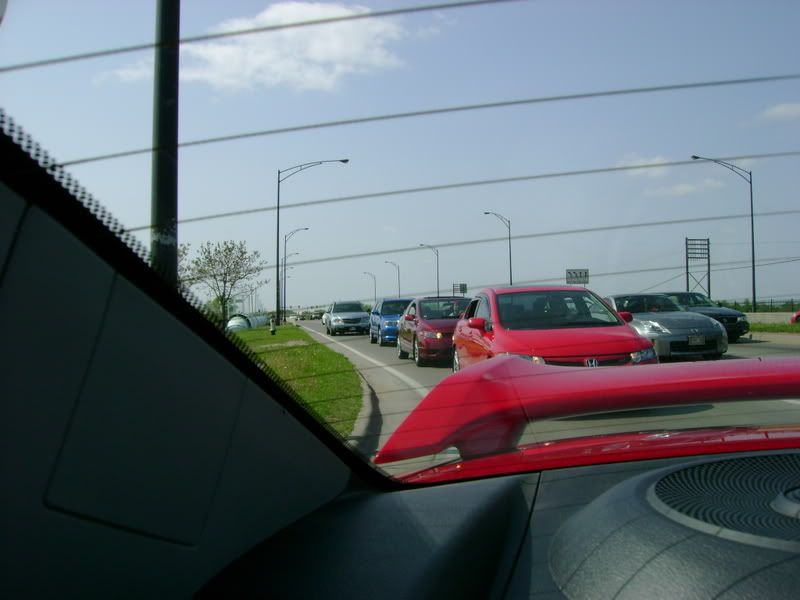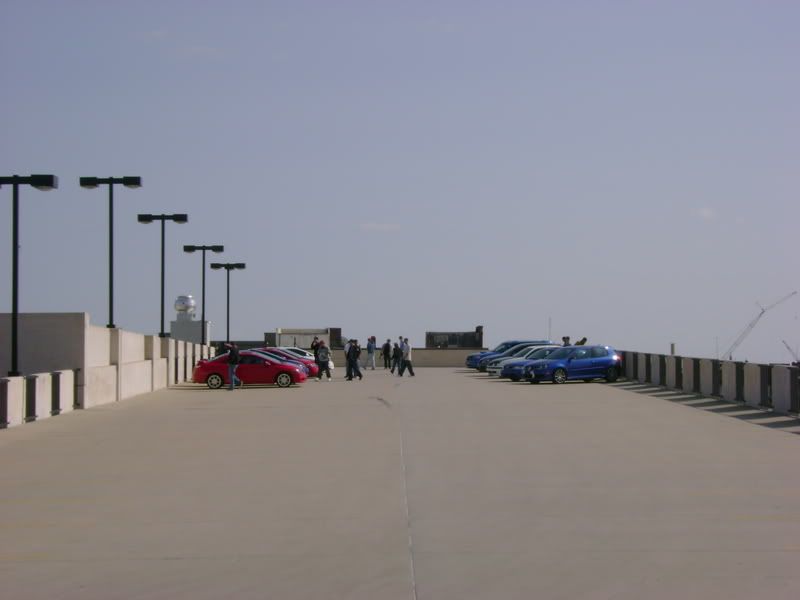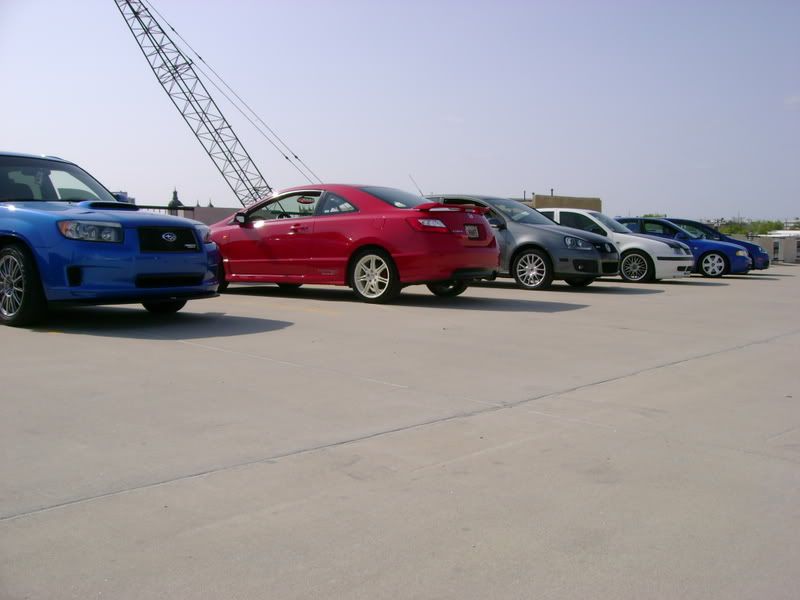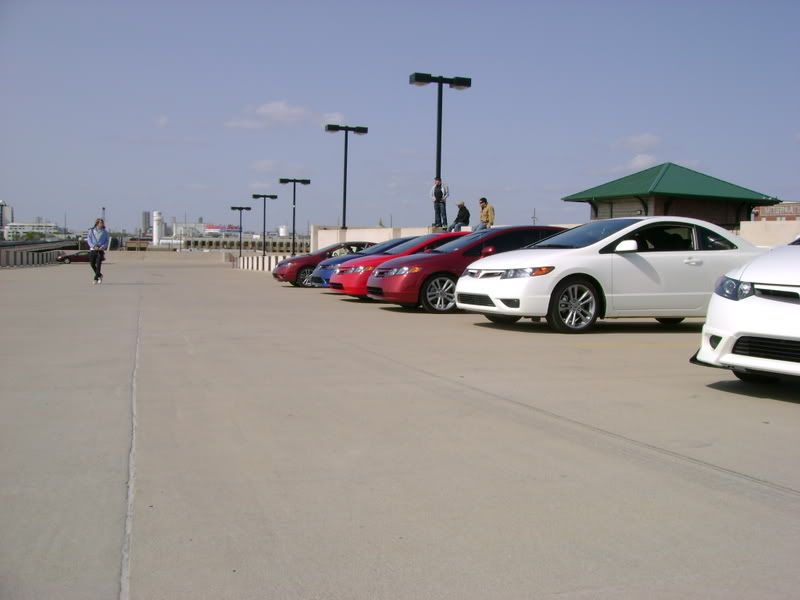 Local law enforcement had to make sure we weren't racing or doing burnouts off of the parking garage
giggle
, so they showed up to sit in for a few photos. :thumb: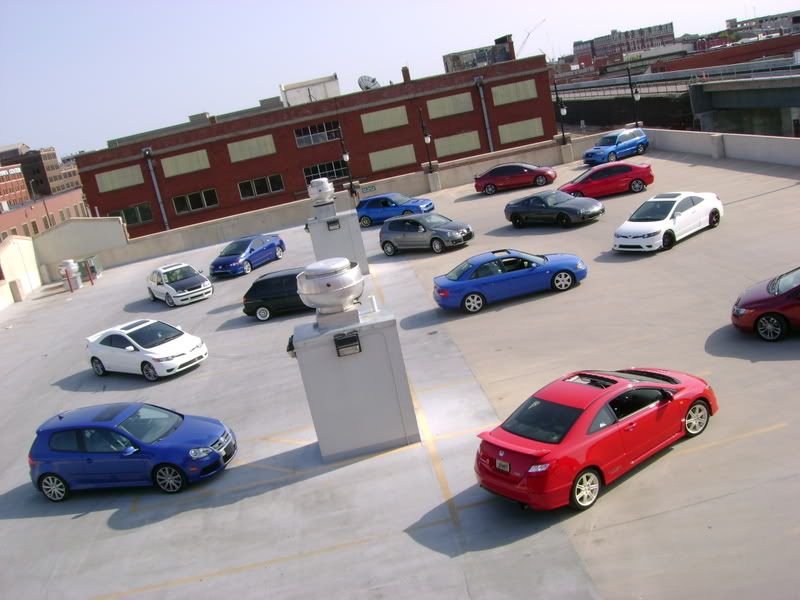 ...don't worry, the springs (comptech) were next. I also decided to paint my valve cover wrinkle red around the same time I added the springs.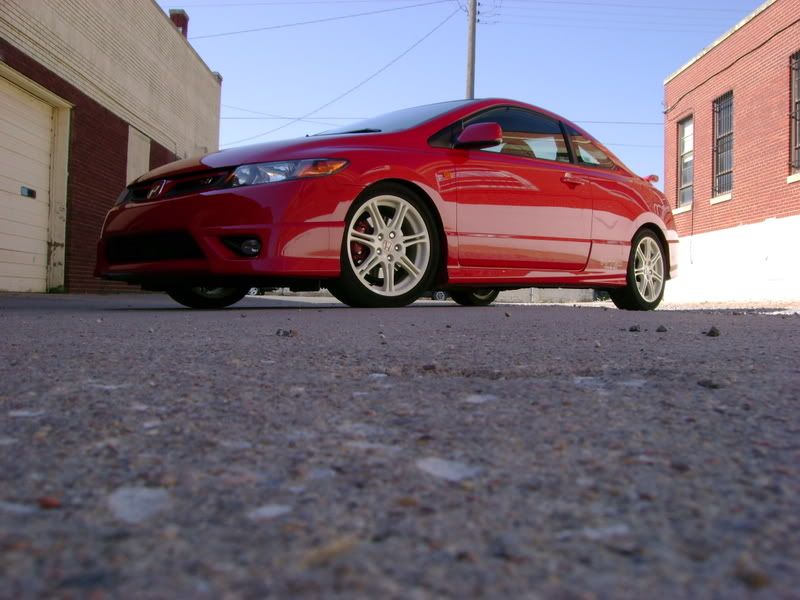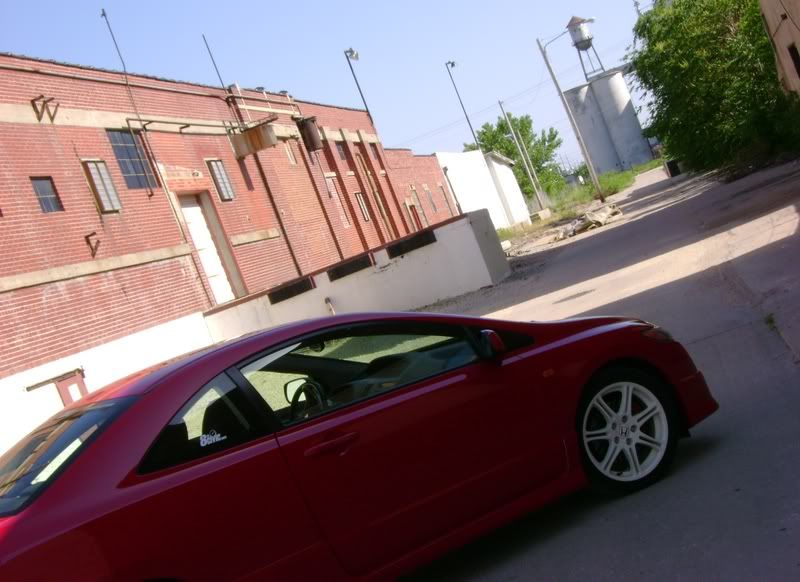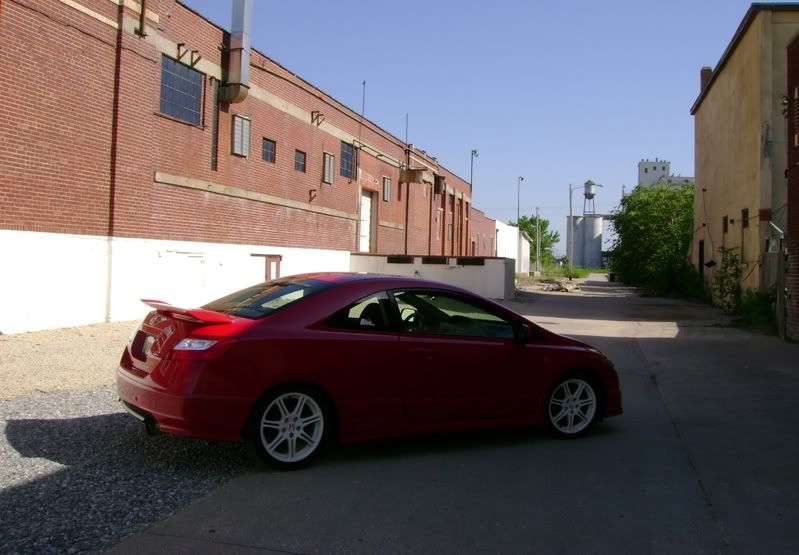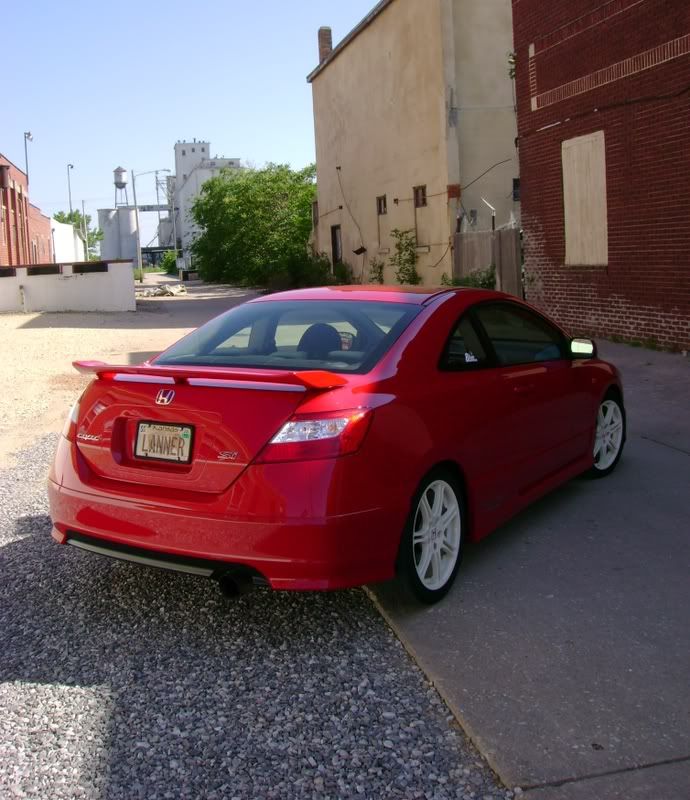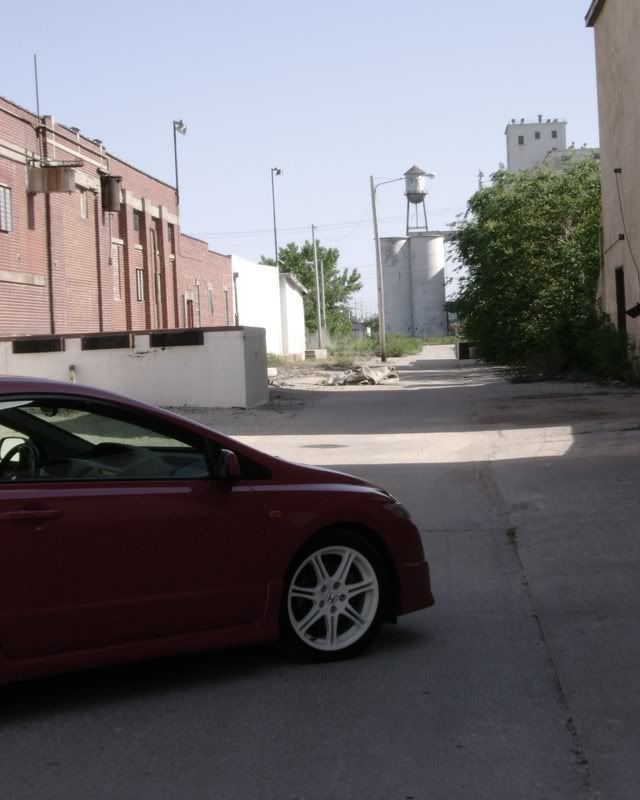 the valve cover (and mugen oil cap + JDM dipstick...):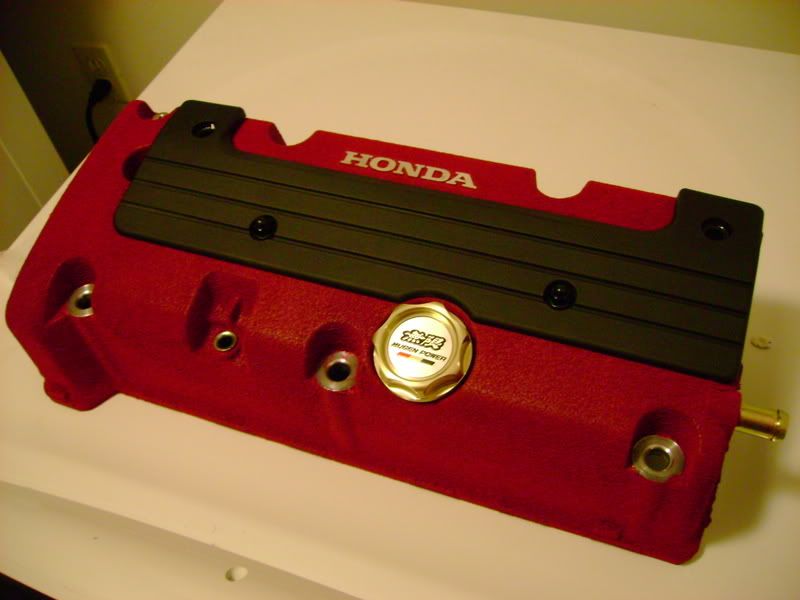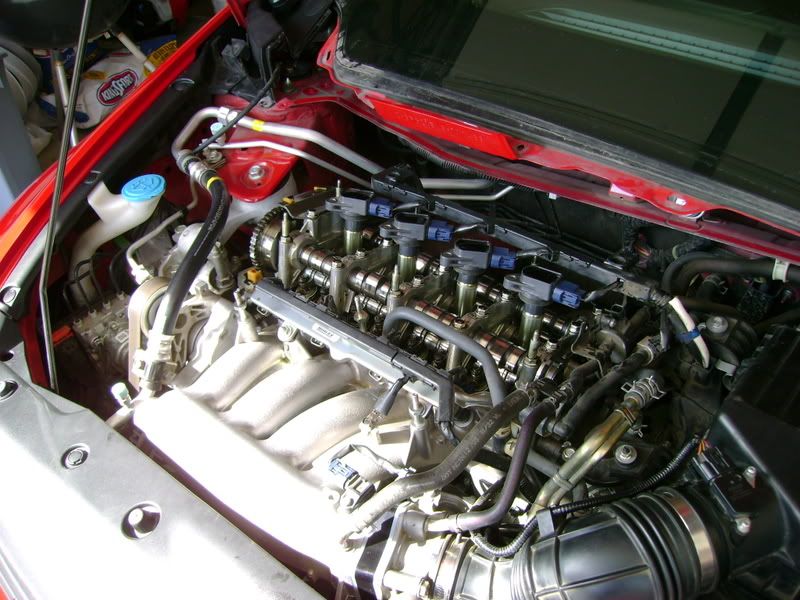 I pulled OFF the R/T cat and sold it and threw on this: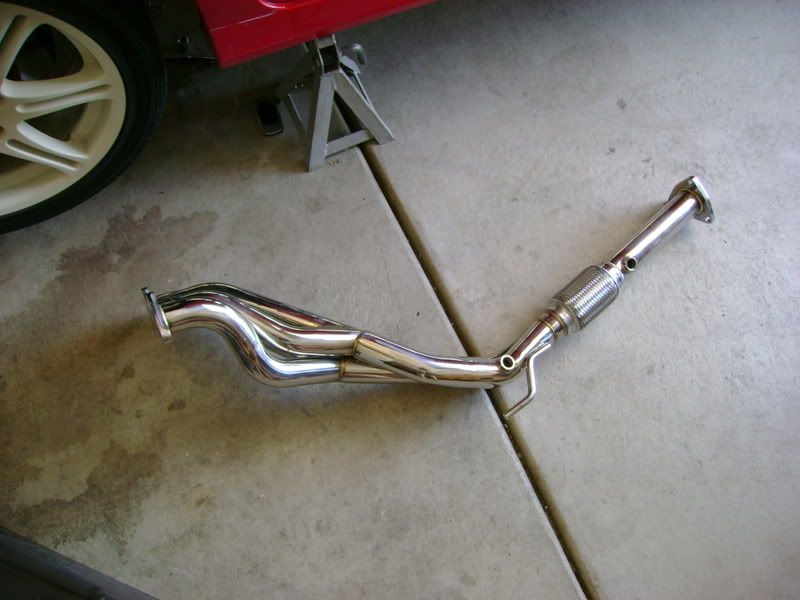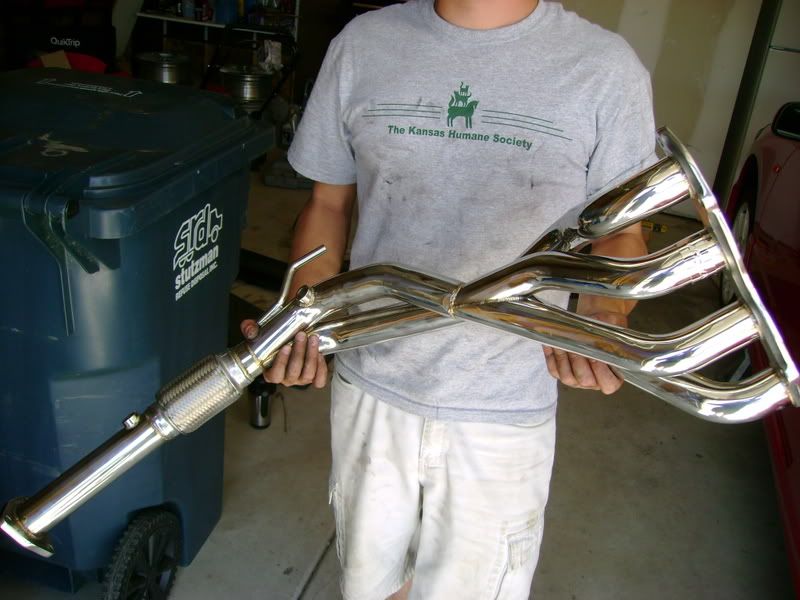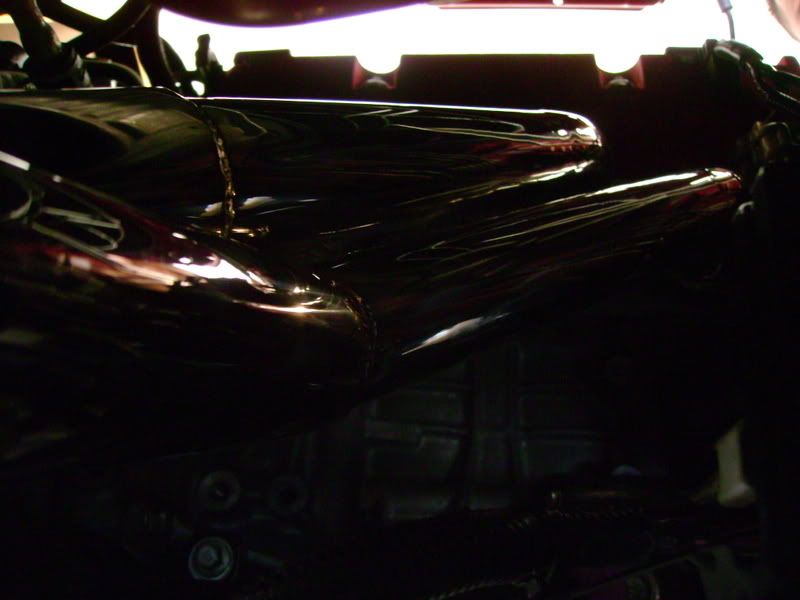 and lastly, I threw on some skunk2 rear camber arms and some hawk brakepads, but I don't have any newer pictures. I'm sure I'll take some soon, though! Probably at the dragon.