Hey everyone! Just a heads up...this will be long post!
(I've changed this post to reverse chronological order so you can see the latest progress first!)
Several years ago in college I was on a student team called UWAFT (University of Waterloo Alternative Fuels Team), and we converted a conventional vehicle into a hybrid electrical vehicle as part of a student competition called EcoCAR2. Without getting into details about that massive undertaking, one of the projects we worked on was integrating a 12" touchscreen center stack which controls the radio, climate control, etc., similar to the one found on the Tesla Model S and Model X.
That system used a 12" LCD from a used Toshiba laptop off eBay, a prototype 3M capacitive multi-touch digitizer, Freescale i.mx6 Sabre AI board as the "brain" running on Android OS, and CAN232 to communicate with the car's CAN networks.
I've been wanting to design one for my '09 Civic SI for years and finally got around to working on it recently!
This time I decided to source a tablet capable of running both Android and Windows 10. I chose this route simply because it is very difficult to source a high quality and resolution screen, let alone sourcing all the related components (digitizer, processor, etc.) and sensors (accelerometer, mic, wifi, etc.) at such an attractive price point that modern tablets come at. I decided to go with the Chuwi Hi12 tablet which offers a 12" 2K retina display (2160x1440 resolution).
Update: November 29, 2017 3D Printed Clip Mounts Test
Upon researching for local commercial (or home) 3D printing services here, I discovered that the local library has a couple available at a dirt cheap cost for material! So I went and checked it out, and the staff there were amazing and friendly and just wanted to help! It was in the Idea Box, which is a room dedicated for creating, at the Charlotte Mecklenburg Main Library. They had multiple (hobby grade) 3D printers, a laser cutter, vinyl cutter, sewing machines, etc. The vinyl cutter will definitely get some use from me for a different project (a racing simulator I recently built), but the laser cutter caught my eye. From cutting to engraving all kinds of material, this opened up a whole new world to me – I think I will be designing lots of decorative items using that, and thinking about integrating other structural design using wood cut from that…hmmm the possibilities…
The Lulzbot Mini and the Makerbot Replicator were 2 different kinds of 3D printer that the Idea Box had, and both had amazingly simple software (took about 3 minutes of sitting down and playing with the buttons to learn how to use it).
I printed 2 of each of the plastic and metal clip mounts, and realized that the dimensions were off (used a ruler and eyed it since I didn't want to wait for my digital caliper to arrive or go to the office to borrow one). I ended up quickly making some changes at the Idea Box (once again eyeing it with a ruler) and printed some more pieces. Turns out even with 10% infill, these pieces were so strong that I ended up breaking the actual metal clip when testing it in car! I think it's safe to say that the clips mounts will be strong enough…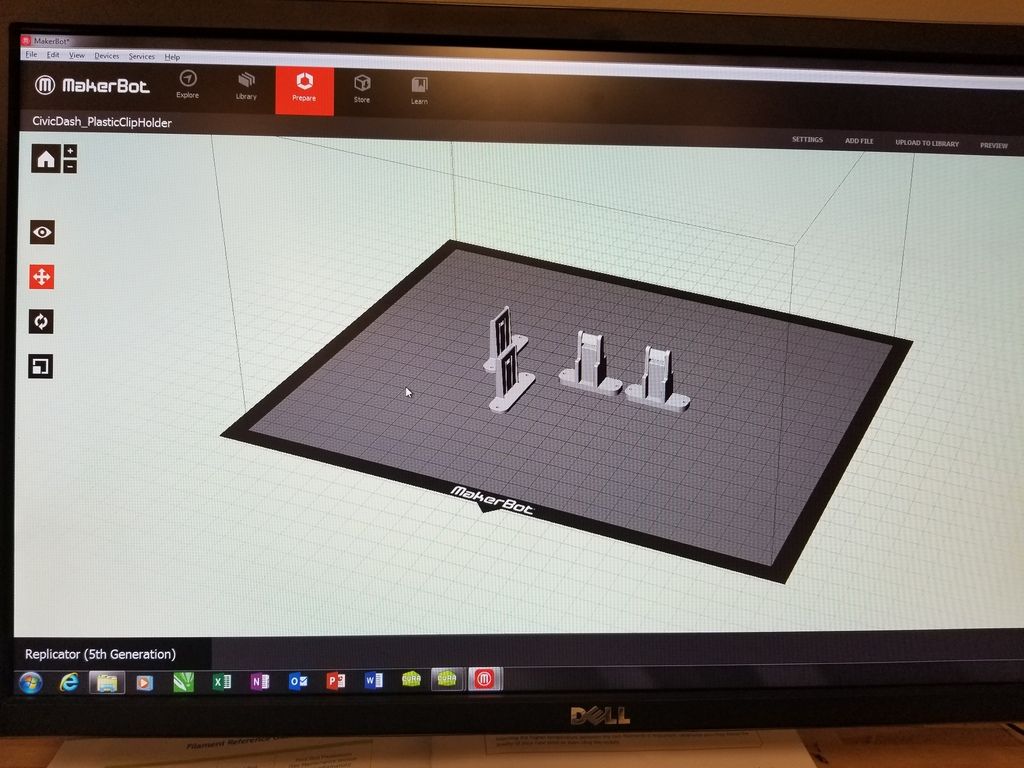 As an aside, since these printers at the library had a relatively small size limitation, they offered me some local places that also had 3D printers to use. This was how I got introduced to MakerSpace Charlotte, a workshop that is dedicated to making things! I had not even know of such a community, but they had anything from 3D printers, laser cutters, wood workshop, metal workshop, lathe, mill, electronic station, etc. and more importantly, some really creative people that have some amazing ideas on things to make! Steve (one of the founders) gave me a tour, and told me about an autonomous machine learning RC car they're working on, where they are trying to get the RC car to learn to drive just from a camera on-board and a Raspberry Pi as a processor. I don't know much more about it than that, but it sounds amazing and I think I will definitely start looking into machine learning. He was also from MIT so I guess that's where all the ideas are coming from…
Update: November 25, 2017 Trim Panel Clip Test Design
Having a fair amount of experience working with 3D printing (various different types of plastic), from the designing parts for the University of Waterloo Alternative Fuels Team (UWAFT) vehicle in college days to participating in a 3D printing design competition held by NASA a few years ago, I was a little worried about the strength of the trim panel I am about to design. Especially the clips, seeing that I am already breaking clips and mounts off the stock panels.
So I decided to design and print some test pieces before wasting a fortune on the whole trim! Without having a real digital caliper at home...or any significant amount of patience, I broke up a ruler and started measure and CADing some mounts for the radio clips (turns out to be a bad idea because some measurements were way off, as I found out after printing the pieces).
There are 5 metal clips and 5 plastic clips on the stock radio. I found the part number, and turns out the plastic ones were really cheap (I was even cheaper and bought Chinese eBay ones). The metal ones I did not have as much luck with, they cost a fortune and there is no Chinese eBay version. I think I spent around $40 just on getting 2 sets of them (and that's after having the dealership price match from online!)
Update: November 10, 2017 Trim Panel CAD (Initial Clean-up)
Being a skilled engineer is important, but as my old boss from General Motors told me, leveraging your resources is even more important. You can't do everything yourself, although I certainly think I'm testing that statement in a way with this project.
Having friends in design, I was able to get them to generously lend their expertise in cleaning up my trim panel CAD…and what an amazing job they did! I guess that's what happens when you do it for a living!
Update: Sept 16, 2017 Trim Panel CAD Mock Up (Initial Draft)
Another really dreaded part of the project…the mechanical design of the center stack. Never thought I'd say this since I have a background in mechanical design, structural analysis, and optimization… but working without (accurate) CAD is rough (and new) for me. Here's my first (very rough) take at it!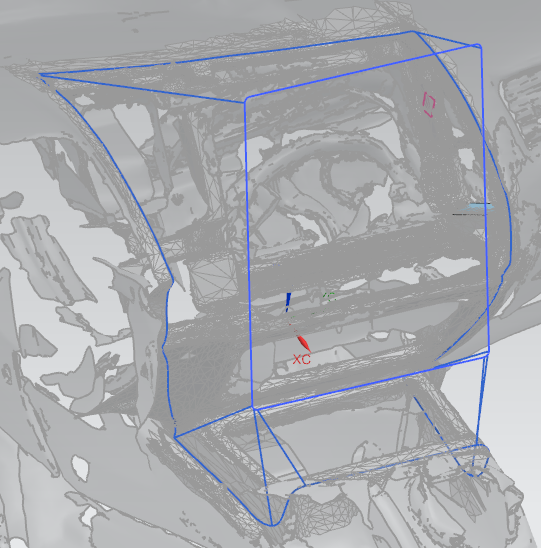 Yes…I know the trim panel around the screen is far from perfect…interferences, rough geometry, awkward transitions… to be improved…
Update: August 1, 2017 3D Scanning the Civic Dash
Now that we have a lot of the basic ground work laid out for the center stack in terms of electrical, programming (GUI), and microcontroller/CAN sorted out, it's time to get to some of the mechanical aspects of the project (which I have procrastinated on). As luck would have it, I took a trip back to Toronto for my cousins wedding (I was lucky enough to be able to work remotely), and while there I was able to sneak into my old University and borrow their portable 3D scanner. I have never had any luck working with this scanner while I was in school, so I didn't expect much from it – but it's a start.
The 3D scanner was a Artec 3D (older model, I forget the model name), and they had an older version Artec Studio (which turns out to cause real pain, more on that later). So without having spent significant effort on getting good results from it before, I jumped into it and tried to get something out of it. After reading the entire manual and hours of trial and error, I did manage to mostly figure out the in's and out's of it.
These scanners are "structured light 3D scanners", flashing a light and working off of the reflection from the object you are trying to scan. This makes them terrible at scanning dark parts, super reflective parts, or working in bright daylight. I ended up taping up my entire dash (dash being black and almost impossible to scan of course), and parked the car in my parent's garage (closed the door, blocked off all the windows for a completely dark room), and did a couple scans. The scanner is smart and knows how to synchronize all the frames or snapshots as you move it around, provided it has something to reference to (e.g. some unique feature to identify like a door handle between frames). However, it does screw up quite often, so I ended up taking lots of smaller scans.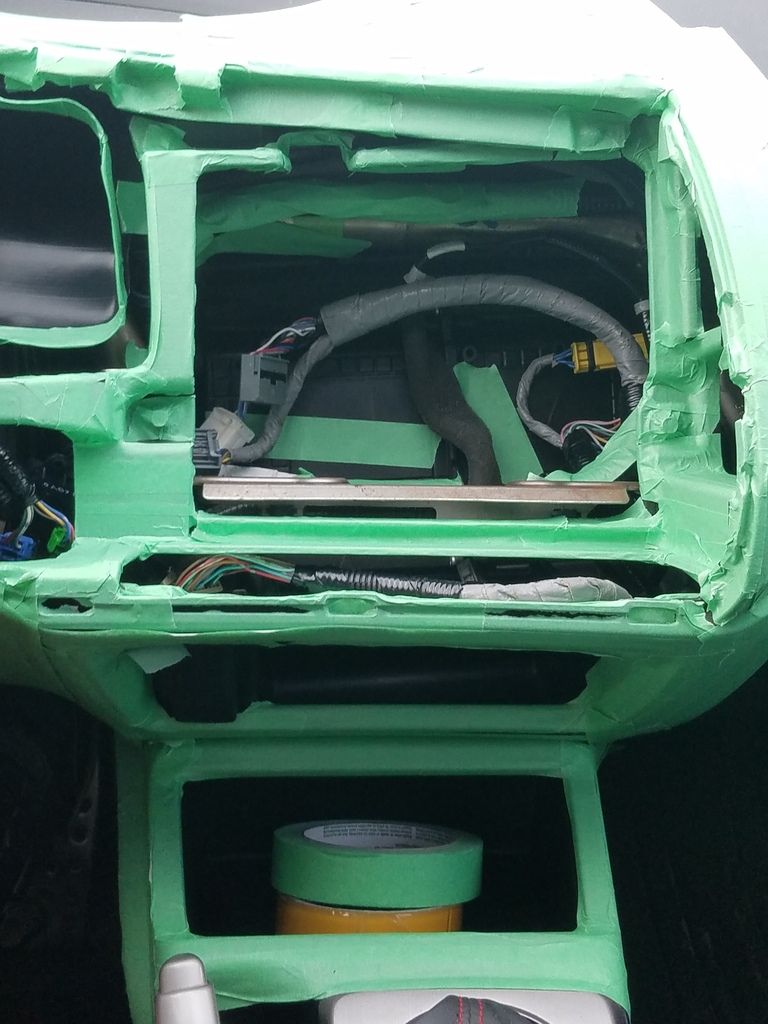 Here's where the newer version of Artec Studio would've came in handy. On our old version, I had to manually synchronize all of the 10 to 20 scans, which literally took me an entire day (all-nighter since I had to return the scanner). I found out from a demo version of the new Artec Studio, there is a "auto" button that will do this for you with the click of 1 button and a minute or so of wait time. Unfortunately you cannot save on the demo version!!!!!!!!!
I forgot to take clear screenshots of the software or the scan, but have some cell phone pictures of the laptop screen while it was up...
A shot of the point mesh: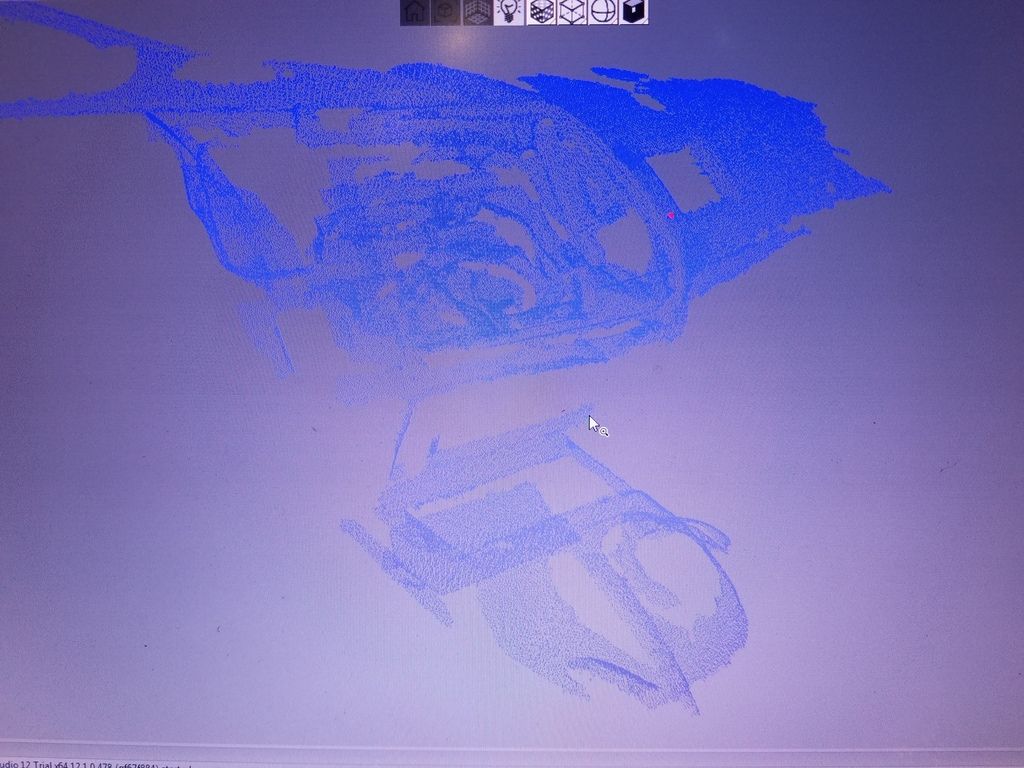 All the different scans in different colors after a full day of manual alignment…
The final product from the scan (after alignment, combining scans, clean up, etc.):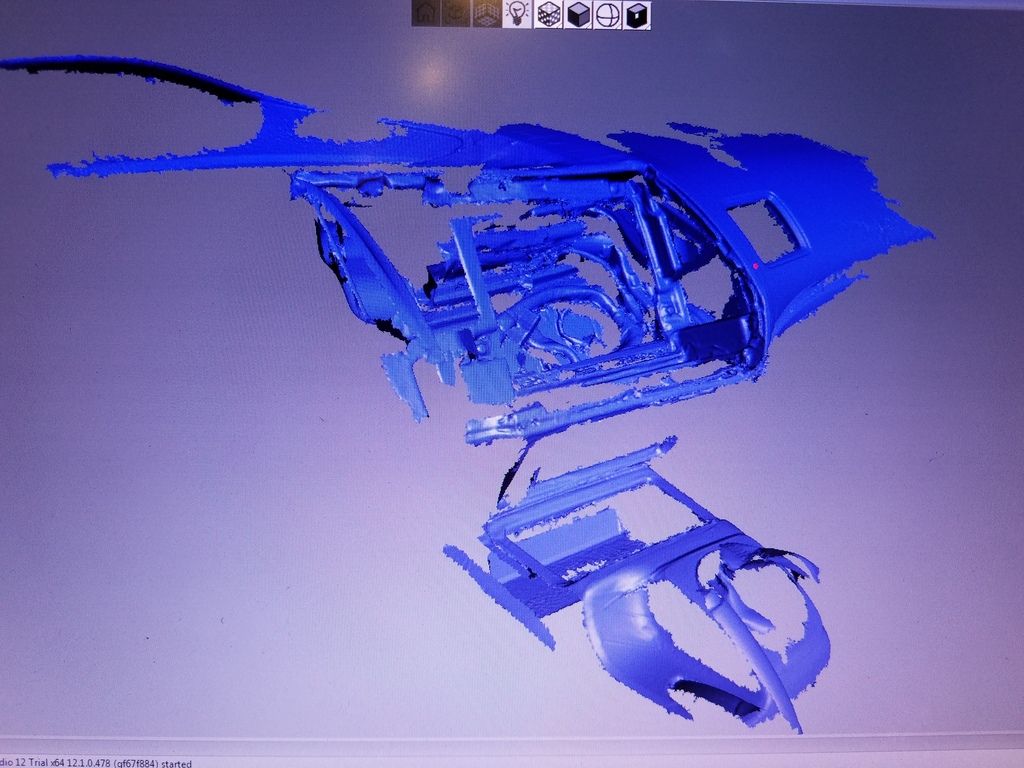 Surprisingly good at first glance right?! I'm not so sure on the tolerance and geometric accuracies…so I'll have to do some more accurate measurements on critical locations such as the edges and where the mounting clips are…
…for another day…
Update: July 27, 2017 H-Bridge Defect Found!
It's been a while, but I have not had much time to work on this project at all. My cousin was getting married in Toronto (about an 11-13 hour drive), so I decided to stay for 2 weeks and work remotely. Of course I bought all the essentials I needed to work on this and try to figure out my previous issue with the climate vent mode motor control. Sure enough I was correct, I swapped out the H-bridge and everything worked perfectly! I can now change the HVAC blower mode correctly!
The H-bridge is the small 16-pin IC in the middle of the picture. Thought it would be a PITA trying to de-solder/remove the old one and solder a new one back on, but it didn't take too long at all!
Update: June 14, 2017 Prototype Unit – First Time Use In Car:
Went on a trip to Florida for a week, and decided let's do some endurance testing with the prototype unit! It's sort of a mess, and there are lots of issues, but it worked! I was having issues with the climate control circuit though, the vent modes would work fine going one way (towards front defrost), but had trouble coming back the other way. I dove into the code and checked and rechecked all my circuits a bunch of times, but couldn't find anything yet…possibly a hardware defect with some of the ICs?
Update: June 7, 2017 Perf Board Soldering:
The mess of a breadboard I've been using worked, but things would fall out or short out here and there, especially with the complexity and number of wires that's been building up. It was time to make a more stable version, now that I had most of the main circuit tested and working. Here was a night of soldering fun…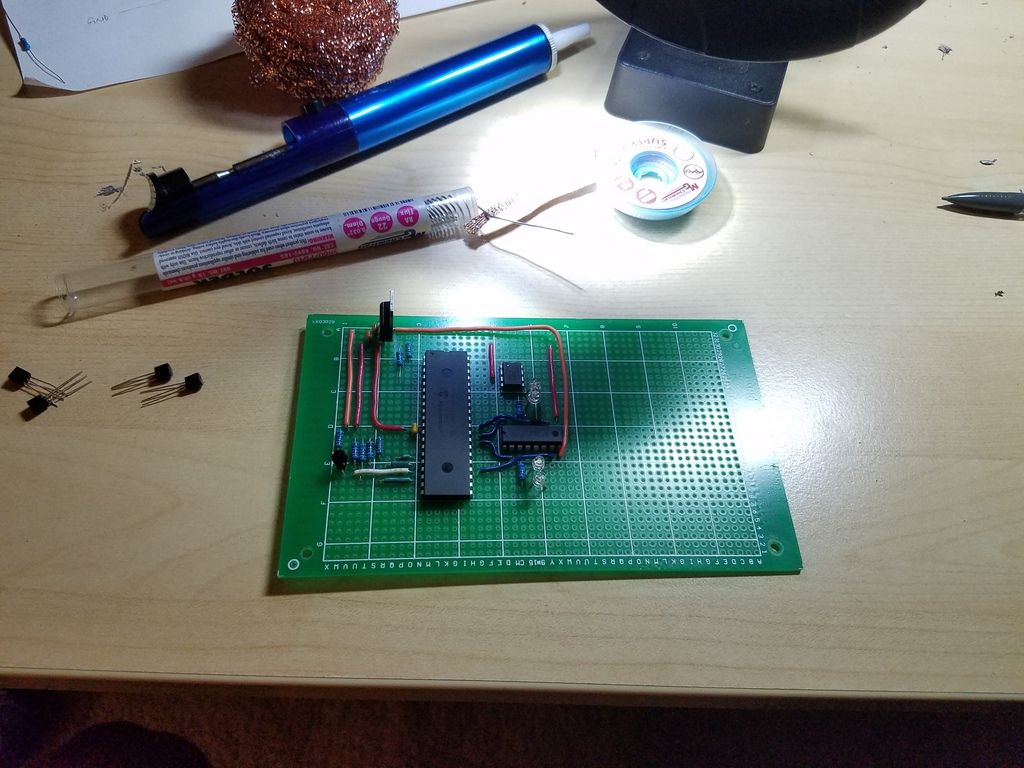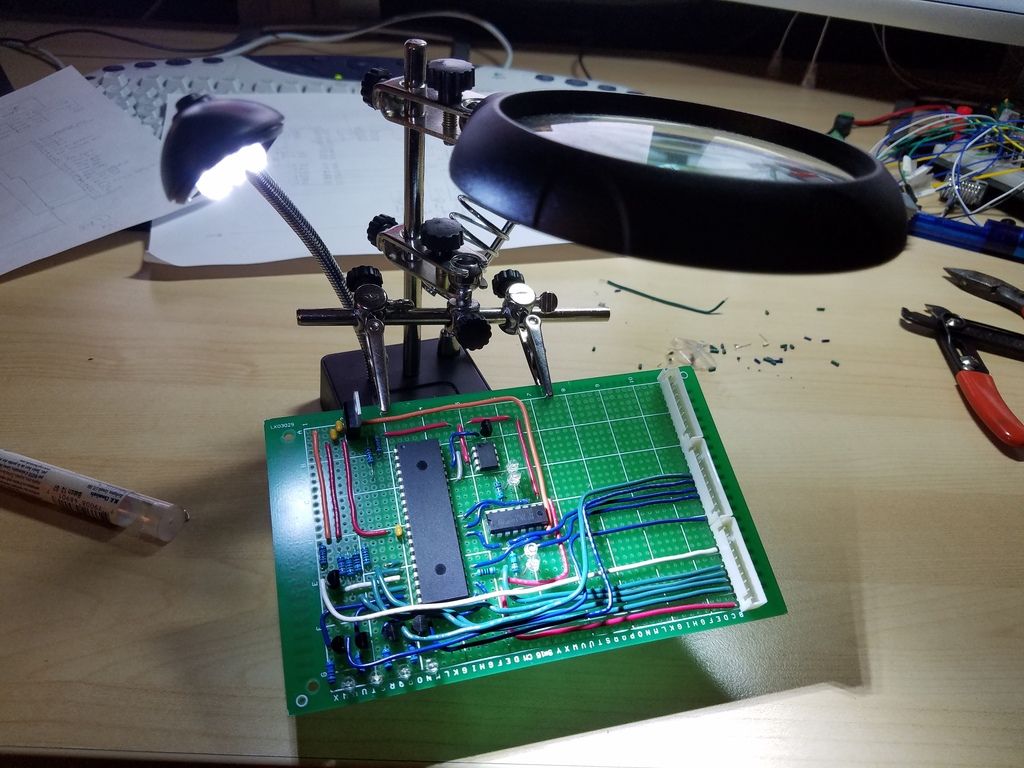 I was lucky enough to have some better equipment to use at work… No I didn't take any of their wires, it was just nice to have a better soldering iron and a heat gun.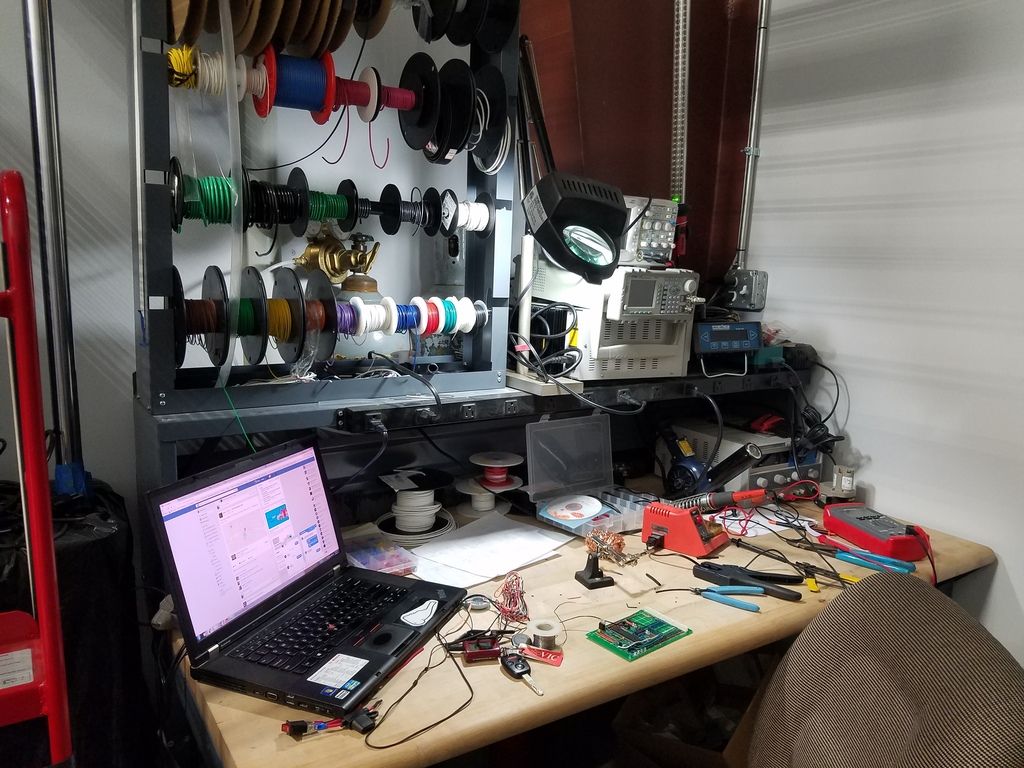 Soldering wires onto these mating connectors to the stock harness was a nightmare. I've sourced them to go on a PCB (final version), but for now since things are still somewhat temporary, I just soldered the wires directly to the connector.
And the final product!
Update: May 28, 2017 Stock Hot/Cold Air Mixer Motor Disassembly:
While messing with my code to control the hot/cold air mixer motor, I managed to seize it up a couple times. At first I thought I had just killed the motor, but sometimes it would start working again. I ended up seizing up and wasn't able to get it to go again, so I took it apart to see what's going on. It seems that if you drive the motor until it bottoms out in one particular direction, the motor just doesn't have enough power to bring the lead screw back. I simply turned it back manually, and tried to make sure I wasn't bottom it out when driving it with my microcontroller. Here are some pictures of the internal, including the encoder used to detect what position the motor is in.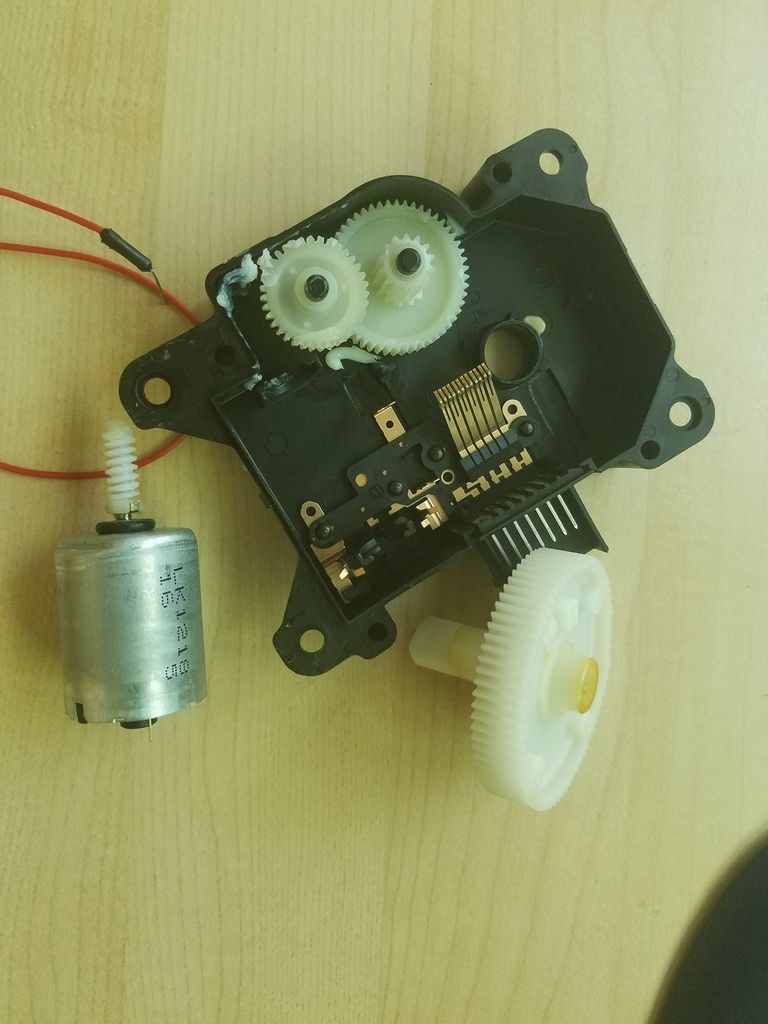 Update: May 16, 2017 Dash Trim Panel Lead Screw Assembly Testing:
I decided I wanted to make the custom dash trim panel around the touchscreen LCD to allow for a storage compartment behind it (where the old radio used to be). In order to do that, I would have a physical button the driver can press, which will make the touchscreen move up and out of the way, exposing a storage compartment behind it.
I explored a few options (belts, pulleys, etc.) but ended up with a lead screw design. Basically there would be rails on both sides of the touchscreen to lift it up. I also found that these parts in 8mm diameter is much cheaper as they are in widespread use in the 3D printer industry. So I got some parts and started testing them!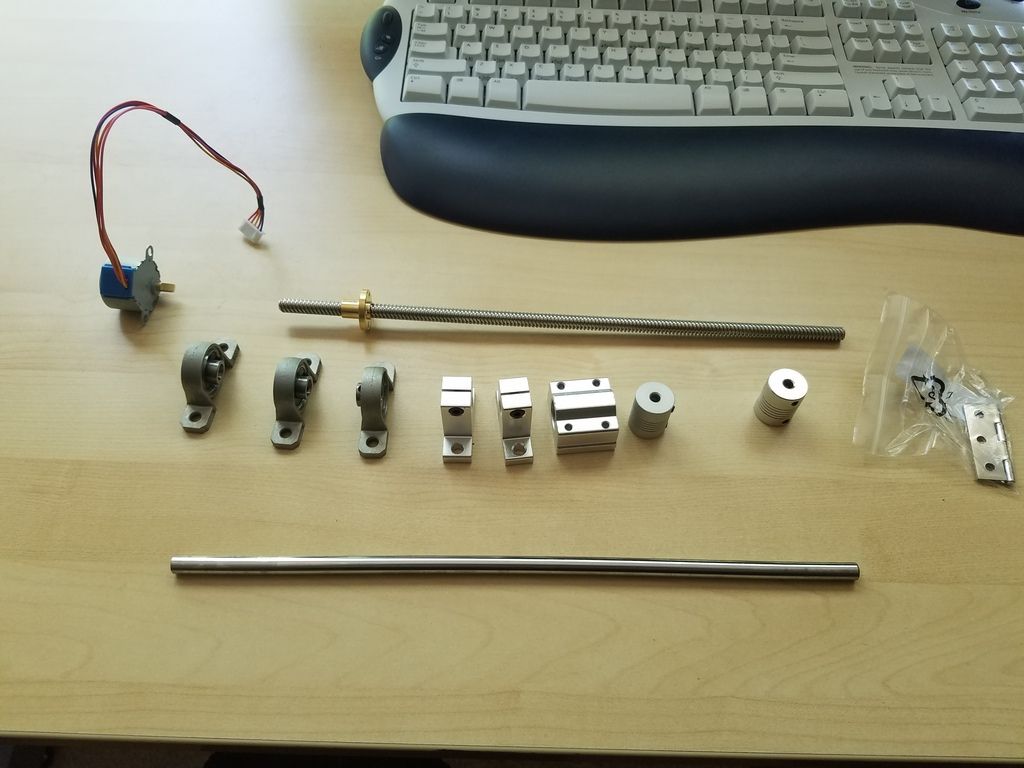 I also learned that I am able to, with some very simple modifications, change the unipolar 4-wire 28BYJ-48 stepper motor to a bipolar 5-wire stepper motor, more than doubling the torque (~380 gcm to 800 gcm)! Below you can see the very simple modification I did to the motor's circuit board.
The link to more details about the motor modification:
http://www.jangeox.be/2013/10/change-unipolar-28byj-48-to-bipolar.html[url] [U][B]Update: April 18, 2017 New tablet has arrived![/B][/U] The new 12.2" Chuwi Hi-12 tablet has arrived! It comes with Windows 10 and Android 5.1, amazing 2160 x 1440 resolution, 10-point capacitive touch, and a bunch of other goodies - all for around $215 USD! [img]http://i1380.photobucket.com/albums/ah161/kelvinator29/Kelvinator CANdroid/20170418_113603_zpsrdlqli90.jpg[/img] [img]http://i1380.photobucket.com/albums/ah161/kelvinator29/Kelvinator CANdroid/20170418_113802_zpsecrnvry0.jpg[/img] [img]http://i1380.photobucket.com/albums/ah161/kelvinator29/Kelvinator CANdroid/20170418_113823_zps0qwrf1kh.jpg[/img] [img]http://i1380.photobucket.com/albums/ah161/kelvinator29/Kelvinator CANdroid/20170418_114835_zpsukmahdcj.jpg[/img] [U][B]Update: April 9, 2017 Controlling A/C & Fan with Android Phone:[/B][/U] Made a new Android app and updated it to turn the fan in the car on/off through my phone. Plus a little sneak peek at the prototype app! [MEDIA=youtube]cGI8R0WzYKQ[/MEDIA] [U][B]Update: April 7, 2017 - Controlling A/C & Fan with Laptop:[/B][/U] Got a chance to hook the laptop up to the CAN bus today through a different tool (Vector CANcase), and hook the microntroller circuit up on a breadboard and to the CAN bus as well. I was able to successfully turn the fan & AC on and off with the laptop! [MEDIA=youtube]Y835cxY0EvY[/MEDIA] [U][B]Update: April 6, 2017 - CAN Communication on Microcontroller:[/B][/U] Playing with some Microchip PIC microcontrollers the last 2 days, I was able to program them to be CAN-controlled. What that means is when my touchscreen sends out a command over CAN (e.g. turn on a light, or turn on the AC), the microcontroller sees that on the bus and does an action (e.g. physically turn the light on, or turn on the AC). I plan to build a separate module which will sit on the CAN bus to communicate with the touchscreen, which will deal with the climate control. This will allow for all stock climate control functions to be on the touchscreen! Stay tuned! [img]http://i1380.photobucket.com/albums/ah161/kelvinator29/Kelvinator CANdroid/20170405_025911_zpsyfh8gmtn.jpg[/img] [U][B]Update: April 2, 2017 - Reverse Engineering Climate Control:[/B][/U] Got out to the car to do some testing and to try to reverse engineer the climate control today! Pretty much everything is analog on this module (no CAN, K-line, etc.) which may or may not be a good thing. I've managed to figure out most things (e.g. turn on and vary speed of fan, turn on AC, turn on defogger, etc.). The ventilation modes and the cold/hot air mixer I'm still not 100% on yet, but it's pitch dark out and I can't see anything anymore. It's also challenging to probe the connectors because of size and how deep they're in there... I'll have to figure out a way to source the mating connectors for these... [img]http://i1380.photobucket.com/albums/ah161/kelvinator29/Kelvinator CANdroid/20170402_192850_zpswbbv4ngi.jpg[/img] [U][B]Update: March 25, 2017 - Screen Mockup:[/B][/U] Did a quick cardboard mock up to try to visualize the screens and how they'll fit. Tried to see whether I can fit the 13.5" tablet in the dash. Turns out the 12" looks much better, so will be going with the Chuwi Hi12! [img]http://i1380.photobucket.com/albums/ah161/kelvinator29/Kelvinator CANdroid/20170325_160739_zpsacfd45yy.jpg[/img] [U][B]Update: March 18, 2017 - Android App OBD Live View:[/B][/U] Tested the prototype app off my phone today, which was hooked up to the CAN bus through the CANTact. Finally sorted out most of the bugs in the Android app and was able to get a decent refresh rate! Check out the video below! P.S. For those that are interested in CAN-related work, I highly recommend the CANtact, a product developed and sold by Eric Evenchick, whom I had the pleasure to work with on UWAFT back in college. It is a low cost CAN interface, and you can read all about it on this Forbes article, as well as on the CANtact website at: [url]https://www.forbes.com/sites/thomasbrewster/2015/03/25/hack-a-car-for-60-dollars/#1d4fdb8645a1
CANtact - The Open-Source Car Tool
Update: March 12, 2017 - Direct Stock Amp to Phone Hookup & Dash Measurements:
Pulled the dash apart and took the radio and climate control out. Tested hooking up the amplifier directly to my cellphone to see the quality of the sound (and whether it works!).
For a while nothing work even when I made sure the amp is powered on. So I plugged the stock radio back on and still no noise! Checked the fuses inside the car and they were fine. Thought I shorted something and blew the amp! Turns out there was a fuse in the engine compartment that got blown, so yes I did short something while fiddling...replaced it with a spare and everything came back to life!
To my surprise the sound quality is just as good as the stock radio! Tip for anyone trying this, you'll need to make sure the amp is powered on (one of the lines in the other audio connector which I don't remember off the top of my head). Otherwise nothing will work...Of course this only applies to vehicles with an amp (it will say premium audio system). Also did some initial dash measurements to see what size of screen I can fit in here without going overboard.