* * *SORRY FOR THE INCONVENIENCE EVERYONE. PLEASE TAKE NOTE THAT THE LOCATION HAS CHANGED..* * *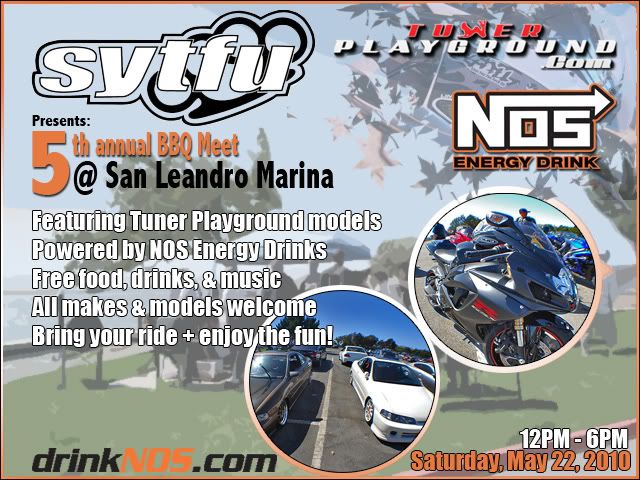 SYTFU 5 Year Anniversary BBQ!
May 22nd, 2010
Starting @ 12:00 PM
Location: HAS CHANGED TO THE SAN LEANDRO MARINA. Drive down MARINA BLVD towards MONARCH BAY DR. We'l be at the parking lot on the right..
It's that time of year again to get together and enjoy good food, cold drinks, fast cars, loud music, and of course cute girls!
Come help us celebrate our 5 year Anniversary with free food and drinks.
Celebrate with us and members of too many crews and enthusiast forums to list.
Keep posted for more details about the day's events.
Bring your friends, family, girlfriend, boyfriend, grandma!
Please be respectful of the the event venue and area.
As always, no burnouts, revving, racing, or drama.
:woowoo::dancing::clapping::thumb:
hey can the mod add the date in the title? thanks