The Latest: Updated photoshoot!!!
ALL UPDATES ARE NOW AT THE BOTTOM OF THIS OPENING POST!!!!!!
Up to date pics:
The Beginning
So i decided to put together my first build thread. I started out with a 2008 EX. I had some light mods on it: JDM emblems, HFP front & rear lip, HFP Muffler, Si grille, 08 Si wheels HIDs etc. Sold 3 weeks ago
Then in December I ordered my 2011 FA5 and picked her up in the end of April. My build is called project mario cause ive had this mario sitting in my room for a while now and my car def has the blue/red theme going on. The next photo shoot will feature mario for sure.
Right outta the shoot I added the HFP lips & HFP Suspension along with the 3M paint protection.
Installed HIDs, nokya yellow fog bulbs & lamin-x yellow overlays
Next I had my buddy AJ (owner of Vibrant Finish) paint 08 stockies white, added JDM emblems, fog overlays and i guess you could call the half mask a "mod"
After that I did some little things- Steering wheel emblem & strut king dead pedal
Added the Civic Si shifter badge
Added license plate LEDs
Added interior hyper white LEDs map & dome
Then I picked up Mugen replica visors and picked up a set BBS RX's from said AJ and got them blasted red. Got Blox extended lugs as well.
Next I no longer could stand the chrome trunk strip and wrapped it in CF, also removed "civic" badge and added license plate frame + mugen bolts (once again i guess you could call them mods)
Replaced HFP for Vibrant gen 1 exhaust-- picked up for $250
Then Mario got a proper photoshoot courtesy of mi amigo jeff feverston (
Jeff Feverston Photography
)
And the money shot......
So look what i picked up at the dealer today...anyone guess?
Updated!!! Alright guys so ive finally got around to cleaning and taking some pics, blackberry quality so please be patient until i actually get a nice photoshoot! Comments always welcome. I know my car is not everyones taste but hey thats why its MY car. I think ive decided against the wing-- i personally do think its too tall and I like how it sits now.
BB torch pic---rear diffuser, ive been surprised with how well my BB pics come out
Rear view
Comments/ suggestions always welcome
Some updated pics:
Mail man dropped off some small stuff
Installed
Domo watching for HATERS!!!
So today I snapped a few pics of my new t1r exhaust, I also used optimum no rinse for the first time and collinite wax-- great results. I was very worried about washing my car with no hose but optimum no rinse is great!
t1r exhaust
More pics after using ONR and putting on coat of Collinite wax
Process:
1. Spray mothers quick detailer on panel to loosen contaminants
2. Go over panel with mitt and ONR
3. Wipe panel dry with cobra micro fiber
3. Dunk mitt in separate bucket with grit guard
4. Repeat
Then after I obviously just put on a coat of collinite by hand
So look what came today:wheee:
Random old pic :vtec:
Will post pics after install, next summer looking at coilovers, sidemarkers and possibly a CF whale tail
Pic of the Mugen Fit mirror cover- Yes i could have just gotten a Mugen sticker and put it on my Mirror but i do like authentic pieces and while i do have replica visors I imagine down the road ill bite the bullet and get authentic visors. I like how it looks, ill get pics of the knob, door sill and mirror cover installed this weekend
Christmas eve quick shoot :wavey:
Mugen door sills:
Mugen mirror cover:
Mugen shift knob:
found this guy trying to get a ride.....
3M CF overlay for those who have asked for a close shot:
Random interior pic- how many toys are in this pic ??????? :
Comments & criticisms always welcome :wheee:
Last mod of 2011 :dancing:
Vibrant race header w/HFC
Comparison
Still waiting on my NikonD5100- once it comes im hoping to post a vid of what the new set up sounds like. As always comments and criticisms welcome.
new camera came in today, Nikon D5100 :wheee:
look at this guy...
random
im still very new to photography but really like the Nikon D5100 so far.
Its all in the details, BBS Valve Caps:
ecks bocks 360 bodyguard:
Question time, ill be picking up TL-S wheels, what color:
White:
OR
Yellow:
Vibrant Finish will be doing the painting
Vibrant Finish | Facebook
:fistpump:
woo hoo mailman dropped off a small upgrade
JDM Honda Flip Key
Getting the key cut and programmed for $15, WINNING!!!!
few shots after the storm:
Loving the camera, working on getting better with photography :wavey:
random pic taken by my favorite running store......
got another small upgrade thanks to JDM EGO, they seem to sell out quick.
still waiting for my parts to come from robear :waiting:
winter set up complete-- preview pic, sorry for the quality, not one of my best BB pics. Hopefully getting some nice shots tomorrow :wheee:
Alright so today was a little like christmas, there was snow and i brought home some good stuff :woowoo:
Ill post more photos from this morning later, heres one:
Now onto the goods!!!
OEM trunk tray- great for those who actually use their trunk, especially detailing stuff that can somtimes leak, spill etc.
FaVES CF steering wheel trim
Zerg Lugs
Zerg compared to Blox
Locking key
cap removed
FaVES roof visor
and finally..... COILS!!!!
Thanks to Rob @ RoBear Racing for giving me great customer service and an even better deal. He even threw in some stickers and t-shirts. Shipping was super fast and I will def. be buying from him again. I will update with installed pics when it gets a little warmed. Pics of my mini shoot this morning will come in a day or two..........or maybe even tonight. Comments always welcome!!!
Snow shoot II w/stockers on
7-Eleven Domo's :wheee:
Guys i have a question: which decal would look best above the shift knob?
Current
Mugen
Mugen 2
Mugen 3
Mugen 4
I am not putting any badges on the exterior but i feel like i do have enough Authentic Mugen parts to rep the interior badge. thanks!
Winter mode
CF Goodies in and of course Domo makes an appearance :wavey:
I'm hoping to install atleast the steering wheel overlay, spark plug cover and manifold cover tomorrow. I have 3M tape for the door switch trim but i think i need to get some thinner tape so it lays flat. Thanks to CF-spec for the fast shipping and great products. Ill be ordering the cooling plate once its in stock.
Alright so first of all i have had many people ask about the transparency of my visors
Then I installed the FaVES CF steering wheel trim
weave
CF-Spec CF door switch trim- Drivers side
CF-Spec Passenger side
CF-Spec Backseat trim + mounting tape I used (3M mounting tape)
CF-Spec CF intake manifold cover vs. Stock
Interior
CF-Spec CF spark plug cover will be installed asap
Rubbermaid (old set)
Weather Tech Floor Liner vs. OEM
Weather Tech Floor Liner vs. Rubbermaid
Passenger side
Rear
Rear installed
Driver installed
Yospeed custom battery tie & plate frame
Function & Form Type 2 Coils!!!!!
Big day today!!!
Yospeed Mugen battery tie
CF-Spec CF spark plug cover v OEM
installed
roof visor
installed
F&F coils adjusted
BBS on buddies Evo
Mugen Equipped badge
Interior
Random
Summer set up preview- better pics to come
Better pics :wheee:
Bride Shiftboot
Bride armrest
Beaks bar
post state inspection
Bride armrest :woot:
Bride v. OEM
Bride shiftboot
Bride v. OEM
BB pic- excuse the quality
Mugen welcome message
Updated pics :woot:
Even Domo reps Philly!!! :fistpump:
Summer set up
winter set up
Previous
Updated interior
only pic from Honda day, had my nikon in my car the whole day, was too busy talking to people
:woot:
met the crew repping ECHM
thanks Amanda!!
Random shoot:
Me @ work
Woo woo-- thanks mr mailman and King Motorsports- super fast shipping
Visors :woot:
Small Goods
Got some more small goods and :woowoo:
did New Era send me the wrong size....
Bride wallet
Even Domo reps Philly!!! :fistpump:
Got some stuff wrapped today, keeping my engine stock but id like it to atleast look nice, tomorrow im gona put on the Mugen reservoir cover, rad cap and oil cap, CF cooling plate hopefully very soon
ray:
@ Fresh Meet- shout to Ricky & Marcus for letting us be there vendor cars, me with the white ECHM T :fistpump:
my pics from the nicest meet thus far:
http://www.8thcivic.com/forums/introduction-pictures/292407-official-fresh-meet-pics-union-nj-5-6-12-a.html
Additional pics can be found on my Flickr
Flickr: kevykett's Photostream
BBS Stern arrived!! Lugnuts and valve stems werent in the boxes so they aren't mounted etc.... YET!
Authentic Mugen exhaust
Beaks bar
STi Splitter
amount cut off & straight blade used
Finished Product- not pictured~ Mugen Visors (look same as rep with a Mugen stamp):
iPhone shoot before the rain:
more small goods:
the infamous red thread-- took me a whole 3 days to get
and the Mugen "Limited Edition" badge but mine doesnt have the limited edition......does that means its even rarer??
one i bought from a member....
picture of the cooling plate- currently being shipped
ray:
random pics from the oil change
new knob came in today :woot:
Mugen Vs. Stock
Cf Mugen knob V. Mugen Si knob
Cf Mugen knob
All 3
installed Mugen CF knob:
installed Mugen CF knob
Lugs needed for the new BBS Stern
Random shoot
Project Mario @ 8th fest!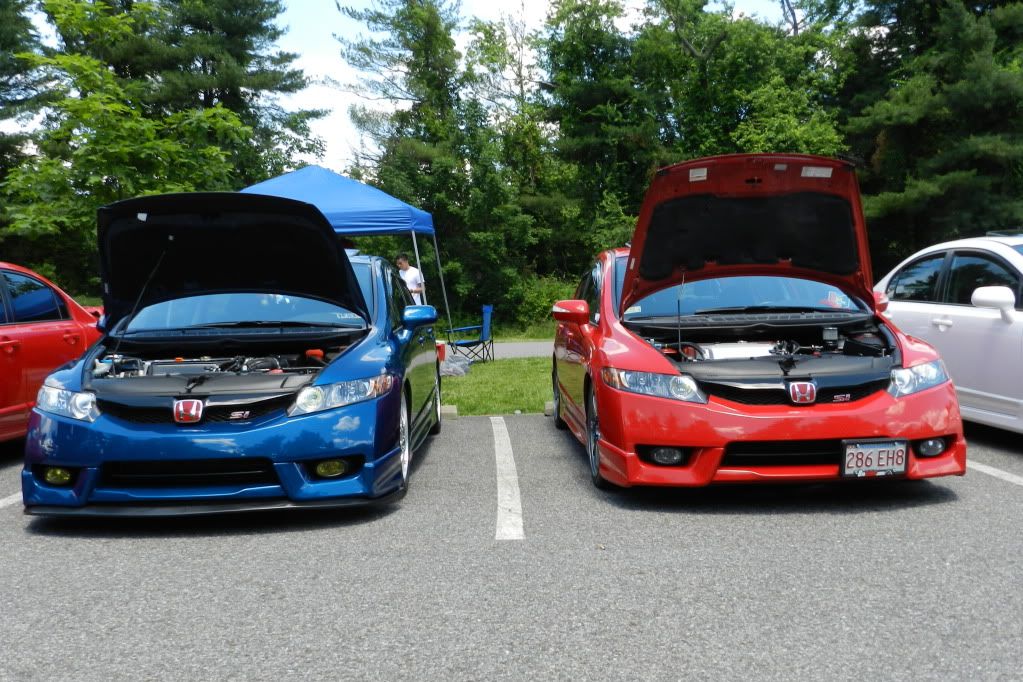 updated Pics!!!
Detailed pics of BBS Stern
Fake screw covering valve stem :woot:
Lug nut cover
center cap
that screws in
good pics of the Mugen CF knob
got the CF-Spec CF Cooling Plate!!!
Updated pics with BBS Stern on :woot:
Mugen diffuser foglight came in :woowoo:
in VA for ECHM!
ECHM 2012
Thanks to Bobby I "red-ed" out the CIVIC logo on my hoodbra finally!! :woot:
VIS CF Mugen RR Hood & USDM CF trunk & 35% Tint
CF shift trim
CF dash
T1R CF Intake:
Dyno'd at Innovative Motorworks- started at 192HP, baseline for an 8th depends but seems to be 180-185hp. Dyno didnt include t1r intake scoop or t1r 70mm exhaust. FP makes such a big difference, its like i have a whole new car. I post alot more updates on instagram-- kevydkett. Its easier and quicker to update but ill start updating this regularly
Spoon calipers + winter wheels
Weksos engine spikes
gona get these refinished- BBS RS:
PWJDM CF ECU Cover & Fuse Box Lid
BBS RS Refinished!!
Done by 4 Ever Kustoms
https://www.facebook.com/pages/4-Eve...s/499750135712
Swapped out the grafix Civic Si badge for the OEM Mugen Badge
got the wheels from the shop! Cant wait to get them on!!!
Skunk 2 camber arms came in
BBS Rs + Skunk 2 camber arms + Spoon calipers and...... alignment..... :fistpump:
BBS Red Centercaps from Japan!!!
Bride door inserts and arm rests in :woot:
Quick photo sesh
Mod List:Exterior
:
3M Paint protection
35% tint
HFP Front lip
Authentic Mugen visors
Authentic Mugen Rear diffuser
Authentic Mugen sideskirts
Authentic Mugen License plate bolts
Mugen Diffuser foglight
Custom
Mugen Inspired
Yospeed plate frame
VIS Mugen RR CF Hood- color matched
VIS CF USDM trunk- color matched
CF-Spec CF Grille
JDM Front/Rear emblems
JDM Yellow fog overlays/ Nokya Bulbs
08 Si Stockies (winter)
BBS RS 17x8+35 & 17x9+35 (Refinished by
4Ever Kustoms
)
BBS Red centercaps from Japan
Michelin Pilot Exalto PE2 215/45/17
Spoon Calipers
Debadged Civic
License plate LEDS
6k Hids
Hyper white license plate LED
Canibeat Frame
Nokya yellow DRLs
3M Carbon fiber wrapped trunk garnish
FaVES roof visor
Subaru STI S204 splitter
Interior
:
Authentic Mugen door sills
Authentic Mugen mirror cover
Authentic Mugen CF shift knob
Authentic Mugen Equipped badge
Authentic Mugen Limited Edition Shift badge
Bride armrest
Bride shift boot
Bride door inserts
Bride armrests
Weathertech Floor Liners
OEM trunk tray
OEM JDM key fob
JDM Honda Flip Key
CF-Spec CF Door switch trim
FaVES CF steering wheel trim
CF shift trim
CF dash
Strutking dead pedal
J's racing JDM Honda steering wheel emblem
Hyper white Map LED
Hyper white Dome LED
Hyper white Trunk LED
Engine/Suspension
:
Authentic Mugen reservoir cover
Authentic Mugen oil cap
Authentic Mugen radiator cap
Authentic Mugen exhaust
Hondata FP
Buddy Club N+ coils
Skunk 2 camber arms V1
Vibrant race header w/HFC
T1R CF intake
CF-Spec CF Intake manifold cover
CF-Spec CF Spark plug cover
CF-Spec CF Cooling plate
PWJDM CF Fuse Box Lid
PWJDM CF ECU Cover
Custom
Mugen Inspired
Yospeed battery tie down
Beaks lower tie bar
Domo reservoir cover
Candy Apple Red engine cover
Weksos engine spikes
Uninstalled
Authentic Mugen Si Knob (sold)
Eibach Pro Kits
Function & Form type 2 coils
HFP Struts
HFP Muffler (sold)
Vibrant Gen 1 exhaust (sold)
HFP sides (sold)
HFP rear lip (sold)
BBS RX 17x8 +35 w/BBS CF centercaps(wheels done by
Vibrant Finish | Facebook
) (sold)
BBS RX 17x8 +45 (sold)
BBS Stern 17x8 +42 (for sale)
235/40/17 Hankook Ventus HR2 (sold)
Blox lugs
t1r exhaust (sold)
OEM Hoodbra (sold)
Civic Si Console emblem (
http://grfxpstore.com/custom
) You need to send grafi a custom order with a pic of the decal attached
Upcoming in order:
Possible/unsure
Now time for a question: What other exterior mods do people think would look good? Comments and criticisms welcome:dance:.