Well, it was time to POLISH (not wax), the black Si Sedan. Swirl Marks, imperfections, waterspots and other whatnots have made there way into the clear and dulled the finish ! You must remove the swirls (not hide them) so the light reflects properly to get a 1st place mirror finish. I detail boats and cars on the side, and over the years, i've tried everything known to the professional auto detailing world in america, russia and europe. First, there are so many techniques, and if you don't know what you're doing, say goodbye to your finish. I use a Makita Orbital, and a 2 or 3 stage process for polishing (depending if i must wetsand), afterwards applying a sealent (not wax). The problem with carnuba based waxes, and most def. pure carnuba wax, is that it softens upon being exposed to the sun (just like your surfer wax for you dudes out there), it attracts dust, sand and whatever else like a magnet. So the next time to wash your car, it's swirl mark city. If you live up north, and have a garage queen, 100% pure carnuba wax from South America (like ps21 or the 500 dollar an oz. carnuba ball :SHOCKED: that you use on your lambo
) applied with the palms of your hand, not a pad, is the way to go.
First things first, typical washing the car with dawn, then claying.
Secondly, testing an area (i test the hood because this is what everyone looks at first), to find the proper solution removing the defects in the clear.
You can go about this a few ways.
You can go to my link when i was working on my vette. Now this doesn't show the final, but there some pics when i started working on it. This paint look like cement before i made it look new again.
Mirror Shine Old Metallic Pewter & Best Wheel Products I've Used - Corvette Forum
Anyway, after you had read that post, these are some pics of the black civic now.
This was before i polished (but after washing and claying). I'm using the nxt bottle just to show off the reflection for comparison purposes. The car is not sealed or polished here yet.
It's a little dull compared to the after shot which is crystal clear (well 99%, you can never get it 100%, that is the reflection of the hubble telescopic mirror
).
After polishing * using nxt bottle just for photo purposes here, didn't use this product to get this shine.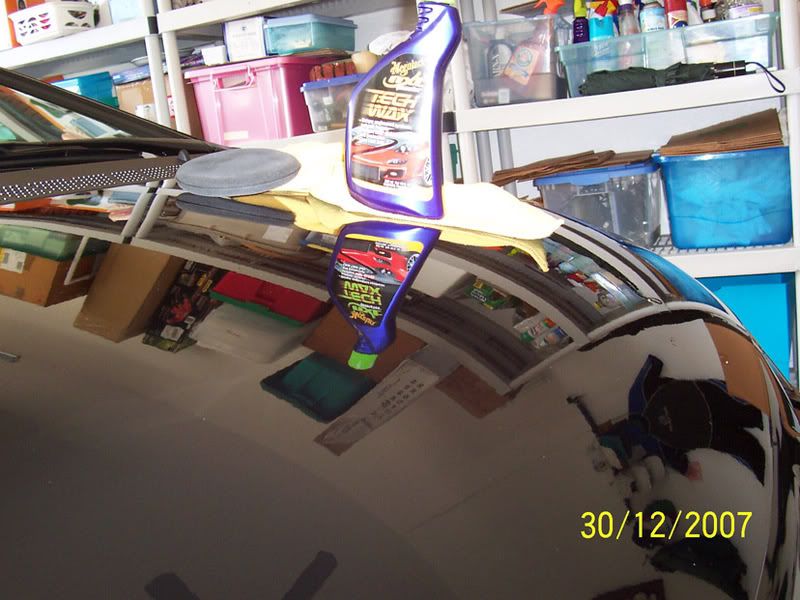 This is not a mirror, this is the actual hood after i went through the the compound and polishing phase to remove all those hairline swirl marks.
now it has that porsche (almost, honda doesn't have the porsche paint job quality, and the orange peel distorts the edges of the reflections you can see as wavyness...)
I must admit, out of all the colors, Black really sets off the Si Sedan. But it's a ***** to keep clean
2007 with 21200 miles on it after polishing, no sealent yet. This is just after being polished. I'll use NXT to seal it. Wolfgang Polymer Sealent is also an excellent choice. Zaino makes some great products, but it takes a while and you must add an activator cure to the product. Too much extra work just to wax or seal the car. That's me in the lower left corner, nice mirror reflection. Too bad the sun bleached out the entire hood shot, the sky reflected like a mirror, but the sun bleached it out in the photo.