Well, I just recently picked up this 08 STI from Planet Subaru out here in MA. Ive only got 2 pictures so far, but I had fun documenting my Si, and Im still friendly with many people over here, so I figured I would do the same with this one.
As the majority of you probably know, I previously owned a Silver 2008 Civic Si (I have a thing for silver cars) which was fairly heavily modified. YOu can find the build thread for that by
Clicking here
The Si saw a TON of time at the drag strip but only made it into the high 13s (because of the driver.... not the car :rantsmiley
. It also saw 1 auto-x event, which I plan on doing plenty of in the STI.
Some unfortunately things happened with my Si which made it hard to enjoy and at this time in my life, having a sporty coupe just is all that practical... so I felt it necessary to part out and get myself a 4dr car with AWD because its 'more grown-up' and 'responsible' (thats the story I told the wifey, at least) :giggles:
Im still working on the blueprint for this build, but I will be sure to update this thread as needed.
Anyways... heres my car:
-----------------------------------------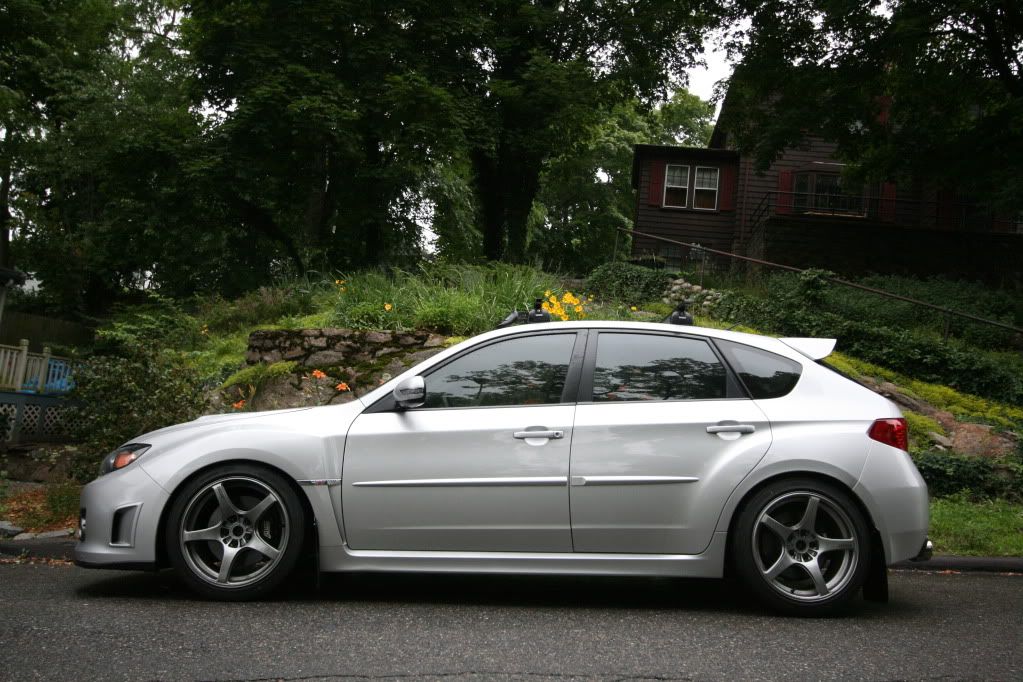 2008 Subaru WRX STI - Spark Silver Metallic
Purchased:
November 19, 2009
Mileage:
~16,200
-----------------------------------------
Current Mileage:
~28,000
Engine/Drivetrain:
- MadDad Essentials 3" Catted Downpipe
- MadDad Essentials 3" Catback Exhaust
- Grimmspeed 3-port Boost Solenoid
- Turbo XS Intake
- OpenSource Tune by BrenTuning
Suspension/Wheels & Tires:
- BC Racing BR Coilovers
- McGuard Lugs
- Summer: Enkei RP03 18x9.5 +38et wrapped in Dunlop Direzza Star Specs 245/40/18
- Winter: OEM Wheels 18x8.5 +55et wrapped in Dunlop Winter Tires 245/40/18
Interior/Gauges/Misc:
- SettingSaver
Exterior:
- Thule Roof Rack
- 35% Tint all around
- BlueBatMobile Red Taillight Overlays
- RallyArmor Mud Flaps
- Flat Black Painted Upper Grille
- V-Limited Style Front Lip
- Tilt-bracket for front plate
- Hella Supertones Horns
------------------------------
Awaiting Install:
- Whiteline 22mm RSB
- Maddad Boost Gauge
- Whiteline Rear Diff Bushing inserts
- Whiteline rear camber adjustment bushings
- Stoptech Street Performance Pads
- NGK Iridium 1-Step Colder Plugs
- Perrin Shorty Antenna
Future Plans:
- Whiteline 24mm FSB
- Whiteline ALK, Steering Rack bushings
- Whiteline Rear Upper Control Arms
- GTSpec front strut brace
- GTSpec rear strut brace
- GT35R (or similar) with supporting upgrades
- DBA 4000 rotors
------------------------------
Dyno Sheets (~ 286awhp/312awtq):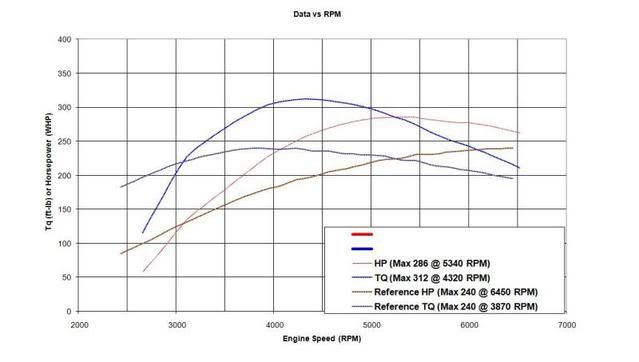 Video:
Renegade Miata Autocross Event
Pics/Events:
1st day - 11/19/2010
Turboback Installed - 1/16/2010
--
Pics on car
--
Dyno Sheet
Enkei RP03s Installed - 3/24/2010
Autocross videos - 4/29.2010
Custom OpenSource Tune by BrenTuning - 5/9/2010
First trip to the drag strip 13.5 @ 103 - 5/24/2010
Small Photo Session - 6/5/2010
Wicked Big Meet - Maddad Show Car - 6/13/2010
BC BR Coilovers, Front Lip, Tilt Bracket Installed - Front Grille Painted Flat-Black - 6/16/2010