·
Kansas Chainsaw Massacre
Just like the title says, this is the Frequently-Asked-questions thread for the P2R Throttle Body Spacer
(FOR THE K20Z3 motor ONLY)
. There are more threads than I can count that talk about throttle body spacers, and most of them cover the
exact same questions.
A lot of these answers will apply to any other throttle body spacer on the market, or the few examples of custom spacers that are out there.
Q:
Does the TBS make any power?
A:
YES. At the very least, Sickyute and bizzybearfigiblue have dynoed their cars after installing a TBS and have gained power. You can expect somewhere in the neighborhood of a 2-4 whp gain and a 1-2 wtq gain. Gains from the throttle body spacer seem to be across the WHOLE powerband, there is no loss down low. Some users have also experienced a slight gain in gas mileage.
Results of those dynos can be found here:
bizzybear's results:
Sickyute's results:
There is one dyno floating out there that shows unstable hp at high RPM, and the poster wondered if it was due to the TBS. because he is the only person with this problem, it is more than likely that he had a vacuum leak or something was wrong with his particular car.
Q:
Will the Throttle body spacer cause my car to run lean or rich?
A:
NO. The throttle body spacer should not cause your car to run lean or rich. Your car's ECU is able to compensate for the slight increase in air.
(If someone has some proof to the contrary, please let me know as I want this info to be as accurate as possible.)
Q:
If I have a CAI or a SRI, will there be any fitment issues with my TBS?
A:
YES. installing a TBS will cause a CAI to rub against the radiator hose, which can lead to problems later in your car's life. Installing a TBS with a SRI can cause the same problem as well. at least one person cut the rubber piece that connected his Fujita SRI to his throttle body so that it would fit in his engine bay. Homemade "X" intakes will fit with the spacer without issues.
One possible solution to the radiator hose intake contact is to put a drink cozy around the radiator hose and zip-tie it in place (or use another method to make sure it doesn't move). This should only be viewed as a temporary solution. Other fixes are to replace the radiator hose or somehow reposition it.
Q:
Did anyone notice a difference in power after installing a TBS?
A:
Some people have claimed to notice a slight improvement in throttle response, but the majority opinion is that the power gain cannot be felt. Most people have also noticed a slight "whistling" noise at certain RPMS. this noise is so quiet and subtle that it would be impossible to capture it with audio equipment. Most people don't find it annoying and some people don't notice it at all.
Q:
How exactly does the Throttle Body spacer work?
A:
The throttle body spacer spaces the throttle body a little over 3/4" away from your intake manifold, providing a slightly larger total volume of air to be held within the intake manifold and behind the plate in the throttle body. The high temperature gaskets that come with the spacer keep the metal of the Throttle Body from touching the metal of the Intake manifold, and this helps keep air temperatures in the throttle body and intake manifold somewhat lower than stock.
Q:
What does it look like in my engine bay?
A: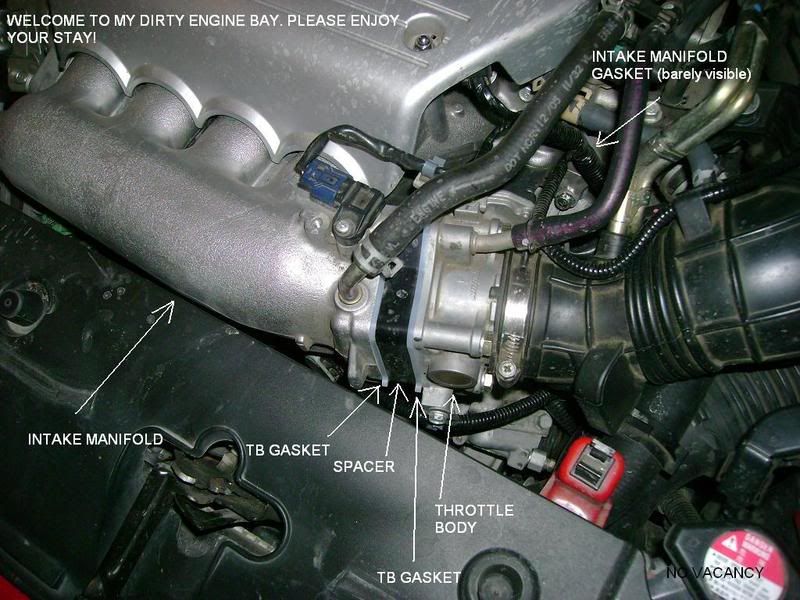 Q:
Is the throttle body spacer a good buy?
A:
For the cost, yes. The throttle body spacer has essentially the same horsepower per dollar ratio as an intake or a header.
Q:
What do I need to buy with my TBS?
A:
You will need to purchase the Spacer and two high temperature throttle body gaskets. All other necessary hardware will come with the spacer. Most places (like Corsport and Excelerate, for example) offer a "package discount" when you buy 2 gaskets and a throttle body spacer.
Q:
How do I install the throttle body spacer? is it hard, or can I do it myself?
A:
as far as bolt-on parts go, the throttle body spacer is by far one of the easiest installs to do. it will require you to partially remove your throttle body, and remove the studs in the intake manifold that the throttle body slides on to. several good DIYs can be found in the DIY section:
http://www.8thcivic.com/forums/bolt-ons-all-motor/48070-p2r-spacer-gaskets-install.html
http://www.8thcivic.com/forums/engine/53070-diy-p2r-tb-spacer-gaskets.html
(this one was great, but the pictures don't work at the moment. it's really too bad...)
Q:
Will I lose any coolant when I disconnect the throttle body?
A:
Yes, you will lose a couple of tablespoons of coolant. the amount is not significant, but you can always top your radiator off with Honda type II coolant. :thumb:
i'm sure there are more questions- I know there are more, but I have to run some errands.... Feel free to post more questions on this thread, we'll get them answered. with any luck, this should reduce the number of throttle body spacer threads out there. :thumb: