Discussion Starter
·
#1
·
Hello
I was recently faced with the daunting task of buying new tires. For whatever reason I threw out all my research and went with a virtually unknown tire...
The Nitto Invo.
My first impressions, it has very strange looking tread pattern. I actually had second thoughts when they showed up (too late of course)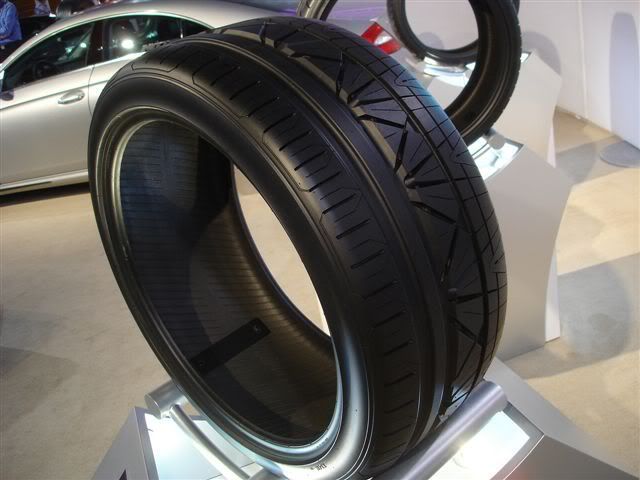 While I was rolling them on the ground (lazy) to the garage I noticed they picked up all sorts of little rocks in the rubber. Very soft compound as expected from a Z rated tire.
So after mounting and balancing these puppies I naturally went for a drive.
The first thing I noticed is that my car no longer pulls to the right, or at least the pull is not as apparent. I had always figured it was an alignment issue (I still have my hunches) however I don't have to apply nearly as much pressure to keep the car going straight. Hell, I can actually take my hands off the steering wheel for more then a second now.
The next thing I noticed is that these tires are responsive. Just a slight turn of the steering wheel and suddenly my car is zipping in that direction. Took me a day or two to get used to it as it almost seemed sensitive but I love it now.
Not only are they grippy when it comes to steering but I can certainly tell that they are keeping the power to the ground. While I haven't done a hard launch yet to test their grip off the line I have done a few redline 1>2 changes and I really can't get them to chirp. Granted I'm only a stock engine but I used to be able to chirp 3rd.
I'm pretty much to the point where I am gaining confidence in my tires so I plan on visiting some of my favorite curves in the next few days. I can only imagine how they are going to track around an aggressive turn.
It always rains in Florida so some wet driving reviews will hopefully follow as well. I think I can find an empty lot for some hydroplane resistance tests.
P.S. Keep in mind I'm coming from the stock tires (non-summer) so this review is probably worthless to the "hard-core"
P.S.S. For the curious 225/45/17 ($118 each, free shipping, no tax, -$100 of internet orders,
http://www.discounttiredirect.com
)