The car is still in Winter mode, except the rear end LOL. Some new pics today to show a few friends who PM'ed about the diffuser.
It's still kind of like a Winter in Canada, but meh!!!!
Bought another Spoon diffuser to try fitting again in 2011
Will keep you all updated!
To be installed in 2011: More aggressive CE28 setup, Spoon S-Tai Dry Carbon Rear Diffuser, J's Racing DC5 Special Carbon Fiber Front Canards, Endless MX72 Brake Pads
Most of you are probably not going to be interested in this car, but I wanted to post some pictures here for a couple of people who have sent me PM requesting for some pictures of the car.
Feel free to send in your comments, positive and negative.
I built the car for myself, with particular emphasis on handling. The car handles great and is very stable even at high speed, but like I said, leave your thoughts here - good or bad.
The car has -1.5 degrees of camber in the front to help with turn-ins.
Enjoy!
Some new pics thanks to my friend Heimond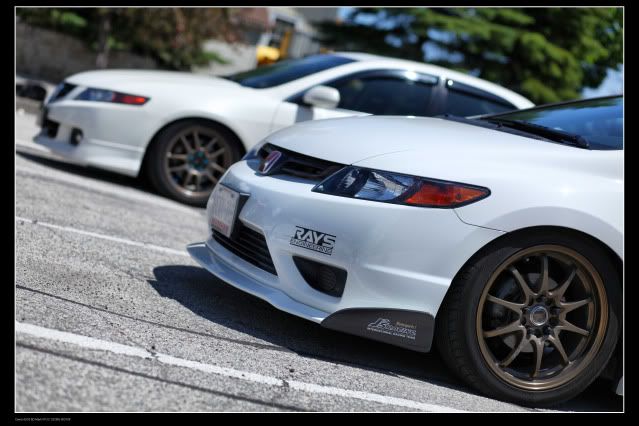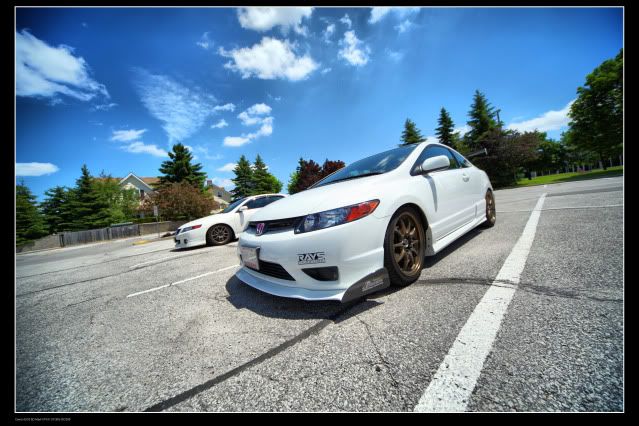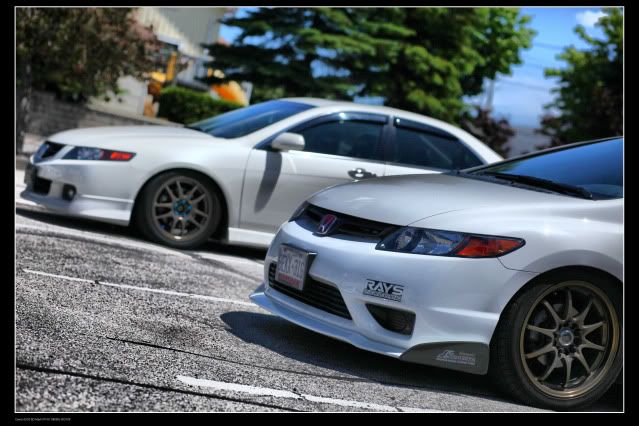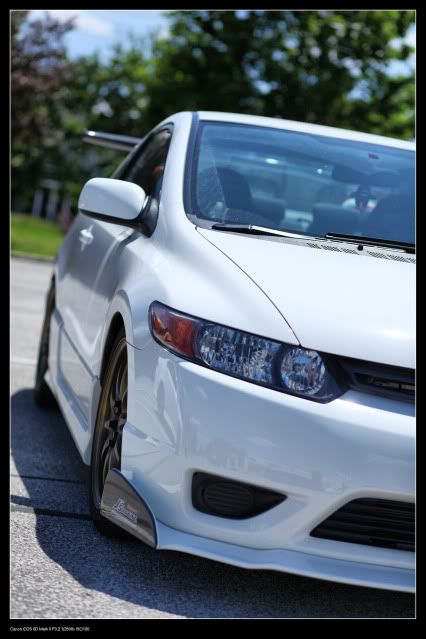 Engine and Performance
Honda Factory Performance (HFP) Sports Muffler
J's Racing Engine Magnetic Bolt
J's Racing Transmission Magnetic Bolt
J's Racing Oil Cap
Suspension and Handling
BC Racing BR Series 6k/6k Performance Coilovers with Dampening Extender
Ingalls Rear Camber Kit
J's Racing Front 3D Strut Bar
J's Racing Lower Rear Tie Bar
J's Racing Rear 3D Strut Bar
Progress Group 22mm Rear Sway Bar with Reinforcement Plates
Endless MX-72 Front Brake Pads
Wheels and Tires
17" Rays Engineering Volks Racing CE28N Forged Wheels in Bronze 17x7.5+43
Falken FK452
Rays Engineering Extended Lug Nuts in Black
Kics Project 25mm Wide-Thread Spacer in front with Hubcentric Core
Kics Project 15mm Wide-Thread Spacer in rear with Hubcentric Core
Exterior
JDM Red Honda DC5 Front Emblem
JDM Red Honda EP3 Rear Emblem
J's Racing Front Lip with Optional Carbon Fiber Splitters
Honda Factory Performance (HFP) Side Skirts
Honda Factory Performance (HFP) Rear Skirt
J's Racing Wet Carbon Type I GT Wing
J's Racing DC5 Special Carbon Fiber Front Canards
J's Racing Bronze Badge
Spoon Sports S-Tai Dry Carbon Fiber Rear Diffuser