Current Mods
Techno-R body kit
Techno-R wing
ARC front splitter
Rotora Big Brake kit and matching rear rotors
Volk GT-U
AIT R1 carbon fiber hood
VIS carbon fiber trunk
Custom interrior
DC5 sidemarkers
Injen CAI
S2000 Projector retrofit with color mod
GReddy Ti-C
LED Conversion for Dome/Map lights and tail lights
Red LED Courtesy Lights to Dome with 3 way switch
White Superflux LED Lights for compartments and glove box with 3 way switch
FormulaOne Tint
Strut King Dead Pedal
WeatherTech Window Visors
GrafiXpressions Replica JDM Steering Wheel Emblem
Broadway Mirror (270mm)
Megan Racing Coilover Suspension
Current Sponsor(s):
Rotora - Thanks Loren!
Other Threads with Pictures:
http://www.8thcivic.com/forums/introduction-pictures/75833-guess-what-took-3-months-do.html
http://www.8thcivic.com/forums/introduction-pictures/116068-omg-wtf-happened-my-car.html
More to come....
Photo by John Nguyen
Damn... Look at those rock chips.... Got like 50 new ones from driving on the 5 for 300 miles... It was suggested that I didn't put blue tape on since they said it would attract the CHP....
April 14, 2009
Just realized I haven't put an update in a while. Probably going to stop this. Might continue to add to the mod list though. My ride will be at most of the main SoCal shows. Feel free to stop by and say hi. Always nice to talk to an 8th civic member.
August 15, 2008
Exterior mods pretty much done. Pictures will come later after I have a photoshoot.
July 12, 2008
New rims. Woot.... Yes. I know, where are the pictures right? I'm not releasing any pictures until at least after Nisei Week in August. My mod list looks so blank now that updated it.
June 20, 2008
Learned an important lesson yesterday. When going at high speeds, put all the clips back on to secure the fender liner/splash guards. Everything was damaged. I removed my fender liner and splash guard today. It would cost about $70 to replace everything. My friend told me it's ok, but I know Mikey had some near hydrolock experiences.
June 15, 2008
Just did something to my interior today. Maybe I'll take some pictures later.
May 8, 2008
I doubt anyone follows my ride thread, but if someone does, watch out for big changes in the next couple of weeks. I won't be bumping this thread since I don't want it to be too well known yet.
April 12, 2008
Here's a shot with the Megans on. I will probably go a little bit lower.
April 9, 2008
Megan Racing Coilovers Installed. Pictures will be up later. Going mod crazy again....
January 27, 2008
Finally uploaded the pictures from the photoshoot. Here's the link to the thread:
http://www.8thcivic.com/forums/introduction-pictures/75833-guess-what-took-3-months-do.html
January 11, 2008
I've had pictures for the longest time. Too lazy to post it up. Maybe one day when im not so lazy/busy. At least I changed the way I update my thread. Most recent update is on top now and oldest is at the bottom. Hey its my birthday! = P
November 28, 2007
Pics have been taken, but I need a little editing to do and I'm a "little" busy with finals. They will be posted soon.
November 24, 2007
I got the Mugen GPs yesterday. I got them installed today. OMG!!! Sick a** rims. I love them. I've fallen in love with my Si all over again... My friend, Brian, is going to help me out with photoshoot since he has a Nikon D50. I've got some crazy pictures coming up this week I guess. :thumb:
November 16, 2007
So I tried to install the eyelids and ran into a problem. Andrew sent me 2 sets of the driverside eyelids. So I can't install them. I just e-mailed him to solve the problem. So now I wait. For some good news, the Honda dealership finally shipped my GPs. I'll have them installed by next weekend.
November 15, 2007
I just got my eyelid overlays today. I CANNOT stop looking at them. They look so nice. I will wake up early in the morning to install them. I just got a call to say that my BFGoodrich G-Force T/A KDW came in. One problem... THE HONDA DEALERSHIP IS REALLY
REALLY
SLOW IN SHIPPING. I'll be lucky to get the rims by next week. Pictures will come up this weekend hopefully when I borrow my girlfriend's camera. Haven't got my GPs yet so there won't be any pictures of those until next week (most likely the week after that). After I get my GPs mounted, I'll take an amateur photoshoot if I don't get too lazy. Should be fun.
November 11, 2007
The WeatherTech Window Visors came in on Wednesday, but I just installed them today after a wash. Install took about a minute each side. I just got the JDM emblem replica for the steering wheel too. No camera at the moment. So pictures will come later.
September 22, 2007
I have a new NRG carbon fiber grill. The it didn't fit like the OEM grill, but it's not noticeable. Waiting on the JDM emblems at the moment. Should be here on Monday.
I haven't been on a while. So here's the update. The mounting points on the NRG grill cracked and fell off. I need some kind of adhesive as a little insurance to make sure it's on tight I guess. I sent it back to the seller, but FedEx is run by idiots that have sent my package to a completely different city and this is not the first time it has happened. Still trying to get a hold of FedEx to see what they are going to do about sending my grill to the wrong address. I have the JDM emblems, but I'm waiting to see what will happen with the grill. I have the OEM grill back on at the moment.
September 18, 2007
Pictures taken after projectors are aligned after midnight. Sorry if it's a little blurry. My Casio 7.2 mega pixels digital cam doesn't take night shots very well, but better than nothing right?
I'm trying to decide if I raised it up a little too high. I think it's ok since the high beams are above the lows.
Before with my 8000k PNP HID kit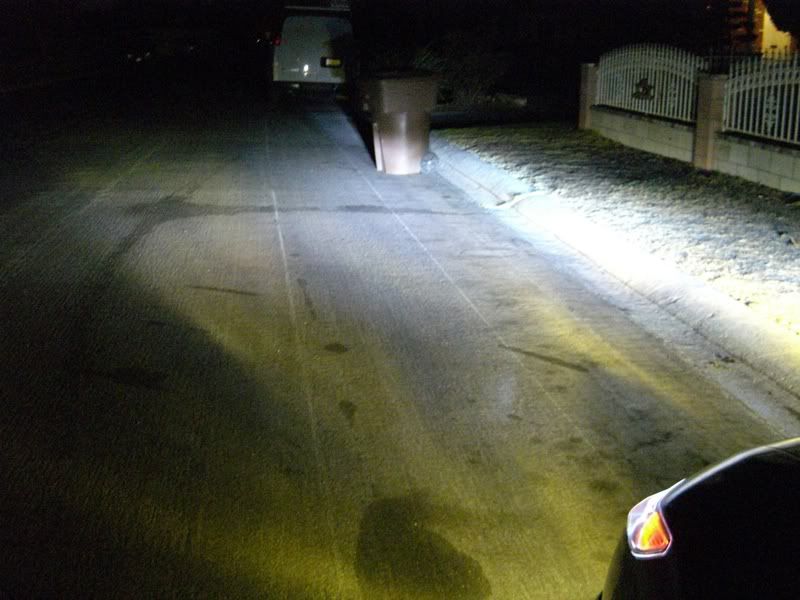 After (same day of the week, but the neighbors didn't put their trash out that night)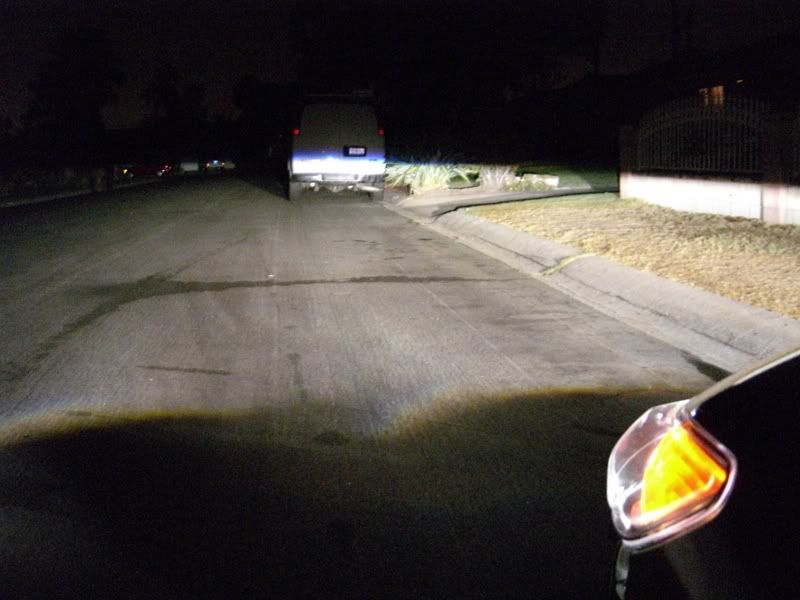 Before
After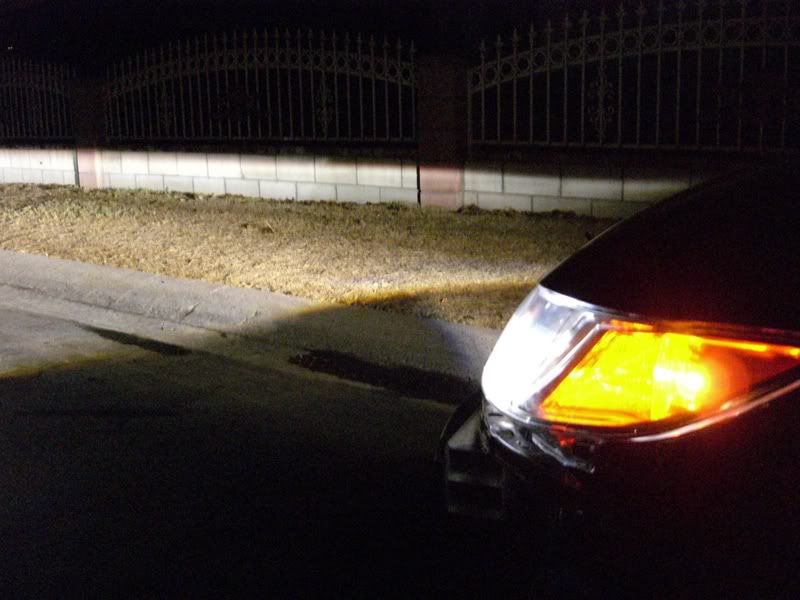 Before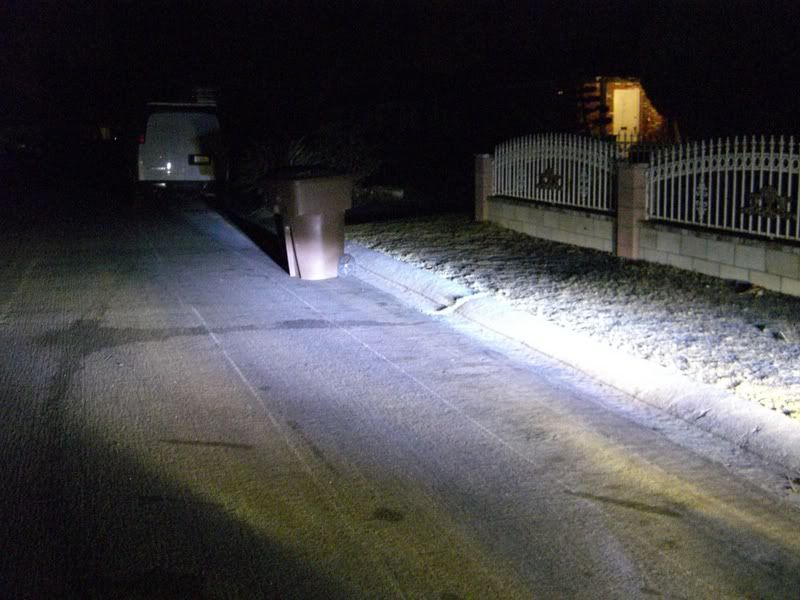 After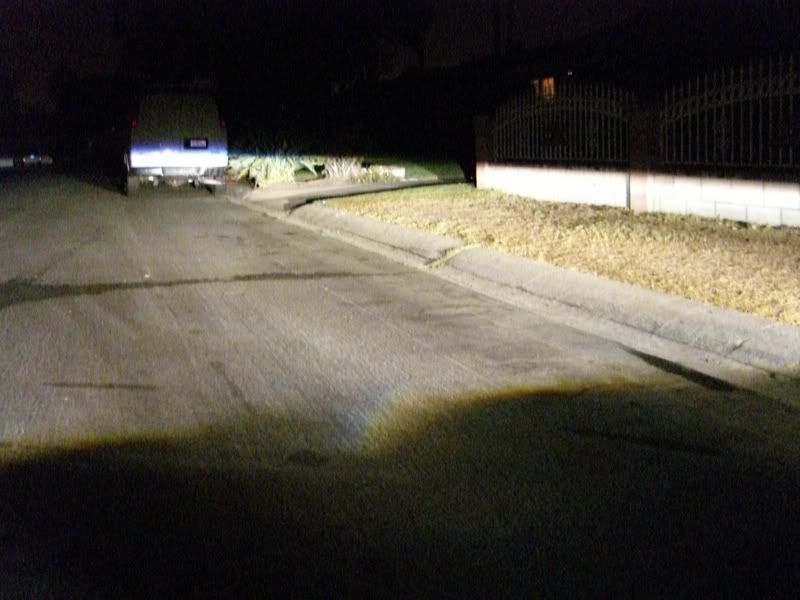 Here are some more shots after I aligned the beams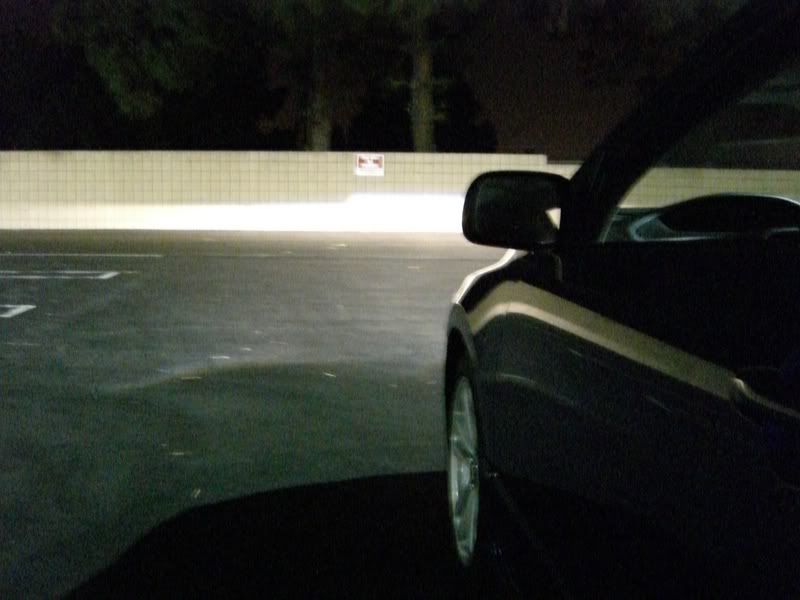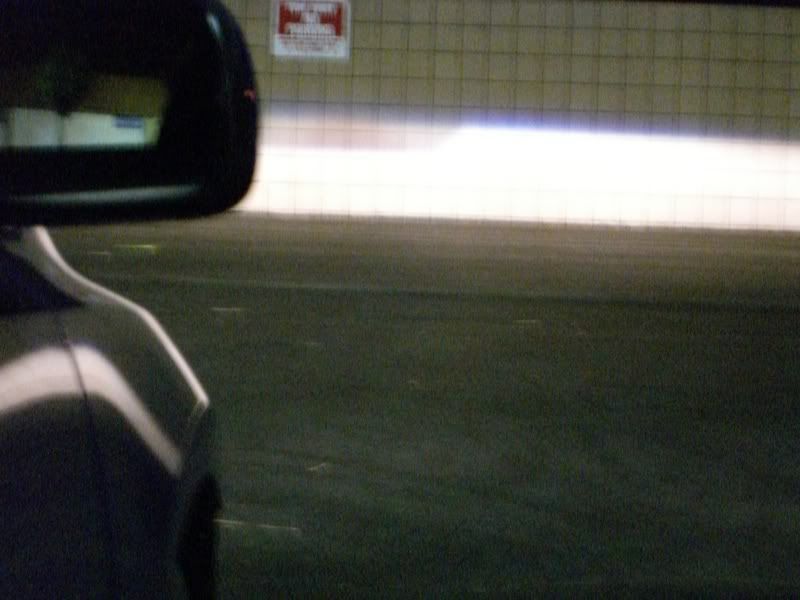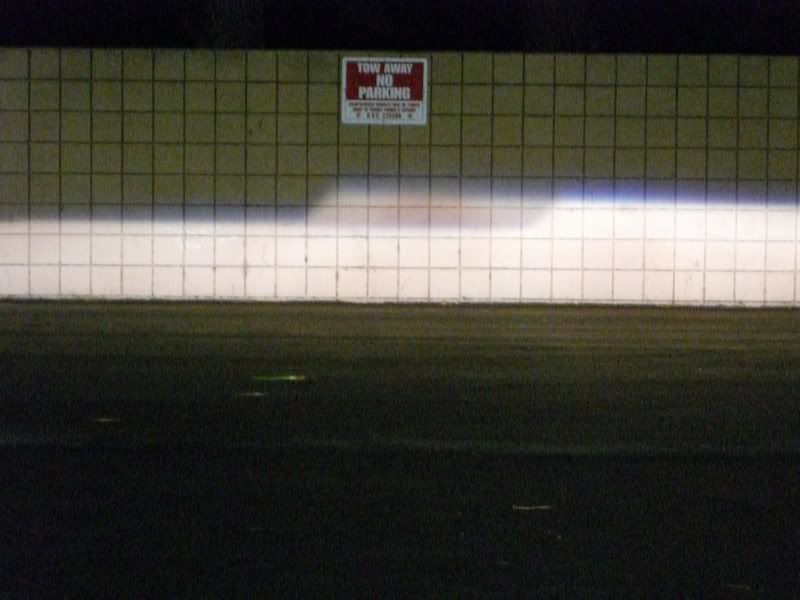 On the way home...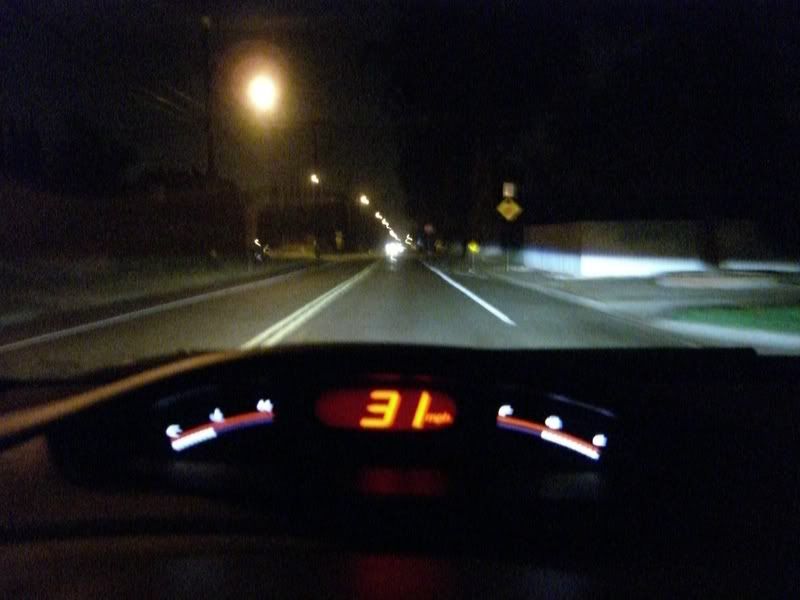 Pulling into the driveway
About 30 ft from the garage.
About 10 ft from the garage.
High beams on.
Possible photoshoot still if I have time. A little busy moving.
September 14, 2007
New pictures with my S2000 retrofit. After a wash and used the California Water Blade for the first time. California Water Blade FTW.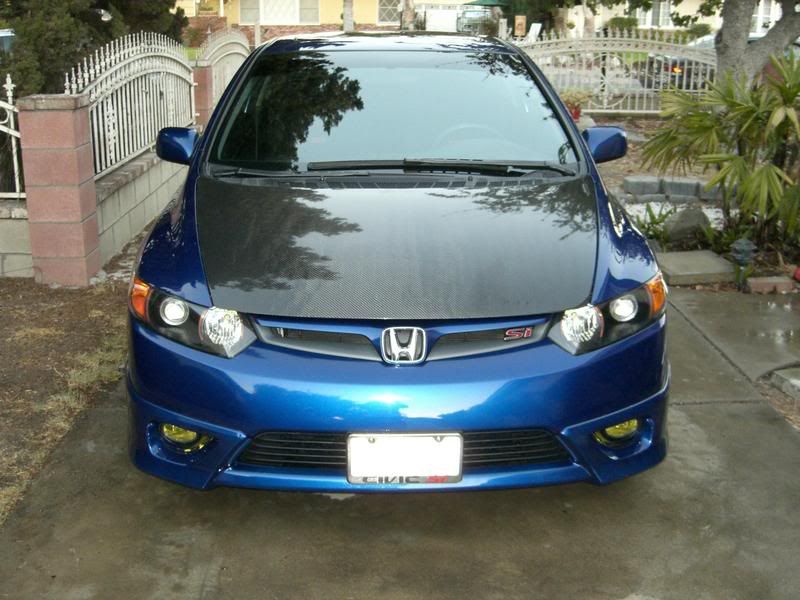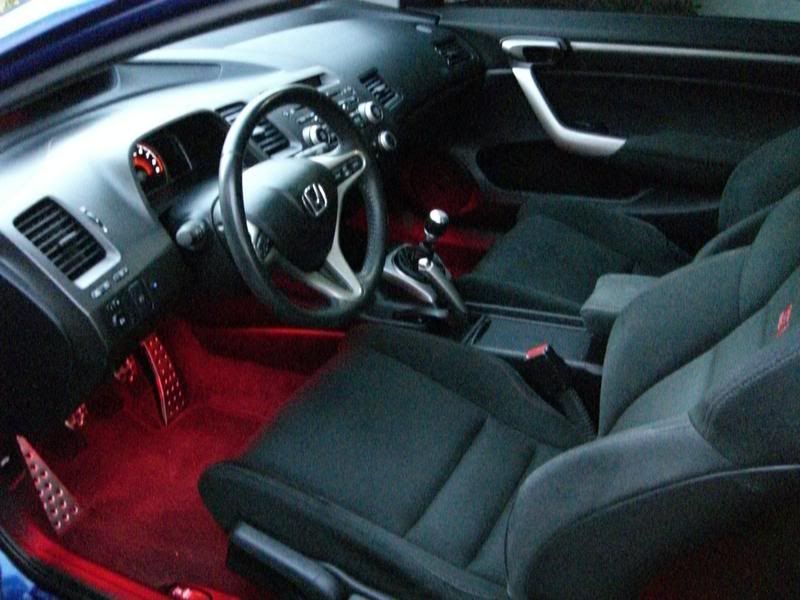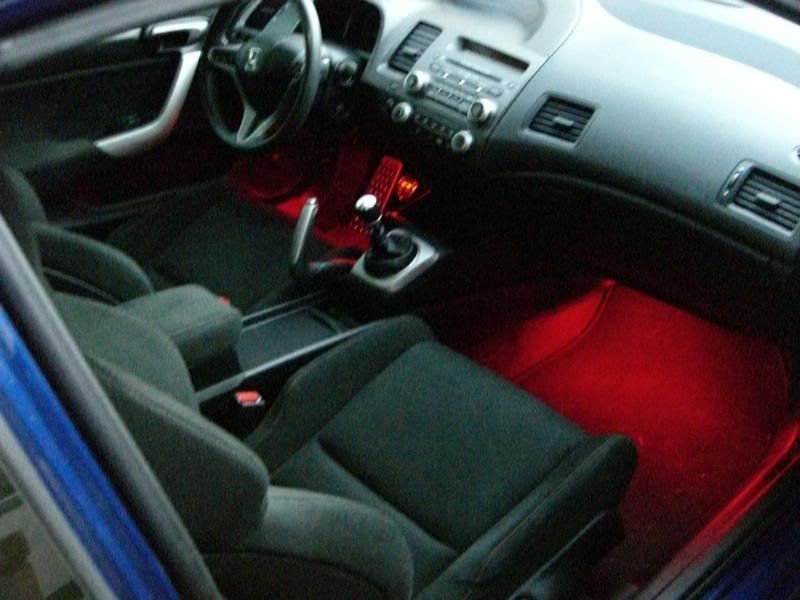 More pictures to come later on when I aim the projectors. Possible photo shoot coming up after my first clay bar, polish, and wax.
July 14, 2007
Here's some new pictures with the seibon hood and yellow fogs. Car still needs a wash... but I just posted for anyone who wanted to see. Will post more pics after I put on the CF grill. I woke up too late this morning to do much.
Edit: CF grill was for a sedan and did not fit. Will buy one for a coupe later.
First post. I don't remember the date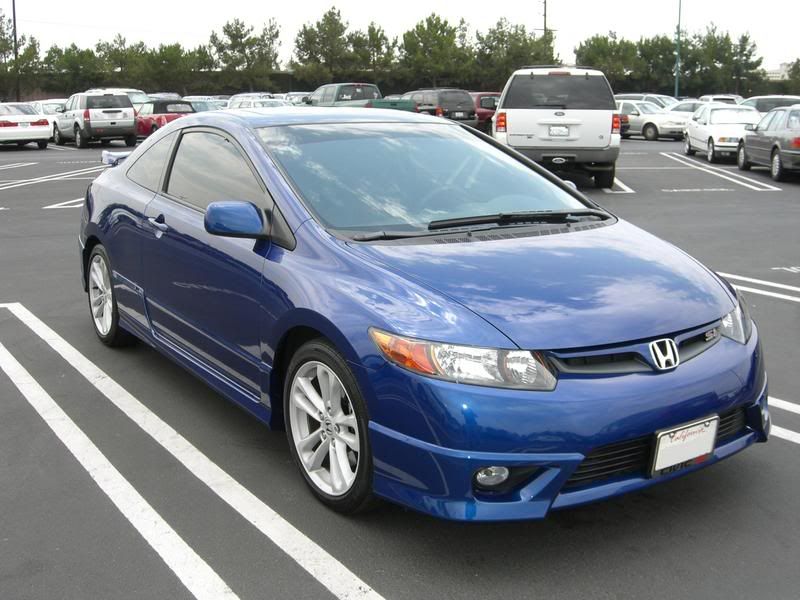 My friend's 06 Tc in the back left.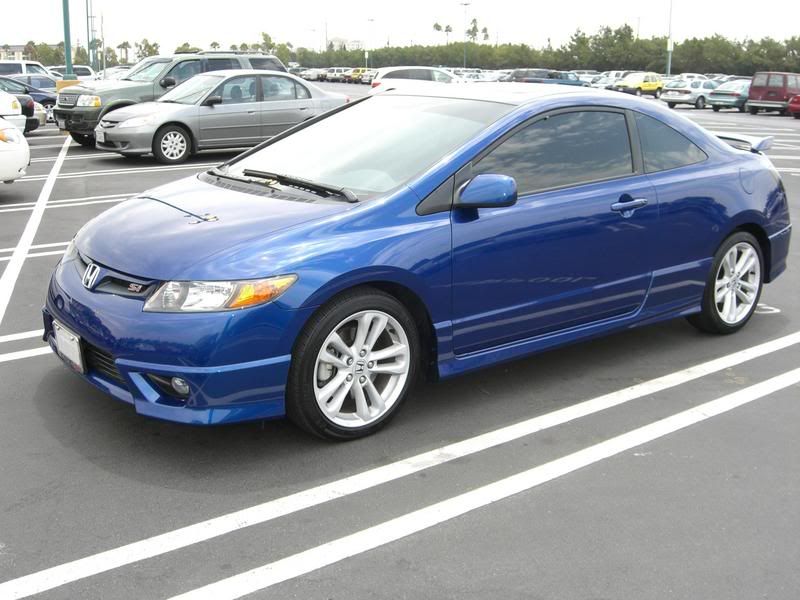 My other friend's 03 Turbo Si (The one with all the sponsor stickers) on the left.
There it is again on the right this time.