Discussion Starter
•
#1
•
Hi forum!
I just bought my '07 Fiji Blue Pearl Si last Tuesday, and after having a week to dote and obsess and fall (even more) in love with it, I thought I'd join your lovely forums and give a big hello to everyone.
I first fell in love with the Si last summer, when I pulled into a Petsmart parking lot and saw one (in Fiji Blue of course) parked across from me. I got out, walked around the car, got some drool on the hood, and then spent the next year researching and obsessing over it. I didn't think it would turn into a reality this soon (I just graduated college in May) but due to a decent job and a hookup from my manager's friend who worked at a dealership...I got my Si with 4,800 miles on it and barely 5 months old, traded in by another lady driver who apparently had never driven a manual before and didn't want it after all. Needless to say I gladly snapped it up! Every single one of those monthly payments is worth it when I walk out my front door in the morning and see the amazing machine waiting for me. (I doubly appreciate it...my old car was a 1988 Volvo 240 DL with 271,000 miles on it. Huge step up in class for me!)
It's all stock for the moment, (but that's definitely going to change in the future) I started to reposition the front license plate today, but the reciprocating saw I was using didn't quite take enough off on the first cut, and then I got distracted by a plate of steak, mashed potato, and corn. (Hey, it happens...)
So here's my baby, my stock Si...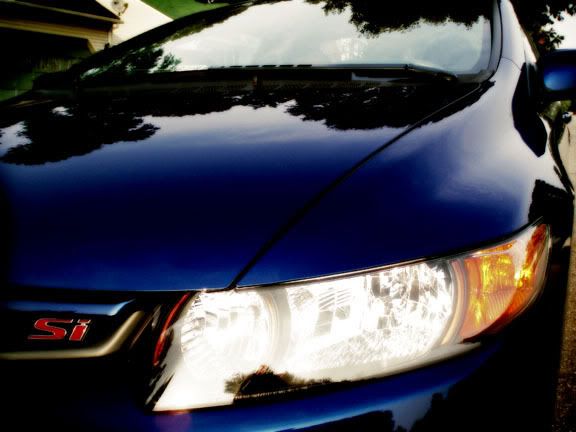 And of course... :vtec: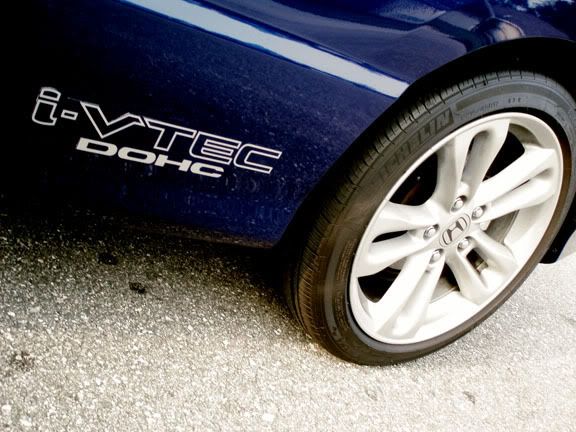 And this is me...since it is me, myself, and my Si.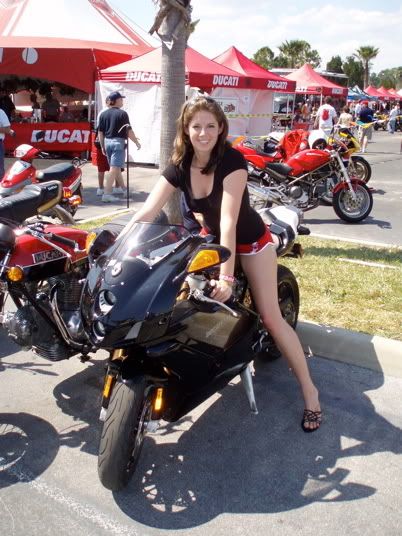 That's my boyfriend's Duc (Edit: well, it WAS his Duc, he traded it in for the new 1098S) - I ride a Kawasaki. (Which I just bought THIS week...man I am just in vehicle heaven right now! Hopefully I will still be when I get tired of eating Ramen to make payments :laughing: )
Okay...for now, hi all, great to meet you! Look forward to learning some great stuff here.