Chicago KO Crew presents the BOOMBA RACING Meet! JUNE 5TH 2010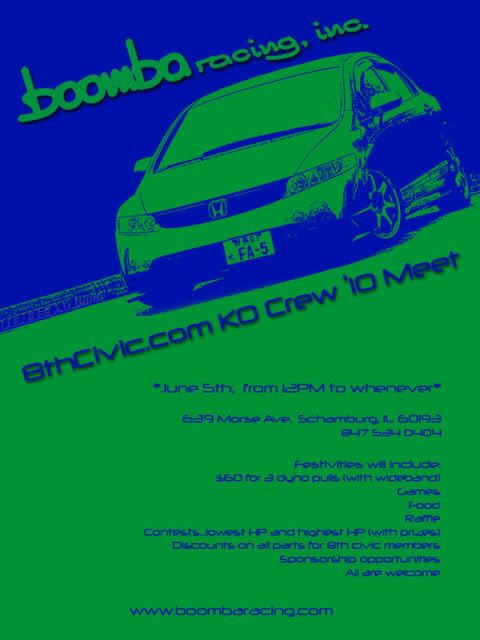 What:
Boomba Racing is opening their doors to the chicago KO Crew and all K-Series owners. Also any other people we want to come!
Where:
Boomba Racing, Inc.
639 Morse Ave.
Schamburg, IL 60193
When:
Saturday June 5th from 12PM to whenever...(8th members should get there around 11:30 for good parking and to set up.)
Festivities will include:
- $60 for 3 dyno pulls (with wideband) Boomba swag for dyno-ers!
- Games
- Food (we need to bring the food they have the grill)
- Raffle
- Contests...lowest HP and highest HP (with prizes)
- Discounts on all parts for 8th civic members (the more people that dyno the higher the discount will be on parts.)
- Sponsorship oppertunities
8THCIVIC MEMBER DISCOUNTS ANNOUNCED TODAY

Hondata Flashpro tune NON-Boosted = $200
Hondata Flashpro tune Boosted = $450

KoCrew 8thcivic discount is 10% good from May 17th - June 4th
***Invite your friends and family, people from other forums are invited also however special discounts won't apply for them unless they dyno.
Who is coming:
1. 09Stormtrooper
2. ethand320
3. megrog2
4. SURYSI
5. polishteen902
6. nruzicka2006
7. MoNiA 09 Si!!
8. rockmanx
9. EM2
10. DrClaw
11. RAY
12. WeNoh NHBP FA5
13. David4687
14. Siem Reap
15. FG geek
16. darken0420
17. JmettaSi
18. BlUeFg2
19. djjones5520
20. J.P.
21.
22.
23.
24.
25.
Maybe:
1.
2. oz68
3. BDV2009Ro
4. 08_si_sedan
5. Skyline4life
6. PtownSi
Who is bringing what:
09stormtrooper - Hot Dogs and Buns
JmettaSi - beef and buns
megrog2 - Chips
DYNO CONTEST

Rockmanx - 220
bluefg2 - 200
09stormtrooper - 193
siemreap - 180
drclaw - 173