Mods Currently On My Car
Full Race 3" Cat-Back, WITHOUT extra adapter
Skunk2 Header
Import DPS Intensity V2
Hasport 70a Mounts
[Built K20/K24 frank in it now :woot:]
Pic of what comes in the box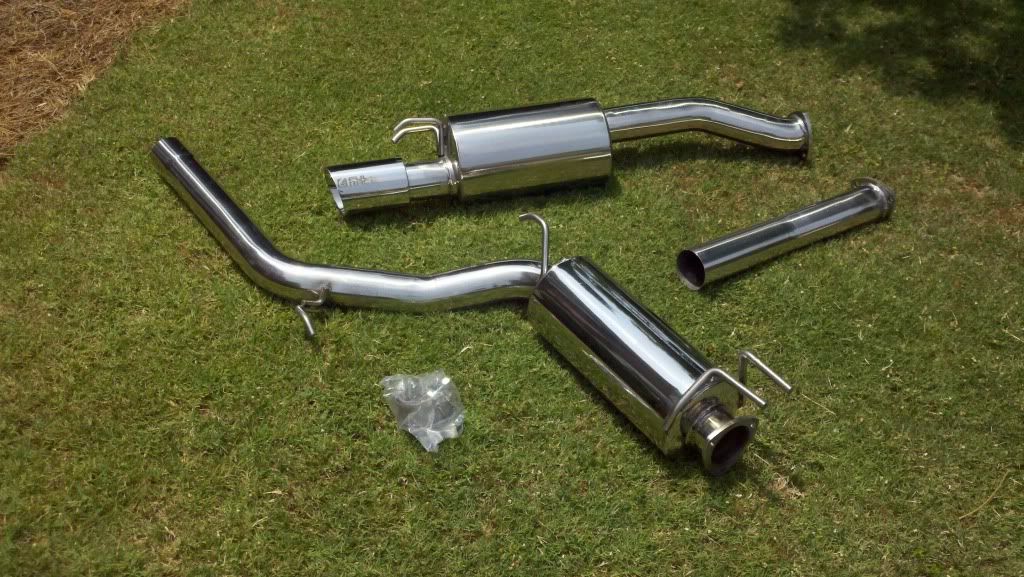 Next to my old Skunk2 76mm
Why Full Race?
Ok. So if you take a look to your left, below my little member picture thing, you'll notice that I am 17 years old. And what do 17 year old kids like? Stupid Loud, obnoxious a** exhausts. Cause they get us poon or whatever. Well I was 'that kid' for a while, as I have already owned the Skunk2 70mm and 76mm, both paired with the Skunk2 header. But an important message to other teenagers seeking poon: let me tell you that the only thing loud a** exhausts attract are cops and tons of dudes. Not poon, just tons of dudes and old ladies that will hate you forever. Yes, everytime you hit VTEC you'll giggle like the girl that you are trying to attract, but every Non-Car Enthusiast on the road (aka 9 out of 10 drivers) will think you're a moron that annoys them by day and clubs baby seals by night. And even as you drive by going the speed limit, people will rush to get your tag number and call the cops, just because you sound fast (true story). Yes, I lived the life of having an obnoxious exhaust, but I eventually tired of the noise, the drone, and all of the complaints that people filed, even though I drive in a very reasonable fashion. The final straw was when a cop came to my door and said that he would have to start ticketing me soon because of all the complaints I had received.
Packaging/Installation
So once I opened up the package my exhaust was in, I realized what care Full Race puts into even packaging their products. There was NO WAY this thing could get damaged in routine shipping. The exhaust itself is a quality looking piece, pretty much on par with my previous Skunk2 systems. The muffler and the resonator absolutely dwarf the ones on my Skunk2, and I think the tip looks wayyyyy better (not a fan of canister tips). Installation was a piece of cake, but I still have a tiny, tiny, tiny leak by the slip joint. You can't hear it if you're not under the car and I'm sure it doesn't affect performance, but it still kinda annoys me.
Impressions
So the first thing I noticed when starting it up is how quiet this exhaust is. For a 3" system it is amazing, and inside the car, it is WAY WAY WAY WAY WAY quieter than the Skunk2. Driving around town, you are treated to a nice, deep tone that can easily be tuned out with the stereo. At a cruise around town, it is virtually silent. On the highway, this exhaust has ZERO drone until around 3k, then there is a little, but it is absolutely nothing compared to the Skunk2 drone. Another thing that I really like about this exhaust is the tone at WOT. It is very deep, and yet has no rasp at all. The tone is so smooth and is a welcome departure from the balls to the wall, devils roar that was the Skunk2. From inside the car, you can hear the intake over the exhaust, but outside it still is reasonably loud. Another important note is cold starts. They are about 1 billion times quieter than they were with the Skunk2.
Final Thoughts
Getting this exhaust was one of the best decisions I have ever made. It pulls just as hard as the Skunk2, but the sound is much more refined, mature and classy. I can now hold a conversation in my car, and girls will now ride with me. I also like the way the tip looks better, and the way the piping is routed will not melt crap like the Skunk2 76mm will. Oh yeah, and now my neighbors can't constantly bi*** about how loud my car is! I also like how my car no longer sounds faster than it really is. Yes, vtec no longer brings children to their knees, but you're only going balls out 5% of the time you're driving. And I never liked having the reputation of "the teenager with the loud car" anyway.
Get This If:
1. You want the power of a 3"exhaust (People that say it doesn't gain power are RETARDS. Seriously, stop saying it.)
2. You value holding conversations in your car
3. You don't have misguided conceptions on how to get poon
Do NOT Get This If:
1. You're nickname is 'Captain I Want Attention'
2. You're into attracting tons of dudes (I won't judge)
3. You love picking fights with neighbors and cops
4. You think hitting vtec should be an experience everyone within 2 miles should share with you
Thanks for reading this long a** review and feel free to ask questions!
If you think I'm a silly s.o.b. and want to laugh more while also being informed, read these:
http://www.8thcivic.com/forums/exhaust-discussion/254381-skunk2-76mm-review.html
http://www.8thcivic.com/forums/header-discussion/214837-skunk2-header-review.html
VIDZZ!!!!!11!!!1!!
<--- K20/24 onramp fun
<---- sound while cruising on highway
<--- more onramp fun
<----- outside sound w/ stock K20
<---- outside normal driving w/ K20
<--- more stock K20 stuffs
<---- K24 dyno
<--- K24 porn from here down