There seem's to be an ever growing amount of new threads with intake questions that have been answered on here a million times before. I am creating this thread to try and shed some light on the topic. Please feel free to add anything I forget. Once complete we can have one of the mods lock it down.
Question 1: What intake should I buy?
Answer: There are alot of company's with intakes on the market for our cars. The list go's like this: Injen, AEM, Fujita, K&N and Weapon R. It seems like the Injen CAI is the most popular with the Fujita short ram bringing up second. The AEM initially had alot of problems with throwing a CEL but they seem to have fixed the issue.
Question 2: Will an intake void my warranty?
Answer: As with all aftermarket prooducts, if the dealer can prove that the problem was a direct result of the modification, then your warranty claim will be denied. Pretty much the only time your warranty claim will be denied using an intake is if you hydrolock the motor (covered below). If you have any doubts on this, google the "Magnuson-Moss Warranty Act".
A dealer has no authority to void a warranty just deny the claim.
Question 3: Will a CAI cause me to hydrolock my motor?
Answer: There is always a possibility of hydrolock when it comes to Cold Air Induction. In order for this to happen you would have to drive through a pretty deep puddle and completely submerge the intake filter. At that point the CAI will act like a straw. See Below...
sikassdrummer said:

arty:
Question 4: Does a short ram suffer from heat soak?
Answer: Yes. A short ram pulls in the hot air from the engine bay resulting in some degree of heat soak, although I think this will be debated until the end of time.
Question 5: Is there an intake bypass valve out there for my CAI?
Answer: As far as I know, not yet. Your best bet is to search each company's website and see if they make one. Here is a link for a DIY if you want to do your own
http://www.8thcivic.com/forums/showthread.php?t=26334&highlight=cai+bypass
. Injen has the hydro-shield which is a cover for the filter, but I'm not sure how well it works.
Quesiton 6: Do I have to pull the bumper to clean my CAI filter?
Answer: No. It is not neccesary to pull the bumper off to clean the filter. With this you have two options. You can A: pull off the wheel and peel back the splash guard to access the filter or B: you can pull off the bumper and access the filter that way. It's up to you what you do. It all depends on which way you think will be the easiest.
The following dyno's have been posted by 8thcivic.com users:
*Snoopy*
Fujita SRI and Hondata IMG
*HAQER*
AEM CAI
*06blaksi*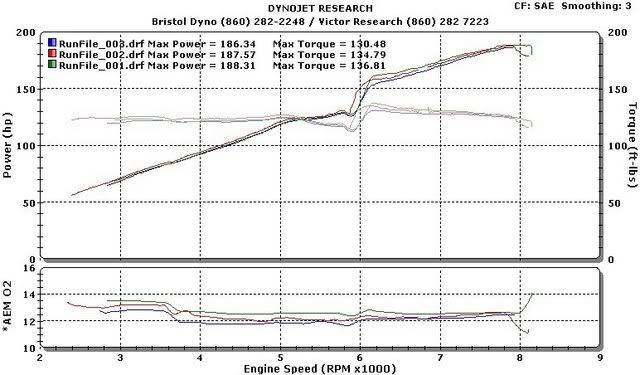 Injen CAI
More to come...