Discussion Starter
•
#1
•
My turn for a build thread.
I traded in my 06 Nighthawk Black Pearl FG2.........
June 6th 2008 I picked up my 08 Taffeta White FA5.
After having the car for 10 days I had to leave it sitting in my driveway for almost 6 months while I finished off my assignment overseas. While it sucked being away from my car for so long after I just got it, it gave me time and resources to save money so I could buy many parts.
So after a long nearly 6 months I come home...... and out journey begins...
Got home and she was just as I left her.
Unwrapped. OEM car cover is awesome. Was damn near as clean as when I covered it, and no scuffs or marks.
Started up on the very first try.
First parts go on the same day: Corsport Shifter Bushings
Next day
Broadway 270mm Flat Mirror
Mugen Visors
Hybrid Mirrors
And then the real work begins.....
Wrinkle White Powdercoated Valve Cover, Mugen Oil Cap and JDM Oil dipstick.
The money maker finds its new home.
Almost finished.
Customlightz Retrofit TSX Projectors w/ E46 Replica Shrouds
All finished!!!!!!
First Start.
Wheels and Suspension starting to go on.
Finished and rubs something terrible.
Front.
Rear.
Red Suade Doors :woot:
Push Start that I still havent finished wiring.
JDM Hazard.
Corsport Hood Spacers.
Another engine shot
Corsport Battery Tiedown and Ixizhood Hood Damper.
And my dyno run.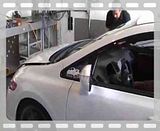 Oscar Jackson Sr. and my weak dyno results.
Driving to Vegas
In Vegas.
08TWFA5 and 09TWFA5 love going on.
Corsport C-Pillar Brace w/ a hint of red doors.
New pictures: 4 April 08
April 26th.
Added CF Ignition Cover and Manifold Cover sticker
Parts installed on my car.
Engine/Performance Modifications
Comptech SS
Corsport Shifter Base Bushings
Ixiz Hood Damper
Corsport Hood Spacers
Skunk2 Reservior Covers
Wrinkle White Powder Coated Valve Cover
Red Powder Coated "I<3HATERS" Battery Tie Down
Mugen Billet v.2 *gold* Oil Cap
Mugen Radiator Cap
CF Ignition Cover
CF Manifold Cover
Fujita SRI
Hondata IMG
CT-E Supercharger
Vibrant Header w/ HFC
APEX'i World Sport II Cat Back
MSD Dashhawk
Wheel/Suspension Upgrades
Corsport Powder Coated Red C-Pillar Bar
Corsport Front Upper Strut Bar
Skunk2 Pro-S Coilovers
Skunk2 Rear Camber Arms
SPC Front Camber Bolts
5Zigen ZR+ 520's 18x7.5 +37 Hyper Gun Metallic
5Zigen Pro Racer Racing Lug Nuts Hyper Gun Metallic
Falken Ziex ZE 912 225/40-18
Exterior Modifications
Customlightz Retrofit Headlights (TSX Projectors/E46 Replica Shrouds)
Phillips D2S Ballasts and Bulbs
OEM Style Fogs
Full red tail lights
JDM emblems
Hybrid Mirrors
Mugen Ventilated Visors
Interior Modifications
Auger Alcantra Shift Boot
Flat Black Voodoo Shift Knob
Strut King Dead Pedal
Broadway Mirror 270mm Concave Tinted
JDM Hazard Button
Push Start Button
Red Door Suede
LED Dome Lights
YoSpeed Black Powder Coated "Si" Doorsills
Bluetooth