Ok, so I dont REEEEALLLLY say 'howdy'.... but im in a jovial mood so I just sorta happened. Anyways, I'm new to the site so I'll go ahead and do a lil' intro action here.
About me:
Name: Chris
Hometown: Orange, CT
Age: 23
Occupation: Protoytpe Web Developer - I work for a marketing company in Stamford, CT that mainly deals with Magazine subscriptions, etc. Their online group (where I work) is trying to come up with new/better/more efficient ways to handle the online portion of the business. So, I make prototypes of ideas set for by the creative team, etc etc, techno mumbo jumbo... you get the point.
Fun facts: I'm an avid 'Halo' fan, the popular game from Xbox/Xbox360 and cant wait for the 3rd installment of the game this coming september. I also LOVE snowboarding. I try to get out as much as I can every winter. Its easily my favorite pastime. I also recently got engaged to my wonderful gf, now fiancee and we're set to have the wedding in Sept 2008.
Pic of my fiancee and myself. Its form about 2 yrs ago... but we look the same for the most part.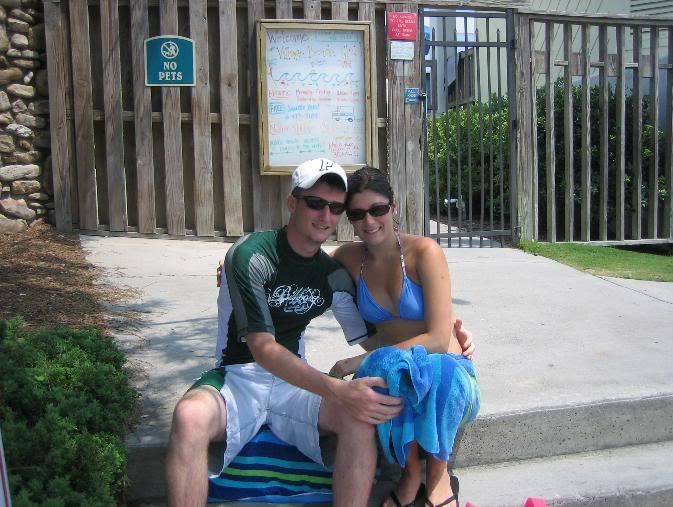 My Ride:
2006 Honda Civic EX Coupe Alabaster Silver Metallic
I've had my car for a little over a year and am finally at a point in my life where I can start doing some work to it and customizing it to my liking. I have an overall idea of where I want it to be within a year... but again, more on that later. Right now, theres very minimal mods... license plate flip, debadge, drop-in air filter. But there are many more to come. I'll type more about them later on. You can see my progress in my thread
here
. Pictures of my car can be seen there.
I look forward to learning much more form the great people here. The DIYs have already been amazing informative and helpful. Keep up the great work everyone!!
I'm also very interested in meeting up with people from my area just to chill, etc. So, if you're nearby... hit me up.
Later!
Edit: heres some pics of my car. not great quality... I'll post better ones soon. I promise.
Front plate before:
Front plate after:
Debadge before:
Debadge after: (coming soon)
Clear Headlights/Remove Amber - Before:
Clear Headlights/Remove Amber - during:
The Headlight-during pic is from tonight... We had to stop short and put it back together cuz we didnt have time tonight cuz my buddy and I have work in the morning. Ill post more pics when I can get them.