The Final Product​
Well, for those who don't know me, my name is Katie and I drive a 2008 Taffeta white Honda civic LX 5 speed. I named her Kimber.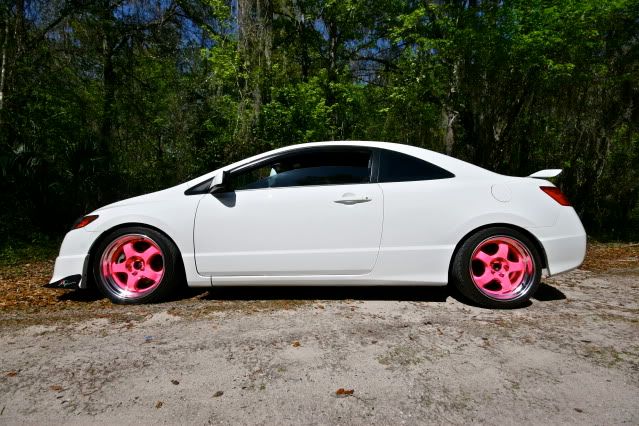 (RESERVED FOR FUTURE VIDEOS)
-Video one- Daily driving regular driving and full throttle
-Video two- Dyno tuning with videos of boost gauge and Dyno graphs
-Video Three- Track runs with Time Slips
Here is a summary of the following post on why I left AJP and went to HBAR Motorsports.
HBAR Motorsports(formerly AJP's Tuner)was under the impression that AJP was in close contact with Hondata but turns out they werent. So my tuner informed me of this. Also AJP wasnt helping me. I was told some things and then they never happened, and my car was running like crap. So when I talked to Doc at HBAR he told me to swing by his shop so he could adjust my tune and told me he was going to contact Hondata to see if we could get a flashpro calibration made. Doc was in touch with Doug from Hondata and said he would like us to send my kit out so they could put it on their R18. I dont think i could thank Doc from HBAR or Dough from Hondata any more. They have no idea how much they helped out the R18 community. Thank you guys! Hondata has been in really close contact with me and would call me with updates and everything. Well if you have time, pull up a seat and listen to my story.....