Ok, I am writing this due to the constant and overwhelming amount of PMs that I get about the GReddy Turbo Kit, especially from people new to the site and new to forced induction. I am attempting to make it comprehensive - others please add info if I left anything out, and I will update it.
General Info about the kit:
The GReddy turbo kit comes with a smaller size (T25 flanged) non-ball bearing oil-cooled/lubricated turbo with an internal wastegate, unequal length log-style cast iron manifold, intercooler, all required intercooler piping (non-polished aluminum), cast iron downpipe, 370cc injectors, plug-and-play wiring harness, plug and play injector harnesses (no cutting factory injector wiring), E-Manage Ultimate piggyback engine management computer, braided steel oil feed lines with T-fitting (no drilling required), oil return lines consisting of a metal return tube that connects to a rubber hose, which connects to a banjo bolt fitting which feeds into the factory drain bolt hole (not ideal, but easy, and does not require any drilling), A Mass Airflow Adapter tube, Airinx air filter, heat wrap for your hoses and wiring harness, and all required bolts, gaskets, washers, etc. The factory boost setting on the wastegate spring is about 6psi. The kit takes some real work to get up past 270whp, but can push 300whp with the right parts, some creativity, and a good tuner. The kit also requires removing your front bumper support, in order for the intercooler to fit. Some people may have a problem with this. If you want to spend the time and effort, you can trim (A.K.A. cut the crap out of it with a sawzall) your bumper support and retain some of its protection. Personally, I didn't care. I removed it entirely like the instructions told me to. As a side note, four door Si owners cannot retain their fog lights (if equipped), due to intercooler clearance. The kit DOES NOT come with a blowoff valve, and a flange must be welded on as well if you want to attach a blowoff valve - it does not have any place on the intercooler or intercooler pipes to attach the blowoff valve.
GReddy Kit Turbocharger Specs (from the japanese TRUST website):
Trust T517Z Turbocharger specs:
Max Power: 380hp
Ball Bearing: No
Compressor Trim: 50
Compressor Inducer (mm): 48.1
Compressor Major (mm): 68
Turbine Trim: 72
Turbine Major (mm): 58
Turbine Exducer (mm): 49.1
Housing A/R: 8, 10 cm2
Wastegate type: Internal
Flange Type: T25
Factory installation instructions can be obtained here:
http://www.greddy.com/img/PHP/products/pdf/1151.pdf
The Gas Mileage Question
I noticed practically no difference in gas mileage. I actually gained 1-2 mpg in the city. This is due to the fact that I have been attempting to avoid boost during most daily driving. The GReddy kit comes on power pretty readily, so in an attempt to avoid positive pressure, I have become more of a granny driver. I get about 24 mpg in the city now. My freeway mileage has remained unchanged for the most part. I get about 32 mpg on long freeway trips, which is what I always got. I do the speed limit (75 MPH). Your mileage may vary (pun intended).
Why should I go GReddy vs. other available F/I options?
Many people choose the GReddy turbo kit for several reasons:
1. The GReddy reputation. GReddy has been around for a while (as a subsidiary of TRUST), and the attention to detail is phenomenal.
2. The kit comes with quite a few little unexpected extras. The intercooler pipes have brackets welded to them, so that they can be mounted to various points on the car. This eliminates "hanging pipes", which are more prone to leakage and rattles than pipes that aren't merely attached via their couplers. This attention to detail is very reassuring. It also includes lock washers, locktite for oil fittings, a quality instruction manual and various other extras that you won't find on other setups.
3. The kit comes with a piggyback engine management system - the GReddy E-Manage Ultimate, which is tunable and comes with a plug-and-play harness. This harness has a big fat connector which plugs directly into the ECU. The factory harness then plugs directly into the same connector, and there is an additional pigtail harness that runs from this junction to the E-Manage Ultimate. This harness is routed through the firewall. The convenience and lack of downtime that this setup provides is a huge advantage, because the ECU does not need to be sent out for a reflash. If your car is a daily driver, this means that you can be up and running right away, without waiting for the mail to deliver your ECU to Hondata and back for the necessary modifications.
4. The price. The kit can be obtained for $2800-$3300, which means that it is the cheapest forced induction option for our cars besides nitrous. This is roughly half the price of a kit from All Jap Performance, and about $1500 less than a comptech supercharger.
5. The wait time. The wait times for the comptech supercharger are very long at the time of this writing - several months if I'm not mistaken. It is a similar story for AJP - many people with the AJP kit had to wait very long time for their kit to arrive, since not only does AJP NOT keep the parts in stock, but the parts arrive from AJP as well as Precision. Wait time for them can range from 2-4 weeks, whereas the GReddy kit can be at your doorstep in 3-4 days.
6. POWER. The Greddy kit has the potential to make 30-50 more horsepower than the Comptech supercharger, and comes on a tad later than the comptech as well, equaling less wheelspin. It also makes LESS horsepower than the AJP kit, which is desirable for some people who are not looking to build a power monster, and desire a little bit more longevity from their engine.
7. Comparative throttle response - is in the middle. It is (slightly) less boost happy than the Comptech supercharger, but more responsive than the AJP turbo kit. This can be a positive or a negative attribute, depending on what you like personally.
Why should I go with something OTHER THAN GReddy?
Many people choose to go with other options besides the GReddy kit:
1. Reliability. Many people want a car that they do not have to "fuss with". If you NEVER want to work on your car, other than to upgrade or modify it, you should not be considering forced induction of any kind. All available F/I options do, and always will, require a certain level of increased care and feeding. Comptech requires the least amount of care and feeding of all the options, but also produces the least power. If you hate working on your car, stay with the basic intake/header/exhaust/hondata reflash combo. "With great power, comes great responsibility". This quote applies here.
2. The reputation of Comptech. Comptech's reputation is very impressive. They have a long history of superb quality products for the Honda/Acura market. Although they are recovering from nearly going out of business right now, they still carry a formidable reputation. The quality of their products and engineering is second to none.
3. Engine management. The GReddy E-manage is far from perfect, and is probably the least optimal solution of the group. When properly tuned, it can make some decent power, and be pretty safe. However, it will never be as refined as many would like it to be, and like I said before - it REALLY does need to be tuned to take advantage of the GReddy kit.
4. POWER - The Greddy kit will never make as much power as the AJP kit. The turbo is much smaller than the one that AJP uses, and although it is more responsive, it is pretty much maxed at at 300whp.
5. Compatibility - You cannot retain certain N/A bolt ons with the GReddy kit, and some may feel that this is a waste if they have to throw these mods away.
With the GReddy kit, you cannot retain your header, your intake or CAI, and if you have the Hondata reflash, it has to be flashed back to factory again.
Installation tips:
For those that plan to install the kit themselves:
1. The first thing you need to do is FOLLOW THE DIRECTIONS IN ORDER!!! This will save you a ton of time.
2. Either lower the subframe, or remove the valve cover. The directions do not mention this, but without this step, you cannot get the turbo in, or the factory header out. There is just not enough room.
3. Make sure you heat wrap all the wiring and hoses that the instructions indicate. This is very important. Many people choose to purchase additional heat wrap just in case. Turbos create a lot of heat. WRAP YOUR WIRES AND HOSES!!!
4. MUCH of the installation of this kit is done from underneath the car. Plan accordingly.
5. When you first start up the car, it is going to smoke A LOT. This is normal. Just the heat wrap and assembly lube burning themselves off. Don't freak out.
6. The included metal heat shields have a tendency to rattle. If you can, purchase heat wrap, and wrap the downpipe, as well as the exhaust side of the turbo. Ditch the metal heat shields if you can.
Additional supporting mods that I recommend:
1. Bigger exhaust. The factory exhaust is really restrictive for a turbo car. I gained 12whp by switching from the factory exhaust to a 3" exhaust.
2. Get the car tuned! The base maps that come loaded on the E-Manage Ultimate are pretty mediocre. Go do yourself a favor and get a tune. I pulled nearly 30whp out of a tune (and 2 more psi of boost).
3. High flow cat. Get rid of that bottleneck while you are at it.
4. Wideband sensor and Boost gauge - you never know when you might have a part of the system fail. By having a wideband Air/Fuel gauge as well as a boost gauge, you can catch potential failures before they cause a blown motor. Probably the most important addition to the car after you go forced induction.
5. A Blowoff valve, preferably one that is recirculated. This is due to the fact that our cars use a Mass Airflow Sensor (much like the system used by DSMs, i.e. talons and eclipses). Previous Hondas used a speed-density type system to meter air and fuel, so recirculating was not important. With our cars, if the blowoff valve is not recirculated, the valve releases air that has already been metered by the ECU. The ECU was expecting that air to enter the chambers, so it injects what it thinks is an appropriate amount of fuel, but that air never arrives. This can cause stalling problems if the car is put into neutral immediately after boosting (it is actually flooding the motor). A Blowoff valve both increases turbocharger longevity by eliminating compressor surge, and decreases lag time between shifts.
6. Spark plugs that are 1 heat range colder than stock. Personally, I recommend NGK brand plugs, part number BKR8E-11, gapped to 0.030".
7. Upgrade to synthetic oil. The turbocharger gets VERY hot, and it has to be cooled and lubricated by the car's oiling system. In order to prevent coking (the oil leaving carbon deposits in the turbine bearing cartridge), it is a good idea to run a quality synthetic. I use Amsoil 5w30 myself.
8. I would also recommend eliminating the GReddy oil return line system - it is not very good for the turbo, and a lot of people end up breaking the banjo bolt, since it is so weak. A better return line can be purchased from Fast-Turbo.com. They have a good thread about it where you can purchase the upgrade here:
Honda-Tech.com: Forced Induction: BUILD YOUR OWN TURBO OIL LINE KIT ! STARTING AT $ 39 SHIPPED !!
GReddy Kit Photos: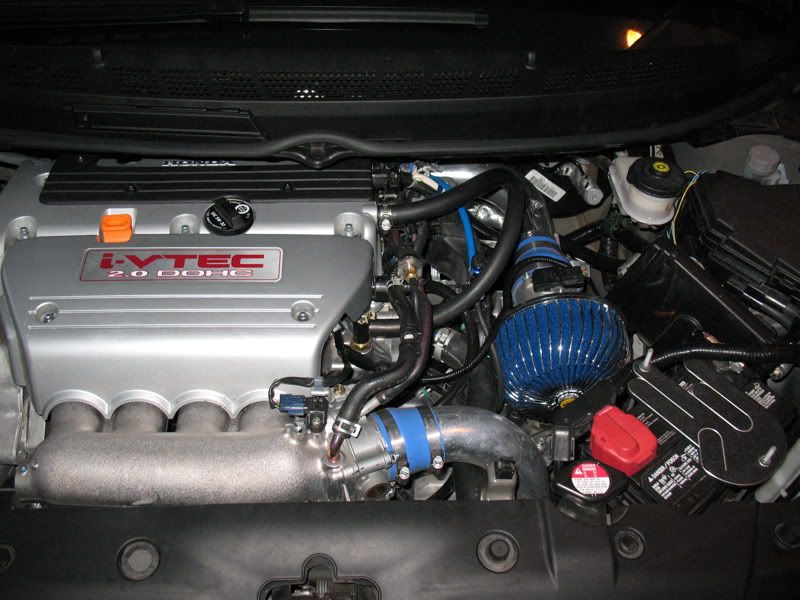 Additional photos can be submitted to me via PM and I will add them
.
.
.