DO NOT COPY AND PASTE THIS INFORMATION INTO OTHER FORUMS BEFORE RECEIVING PERMISSION FROM GREDDY. CAR CLUB/CAR SHOW SECTION IS BY INVITATION ONLY. TO GET YOUR CAR CLUB/FORUM INVITED, EMAIL

[email protected]
Link to ALL DAY DRIFT TICKETS
Link to ALL DAY AUTOX TICKETS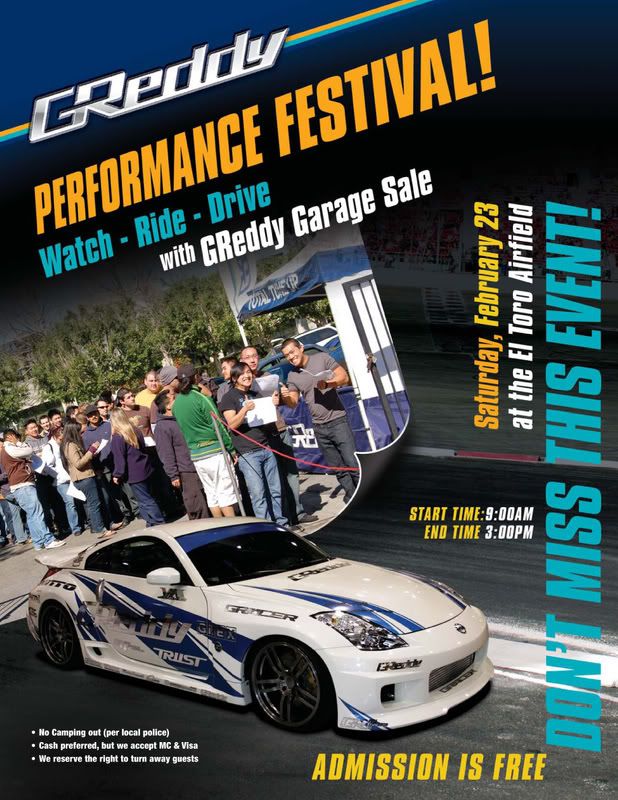 Come join us on
Saturday, Feb. 23rd
at the
El Toro Airfield
for the
2008 GReddy Garage Sale and Performance Festival
.
In addition to getting great deals on close-out, overstocked and test items, this year we have something for true GReddy enthusiast.
More then just great deals, this year with the help of Drift Association, we are adding a full
Performance Festival, complete with a Drag Strip, Auto-cross, Drifting, a Car Showoff, Ride-A-longs, a huge Raffle and other automotive hobbies.
Bring out your GReddy tuned cars for a day of fun or just come by and check out the action.
Admission is FREE
.For more info on the '08 GReddy Performance Festival, you can email:
[email protected]
Please check back
on our website www.greddy.com
soon for updates and details....
********************************************************************************************************
Updates
*Drag Strip has been cancelled due to strict track regulations.
*Event hours: Roll in and setup in the CAR CLUB/FORUM section is from
7am-8am
if you signed up on the list below, this means YOU!!!! You must roll in during this time to guarantee that you will be able to park with your forum buddies, if you do not show up between 7-8am you will not be guaranteed a spot, and you may have to park with the general public.
*Special GReddy Awards will be given out and the CAR CLUB/FORUM section is subject to being judged! That means you could win a badass trophy! (pictured below)
*If you plan on camping out all night for the Garage Sale …DON'T!!! Irvine Police Department regularly patrols this area, and you WILL be subject to ticketing at their discretion.
*Garage Sale: We will take CASH, VISA & MASTERCARD.
*Evolution 9, RSX, and Sti Pre-Registration for V-Manage Plug-in & Drive please email:
[email protected]
with
subject: Vmanage Drive.
We will have these Vmanage units on hand ready to plug in to these particular vehicles so you can test them on the spot and feel the difference! Special pricing for the Vmanage units will be offered at the event.
*There will be absolutely NO alcoholic beverages of any kind allowed at this event.
*
GReddy Performance Products, Inc. and it's employees reserve the right to refuse access to the Entire Event, including the MOTORSPORTS EVENTS/ GARAGE SALE/ CAR SHOW/ CAR CLUB/ FORUM section at their discretion.
This means, if you are acting in an inappropriate manner, disturbing other guests, or doing anything we don't approve of, you can and will be removed from the premises. Furthermore, this is a GReddy event and open to the public, so if your vehicle has huge competitor sponsor art (ie. Graphics/vinyl, etc) then your vehicle may be restricted to general parking only.
**************************************************************************************************************
INFO UPDATE 01/18/08
Saturday Feb. 23, 2008
Garage Sale Hours 9:00am - 3:00pm
- Autocross & Drifting: for pre-registration check back for update and details
- Drag Strip: Limited to invites & Special Product Testing
- GReddy Enthusiast Car Meet: (chance to win a GReddy Award for Best GReddy theme)
- Try me Greddy parts course - v-manage (w/ special introductionary price option)
- Free raffle with prizes all day long
- Meet Authorized GReddy Dealers and their cars
- Ride-a-longs with a Pro Driver
- Reps from Drift Association, Battle of the Imports & more
- Editors from top import Magazines
- Drift 101 demo, Groovy Drift RC demo, Nos Energy Drinks, and much more...
more info:
- For directions to the Event, please download the pdf flyer above.
- Pre-registration for the Auto Cross and Drifting are not open yet. (coming soon)
- For more info regarding the GReddy Enthusiast Car Meet please email
[email protected]
(Teams and Clubs preferred)
- GARAGE SALE: (List of items will not be available until the day of the sale)
All Sales are final (no returns or exchanges)
Cash is preferred, but will accept Master Card and Visa for over $100 (only)
Electronics & other popular items sold will be limited: one part# per person
No camping out early (no overnight parking)
- Location Rules: (Enforced by Irvine Police Department on base)
Stay within marked speed limits (15mph)
Stay on marked paths to the event and parking
Do not wonder on the base
No alcoholic beverages allowed
***********************************************************
INFO UPDATE 01/23/08
Full Day Auto-Cross and Drifting
Registration will go online on Friday, Feb. 1, 2008 at 12:30pm
on the GReddy ebay Store.
- Limited to purchase 1 ticket per Driver / Account (multipules will be canceled and relisted)
- Tickets are non-transferable (unless approved by GReddy)
- Must be 18 years of age or older and have a valid Driver's License
- Tickets will be sold via the GReddy ebay Store
(so you will need to have an ebay and paypal account)
- Because there will also be sign-ups for "Fun Runs" the day of the event,
the Preregistration number will be very limited
- All vehicles must meet standard Drift Association's Tech Inspection requirements,
(please see
Welcome to Drift Day
for details)
- All vehicles must display the provided GReddy Fest Decal on front windshield.
- All Drivers must use approved (Snell 95 or better) helmets
- All Drivers must follow the rules of GReddy and Drift Association staff.
- Reckless or unsafe driving will result in immediate expulsion from the event.
- This is a rain or shine event.
- There are no refunds or cancellations unless approved by GReddy.
- Greddy reserves the right to turn away or refuse any driver or vehicle.
- More specific details will be emailed to the attendee, so please make sure to add your email address!
*HOPE TO SEE YOU ALL THERE!!!
*******************************************************************************************************
CAR CLUB INFO UPDATE 02/11/08
Attention car club/forums:
**Sign ups for the car club/forum show section will be closed early: Last day to sign up is this Friday, February 15th @ 6pm. If you aren't on the list by 6pm this Friday, you will not be able to park in this section.**
Please try to meet up together
before
entering the event. It will be easier to park you all together this way. I realize some of you will be coming from different areas in SoCal, so meeting up beforehand may not be an option, so at least show up to park at the event around the same time as the rest of the club/forum. Reason for this is, once the majority of your group has arrived (I will have a list), you will all be parked together. We will not be able to park you all together if you all arrive 20 minutes apart from each other (unless you all want to wait for the entire group to arrive before parking).
You will
NOT
be able to get in line for the garage sale until you have parked your car. This means, if you are waiting for other members to show up, you
cannot
abandon your car in order to get in line for the garage sale. And if you are late, your group may choose to park without you!
This means, the sooner you get your cars parked, the sooner you can get in line for the garage sale!
Remember, roll-in time is
7AM-8AM! Please send someone to check in at the check-in booth to let us know that some of your group has arrived. If you have not arrived by 8AM, you will be forced to park in the general parking area.
Please bear with us as it won't be easy organizing you all, so your patience and cooperation will be appreciated in helping things run more smoothly. We will be checking each one of you off on the list by screen name, then you will proceed to the car show/forum parking area.
********************************************************************************************************************
Greddy is inviting car clubs to have their own section to display their cars. There will be other groups of enthusiasts showing as well, such as 240sx's, WRX/STi's, Evo's, etc etc. So all interested in going, please post up and get on the list! Only those that sign up on this list will be able to park together (with early entry), those that don't get on the list will have to park with the rest of the public in a different section and be subject to a later entry time.
PS. The GReddy TTHR 350Z will be on display! First time since Sema!
And the newly CARB certified S2000 turbo kits will be on display and possibly giving rides. :dancing:
Let's get the list going (post up your SN):
Attendees in ABC order..........
07k20si
Bananasplit
boltman(maybe)
celcius
civicdemon
djpreview
Dopeman
Epileptic
erupt323
eXTCspeed
fg2kid
infinite0216
jcx310whiteSi
kyller34
mikaelo13(maybe)
Mikey6p
mugenhonda25
si_turbo
silverfg07
twowheelsflat
vi3tshi3t08
zeusone