I picked up my car from GO Power this passed weekend and wanted to wait on my review until I was able to get some driving time and had to break in my new clutch.
We went around and checked everything out first, turned on the car making sure everything was good, she fired right up and idled as smooth as she did with my stock motor. I took her for a quick test run around the shop and my first impression was how easy this car was to drive now. The tq made a huge difference in driveability, I gave it a quick push in 3rd gear to about 5500 rpms, and man, the crossover is freaking aggressive/awesome/loud, how ever you want to describe it, its got it.
I get home and of course I am driving all around trying to put in the necessary miles to get my clutch worked in so I can beat her silly
. This thing pulls and tires seemingly are going to be my next mod to say the least.
I have fell in love all over again, the car finally has some tq and not to mention this thing flies. I am not a huge fan of f/i(albeit still allows for that option in the future) so I am glad that GO power has created this alternative for us all motor guys/gals.
Here are some pics of the engine bay:
Before: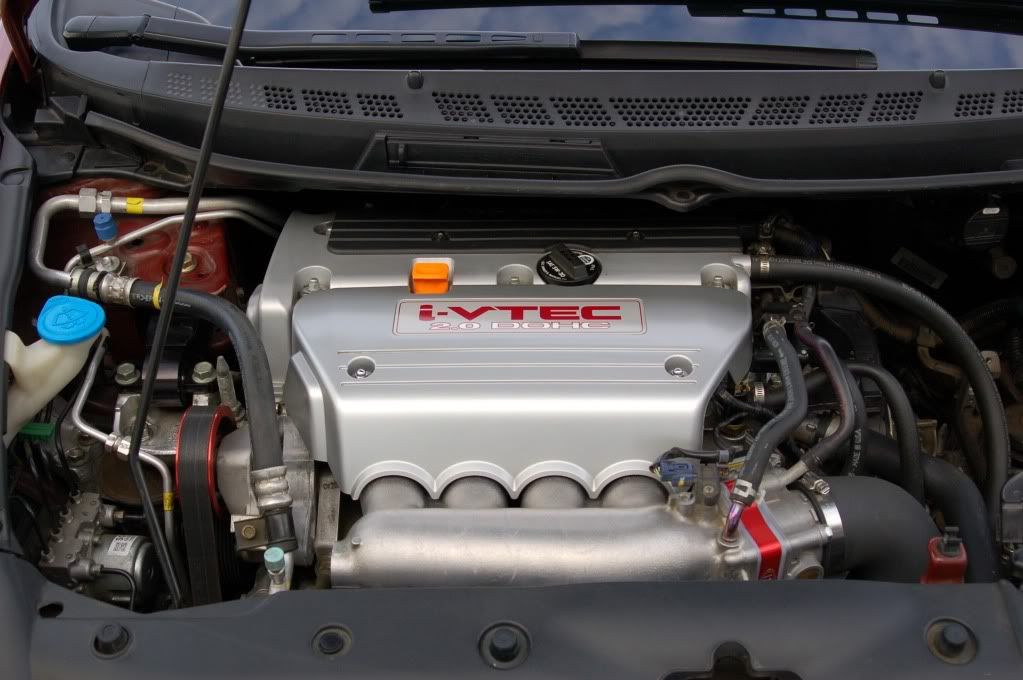 After:
As you can see, there is not much difference lol.
I would like to thank GO power for this awesome setup/option:corona:. Jeff worked with me in regards to an alternative header as my Kidd Racing would not fit at all with this setup. He purchased the header from me and I paid the difference for a custom header which was a cash saver, he also threw in a IMG for frizzle
Only negative was I had to wait a little longer than anticipated because they had to re-order a different sized head gasket but it was well worth the wait :vtec:
I will get some dyno sheets posted when I get a chance as well as some vids of of the car mashing out!
The Build:
K2
4
a4 Block/K2
4
a4 Crank
Wiseco 87.5mm 11.1:1 K24 Piston Kit(Final Compression 11:6:1)
ARP Head Stud Kit
GO Power Motorsports K24 H-Beam Connecting Rods
ACL Race Bearings
K20a2 Oil Pump
IPS K2 Cams
GO Power springs/retainers
Hybrid TCT
K20z3 head
Stock RBC
GO Pwr IMG
TSX TB(un-modified)
TBS/Gaskets
RDX Injectors
AEM CAI
GO Power Custom 3" Header
GO Power 3" Exhaust
Flash Pro
Clutch Masters Stage 3 K-Series Clutch: FX300
Filled Stock Dog-bones
TWM Shifter Cable Bushings
Mugen Quickshifter