Discussion Starter
·
#1
·
For sale:
Well i got tired of the play in the skunk2 bushings, so i custom ordered some delrin replacements. My car is back to stock, and these didn't come through in time.
Delrin Bushings are BRAND NEW - i just put them in the arms tonight.
"Tired of unwanted dynamic camber, feeling loose through the corner, and the amusing wheel wobble with your Skunk2 Camber arms? The poly bushings that come with the Skunk2 rear camber arms don't last. There is way too much flex, and then when they're worn out the camber becomes very dynamic resulting in a loose rear-end."
"The bushings are machined out of delrin with a 6061 T6511 core sleeve for the thru-bolt. The delrin bushings have no flex designed to replace the soft poly bushings that come with the Skunk2 Camber arms."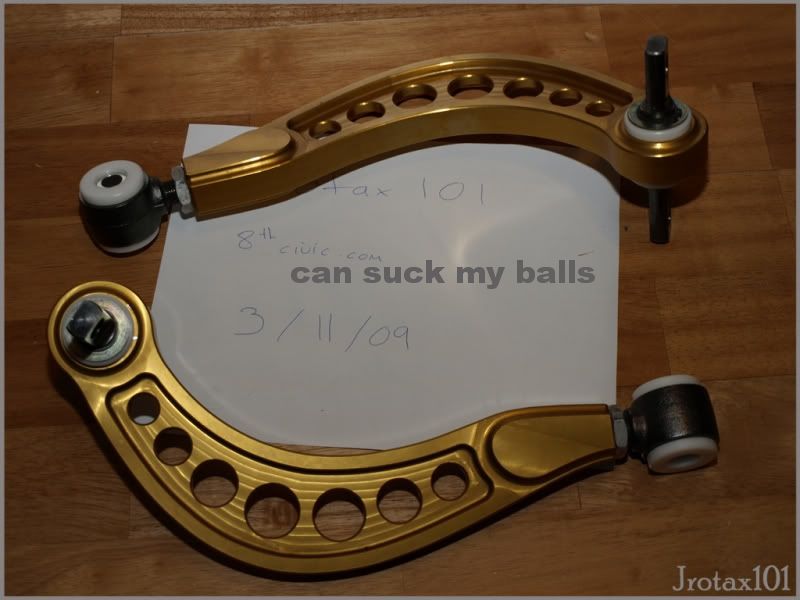 Pictures from the manufacturer:
Delrin replacement bushings do not come cheap. To order the bushings alone for some cars are $3-400. These cost $199 from the manufacturer.
Skunk2 camber arms are $280 new from corsport.
My price for this one off set-up : $375 shipped in the original skunk2 box.