Just moved and realized I have a few extra parts lying around... more to be added. PM me. I live in Nebraska, so shipping isn't going to be too bad.
1. PW:JDM Carbon Kevlar Spark Plug Cover (never installed on my car; bought from another member) - SOLD
2. & 3. (Left) Stock '08 SI Throttle Body (less than 8K miles) - $80 +shipping(Right) '09 TSX Throttle Body - SOLD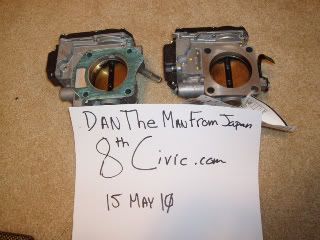 4. BNIB P2R Intake Manifold Gasket - SOLD
PM box is cleared... So send 'em.