So some how my knock sensor went bad and I could not find a DIY to comfort me in my time of need. After looking at it from the top and bottom I decided this was the easiest way to do it.
DTC P0325
Car was sluggish and bogged out under heavy acceleration. Idle was ok but not as it should be. When lightly accelerating it would misfire.
I will assume general knowledge and ability to work on your car and will not be responsible if you break your stuff
Tools:
Towel (to protect paint)
24MM Deep socket (appropriate sized ratchet usually 1/2inch and extension)
**NOTE** you can use an adapter to go from 1/2 to 3/8 ratchet
1/4 10mm socket and 1/4 Ratchet for hidden bolt next to battery
1/4 extension (so you don't rake your knuckles)
1/4 10mm Deep socket (for loosening battery bolt)
Needle-nose pliers (to squeeze clip on starter)
New Knock sensor
Remove Bolts highlighted in Red. Pay attention to the hidden two pointed out by the arrow.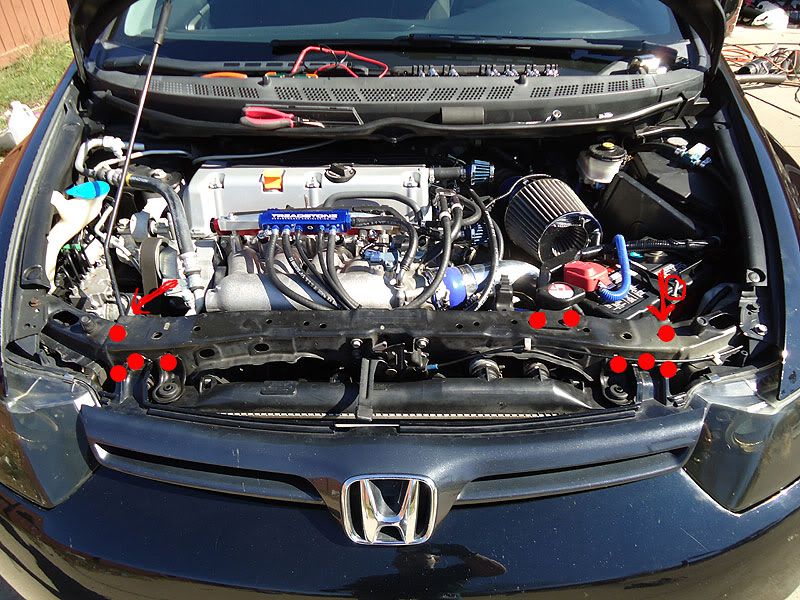 Hidden bolt from behind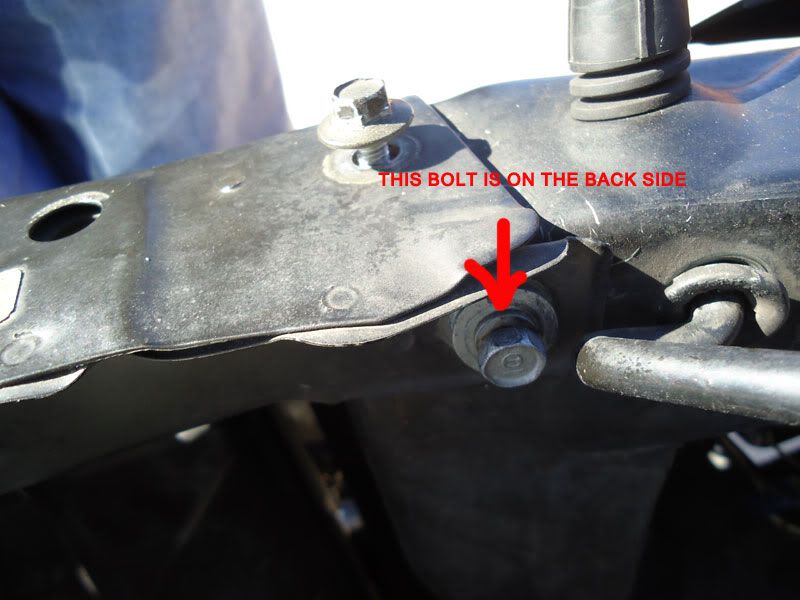 Loosen this bolt so you can move the battery enough to access the "hidden" bolt.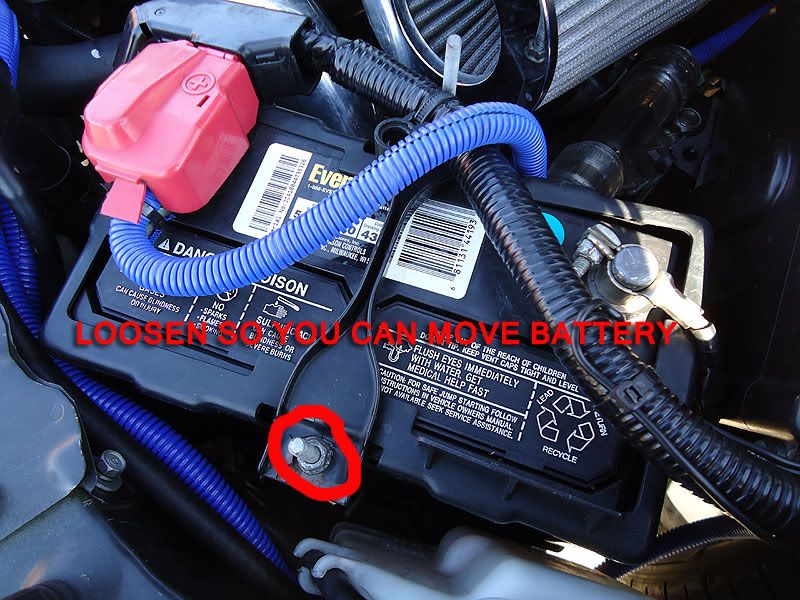 Remove bolt and radiator bracket. You can flex your front fascia just enough to get a ratchet in there SAFELY.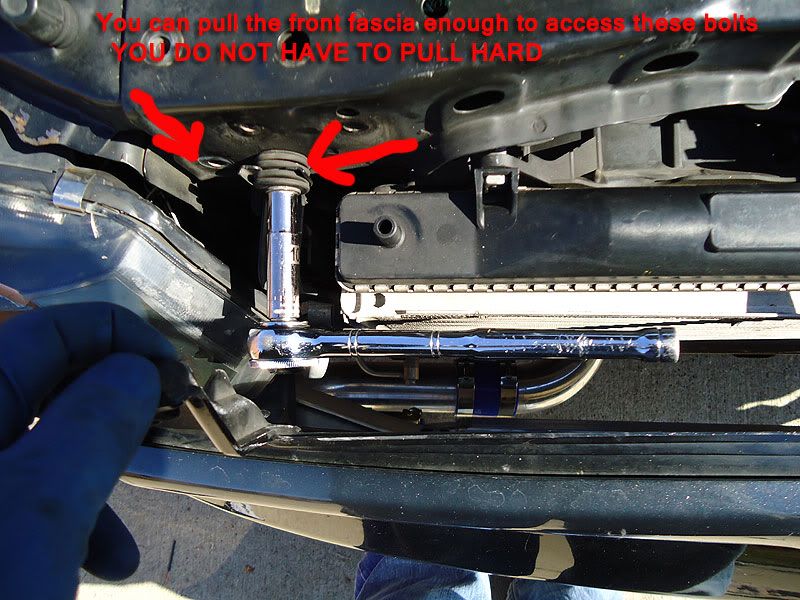 Remove bolts and push this back so it is not on top of rail anymore. You can do this at the same time of removing the whole rail.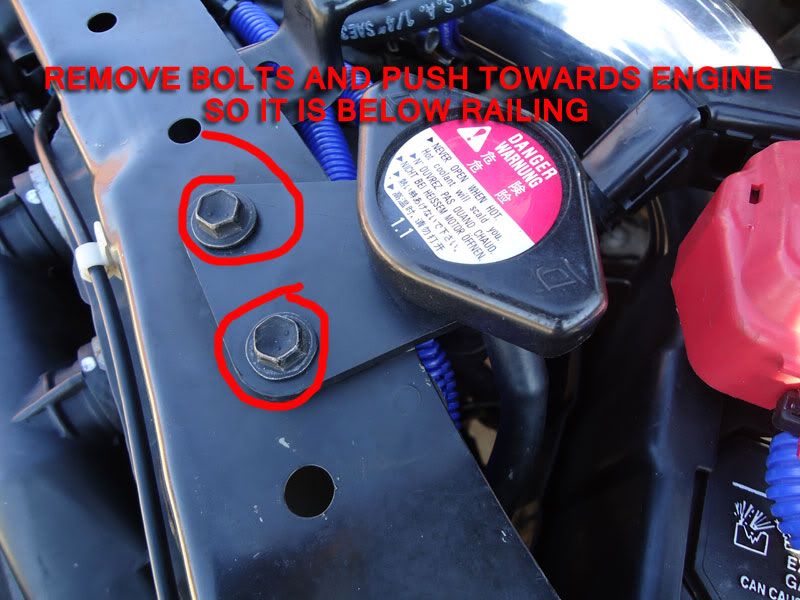 Disconnect fan harness (squeeze plug and pull)
You can now remove the rail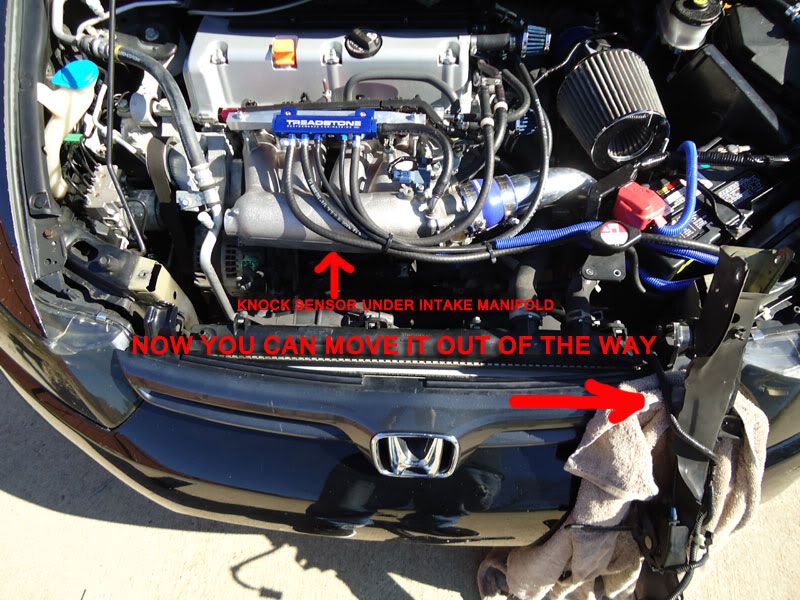 Remove the plug from the knock sensor and then remove the knock sensor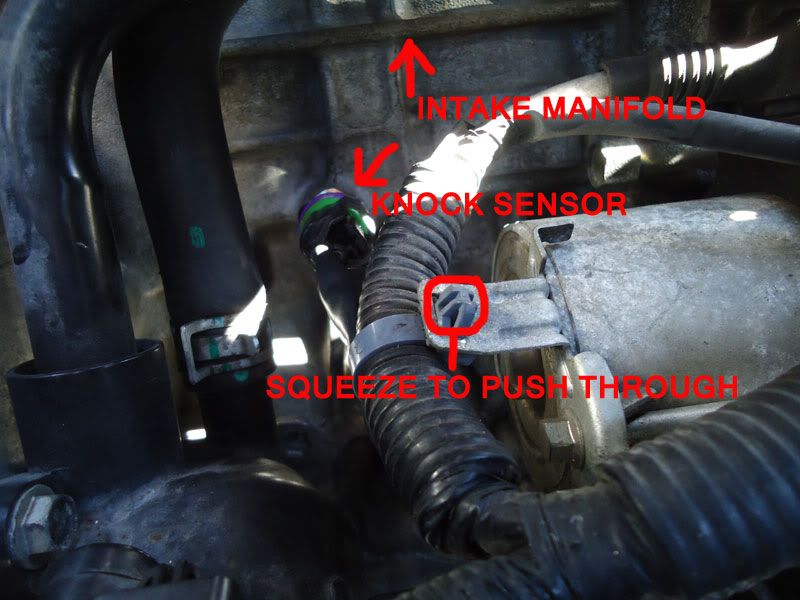 New and Old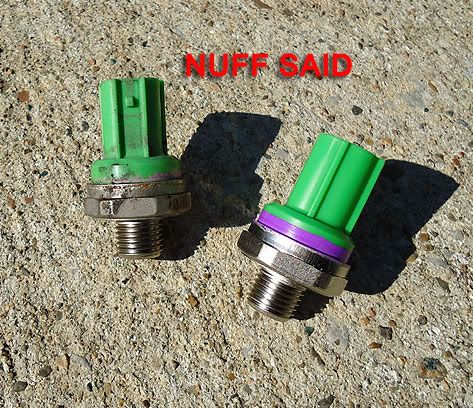 Install new knock sensor by hand first! DO NOT USE THE SOCKET YET. Make sure it threads all the way to the block if it doesn't then you are cross threading it. I had trouble getting mine started.
New knock sensor installed
Now you can reassemble just follow the reverse directions
FIRST!
Push the gray wire clip back in the starter that is securing the wire
Connect wire back to knock sensor
connect fan wire
Make sure the Radiator bracket lines back up. If not then shift your radiator around. Also, do not tighten your bolts down until they are all in. Just get them started.
reinstall bolts
tighten battery back
And anything else I forgot! HEHE
:vtec:
:wheee: