ok so this is how i installed my HFP sideskirts because the directions seemed impossible at the time.
what you will need:
a friend or two
razor knife/sharp knife
phillips head screwdriver
rubbing alcohol and a clean towel
to start off, install the rails into the side skirt, should look like this

A: is the pressure points where you will be pressing on at first. will make more since as you read on.
B: is where you cut sections of the tape and peel back the cover of the tape to expose the sticky part
wipe the side of the car down with alcohol and let it dry. to get rid of all the stuff like wax so the tape will stick better.
now, cut the sections of tape like stated above
it will end up like this, but before you peel the red off you have to be ready to stick it on the car.

then get a friend or two to help line up the holes in the wheel well and the rear, then press down good where you had the bare sections of the tape. should be about here: but press all they way down just in case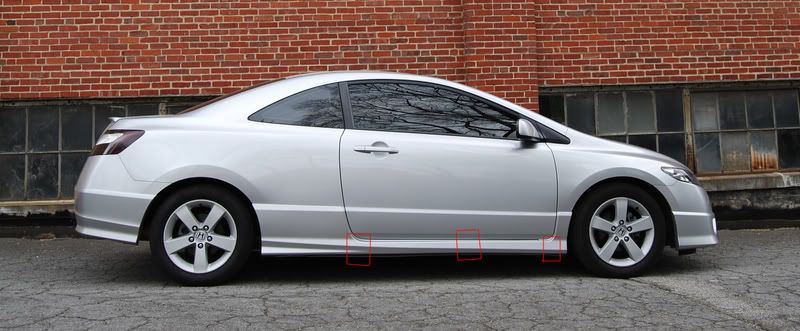 let it sit there for a minute to make sure the tape sticks well. then press down on the lip and slide it toward the front of the car to remove the skirt from the rail. then take the rest of the red covers off of the tapeand press them down onto the car. then take the tape off of the side skirt and re apply it the way you took it off, then screw it down and press down good on the rest of the tape.
and presto, you are done! no measuring and marking to do on the car.
if any part is not clear let me know and i will see if i can make it more clear, and update the OP.
any other questions just let me know!
Oh. credit for the bare kit pics goes to dorkiedoode