Discussion Starter
•
#1
•
Hey everyone, I wanted to share a cool mod that costs under $10. I know there's some threads out there regarding interior illumination, but I found the information a little confusing sometimes. However, I would have not been able to do this mod without looking at them first. The one I referenced the most was
http://www.8thcivic.com/forums/lighting/17835-diy-interior-illumination.html
visit that for other trims and other wiring options.
Ok, having said that, what is different about this mod is that it is specifically for the EX trim (not sure about DX and LX, but keep reading), and also, I wired these so that the LED's will always be on when the headlights are on (ie no switches).
Step 1:
Buy your LED's. I got mine from ebay for like $2 (not a typo). I wasn't really sure about the quality, but the price is right
They turned out ok. When searching, type "LED" and "12v" to get the right matches, there are hundreds. The product I got was : 30cm 12V Blue LED Flexible Strip Christmas Party Light. Buy 2, one for the right and left sides.
Step 2:
My LED's came with no polarity indication. Make sure you identify which wire is the negative and which one is the positive side. To do this, get a 12v square battery, and touch the leads of the LED until it lights up. Remember which side is the negative and which side is positive.
Step 3:
Locate the fuse box located below the steering column on the driver's side. On the EX (08), the headlights' fuses are 16 and 17 (again, other trims may be different, like the SI's 21). In either case, double check this by reading the sticker on the side, it should say "L h/l" and "R h/l" for left and right headlight respectively. I verified this by actually pulling out the fuse, and then turning on the headlights. The headlight should not come on when the fuses are out. To pull the fuse out, open the hood of your car, there is a fuse box on the upper right hand corner with a fuse remover.
Step 4:
With the fuse removed, bend the LED lead (exposed wire at the end) like a hook, then place the fuse back in it's place with the LED lead wrapped around either side of the fuse. Basically, the LED lead will be wedged between the fuse and the fuse box. Reference the pic below. I know it's the wrong fuse in the pic, but it's because I was using 21 (only works for SI). Connect the negative lead to any grounded screw on the car. I used the big silver bolt seen in the pic below (upper right hand corner).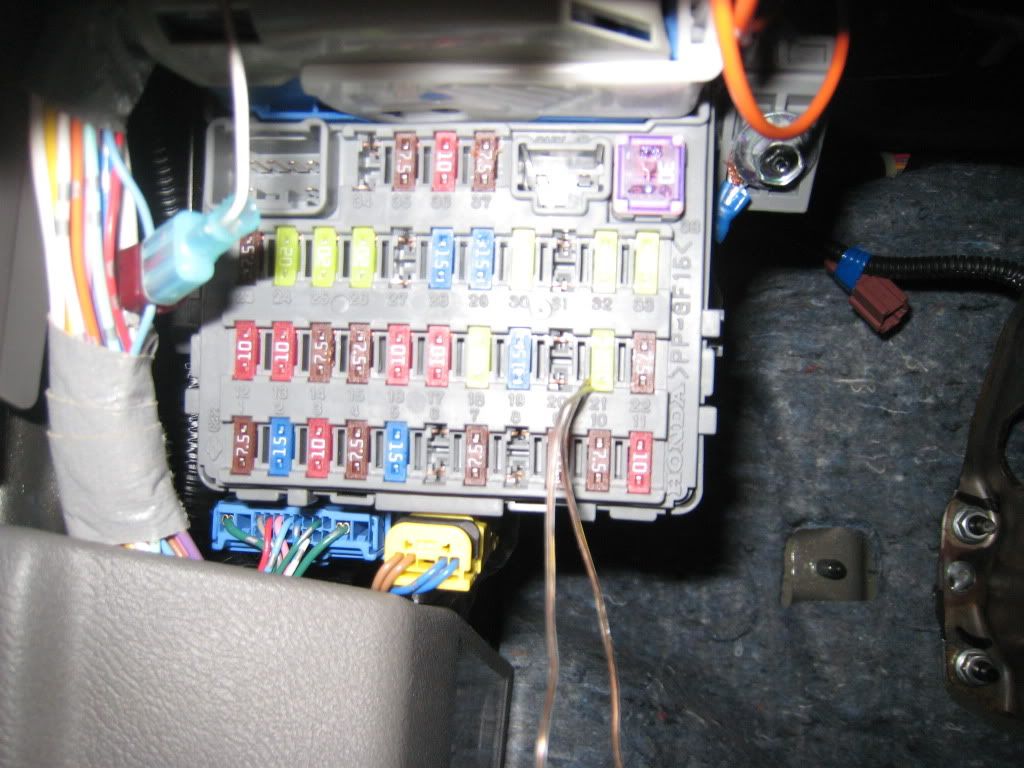 Step 5:
I did one fuse per LED strip (16 and 17), because I didn't want to overload the circuit (I know LED's draw very little power but just in case). The LED strip under the steering wheel was easy, cause it's just right there. For the passenger side, I ran an insulated wire behind the center console. Sorry, no pics of this.
Step 6:
Test to see that everything works, by turning on your headlights. If it doesn't, make sure the polarity is correct, and that the fuses are well in place. I blew a fuse, so check that too. BTW, the lights are just bright enough at night, and didn't bother me while driving. Enjoy your new lights