Discussion Starter
·
#1
·
Hey everyone,
I'd like to take the information I've received from another member and help all the others here with an afternoon project and probably my favourite mod.
This is my first DIY, so please bear with me. Any input / questions are appreciated and welcomed. I will do my best to answer them all.
First things first, you'll need your valet key. That's the key with no fob attached / buttons on it. I wasn't about to mess with my $300 key of as I bought my car used and only got 2 keys. I'll eventually buy another one or two, but that'll come in due time.
Anyhoo ... on with the DIY. This is the key we're looking for.
First things first, we'll need to crack this puppy open to get to the transponder. You'll notice a very faint and fine seam along the edges. This is where we have some options.
1) Bake your key in your oven @ 250 degrees for 3-5 minutes. Too long and you'll run the risk of cooking / frying your transponder. Remove it (please use mechanic gloves or an oven mitt. The metal on the key will be incredibly hot. When you remove the key, take an exact-o knife to the edges. Please be careful ... I won't be responsible if you cut your thumb off. Be smart. Once you have carved into the key enough to find the plastic box encasing the transponder, open her up using a knife or whatever else tickles your fancy. It's quite safe in there so ... no need to worry about hurting it really.
2) Dremel too to the edges, cutting in ever so gently. The transponder is surrounded by metal and is virtually impossible to hit. Carve into the seams until you find the metal. From here, I used two knives and pulled in opposing directions to spread the plastic apart and exposed the plastic casing that was holding the transponder.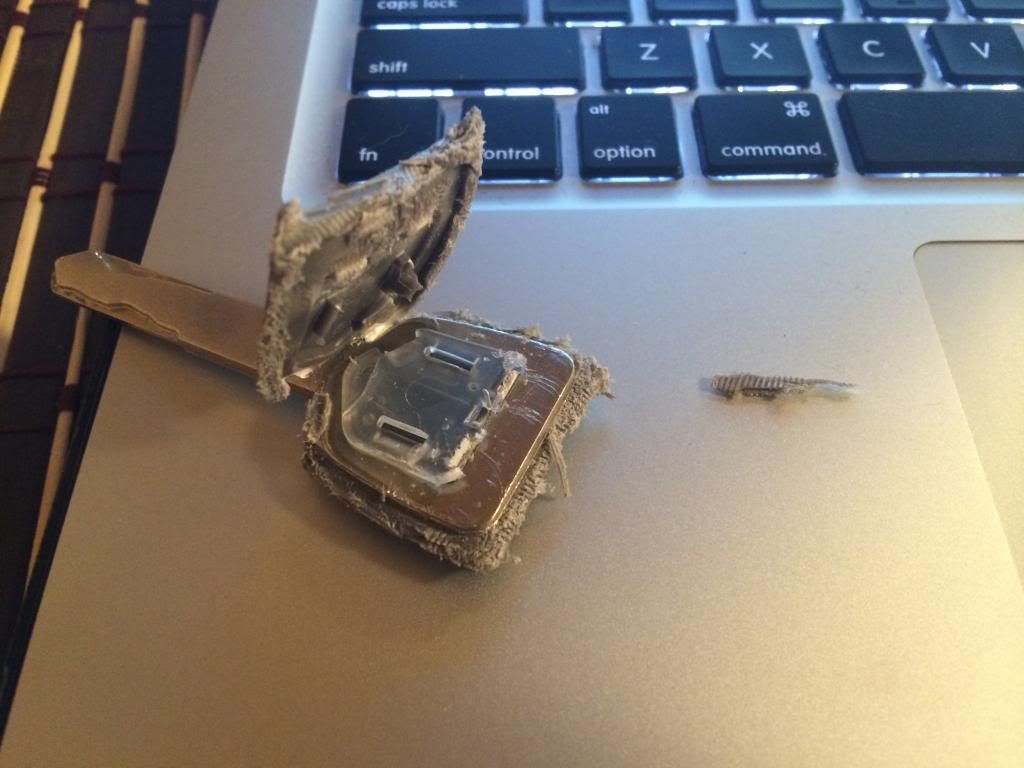 Now we need to dismantle the casing and remove the transponder. It's a very small black piece of electronics worth more than 10000x its weight in gold haha. Please be careful not to break it. At least where I live, they're expensive to be replaced and reprogrammed.
And here we have the transponder removed. It's stuck down onto the plastic pretty good so an exact-o blade shaving the sides of plastic off and prying it up will be beneficial here. There's nothing else holding it down except for pressure.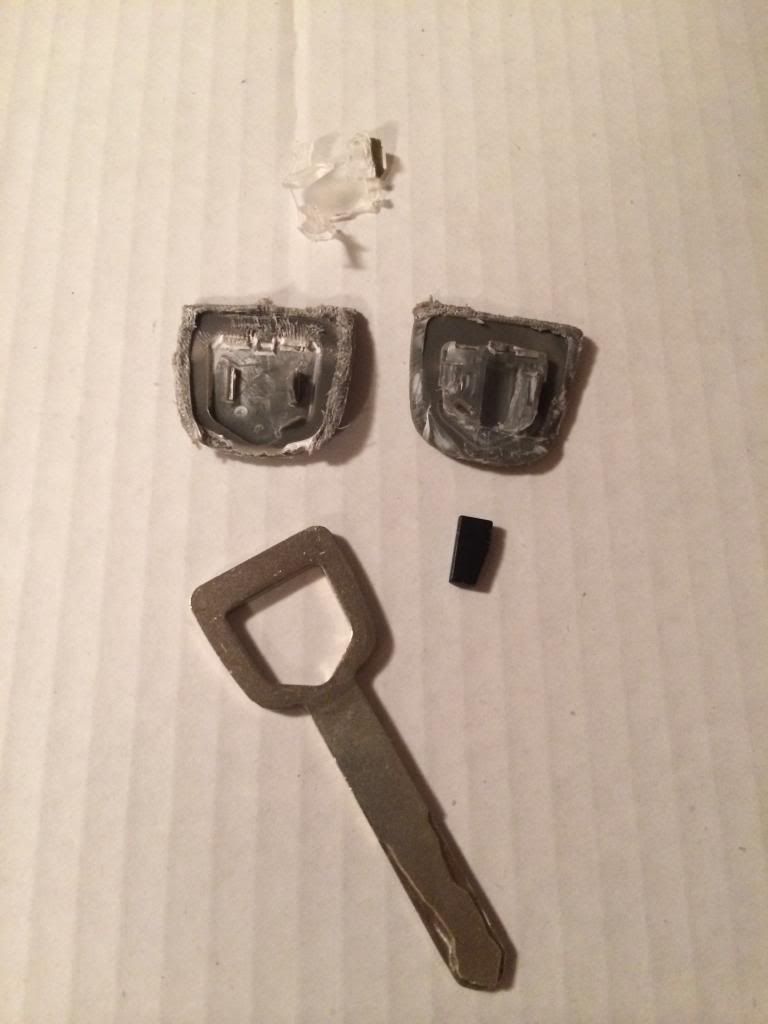 Now we have to take our flip key assembly purchased from eBay (Make sure it's the one that'll fit YOUR key fob. There's two different sizes. One looks like mine, and the other has a sharp angle on it. BE WARNED ....
This is the one I chose.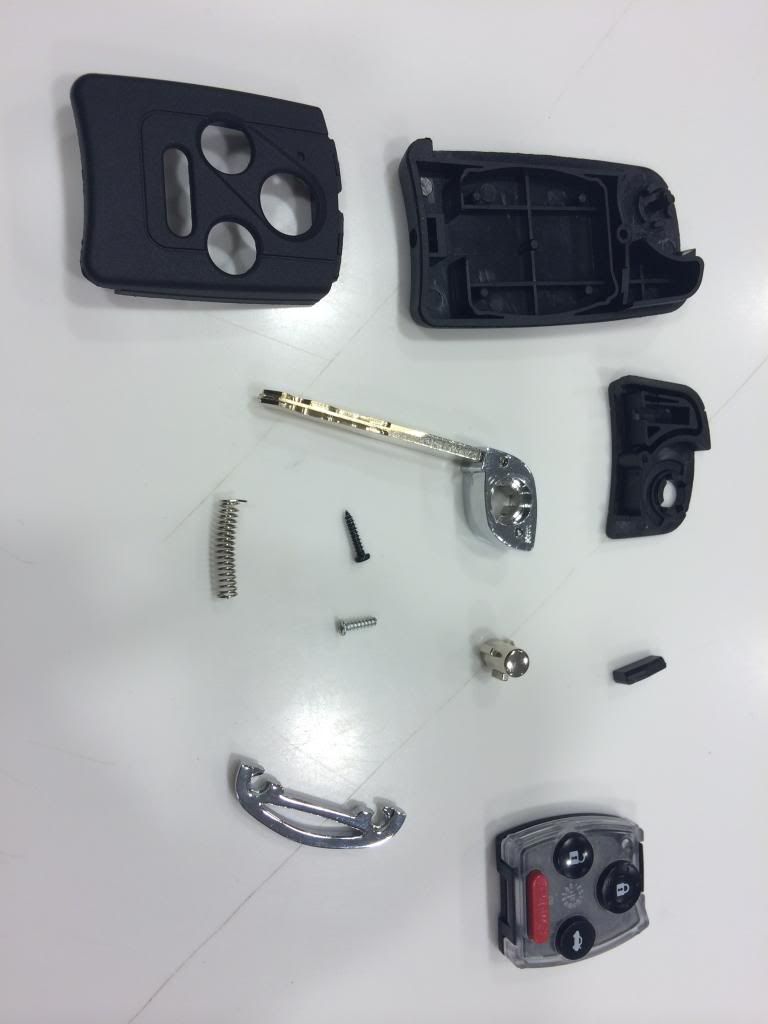 Now we need to assemble the key and put everything place. This part is simple enough, even though the key doesn't come with instructions.
Step 1, place your fob in the assembly. I would encourage you to change the battery while you're at it because once it's all put together, the "H" logo is going to be destroyed when you remove it. I specifically requested the JDM "H" and I'd rather not destroy it in 4 months if my battery dies.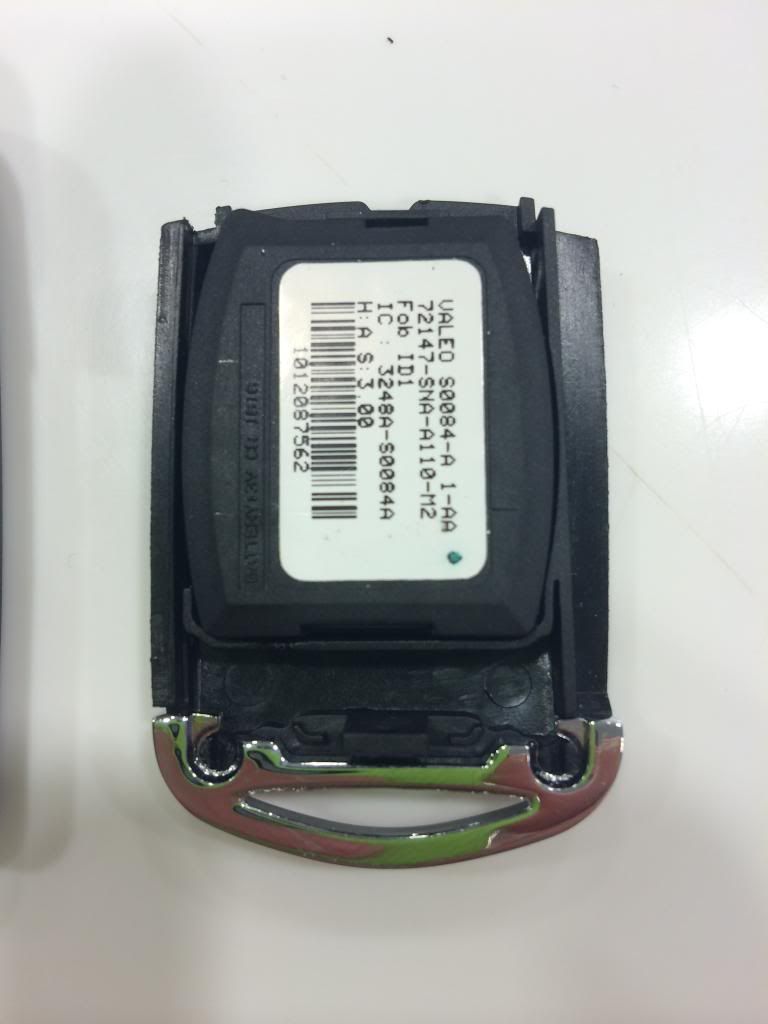 Now put that aside and turn your attention to the transponder and top piece. It goes in like this.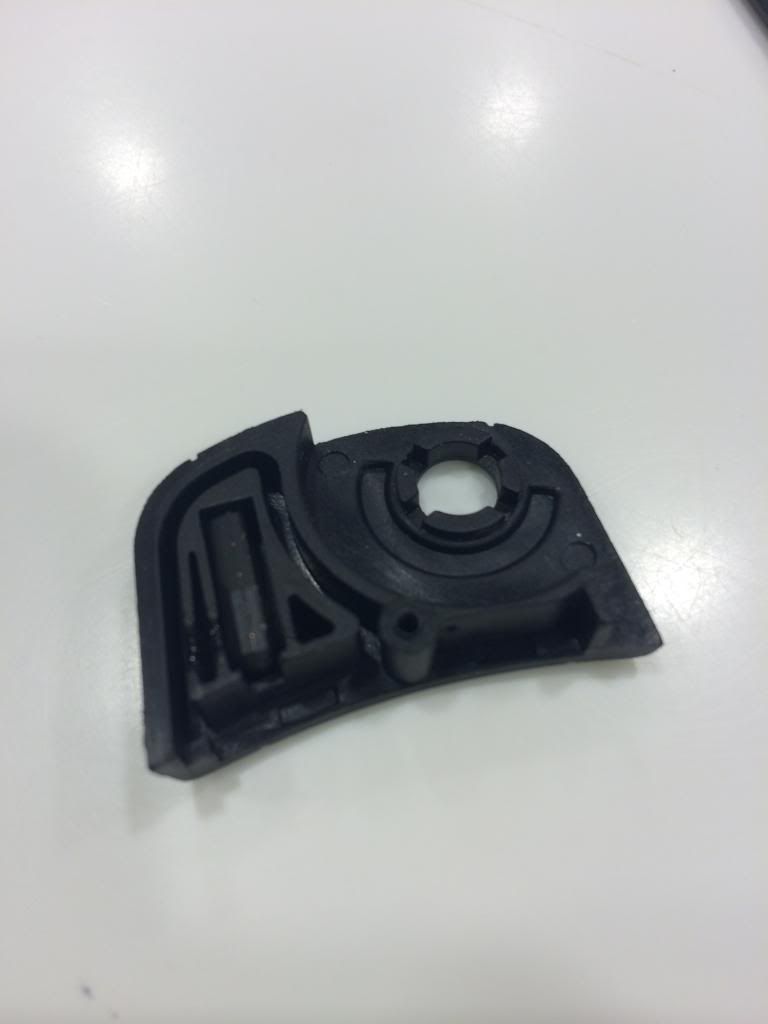 Now we can worry about the key. There's a button that's controlled by a small spring. In my specific model of key, it's important that you place the spring in the right way. One side has a tail facing inwards, and the other outwards. The one with the tail facing inwards will go inside the little button. The button then goes into the blank key. It is very much like our headlights where it only fits one way, even though there's 3 tabs. They're all different sizes. It'll look something like this.
In order to make the key "flip", we need to add some tension to the spring. Line up the outward facing tail on the spring into one of the grooves and spin it 3-4 times counter-clockwise (so it'll flip open ... makes sense yeah?)
Now, take the panel that has your transponder in it and place them together. Be careful you don't let the key go while you do this. That little spring is all charged up and ready to fly away never to be seen again. Damn thing almost got away on me !
Press them together and test the "flip" actions.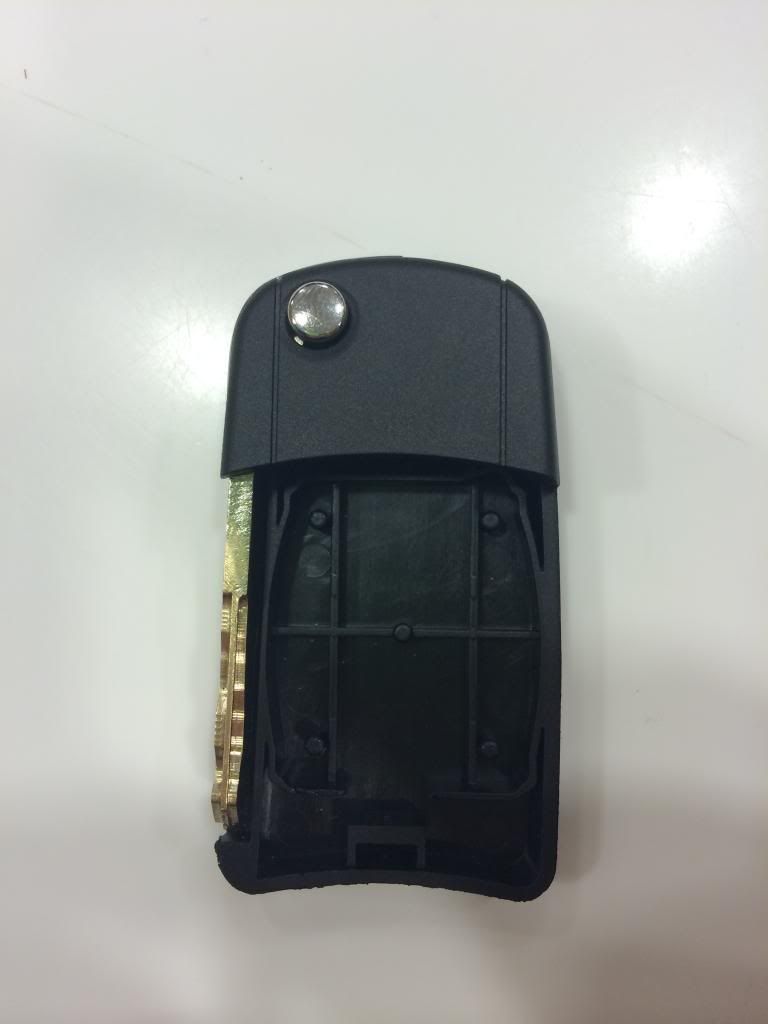 This this done you can now add your fob and faceplate. There's a small tab on the bottom that'll fit into a small area. This is where your screw goes so don't snap that off trying to force it in. You'll notice two small tabs on the base. That's where your key ring loop goes. It just rests on there. Add that now as well.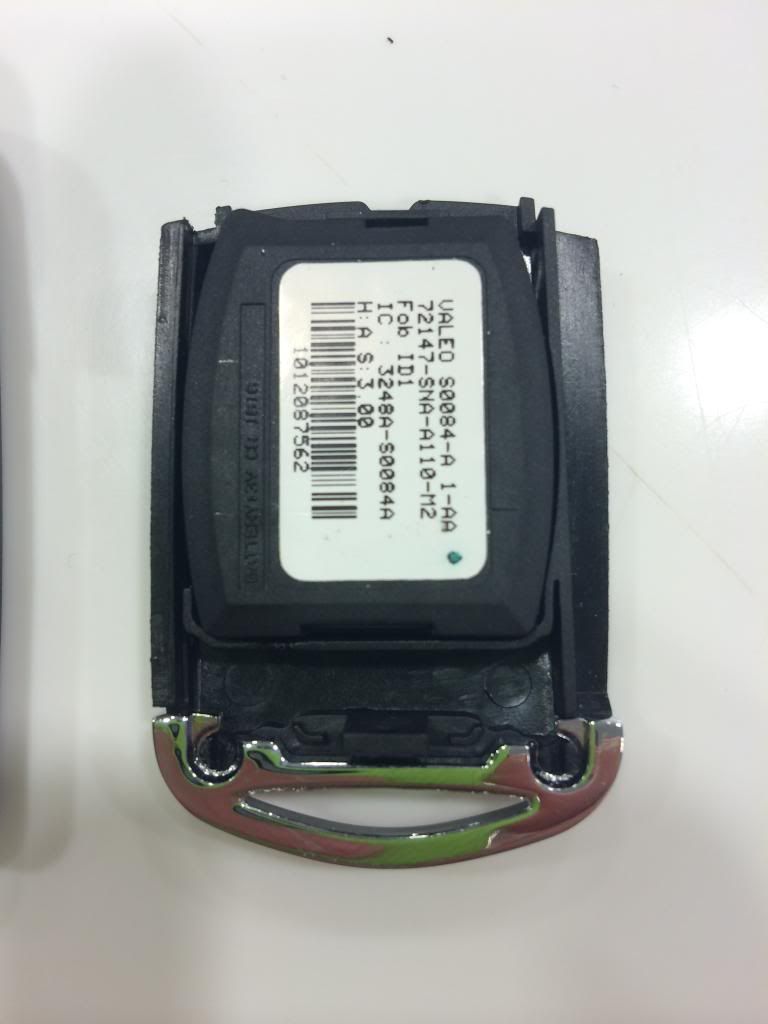 Place them together and you'll be left with something like this.
Now we have to add the screws. In my particular model of flip, they go in like so.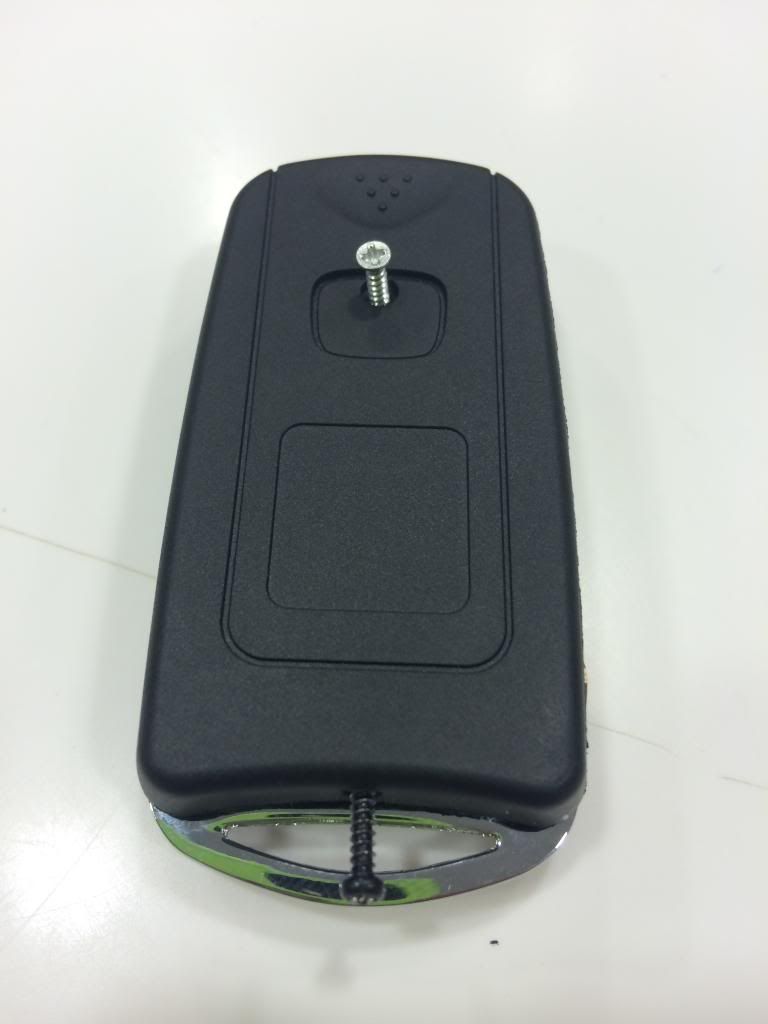 One it's together, test that you didn't over-tighten anything and the flip mechanism works fluidly. Once you're satisfied with it, place your red or black "H" stick over the silver screw to finish the look.
And once you get the key cut, voila ! A sexy new flip key to use for whatever purpose you wish. I like to keep two sets of keys on me. one set has all my keys for work, while the other has my fob and house key. One for work, and one for play.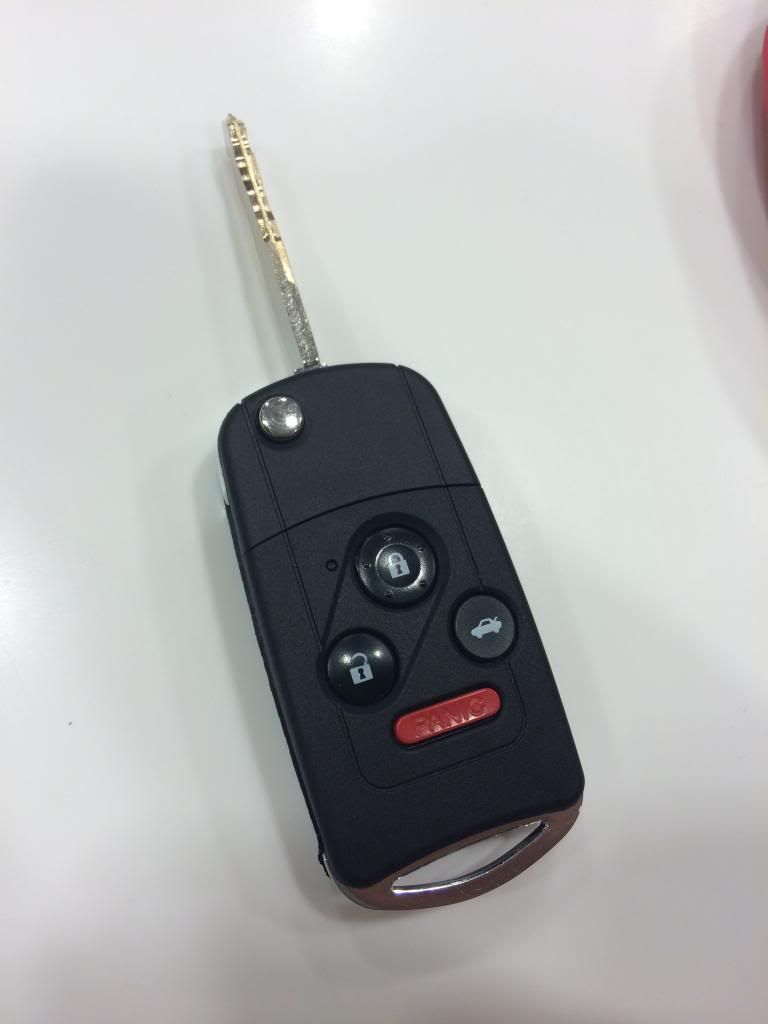 I hope this helps those who are afraid to solder / don't have a soldering gun at hand get this amazing little mod done. If it wasn't for this forum and the help of other members, I wouldn't have even though about this.
Thank you 8th ! As always, you're a fountain of knowledge.
- Chris D