Not sure what to write for the title. Mod's feel free to change/edit it for a better description.
This DIY article is for converting a high beam (9005) bulb which has about 10 more watts than a regular low beam (9006) bulb. This means increased brightness/visibility at night
. Consider it an alternate solution to HID's, projectors, and the rarer HIR bulbs etc...
Before you begin,
I want to say that this is not going to be a day and night difference but its quite worth it considering it takes 10 minutes to do. The bulbs are cheap and even cheaper if you have a set of 9005's lying around somewhere (like I did) I'd say they're similar to HIR's... Look's totally stock, just brighter! Not sure if the reach is the same though.
Feel free to check out the video and pics I took before you decide to do this
(They're at the bottom half of this post.

What you need:
We need to remove those two guide tabs to ensure a proper fit of the 9006 harness.
The base of the 9005 is also smaller.
I used the rubber seal from the old 9006 bulb
to make sure there are no leaks when it's in the headlight housing.
And that's it! Go ahead and hook it up to your car and test it out!
=========================================================
Video and Pics!
YouTube - 9005 vs 9006 bulbs
Underexposed this shot a bit to show you the difference:
[above] You can kind of tell the left light is more "filled" with light.
[above & below] If you can tell, the left headlight (or right side of the pic) has more fill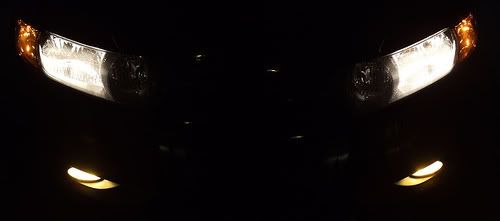 From far, it doesnt look different to a normal 9006 halogen:
Final Two:
and thats it for now!