7:45. rain just cleared, and the streets are still kinda damp. driving down springdale to drop my sister off at school. i come up to bolsa, yellow light, i brake, i stop. pretty standard shiet. so i'm there waiting for the light to turn green, just waiting to hop back into bed to catch some sleep before driving to newport beach for work. out of nowhere, my si sedan gets launched through the intersection and i start to feel shaken up. rear damage. i check if my sister is alright and i see a glimpse of the car that hit me flooring it. shift into first, little bit of wheel spin, and i'm vtaaaaaaking it down springdale to catch up. he runs a red light and i'm not going to take that risk of another accident. i u-turn and drive into a neighborhood and call h.b. police. they came, got my info, told them wassup, and yeah. i was thinking, the least he could've done was just let me get his info.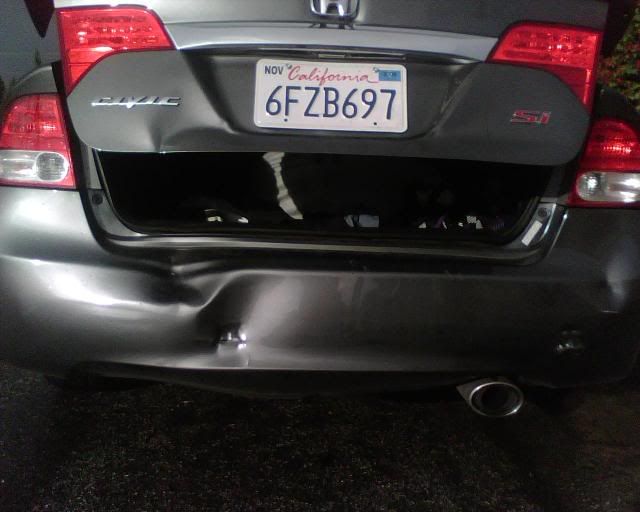 hit and run is a biiiiitch. luckily i have full coverage insurance. i'm interested in a jdm rear conversion though. :thumb:
-btw, trunk is like that becuase it won't close.
-and yes, those are two holes in my bumper from the guy. i'm assuming he has the front metal protector thing on his car.