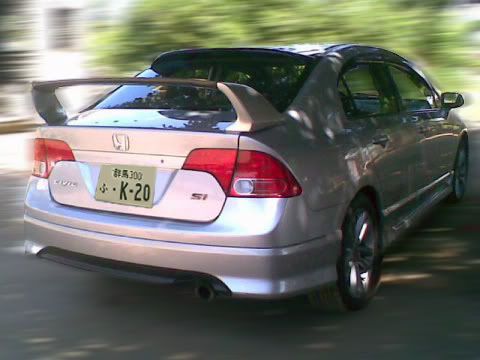 No one bit, so I have ghetto holes, but I don't care. I love my
new wing!!!
As the title states, I am an owner of a 2007 Civic Si Sedan.
I'm looking for 06-09 Honda Civic DX, EX, LX Sedan owners
who are willing to do a trunk swap with me.
The reason for swapping:
I purchased an aftermarket spoiler and would prefer to do a trunk
swap.
Condition of my trunk:
Perfect. No accidents, no scratches, no chips, no dents, NADA!
What I'm looking for:
An Alabaster Silver Metallic 06-09 Honda Civic DX, EX, LX
WINGLESS trunk.
So here's the deal:
I'm asking for a straight swap. However, this will not include the
Si emblem unless you are willing to put $20 on top so that I can
purchase another emblem for myself. If you do not wish to have
the Si emblem, then it'll be a straight swap and I will remove the
Si emblem myself. The stock Si sedan wing will come with my trunk.
Feel free to pm me if you are interested, or if you know anyone
who would be interested. Thanks for looking!